In my latest revision of The Energy Strategist's Best Buys list I noticed that one of my low-risk picks was now yielding 8%. I thought a yield that high in such a quality stock was too good an opportunity to keep mum. So, here's the play: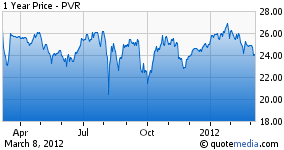 Penn Virginia Resource Partners LP (NYSE:PVR) operates two business lines: coal royalties and midstream energy infrastructure in the Marcellus Shale and the Granite Wash.
Penn Virginia Resource Partners doesn't mine coal but leases coal-producing properties to miners in exchange for a royalty. These royalties are typically structured under long-term deals that include a guaranteed minimum and a fee based on the value and volume of coal mined from the master limited partnership's (MLP's) properties. Thermal coal prices in the U.S. have weakened because an unseasonably warm weather has increased inventories and some utilities have switched to lower-priced, cleaner-burning natural gas.
But Penn Virginia Resource Partners' cash flow will suffer only a modest hit from lower production volume on its properties.
Meanwhile, the firm's midstream energy business will ramp up substantially in 2012, offsetting any weakness in the company's coal operations.
Penn Virginia Resources Partners has completed or soon will complete a series of major projects, including an expanded gas gathering system in the Marcellus Shale, a pipeline to deliver water to producers, and an expanded gas-processing facility in Granite Wash. Capacity on all these projects is booked under long-term contracts that ensure a steady stream of fee-based revenue.
I expect these projects to enable the firm to grow its distributable cash flow in 2012. Penn Virginia Resource Partners generated enough cash flow in 2011 to cover its distribution by a 1.1-to-1 margin. I am almost as excited about the opportunity to pick up shares of Penn Virginia Resource Partners at an 8-percent yield as I am about the upcoming SandRidge Mississippian Trust II IPO (NYSE:SDR).
Disclosure: I am long PVR.