In March of 2015 I skimmed 15 of the largest cap Dividend Achievers (VIG). Here's my first article on that real life exercise Buying Dividend Growth Stocks Without Looking.
Now certainly I did not look, that is to say I did no further evaluation of the individual companies. But the index sure does look. It takes a special kind of company to be able to increase its dividend every year for 10 years or more. To make it into the index a company also has to satisfy the proprietary dividend health screens. Of course being in the largest cap category, those companies have had to demonstrate incredible business success. These are sector and market leaders. At the root of my decision to buy companies without looking is an understanding of What is Index Investing. Of course an index can also apply Smart Beta filters.
It takes a special kind of company to make it the top of a VIG or a broad based large cap index such as the venerable S&P 500 (IVV).
The question that might be answered or at least asked in this article is - Does it take an even 'more special' company to make into the Dividend Aristocrats Index (NOBL) vs the Achievers or S&P 500?
Here are those 15 companies that I purchased in early 2015. 3M (NYSE:MMM), Pepsi (NYSE:PEP), CVS Health Corporation (NYSE:CVS), Wal-Mart (NYSE:WMT), Johnson & Johnson (NYSE:JNJ), Qualcomm (NASDAQ:QCOM), United Technologies (NYSE:UTX), Lowe's (NYSE:LOW), Walgreens Boots Alliance (NASDAQ:WBA), Medtronic (NYSE:MDT), Nike (NYSE:NKE), Abbott Labs (NYSE:ABT), Colgate-Palmolive (NYSE:CL), Texas Instruments (NYSE:TXN) and Microsoft (NASDAQ:MSFT).
9 of those Achievers are Aristocrats -
Consumer Staples - Pepsi, Colgate-Palmolive, Walmart and Walgreens.
Industrials - 3M
Healthcare - Abbott Laboratories, Johnson & Johnson and Medtronic.
Consumer Discretionary - Lowe's
The 6 non-Aristocrats are CVS, Qualcomm, United Technologies, Nike, Texas Instruments and Microsoft. The main distinction or observation might be that the technology sector is 'covered' by the non aristocrats. That may not be a surprise as there is so much creative destruction within the tech sector, and it may be more than difficult for a tech company to make it into that distinguished list.
Off the top let's look at the total returns history of Aristocrats vs Non Aristocrats. The comparison is courtesy of portfoliovisualizer.com. As always past performance does not guarantee future returns. I have started in January of 2015 so that we can have a full calendar year look at the groupings.
Portfolio 1 is the Dividend Aristocrats. Portfolio 2 is the Non Aristocrats.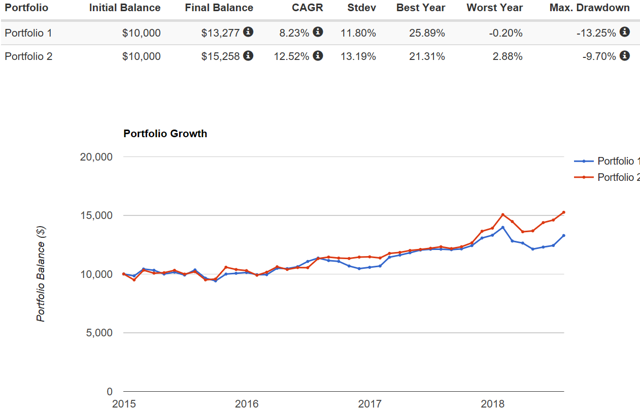 We can see a sizeable total return outperformance being delivered by the Non Aristocrats. Of course that outperformance is courtesy of those tech giants and Nike. The benchmark return for the period VIG is 10.12 % CAGR.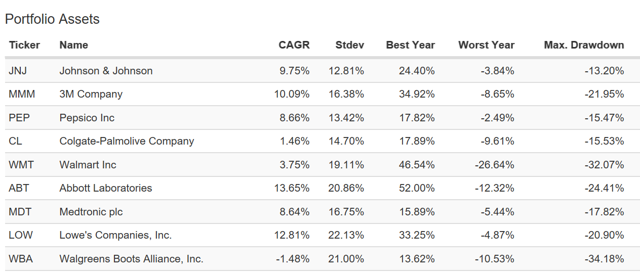 The incredible performance of those winners was enough to overcome being grouped with two losers in CVS an Qualcomm. As my readers will know, I have stuck by my 15 picks through thick and thin. I've even had selections that were removed from the Achievers Index, but I have continued to hold, and in some cases add to those losers. I have practised buy and hold and add. Many investors on Seeking Alpha know @Buyandhold_2012 who is the most famous SA buy and hold proponent. In the accumulation stage I would also suggest investors add that "Add" to Buy and Hold. Buyandhold2012 would admit that he would have made more monies had he continued to add to his stock holdings from 2012. For the most part that investor has not added since 2012 due to a guess or feeling that the stock markets were and are overvalued. Of course the markets have delivered incredible gains from 2012.
As for a comparison the total 15 Achievers Skim Portfolio outperformed VIG for the period - if rebalanced on an annual schedule. Dividends are reinvested back into the same individual companies. Eg. Microsoft dividends are reinvested back into Microsoft.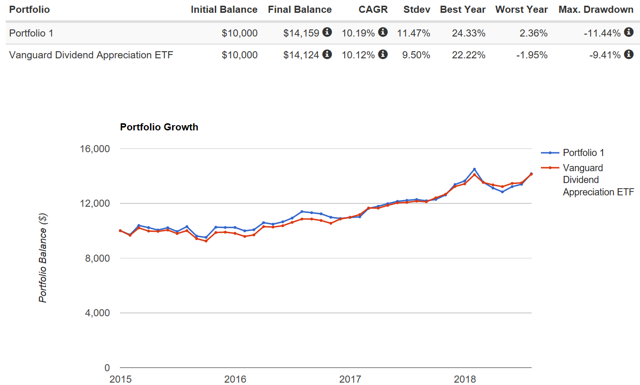 That outperformance is increased slightly if we do not rebalance, if we let the winners run. The CAGR becomes 10.37%, a slight improvement.
Now keep in mind that my rationale for holding Dividend Achievers and skimming the largest cap segment is for the potential of a lesser draw down in a major market correction. Topping that list of greater stability might be those Aristocrats that have a history of greater risk adjusted returns moving through market corrections. Here's my 9 Aristocrats from 2007 to end of July 2018.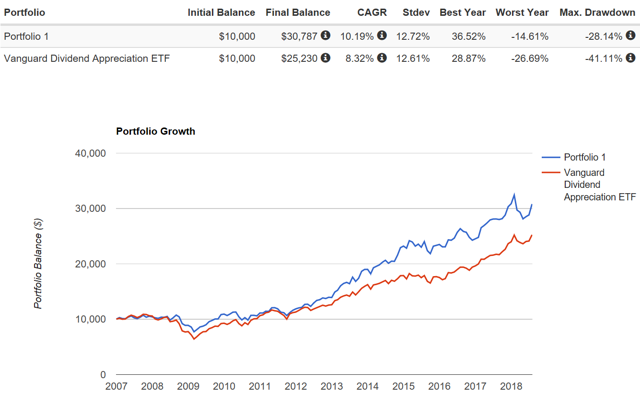 Now there is certainly survivorship bias at work here. Those 9 companies were not all the top of the list in 2007. Here's an article that details the original top 10 Achievers and how they performed through the last recession. Here's The Original Top Ten Dividend Achievers - This Should Not Have Worked.
That original top 10 Achievers group delivered much better risk adjusted returns compared to the total index VIG and the S&P 500.
Given that I have invested in the Top 15 Achievers and that potential of greater stability in a major correction (driven by that Aristocrat basket) I am not too concerned with that total return underperformance of the Aristocrats. They have not yet been tested with the reason for the purchase. They may get their chance to prove their worth. If that stock market correction does not arrive, or does not arrive for quite some time, I am happy to see the Non Aristocrats pick up the total return slack.
If an investor (don't try this at home) was looking to manage the above scenario, they might rebalance those gains from the fast running Achievers and move the monies to the core Aristocrats. That investor might also choose to move those monies to bonds (AGG) (TLT) for even greater potential portfolio stability. Lower volatility Aristocrats in concert with more shock absorbers is a wonderful combination for those looking to manage stock market volatility and draw down, and that is at the core of my personal portfolio strategy.
Author's note: Thanks for reading. Please always know and invest within your risk tolerance level. Always know all tax implications and consequences. If you liked this article, please hit that "Like" button. If you'd like notices of future articles, click the "Follow" button.
I also invite you to read my posts on cutthecrapinvesting.com
Happy investing.
Dale
Disclosure: I am/we are long BNS, TD, RY, AAPL, NKE, BCE, TU, ENB, TRP, CVS, WBA, MSFT, MMM, CL, JNJ, QCOM, MDT, BRK.B, ABT, PEP, TXN, WMT, BLK. I wrote this article myself, and it expresses my own opinions. I am not receiving compensation for it (other than from Seeking Alpha). I have no business relationship with any company whose stock is mentioned in this article.