Let's start with one of my favorite stock market cartoons, which I think depicts market participants quite well: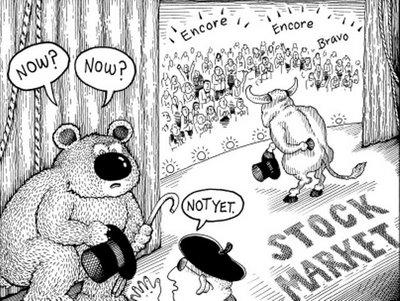 Each week that goes by, I see more and more headlines warning us about impending doom. While I won't bore you with the exhaustive list of reasons we should have crashed over the last 3 years, I will say that the latest and greatest reasons for a crash – trade wars and Trump's impeachment – make me chuckle.
So, let me see if I understand this right. These trade wars were supposed to be so bad for the economy that we need to pull our money out of the market right now. But, everyone always tells me that the market discounts the future, so it must have known about these trade wars 6 months ago and that is why it is still going higher despite all these trade war fears. I mean, of course the market is omniscient, right?
Do you not see the circular logic in this perspective? Do you not see how the market simply does not care about any of this as it just continues higher?
And, if you think the market has been going higher of late because the of the Mexican trade deal, how do you explain the market not caring about negative trade wars and deals while it still continued higher, whereas it only cares about positive trade wars and deals? The simple and most intellectually honest answer is that it does not care about either.
And, when we analyze the Trump issue, we see just how ridiculous that is as well. Remember how the market was supposed to crash if Trump got elected? Yet, the market is almost 40% higher than it was before Trump got elected. Moreover, the last time a president was impeached, the market continued to rally strongly the entire time (Bill Clinton). So, if I assume news events dictate how the stock market moves, then it must mean that a president's impeachment is good for the stock market!?
Let's move beyond the silliness you read daily about the market and see where we currently stand. In its simplistic perspective, after today's rally upper support now resides at 2880SPX. And as long as hold that support, we have a path over the coming weeks projecting to 3000+.
For those that have been following me regarding the stock market, you would know that my minimum expectation for the S&P500 was the 3011 region, with the more preferred target being in the 3225SPX region. And, even though many told me earlier this year that I was going to be wrong about my expectation for higher highs, the market is still pointing towards our target region we set years ago.
For now, my shorter-term expectation remains that we will continue marching higher towards the 2920SPX region next. And, as we continue to march higher, we will use our Fibonacci Pinball method to move our support levels higher as well.
But, as we move closer and closer to the 3000+ region, investors are going to have to strongly consider and continually reconsider how much risk they are willing to take on during what we believe will be the final rally before a 20-30% correction takes hold into 2019. While our ideal target for this rally has been the 3225SPX region for a number of years, we must recognize that markets don't always do what we expect. We are getting closer and closer to the point where we can minimally consider all of the wave 3 off the 2009 lows are completed, and that the risks are rising every week as to when that 30% correction will begin.
Should any Fibonacci Pinball support level break on our way higher, then I will gladly move to the sidelines until the market makes it clear whether we hit a premature top, or we get another set up that can take us to 3200+. But, either way, I think the risks are finally rising to the point at which we have to begin to be more cautious.
Housekeeping Matter
Please note that articles are now only being sent out to those that have chosen to "Follow" me. So, if you would like notification as to when my articles are published, please hit the button at the top to "Follow" me. Thank you.
The Market Pinball Wizard
The Market Pinball Wizard attempts to identify turning points and targets in the market with high levels of probability. Our goal is to teach you to fish so you can become a better trader and investor, and ultimately, learn to master the markets on your own.
A subscription includes video tutorials and articles about risk management, Elliott Wave analysis, and Fibonacci Pinball, as well as regular updates on the S&P 500, metals and GDX, USO, and the DXY.
As the metals market develops its bottoming, and the equities market sets up for its run to 3000+, come join us at The Market Pinball Wizard for a free trial while we track these markets to their long-term targets.
"I thought $99 per month was a little steep at first, but now realize it's worth every penny."
Disclosure: I/we have no positions in any stocks mentioned, and no plans to initiate any positions within the next 72 hours. I wrote this article myself, and it expresses my own opinions. I am not receiving compensation for it. I have no business relationship with any company whose stock is mentioned in this article.