Three big changes are coming to the technology world. AI, IOT and the other half of the population getting Internet. Kai OS is the perfect catalyst to accelerate the third one. This operating system turns mobile phones without a touchscreen, into smartphones.
The success of Kai OS will drastically change the technology and telecommunications industries. Many key players are already partnering with this baby giant. Google (NASDAQ:GOOG) (NASDAQ:GOOGL) and Facebook (NASDAQ:FB) are among the ones that will benefit the most.
What is Kai OS?
Kai OS is an operating system for mobile phones, especially phones without a touchscreen, to compensate for the lack of a touchscreen, Kai OS relies heavily on the Google assistant, which was discussed at length on a previous article.
The operating system has meager requirements, reducing further the hardware cost of the phone.
In a way, Kai OS is to mobile phones what Chrome OS is to laptops. Both operating systems reduce hardware requirements to a minimum and rely on internet services to compensate for the lack of Hardware.
Growth Projection
Kai OS launched its first version in March of 2017. Now it has around 40 million users and estimates to break the 100 million mark by the end of the year. There is little to no competition for Kai OS and an enormous market for it.
In a previous article, I modeled the way Netflix (NFLX) adds subscribers with an adapted model of how diseases spread. It has been considerably accurate.
Applying the same model to the Kai OS growth, we have the chart below.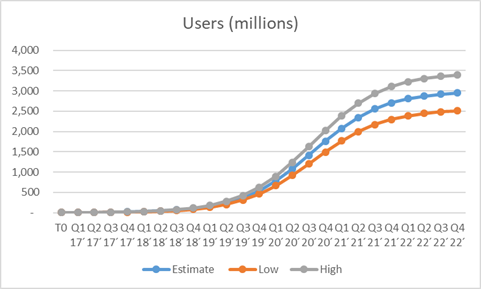 Source: Author's Charts
Kai OS prediction may be less accurate than Netflix's, as there is not as much information. Nevertheless, applying a margin of error for the chart, it is likely that in 3 to 4 years Kai OS will be used by almost 3 billion people. Nearly half the global population.
This growth is confirmed when analyzing the number of cellphone users and smartphone users and the global population. Arguably, any person using a regular cell phone would be better off using Kai OS, and there is no real price difference.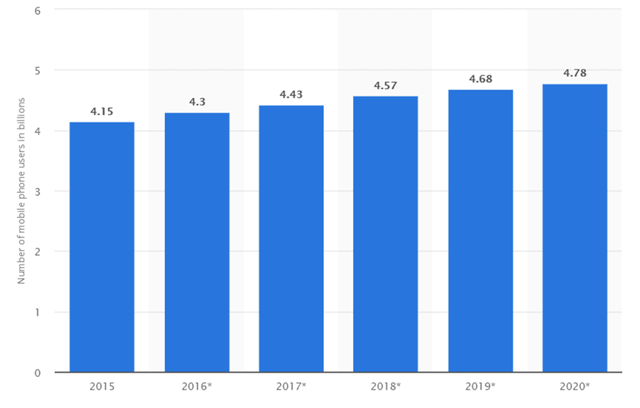 Source: Statista
The number of mobile phones has been growing at a slow pace, and mostly driven by an increase in smartphone usage. Kai OS reduces the hardware cost of mobile phones significantly while increasing its attractiveness for users. Telecommunication companies will also be able to offer data packages to a whole new segment of the population, leveraging its existing infrastructure.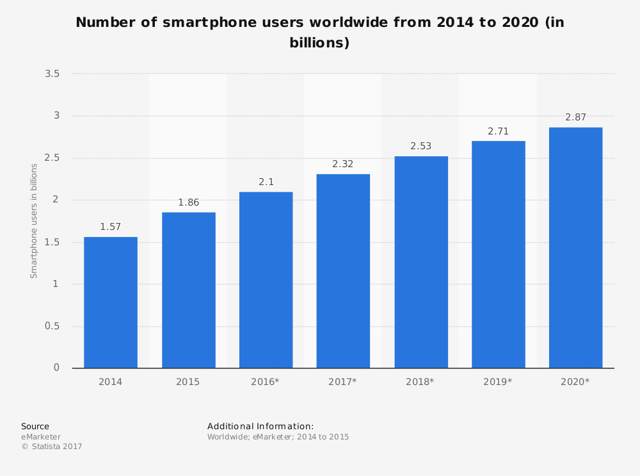 Source: Statista
By 2025 the global population will be over 8 billion people, with that info we can construct three scenarios that project the size of the population that will likely migrate from traditional mobile phones to Kai OS.

Source: Author's Charts
This would likely put Kai OS on the 2.5 Billion users before 2025, while optimistically it will be north of 3 billion.
Who will profit the most?
Reliance Industries produces the Jio Phone, which is the most popular phone for Kai OS. Apart from this evident pair trade, Reliance Industries acquired a 16% share of Kai OS for 7 million dollars back in March. In June Google invested 22 Million Dollars in Kai OS.

Source: author's Charts
Google's stake in Kai OS is about 50%, considering a constant market cap, even considering a reduction to a 49% stake, Google will have enormous influence on the new OS, which ensures that it can offer as many Google products as possible in the hands of Kai OS users and increase its presence in developing countries.
Besides the stake in Kai OS, Google will profit from the increase in internet users, as well as Facebook and Twitter (TWTR), which are available on the Kai Store.
Kai OS could give Facebook the chance to have its cake and eat it too. Instagram has been outpacing Facebook growth for some time now, but it is far from the ideal platform for Kai OS. Instagram consumes enormous amounts of data, has high hardware requirements and is focused on videos and images, which run poorly on small screens such as the ones in the Jio Phones. Facebook, on the other hand, seems an ideal fit for Kai OS, a good portion of Facebook interactions are text-based, and while images are frequently used, low-resolution images can still deliver acceptable results.
Facebook could get to growth on both platforms, which would make an enormous impact on its earnings.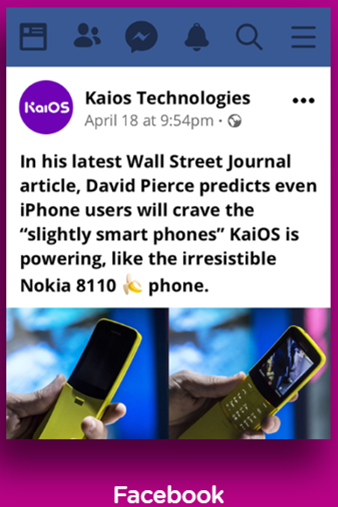 Source: Kai OS
Twitter is perhaps the best platform for Kai OS. Since most interactions are text-based, the Jio Phone resolution is not an issue, and searching topics and writing tweets should be relatively comfortable with the Google Assistant. Twitter has proven its value already in developing countries and even coined the term Twitter Revolution. It will be interesting to see how much additional growth Twitter gets from this new OS.
Conclusions
Kai OS is running almost without competition, and its growth is staggering. In its market is running almost unopposed, which ensures rapid expansion. Even in the most pessimistic scenario, getting close to 2 Billion users in the next five years, Google and Reliance industries made a fantastic investment in Kai OS.
2019 will be the perfect year to test Kai OS growth, and how will it affect the technology and telecommunications industries. While Google has a greater stake in Kai OS, and Facebook could acquire a higher amount of subscribers, Twitter could be the company with greater exposure to the three.
Since Twitter is barely profitable now, an increase in earnings will go a long way and could very well be the catalyst that pushes Twitter to new heights.
If there is anything in this article you agree or disagree with, or would like me to expand further; I would sincerely appreciate you leaving a comment. I will address it as soon as possible. I am long GOOG, GOOGL, FB, and TWTR so I will continue to write about it. If you like this article, subscribe!
Disclosure: I am/we are long GOOG, GOOGL, TWTR, FB. I wrote this article myself, and it expresses my own opinions. I am not receiving compensation for it (other than from Seeking Alpha). I have no business relationship with any company whose stock is mentioned in this article.