Introduction: 4 times in the 1980s and 1990s, the yield curve got as tight as it is now before steepening and without an ensuing recession
A few weeks ago, I pointed out that 4 times in the past 40 years - twice in the 1980s and twice in the 1990s - a compressed yield between the 2- and 10-year treasury bond similar to current conditions had occurred without a recession ensuing. But all 4 of those occasions resulted in a slowdown of economic activity.
Since then, the yield curve has only gotten tighter, with the 2- to 10-year spread narrowing to 0.19%, and the 3-month to 10-year spread narrowing to 0.71%.
Meanwhile, checking back on my Weekly Indicator columns, I find that in January the long-term forecast was positive. By the end of March, I was calling it "weakly positive." A month later, it was "edging towards neutrality," and by the first week of June, it was neutral. For a week earlier this month, it turned negative, and the YoY comparisons are only getting harder.
A long leading forecast that is not positive but only flat for 3 months ought to mean something a year or so later. So, I decided to update my look at the 4 occasions in the 1980s and 1990s that the Treasury market curve resembled that exists now.
First of all, here is a look at the 2-year to 10-year spread (blue) and 3-month to 10-year spread (green) for the 1980s and 1990s, from which 0.19% and 0.74%, respectively have been subtracted so that those values are at the zero line: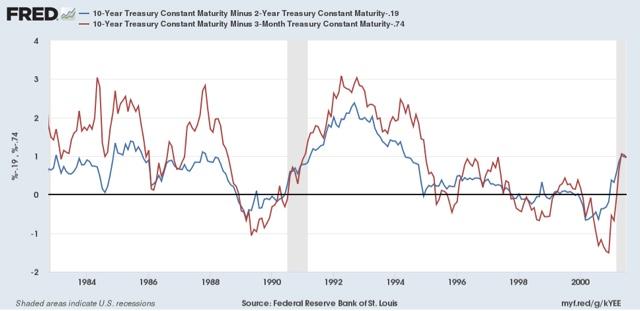 To be more precise:
The 3-month to 10-year spread never approached its current tightness in 1984.
In 1986, it got as low

as 0.80% on two days - March 3 and April 2.

It spent nearly all of 1995 after May 17 and early 1996 until February 14 tighter than its current level.
It also was tighter than its current level, and indeed inverted, between October 28, 1997, and September 25, 1998.
Next, let's show what the Fed was doing on these four occasions. The first graph below covers the 1980s and the second the 1990s. Both show 10-year treasuries (blue), 2-year treasuries (brown), and the Fed funds rate (red):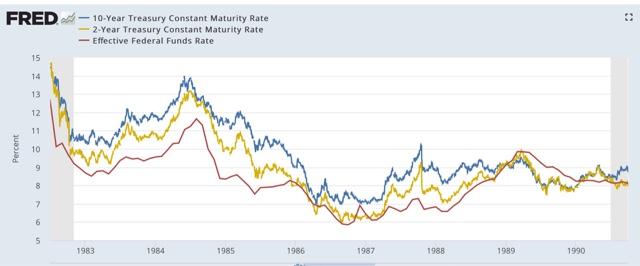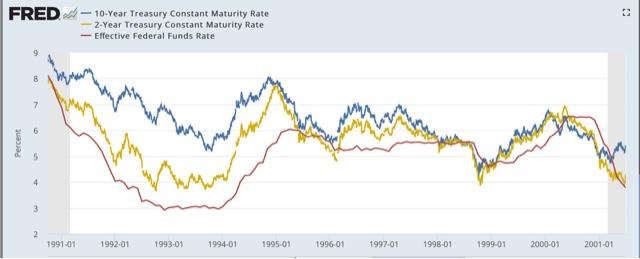 Both 1984 and 1994 feature similar scenarios: the Fed is hiking rates, and both 2-year and 10-year yields are rising as well, but the latter not nearly so much as the former, until the yields on the two maturities are virtually identical. The Fed then starts lowering rates almost immediately, and in the case of 1986 is still lowering them when the yields all but intersect again, and indeed there is an inversion between the Fed funds rate and 2-year treasuries - but not 10-year maturities - in both cases.
By contrast, in 1997, there was one 0.50% Fed rate hike. Thereafter, the Fed funds rate remained constant as both 2- and 10-year maturities declined in yield. It was only after both declined below the Fed funds rate that the Fed reacted and lowered rates.
Now let's show how the economy behaved.
The response of short leading indicators
To begin with, if the long leading indicators stall out, the next step is to start looking for short leading indicators to wane in roughly 6 months, give or take, later. So, let's see what happened with a few of them.
In the year subsequent to all 4 compressions, initial unemployment claims, which had been declining, either rose YoY (1984-1985 and 1994-1995) or were flat (1986 and 1998):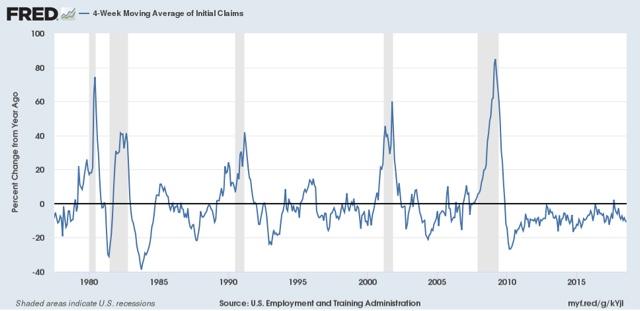 In the past month, I've noted that the broad US$ has appreciated over 5% YoY, and thus turned into an economic negative. In two of the four occasions noted above, the US$ similarly appreciated: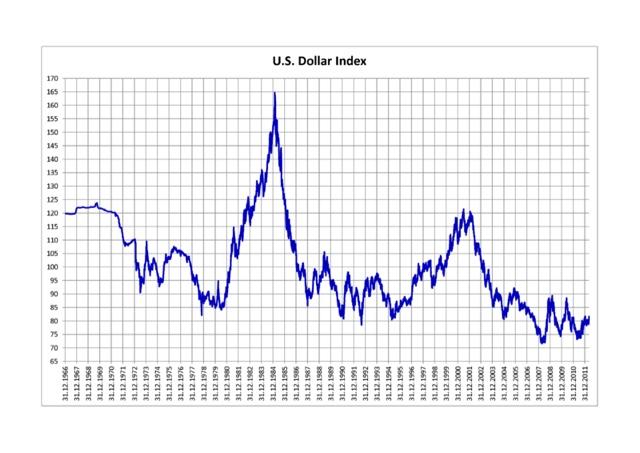 There was a Latin American currency crisis in 1984, a Mexican peso crisis in 1994, and the East Asian currency crisis in 1998. It's worth noting that Venezuela and Turkey are experiencing currency crises now.
I've also recently noted that commodity prices have gone negative YoY. The PPI index shows that commodities prices fell, or at least sharply decelerated, on three of the four occasions - 1984-1985, 1994, and 1998: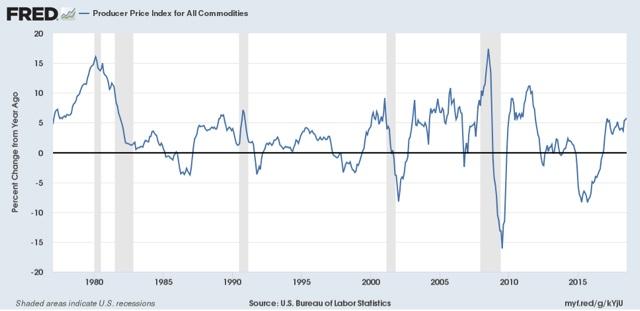 As of now, while the commodities index of the PPI hasn't slowed, commodities indexes like Bloomberg's already have:

Another short leading indicator is the ISM manufacturing new orders index. Here is a historical look: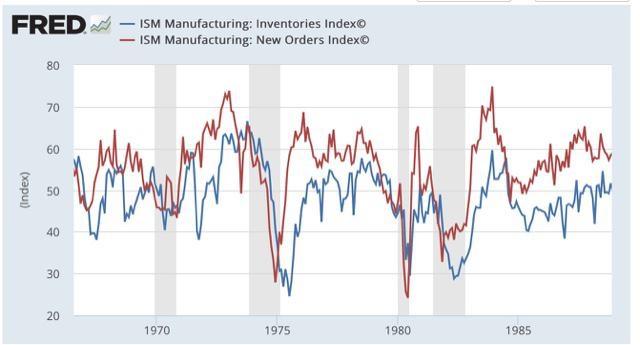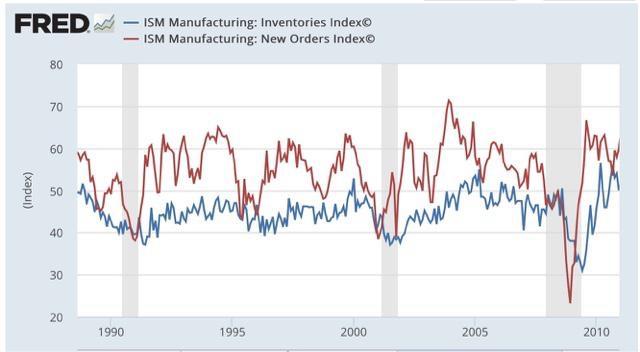 While manufacturing sailed through 1986, in 1984-1985, 1994-1995, and 1998, the new orders index turned negative.
Finally, the behavior of stock prices was more complex. They turned negative YoY from May through December 1984, and in December 1994 through January 1995, coincident with the yield curve tightening, but in 1986-1987 and during 1997-1998 actually moved higher YoY before taking a 20% spill in 1998 and a skosh larger one in 1987: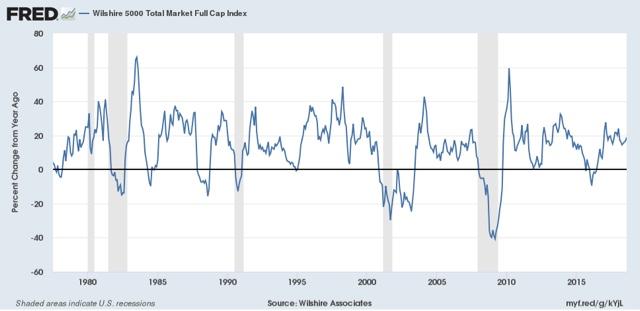 The response of coincident indicators
Industrial production fell sharply to nearly 0 in 1985 and, while it remained positive, decelerated sharply in 1995 and 1998: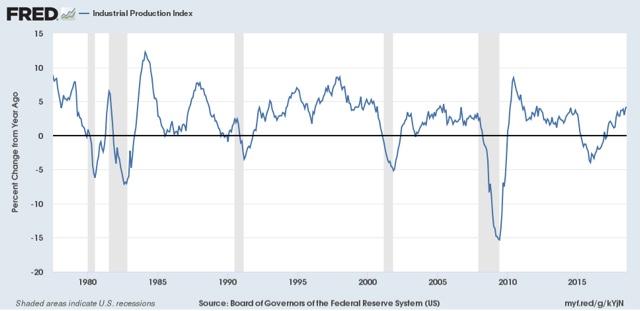 And here is q/q annualized real GDP (green) (normed to its +3% long-term trend) vs. Fed funds (red) and the 2- to 10-year spread (blue):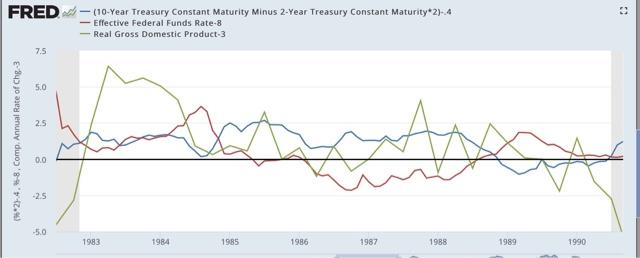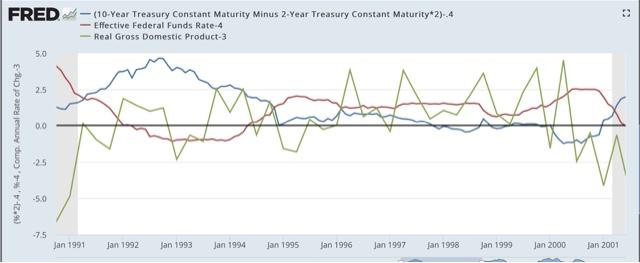 In 1984, 1986, and 1994, at the time of maximum yield curve compression, real quarterly GDP growth decelerated sharply and continued at depressed levels compared with before the compression for 2 quarters thereafter. In 1998, by contrast, there was very strong real GDP growth during the quarter in which rates inverted. But, in the following two quarters, growth decelerated sharply.
The current situation
Now that we've looked at the past four episodes, let's take a look at current 10- and 2-year yields as well as the Fed funds rate: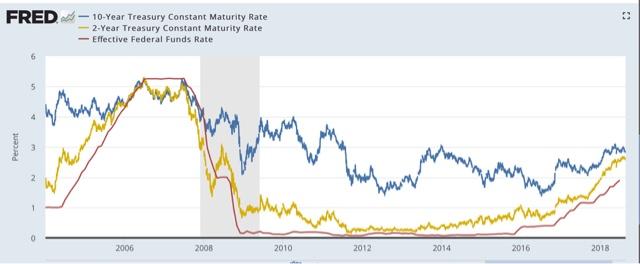 The current situation is similar to that of 1984 and 1994: the Fed has been raising rates, and during that time both 2- and 10-year Treasuries have followed suit, but the former much more than the latter, resulting in a compression.
Conclusion
Note that the above analysis detailed 4 occasions where, after tightening to roughly where it is now, the yield curve spread back out. In other words, even if last Friday marked the closest the yield curve ever came to inverting in our present situation, if past is prologue, what should we expect?
Even if the long leading indicators do not deteriorate further, one of which, of course, is the yield curve, a slowdown in economic activity centering roughly on next summer looks likely.
As I noted above, there are signs now of commodity price declines and US$ appreciation. So far, there has been no sign of deceleration, however, in any other of the short leading or coincident indicators. But if past patterns hold, that is likely to occur in order over the next 12 months.
In three of the four occasions during the 1980s and 1990s that the yield curve got as tight as it is now, the Fed, in response to economic weakness, moved swiftly to lower (or continue to lower in 1996) interest rates. Only in 1998 did it delay - but there, it lowered rates by 1% very quickly. Of course, in 1989, 1999, and 2006, the Fed continued to raise rates and recessions ensued.
The good news is that, up until now, the Fed has raised rates very slowly, in 0.25% increments. A slowdown may be much more gradual and easy to reverse than if the Fed were raising rates more aggressively.
So the question becomes if the economy slows early next year, will it reverse course? That, needless to say, is an open question.
But there is a new political consideration that observers, regardless of their ideology, also need to contemplate in considering that question. Typically, the Executive Branch has allowed for Fed independence. The Federal Reserve Act, at 12 U.S.C. Section 247, allows Federal Reserve governors to be removed by the President only "for cause."
Of course, that is the very same protection that FBI Director James Comey had. If the Fed raises rates in the face of a slowing economy, and in defiance of the wishes of Donald Trump, will he fire the Chairman of the Fed and perhaps other governors as well, in order to install more dovish Governors?