When people divorce, it's always a tragedy. At the same time, if people stay together it can be even worse.
One of our key themes heading into 2018 was that "the era of easy money is ending." It marks a turning point for the markets. With central banks in developed countries shifting away from zero or negative interest rates and phasing out their bond-buying programs, financial conditions are getting tighter.
After three years of endless love between the S&P 500 (SPY) and Emerging Markets (EEM), they have started to move in different directions.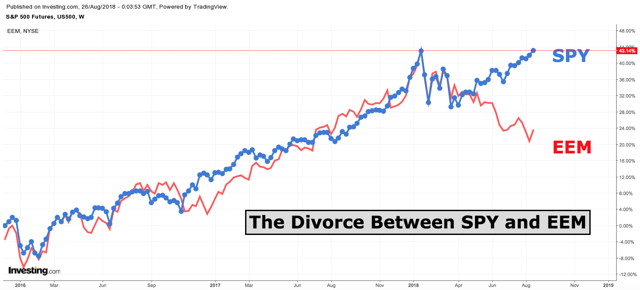 In one personal life terms, the biggest financial pitfall in life is divorce. So, I think it is time to consider whether this marriage can be saved.
Who has the key? President Trump with its Trade Crusade.
Somebody else? Yes, the Federal Reserve!
Some History To Understand The Present. The Good Years.
Since 2000, the World experienced an outstanding reduction in global inequality, due to the rapid and steady convergence of Emerging and Developed Countries. Those economies were expected to grow larger in the future and thus have more and more of an impact on global trade and economics.
A major transformation in the international investment scenario casts a focus on the growth-leading emerging economies. Although different, in the eyes of the investor on the developed economies, it moves as an asset class.
First was the term BRIC, coined in 2001 by then-Chairman of Goldman Sachs Asset Management, Jim O'Neil, in his publication Building Better Global Economic BRICs
In 2010, South Africa began efforts to join the BRIC group. It officially became a member nation on 24 December 2010, after being formally invited by the BRIC countries to join the group and the group was renamed BRICS - with the "S" standing for South Africa.
Also, in 2010, the BBVA Research Team created the EAGLEs. It was an acronym for Emerging and Growth-Leading Economies whose contribution to World economic growth in the following ten years is expected to be larger than the average of the leading industrialised nations.
Columbia Center on Sustainable Investments identified in 2015 a major development in the global foreign direct investment market over recent years has been the rapid rise of multinational enterprises from Emerging Markets.
So, it created Emerging Market Global Players (EMGP)
One way or the other, Emerging Markets became an asset class. Its economic connections describe the case where a foreign financial crisis acts as a common shock to countries with strong economic linkages to the country in crisis. And when that happens, flows from the investment community recedes.
How come this happened?
It all began with President Trump enacting protectionist campaign promises of tightening trade policy. And is happening in simultaneous with the era of easy money and Central Banks in developed countries shifting away from zero or negative interest rates and phasing out their bond-buying programs.
This inflicts damage on Emerging Markets - and not just China.
It's known that by far, the largest US trade deficit in nominal terms is with China. It accounts approximately USD 375 Billion a year. However, the overall scale of China's economy means US exports account for only 3.6% GDP. As the following chart shows, Mexico, for example, is far more exposed to an escalation in US import tariffs.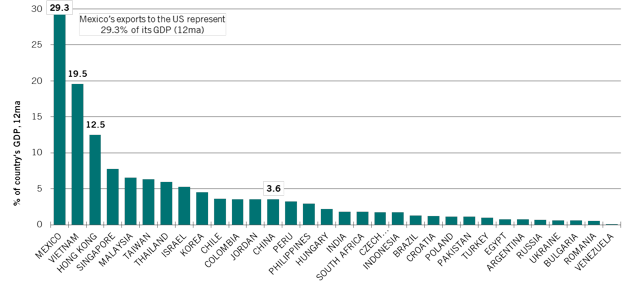 Source: Pictet Asset Management, CEIC, Datastream, Feb. 2018
Valid or not, the perception of Trump's voters is that the US has lost its manufacturing sector leadership due to unfair competition from China and other leading trade partners.
And that might be true!
According to WTO's World Tariff Profiles 2018 US tariffs on imports under the World Trade Organization are very low with respect to other countries.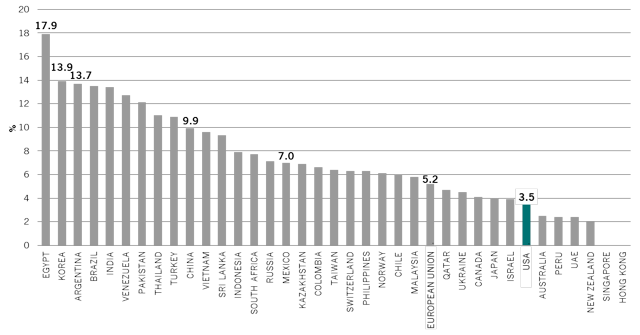 Source: Pictet Asset Management, CEIC, Datastream, Feb. 2018
Trump started to play many battles against them, together
Trump started to play a war against them, in many fronts. As per China described it, this will be the largest trade war in economic history.
The list of open fronts looks endless. China, the EU, Canada and Mexico, Japan, Iran, Turkey, and of course, Russia.
July 6 marked the official start. After weeks of fruitless negotiations, USA imposed 25% tariffs on approximately $34-billion of Chinese products, sparking an immediate dollar-for-dollar response from Beijing. USA and China started to hit each other with more punitive customs taxes.
Lately, Trump threatened to target all $500 Billion in goods the US imports from China, noting that Beijing cannot continue to retaliate in kind since it imports less than $200 Billion a year from USA.
Beijing decided to file a complaint in the WTO against the US actions. The Stock Markets reacted, so do the yuan.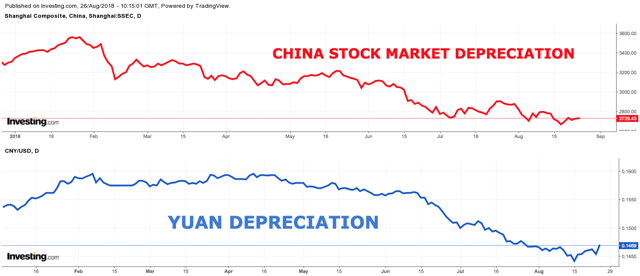 Trump announced in May he was abandoning the 2015 nuclear deal with Iran and imposing sanctions in two phases in August and November, with the second targeting the country's vital oil and gas sector. That entails the potential for huge penalties against those who trade with Iran, including European energy firms and automakers.
Igniting a secondary clash, Trump said that he had doubled steel and aluminum tariffs on NATO ally - Turkey - amid a row over an American pastor held for two years on terror charges.
The Twitter announcement on August 10 caused the Turkish lira to crash nearly 20% and prompted President Erdogan to claim Turkey was victim of a "political plot" and an "economic war".
Turkey has filed a complaint in the World Trade Organization against the US actions and has, in turn, hiked tariffs on imports of several US products such as rice, alcohol, leaf tobacco, cosmetics, and cars.
Last, but not least, Russia. Even as Trump pursues his goal of better relations with Russia, his government continues to add sanctions targeting Russian government and businesses. Since 2014, the USA has imposed travel bans, asset freezes, and finance and trade restrictions against Russian individuals and companies, part of a multinational effort to punish Putin's government. Almost 700 Russian people and companies are under U.S. sanctions.
Their answer?
Get together and start to avoid the USD.
Once that path is taken, it will be difficult to get them back on track.
China is trying with the so-called PetroYuan. Upon China overtaking the United States as the world's largest importer of oil in September 2013, new pressures began to mount for a domestic crude oil futures market. The result was the creation of the PetroYuan, an instrument many industry experts predict will have tremendous geopolitical and financial consequences. It represents a standardised futures contract available for trade on the Shanghai International Energy Exchange (INE) based on the underlying asset crude oil, denominated in CNY per barrel.
The way Russia responds to the sanctions is by accelerating efforts to abandon the American currency in trade transactions.
As per Foreign Minister Sergei Ryabkov.
The time has come when we need to go from words to actions, and get rid of the dollar as a means of mutual settlements, and look for other alternatives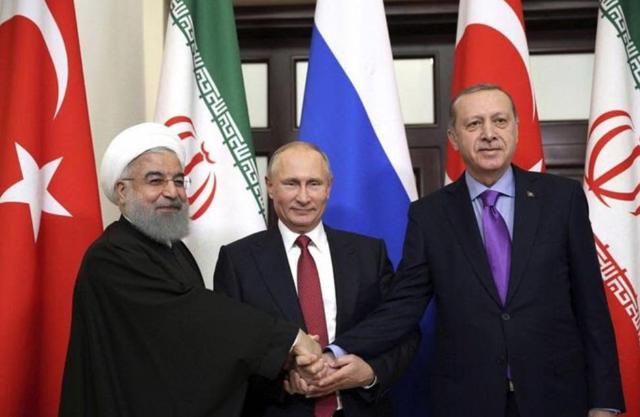 In order to understand Russia and President Putin views, I recommend you to listen to Chris Wallace interview, one historic piece of journalism. You will get the sharpness of a former KGB intelligence officer and perceive the politician who gets 80%+ of votes.
Putin led the pack and started a de-dollarization. Russia liquidated almost all of their US Treasury holdings. The total size sold? $81 Billion! Despite the move, the 10-year yield is down, therefore, implying that Russia sales had no real effect.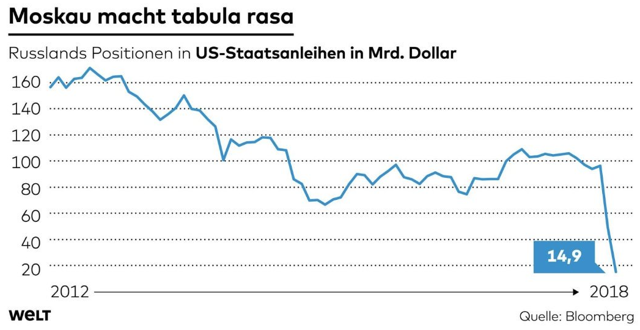 Markets talk
The equity risk premium to hold emerging markets asset, particularly stocks, grew. A quick look at different emerging markets shows the pain is across the whole asset class.
Several ETFs were affected. From widely-held iShares China Large-Cap ETF (FXI) to VanEck Vectors Russia ETF (RSX) and Brazil iShares MSCI Brazil Capped ETF (EWZ) all suffered. India through its iShares MSCI India Index ETF (INDA) was quite resilient.
Currency weakened across the board. Flow of funds turned into redemptions!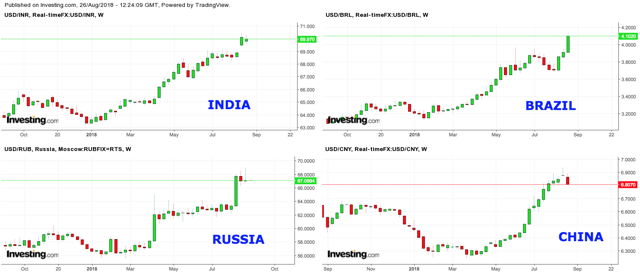 Argentina and Brazil cases are still suffering too. But for different reasons. Big corrections are underway.
In the case of Argentina, its Global X MSCI ETF (ARGT) although down, is not as much as the Merval because of the inclusion of MercadoLibre (MELI). Local Merval Index measured in USD is experiencing losses above 50% from February top.
The case of Argentina was discussed in my two previous articles.
Is Argentina Drowning Itself In A Glass Of Water? Fed-Up Investors Are Talking: Don't Blame Turkey.
Reality Hits Banks In Argentina
In Brazil, there's a mix of peer contagion, together with this year presidential elections. The country which is leaving a 4-year recession doesn't find investor appetite for now.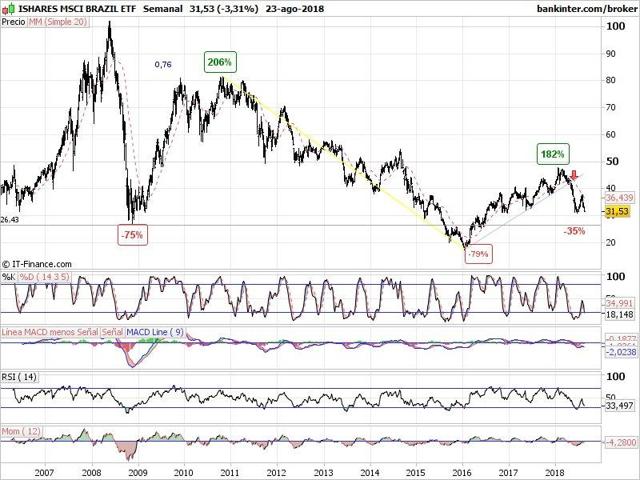 Source: Brazil ETF
Conclusions
Investment decisions, of course, are made on a relative basis.
The following 4 charts will make you think that Emerging Markets as an asset class is comparatively cheaper than the S&P 500.
When to buy? The day when the fifth chart sends a signal of turnaround.
1. Valuation
The MSCI EM Index is trading at 15 times forward corporate earnings compared to 33 times in Trump America according to Shiller P/E Ratio.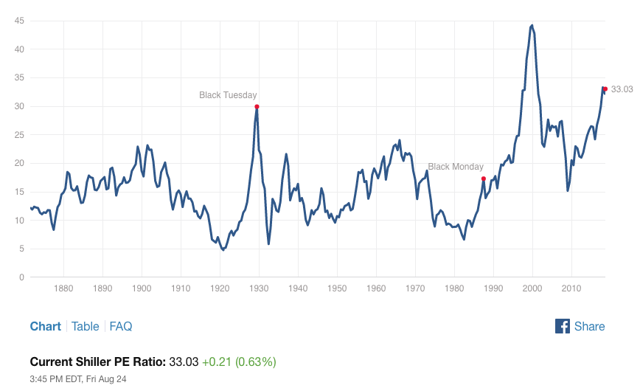 Source Shiller P/E Ratio
That means potential EM upside.

Source: Bloomberg, Shiller P/E Ratio
2. Fundamentals
History shows higher growth rates and substantially lower leverage.

Source: Bloomberg, Shiller P/E Ratio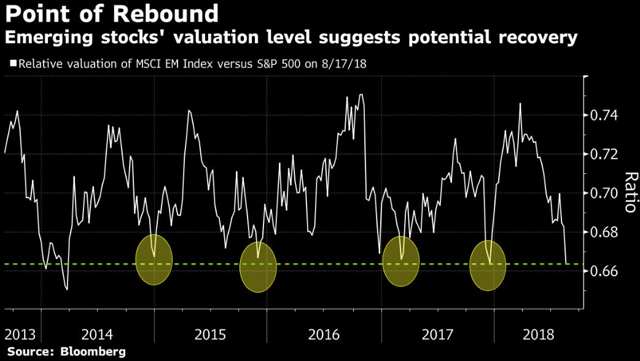 Source: Bloomberg.com
3. Technicals
Pointing for a rebound...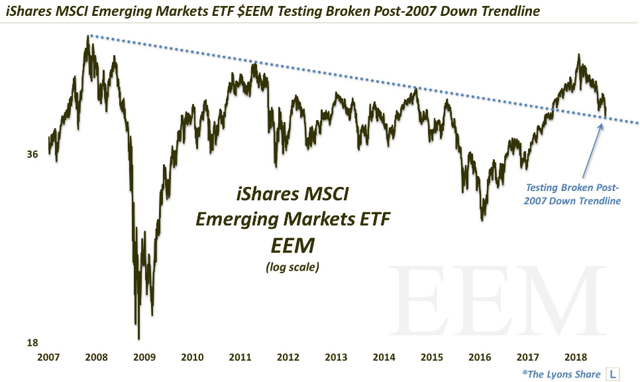 Source: TheLyonsShare
4. As a Contratian
When is the time to buy something? When nobody cares....!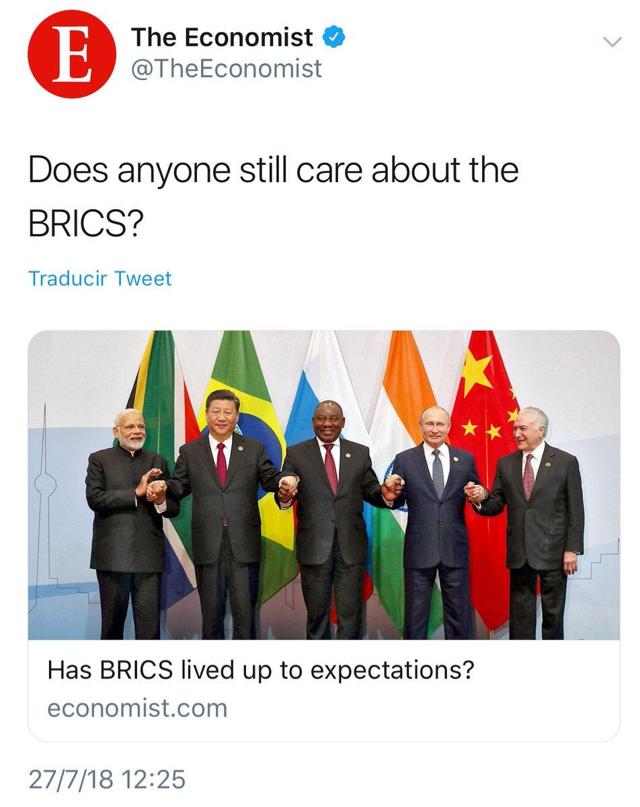 Source: TheEconomist.com Twitter account
5. Commodity Cycles
Historically speaking, for Emerging Markets to rally and receive flows from everywhere, needs higher commodity prices. Attached a chart of Thomson Reuters Equal Weight Commodity Index at a decision point.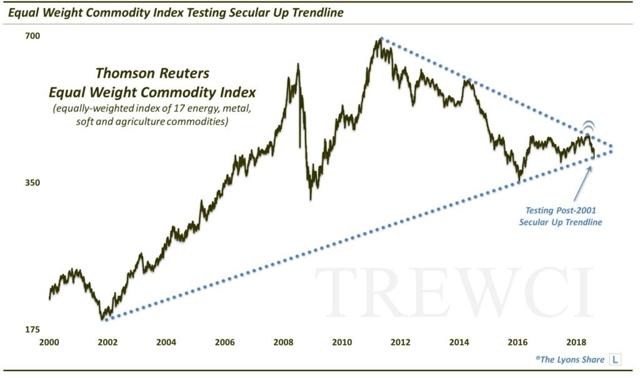 Source: TheLyonsShare
An Emerging Market collapse will certainly affect the US economy. A profound Trade War will likely send commodity prices and emerging markets all the way down. A recession, particularly in China, is a possibility.
The Fed on Friday morning brought some light. Fed Chairman Jerome Powell speech on 'Monetary Policy in a Changing Economy' sent a dovish message due to the TradeWar and its risks over the US economy.
If President Trump perceives the same risk and brings peace and negotiation back to the table, then this marriage will be saved.
And then - not yet - emerging markets will be a HISTORIC BUY.
Stay tuned!
Author's note: Thank you for reading my article. Please let me know what you think of my thesis. Your input is highly appreciated! If you like this article, please scroll up and press follow. In order to make the most out of following me, please make sure that you're doing so at real time.
Disclosure: I/we have no positions in any stocks mentioned, but may initiate a long position in EEM over the next 72 hours. I wrote this article myself, and it expresses my own opinions. I am not receiving compensation for it (other than from Seeking Alpha). I have no business relationship with any company whose stock is mentioned in this article.