The goal is financial freedom. The path to get there is investing in growing and income producing businesses. Many of my stocks are, "dividend growth investments" that produce a consistent and rising income stream. Hopefully these DGI stocks will beat the market. My non DGI stocks are, "Seeking Alpha". These are companies I'd like to provide above average market returns. A wonderful example is Apple, which has been a fantastic Alpha provider, and it's also maturing into a DGI stock of its own.
The summer has been great, I traveled to Europe, read some good books and commented on a lot of Seeking Alpha articles. Sometimes getting away lets you unplug and actually think. Great ideas can pop up when you least expect them. An interesting book recommendation is, "The Sovereign individual". My portfolio is a collection of thoughts on the past, present and future, with added emphasis on the future.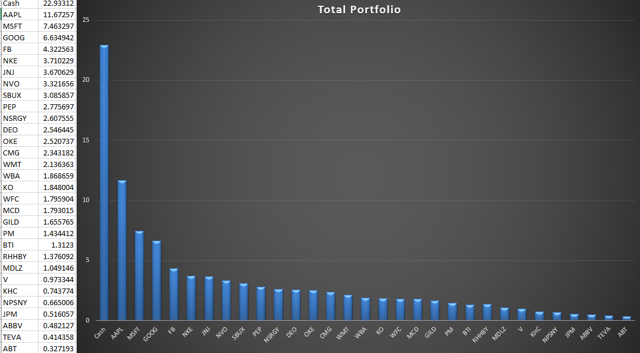 Equity only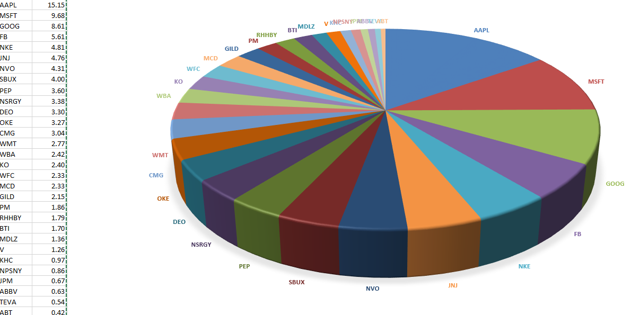 Sorry for the different format than last time. Big shout out to Microsoft Excel for the "update", always changing Excel and Outlook.
Current Holdings
23% Cash + Fixed Income: 8% of the allocation is to the Vanguard Total Bond Index fund (VBTIX). This bond fund has a 0.04% expense ratio and includes 8457 bonds of the Corporate and Government variety. It's classified as "intermediate" Fixed Income with an 8.4 Average Effective maturity and a 3.3% Yield to Maturity.
The other 15% is cash/short-term. If the market were to turn, not only would I have my cash backstop that I'd be layering into the market, but I'd also probably trade my fixed income for beaten down stocks. Keeping cash helps let me sleep well at night, especially 10 years into a bull market.
*Stock percentages reflect percent of equity
15.15% Apple (AAPL): Welcome to the trillion dollar club! Apple was already my #1 position and I added to it June 1st @ $190.85 and then a bigger add on July 20th @ $191.9 before earnings. Now it's trading @ $216.16 a little over a month later and I'm glad I did.
This stock has been a tremendous winner and it's still undervalued. Dominance in phones, cash position, the eco-system, and now services. This is a very well run company with plenty of runway.
Nicholas Ward is one of Seeking Alpha's best authors and he recently wrote an interesting article, Is It Time to Take Profits on Apple? Many of us have gains in Apple as it has grown to a concentrated position. So do you manage risk or not sell your winners? Hindsight is always 2020.
Thing is I'm not a fat cat NYC Hedge fund manager managing a gazillion dollars. It's OK to have a concentrated position, especially if it's grown into that and it's still undervalued. I'm firmly on team "stick with your winner".
Some of my shares have a cost basis of $30.20 (bought in 2010). One of the advantages of finding winning companies and building a portfolio around them, is that it's much easier to buy shares @ $190 when some of your shares have a basis @ $30. Let's say earnings a few weeks ago were awful, and the stock immediately sold off to $150... guess what, mentally that's a lot easier to take than if you start a new position and your stock starts off poorly. Basically, I like adding on the way up.
9.68% Microsoft (MSFT): A few months ago I thought Microsoft might be a touch overvalued, but I don't really think that anymore. Some of the analysis, comparing 2018 Microsoft to 2013 Microsoft or 2008 Microsoft or 2000 is unfair. Microsoft Azure is taking over cloud computing with growth rates you see in a start-up. Not only that, Cloud has a lot more runway, they are a defacto provider and switching costs are very high. All business segments are growing double digits. The premium that you pay to buy Microsoft probably isn't high enough given their cloud dominance and overall growth.
8.61% Alphabet (GOOG) + (GOOGL): The last thing I said about Google in my last review was that the EU is broke and they will turn to the people with the money. Well they fined Google $5 Billion dollars.
Google and Facebook are winning the internet. Tech is dangerous because it's so dynamic, but these companies have so much money they can just buy (or copy) anybody that's even remotely a threat. It's not just Apple, Microsoft and Alphabet have over $100 billion cash of their own. These companies are so successful that the biggest threats are probably government related and how they treat their customers.
Google is possibly undervalued in its own right, but if some of these "other bets" pay off, this can be a massive winner. Author Rob Barnett had an excellent piece estimating the value of Waymo. I was very close to adding to this already large holding of mine but added to Apple and Facebook instead.
5.61% Facebook (FB): There have been a ton of "buy the dip" Facebook articles post earnings and I agree with them all. I added to my position @ $174.88 on 8/16/18.
See the forest from the trees. High growth, high margins, that won't be as high anymore. OK - the stock is trading at a bargain price. It isn't even just about what they company is today, it's what's possible with all that data. Data is the new oil right? Well Facebook and Google own the data and they aren't shy about profiting from it. You can complain about it or you could log into your brokerage account and click buy.
4.81% Nike (NKE): These shares up ~ 55% to 60% after being purchased a little over a year ago and another lot a little over 2 years ago. Good job on the buys, now what? Hold or take some profits? I've actually thought about selling some of my stake and rather than try and buy back lower, or buy an undervalued name, use some Nike profits to go short Under Armour (UA). Maybe buy some puts, maybe just short, maybe both. Nike might be a never sell. Before making my decision I have the book, "Shoe Dog" on my mantle and I'd like to read it.
4.76% Johnson & Johnson (JNJ): Some of my shares are over 10 years old. I added to my position June 1 @ $121.34. Love the 3.6% yield and I love health care long-term as the first world ages.
4.31% Novo Nordisk (NVO): Another positive phase 3 study, another day closer to a diabetes pill. The world is getting older, fatter, and more diabetic, this company offers solutions.
4% Starbucks (SBUX): In July I added to my stake @ $51.36. This is the millennial generations McDonald's. It's the 21st century McDonald's and a future dividend aristocrat in 2035. I like that they are strengthening the brand and adding a store in China every 15 hours. China is a great market for Starbucks, not just to feed their growing appetite for coffee but Starbucks also sells tea.
Starbucks is a good "internet era" stock. What I mean is that people spend a lot of time independently on laptops, tablets and phones. Starbucks is a great place to do that. It's an even better place to meet a friend or date.
3.6% Pepsi (PEP): I added to this company two times in 2018, most recently on May 3rd @ $97.63. You can read why here.
3.38% Nestle (OTCPK:NSRGY): The world's largest food company acts as an "equity bond" DGI stock. Collect your nearly 3% dividend and SWAN.
3.3% Diageo (DEO): Last month I was in Dublin and Guinness is life. I never really liked the beer but it tastes way better in Ireland and now I'm a big fan. If you ever make it over there go to the Guinness factory and you will gain a deeper appreciation of this beer and the impact it had on the city. A few things that I learned from my trip; the Irish are great friendly people, they drink hard, Dublin is dirty (sort of the Philadelphia of Europe), and Ireland more than anybody is poised to benefit from BREXIT. I'd love for some Irish investment ideas in the comments section.
3.27% Oneok (OKE): This is my only energy stock. I've been an oil bear for a long time and in 2015 said, we won't see $100 oil for a decade, maybe forever. Exxon Mobil (XOM) trades at less than it did 10 years ago, I'm so glad I've buying tech stocks instead! Our oil and gas engineers are kicking *** and keeping Oneok's pipelines full. What's not to like about a nearly 5% yield? This stock also appreciates.
3% Chipotle (CMG): It's been a wild ride with Chipotle. I want to say I first bought this stock in 07'ish. I doubled my money and sold out. I think I added later and made solid money also. Almost added during the great recession at the very bottom and could have had a life changing potential 30 bagger. Missing out on that one is probably my most regrettable trade ever. After peaking in 2015 @ $750, I bought back in later in the year when it fell to $614 (a nice $135 discount). I added 2016 in the low $400's. Much of the last two years I've been underwater. As recently as February the stock sold for $255 before doubling in 6 months to the current price.
I've considered selling as much as 1/2 my position, given the rapid run up and the risks. It wouldn't shock me if this name sold off say $100 at some point and I get a chance to buy back in lower later.
2.77% Wal-Mart (WMT): 40% increase in eCommerce, 2.2% higher foot traffic in stores, 2.2% higher average ticket and 4.5% higher comps. Those are pretty good numbers for a company that many think will slowly die. I'll take the 2.2% dividend, the 45 years of increases as an underrated play.
2.42% Walgreens (WBA): Adding in May @ $62.72 is already paying off. You can read why I added here. The dividend yield is still north of 2.5% and growing. I think this stock is still in buy territory.
2.4% Coca-Cola (KO): The funny thing is that 10 years ago everybody on Seeking Alpha loved Coke and Buffett. Most people lost their love for this stock as it's basically just been a bond, paying dividends, not growing and increasing their payout ratio to high levels. Pepsi is the new Coke in terms of investor sentiment.
Would I want to add to this stock right now? Not really. If the company stays on cruise control, keeps doing the same thing, sure, they will probably have the same under-performing result. However, I could dream up a winning scenario with their new CEO. They could go into other markets, alcohol, food etc. and utilize their best in the world distribution system, brand name and marketing machine. It would be a bold move and it could happen however the current price of the stock isn't worth buying over a hypothetical.
2.33% Wells Fargo (WFC): Blockchain technology could end up being a great asset to banks, it could also be a great risk. If I had to choose sides, right now I'd side with the big banks and it being an asset. There's so much laborious back office BS and costly paperwork that could be cut out of processes. Wells has a nearly 3% yield and is undervalued.
2.33% McDonalds (MCD): I call Starbucks the McDonald's of the 21st century, but that doesn't mean McDonald's can't thrive also. Have you been to one of the newer modeled restaurants with the Kiosks? Not only does it reduce the labor burden, I'd also wager it increases average ticket prices.
If the socialists want to implement $15 minimum wages for burger flippers, it will hurt all fast food restaurants, sub shops, overseas food, and chains but it will probably hurt McDonald's the least. Not only is McDonald's probably the best run restaurant in the world they are often open 24-7. If you owned a restaurant, would you rather have the doors open 12 hours a day making profit or 24 hours making profit? McDonald's breakfast is huge, McDonald's drunk food is huge too.
2.15% Gilead (GILD): This stock hasn't worked out how I wanted since purchase. I'm down, my loss is under 10% not including dividends. There will be a new CEO who can potentially turn things around.
1.86% Phillip Morris International (PM): A 5.72% yield and a valuation cheaper than the market! Long-term I could see big tobacco getting into the marijuana market.
1.79% Roche (OTCQX:RHHBY): The world's largest biotech. Best of breed. A yield above 3.5%. Roche sold 3 of the world's top 10 drugs last year.
1.7% British American Tobacco (BTI): 5.41% dividend. High yield and dividend growth investments unleash the power of compound interest and can fund other alpha seeking ideas.
1.36% Mondelez International (MDLZ): Nearly 2.5% yield. Decent valuation. I love their Milka Chocolate, I'd add if undervalued but the company looks fairly valued at this time.
1.26% Visa (V): Visa was added to my portfolio in early 2018. Some call it the best business in the world with their 63% operating margins. Visa is a play on a growing world economy and cashless society. Imagine skimming a small fee on every business transaction. Growth has been rapid, in 2012 EPS was $1.55, this year the company is expected to earn $4.59 this year. Long-term I do think blockchain technology, smart contracts poses a threat.
.97% Kraft Heinz (KHC): Some of my shares go back 10+ years, but I recently added @78.79 in January. It's not fun being nearly $20 underwater on those shares but like I said with Apple, mentally it's a lot easier adding on the way up (and being net positive).
The middle of the grocery store is unpopular these days and I'm not personally a fan of Kraft products. On the plus side, Kraft's management dares to be different and has envy of the industry margins - 23% operating margin. The dividend is 4.24%. The CPG space kind of stinks overall. Obviously growth is a problem but what's better, an efficient company that's "maintaining" or a growing company that's not very efficient? Both have flaws. I like 3G's outside the box thinking, bold moves, and the dividend is large enough to stay patient.
.86% Naspers (OTCPK:NPSNY): WeChat has over a billion monthly active users in China. It's like the Facebook of China but you can hail an uber and provide payment too. Oh and it's also #1 in the world for gaming, and Fortnite is about to come to China along with 15 other games approved for launch. The stock sold off recently because it *only grew at 30% YoY instead of 48% YoY. WeChat lags their American tech peers in "monitization" showing only 2 ads per day on the feed. This is a speculative play, less than 1% of my portfolio and I think it's worth a shot on a risk adjusted basis.
.67% JPMorgan Chase & Co. (JPM): My favorite author wrote a bullish piece in July on JPM. A few key points. Golden age in banking. Cheap compared to peers, cheap compared to the market. I'd like to add to this position to increase exposure to financials. I typically like to have a 6 month gap buys to a stock as a protection against my own ignorance. I will make exceptions, but I'm coming up on 6 months now. As I said with Wells Fargo, blockchain can end up being a great cost cutting asset for banks. JPM also has a top 10 brand, yes, a bank that is loved by consumers is surprising.
.63% Abbvie (ABBV):
.54% Teva Pharmaceuticals (TEVA):
.42% Abbott Labs (ABT):
The bottom 3 are small positions. Teva is the world's largest manufacturer of generic drugs. Abbvie sold the #1 drug in the world last year (Humira). Thematically I like this industry long-term.
Next Moves?
Looking at trimming some Chipotle, Nike, and maybe using some of the proceeds to go short Under Armour (UA) via puts or just selling short. The stock doesn't pay a dividend and it would get rocked in a recession, helping balance out all my portfolio long exposure. Risk management.
Long ideas: Square (SQ), Nvidia (NVDA), McCormick & Co. (MKC). I just read, "The Dorito effect" and it gave me added appreciation for MKC as well as Pepsi. I'm also reading, "Crypto assets", and I'd like to add some exposure to Cryptos (possible 1% to 2%), but probably in the depths of a recession when I have a better chance at getting a decent price (it's hard to value).
Comments and feedback are much appreciated. Thank you for reading.
Disclosure: I am/we are long AAPL, GOOGL, GOOG, OKE, V, ABBV, MSFT, PEP, VBTIX, ABT, JNJ, NKE, PM, WBA, BTI, JPM, NPSNY, RHHBY, WFC, CMG, KHC,NSRGY, SBUX, WMT, DEO, KO, FB, MCD, TEVA, NVO, GILD, MDLZ. I wrote this article myself, and it expresses my own opinions. I am not receiving compensation for it (other than from Seeking Alpha). I have no business relationship with any company whose stock is mentioned in this article.
Editor's Note: This article discusses one or more securities that do not trade on a major U.S. exchange. Please be aware of the risks associated with these stocks.