I bought Walgreens (WBA) back in early 2015 as part of my real-life, real monies index skimming (VIG) exercise. I skimmed 15 of the largest cap Dividend Achievers. That included WBA and CVS Health (CVS). The stock prices of those two companies continue to face pressure. The greatest fear is that Amazon (AMZN) will have their lunch, or at least eat into their business in a very meaningful way. I have no idea if that will turn out to be the case. I don't know the future. Given that, this article should be succinct and to the point, and we'll let the images do the talking.
Here are two charts that don't seem to make sense, at least when you see those charts together. Here's the topline overview of the financials with thanks to Morningstar. As you may know, Morningstar is a wonderful resource for free financial information. Investors can also sign up to pay for a Premium Service.

And here's the stock price history thanks to portoliovisualizer.com. This is a total return chart without the reinvestment of dividends. The period is January of 2015 through to end of July 2018.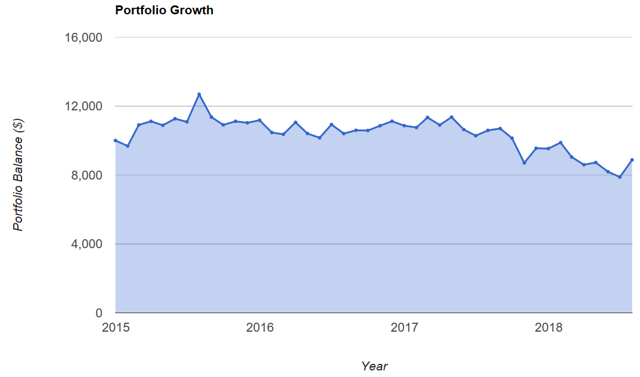 We have revenue and earnings and dividends and cash flow and profitability going up over time (in a meaningful way). We have the share price that continues to fall.
The share price has seen a small jump in August. Here's the one-month chart from Seeking Alpha.

Of course, the above scenario might be a classic target for the value investor - yes thanks for stating that Captain Obvious. They like to see business success going one way (up) and the stock price going the other (down). That can create a scenario where you are able to buy generous current earnings. You can see that by the P/E ratio of 16.17 from the Seeking Alpha chart. Morningstar lists the forward P/E ratio at just over 10. Of course, the forward PE takes into account the projected earnings as per analysts.
The stock market voting machine currently says no to Walgreens. But the stock market weighing machine will eventually have to put those revenues and profits on the scale. That is, if those revenues and profits continue to move in that direction.
Now, my readers will know that I'm not one for complicated evaluation. I am mostly an index skimmer. And when I make a pick or two Apple (AAPL), BlackRock (BLK), I keep it simple. Is there an obvious trend that leads to business success moving forward? I then look at that simple financial breakdown as per the offering above from Morningstar. Are they making money? Are they making more money? Are they sector leaders?
These days, though, there is some chatter on Seeking Alpha concerning Walgreens and its prospects. Here's an article from Eli Inkrot - It's Time To Consider Walgreens.
Healthy Wealth Coach suggests you can Buy It and Thank Jeff Bezos.
While the article is for PRO subscribers, the bullet points suggest…
History clearly shows a trend of Wall Street overreacting to fears about Amazon's entry into new markets.
These fears typically bring about fantastic buying opportunities.
Walgreens is now trading at a single-digit valuation on the exact same fears.
It's not different this time.
For the record, I have avoided any evaluation or guesswork on the Amazon effect. I continue to hold, and I did add to Walgreens 3 or 4 times over the last 3 years. I'll admit to not knowing the future.
All said, I can see why the CVS's and Walgreens are getting the attention of investors. They are also getting the attention of the smart beta value indices such as Invesco's S&P 500 Pure Value Index Fund (RPV).
If those 2 charts don't make sense, then the market makers have this one terribly wrong. But it's not easy to know when the pros have it wrong. It's just their guess trying to look into the future.
Only time, only the future will tell.
Author's note: Thanks for reading. Please always know and invest within your risk tolerance level. Always know all tax implications and consequences. If you liked this article, please hit that "Like" button. If you'd like notices of future articles, click the "Follow" button.
Happy investing.
Dale
Disclosure: I am/we are long BNS, TD, RY, AAPL, NKE, BCE, TU, ENB, TRP, CVS, WBA, MSFT, MMM, CL, JNJ, QCOM, MDT, BRK.B, ABT, PEP, TXN, WMT, UTX, BLK. I wrote this article myself, and it expresses my own opinions. I am not receiving compensation for it (other than from Seeking Alpha). I have no business relationship with any company whose stock is mentioned in this article.