Consumer electronics retail giant Best Buy (NYSE:BBY) recently reported second-quarter numbers that topped Street estimates but disappointed investors. In response to what was a double beat-and-raise quarter, BBY stock dropped 5%.
We don't think investors should read too much into the post-earnings sell-off. BBY stock had rallied in a big way in the two weeks leading into the Q2 print as peer retailers reported exceptional results, driving up investor expectations for BBY earnings. In this sense, BBY's Q2 print turned into a "buy the rumor, sell the news" event. The market is now selling the news, but considering the news was good, the valuation is reasonable, the market is strong, and the technicals look favorable, we think this sell-off is a "buy the dip" opportunity. We see this stock continuing to grind higher from here into the end of the year.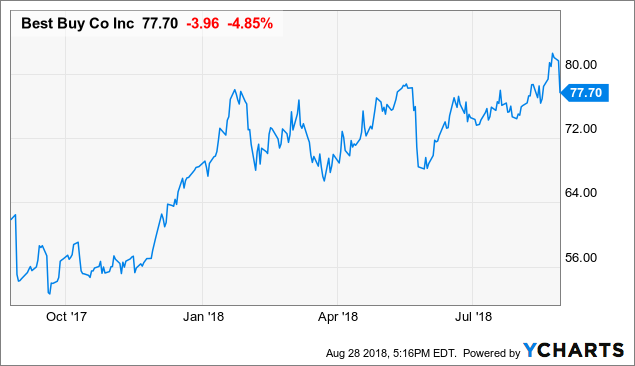 Best Buy's second-quarter numbers were quite strong. Revenues topped expectations, and so did earnings. Management also lifted its full-year sales and earnings guidance. Enterprise comparable sales rose 6.2% in the quarter, while lapping a 5.4% rise in the year-ago quarter, bringing the two-year stack in enterprise comparable sales growth to 11.6% - an astounding number for a largely brick-and-mortar retailer. Meanwhile, domestic comparable sales rose 6%, ahead of consensus expectations calling for a 4.1% rise, and against a 5.4% lap in the year-ago quarter. On the international front, things were also red-hot, with international comparable sales up 7.6% against a 4.7% lap. Operating margins rose 20 basis points year over year, a testament to this company's ability to slim its expense rate amid robust revenue growth.
Why did BBY stock sell off in response to strong numbers? A few reasons are presented below.
One, not all the numbers were great. The gross margin rate fell back slightly, a result of higher supply chain costs. Also, digital sales growth slowed to just 10%, versus over 30% a year ago.
Two, BBY stock had rallied big into the report over the past two weeks. During that stretch, the stock rallied 7% in response to blowout earnings reports from peer retailers, namely Walmart (NYSE:WMT) and Target (NYSE:TGT). That 7% rally represented a healthy outperformance of the S&P 500 (the market was up 3% during that stretch), so BBY's numbers needed to be flawless in order to justify the stock heading higher after the report.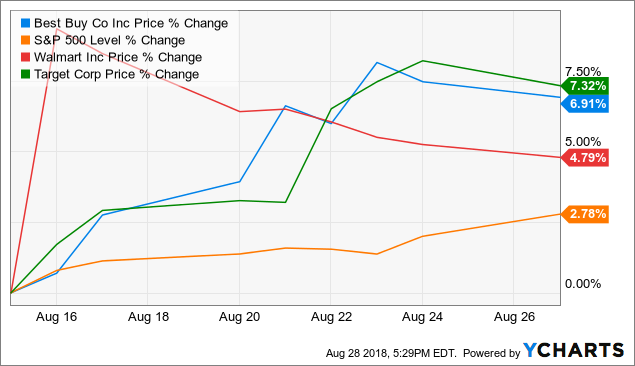 The numbers weren't perfect. Instead, they were just really good. But really good wasn't enough to justify sending BBY stock higher after the Q2 print. As such, the stock sold off, and it now sits where it was two weeks ago, before the big macro-retail earnings bump.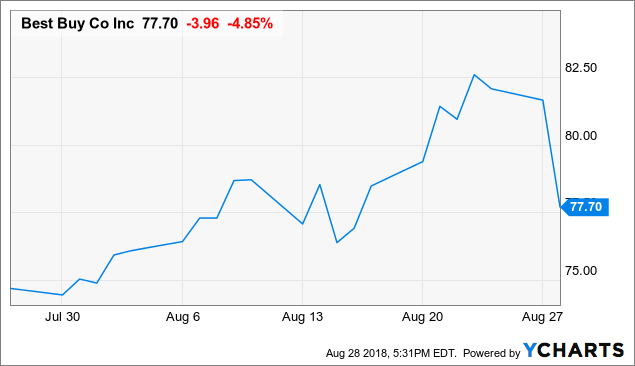 We view this sell-off as a buying opportunity. The long-term bull thesis supporting BBY stock remains as strong as ever. Technology is fundamentally changing the way multiple industries work, and one of those industries is consumer products. It seems like an unprecedentedly large portion of must-have gifts these days can be bought at Best Buy, including smartwatches, voice assistants, next-gen video games, smart appliances, Bluetooth headphones, smartphones, smartphone accessories, and so on and so forth. We believe this trend is just beginning. Technology is just scratching the surface when it comes to enhancing consumer products, and over the next several years, Best Buy stores around the world will be selling tons of IoT and next-gen computing products. Thus, as consumer products inevitably become more technologically integrated, Best Buy's relevance as a consumer electronics retailer will grow.
Nothing about the company's second-quarter earnings report changes this long-term bull thesis. If anything, 6% comparable sales growth on top of 5% comparable sales growth last year strengthens the long-term bull thesis. Thus, we view BBY as a stock to buy when the valuation is reasonable and when the technicals look favorable.
Right now, both are true. The recent sell-off in BBY stock has plunged the forward earnings multiple to around 15X, while long-term EPS growth estimates for the stock still hover around 13%. Thus, the forward PEG on BBY stock is back around 1.15, a level which has historically lent itself to strong share price appreciation over the subsequent several weeks and months.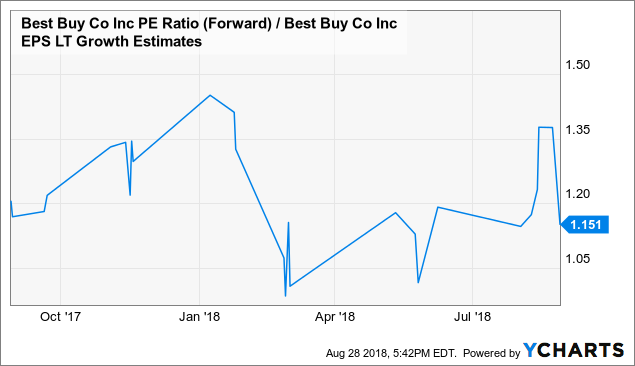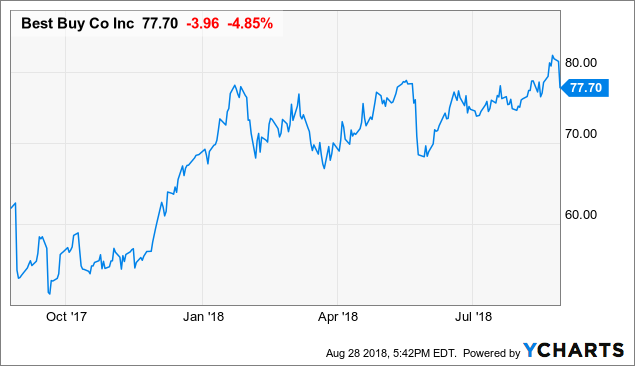 Moreover, the recent sell-off in BBY stock has sent the stock tumbling towards its 50-day moving average. Ever since the 50-day crossed above the 200-day in mid-2016, the 50-day has acted as a solid line of defense, and dips towards the 50-day have been great buying opportunities.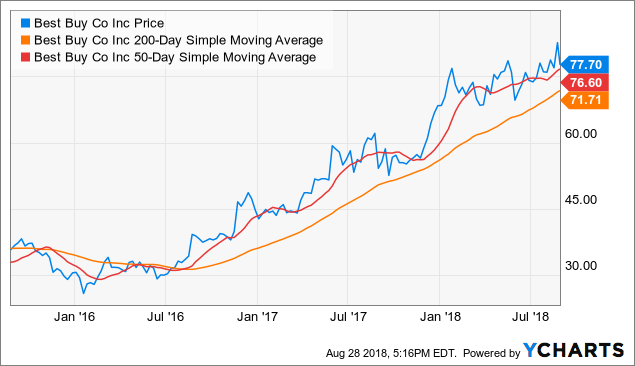 Overall, we think the company's second-quarter earnings report was quite good and affirms the long-term bull thesis supporting this stock that Best Buy's relevance as a retailer is only growing as consumer products become more and more technologically enhanced. Meanwhile, the post-earnings sell-off sets the stock up nicely for a rebound, both from a valuation and technical perspective. As such, we think this is a dip worth buying.
Disclosure: I am/we are long BBY. I wrote this article myself, and it expresses my own opinions. I am not receiving compensation for it (other than from Seeking Alpha). I have no business relationship with any company whose stock is mentioned in this article.