Ireland has seen great growth rates recently that beat all other European countries. Coupled with a serious shortage of real estate and growing demand through further growth, the country is a great place to invest for investors looking for real estate exposure in Europe.
With the introduction of a REIT legislation in 2014, three major REITs have recently entered the market and all of them should see solid growth going forward.
General differences between
REITs in Europe and the US
As Seeking Alpha is mostly visited by US based investors, we need to have a quick look at the difference in accounting practices between US and Ireland (or Europe in general) based REITs. I don't want to bore with accounting details, so I'll try to keep it short and sweet.
The reason for any differences is that European REIT schemes are based on IFRS and US ones on US GAAP.
First, the basics are similar.
The income from property rental business is tax exempt.

REITs must derive a significant portion of their aggregate income (85% for Ireland) from property rental.

Most of the profits have to be distributed to shareholders.
Major difference is that while US REIT reporting focuses on funds from operations (FFO) or adjusted funds from operations (AFFO), European REITs focus on EPRA (European Public Real Estate Associations) earnings. EPRA earnings do however basically mirror the FFO.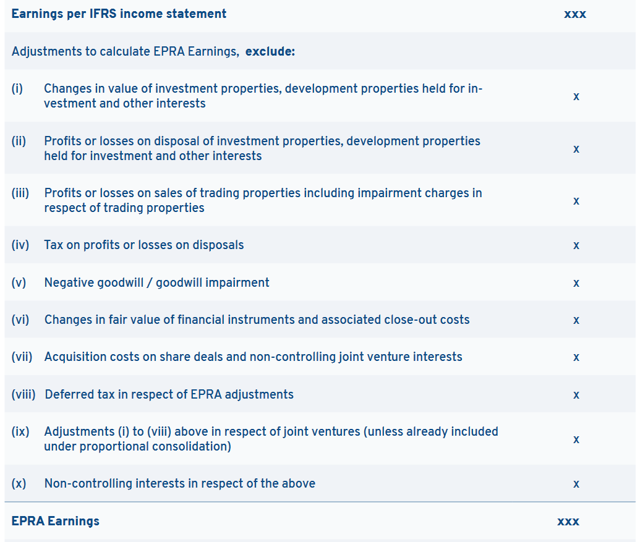 While using a different name, EPRA is very similar to FFO.
There is however one massive difference in accounting. Let's look at the income statement of an Irish REIT and Realty Income (NYSE:O), representing the US. See if you can spot a major difference between the two.
Irish REIT: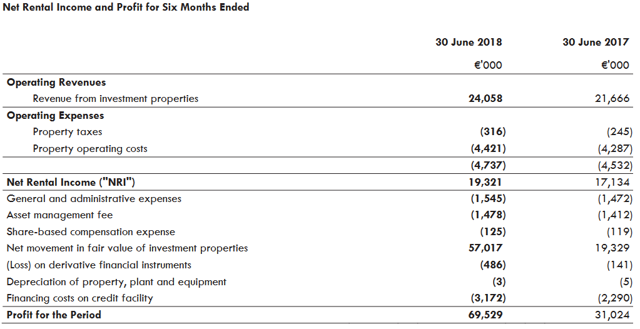 Ires Reit Annual Report 2017
US REIT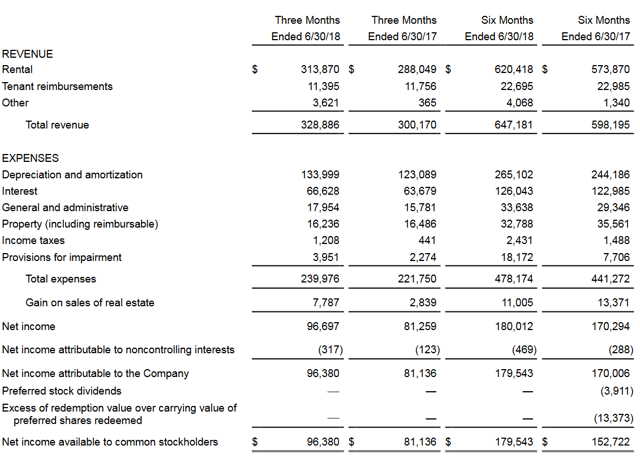 Realty Income Half Year 2018 Earnings Presentation
If depreciation has caught your attention, you have hit the bull's eye. While Realty Income books a depreciation of US$ 123 million, the Irish REIT booked...just 9,000 Euro in a year?
US GAAP records property assets at historic cost and then depreciates it, whereas IFRS records property assets at fair value, the properties get re-evaluated to every reporting date but not depreciated. The depreciation recorded by the Irish REIT is only for its own office fixtures in the headquarters.
This leads to less stable income statements as any change in fair value will be reflected in the earnings of the company. However, EPRA earnings removes these fair value adjustments, therefore showing the actual rental income and profit.
The major benefit of valuing the real estate at fair value is that looking at the balance sheet shows the investor the actual market value of the assets.
While FFO and EPRA earnings are comparable, investors need to remember these differences in valuation when comparing balance sheets between US and European REITs.
Why Ireland is attractive for
REITs
One of the obvious points why investors should look at the Irish market is its amazing growth rate. Ireland has implemented a REIT legislation on 2014. The Irish GDP grew over 7% in the last year.
One needs to consider that this result is largely driven by large US corporations centralizing their operations in Ireland. An economist from KBC Bank puts it accordingly:
"However, the point is that these numbers are hugely influenced by the outsized activities of a small number of multinational companies and, as such, don't readily reflect the spread of conditions across the Irish economy as a whole".
However, Ireland is still booming with consumer spending growing by more than 4.5%.
Ireland has already experienced growth rates like this before during the Irish Tiger in the late 90s, only to see its economy crash badly during the financial crisis. While I don't see acute signs that this is about to repeat itself, the large dependency of multinationals might disturb some investors.
With property prices forecasted to surpass the prices seen during the Irish Tiger by 2020 Ireland is on track to leave the recession behind it.
When talking about investing in Ireland, what is actually meant 99% of the times is investing in Dublin. The capital accounts for half of the country's GDP and is also showing the fastest growth rates. Accordingly, all the three REITs discussed in this article operate only in Dublin for now.
Another growth factor is the United Kingdom's decision to leave the EU in 2019. With the uncertainty currently surrounding how the Brexit is going to be structured, quite a few British companies are moving part of the operations to Ireland further increasing demand for both office and residential real estate. Especially financial institutions are looking to set up operations in Ireland to keep the passporting rights to sell financial products all over the EU.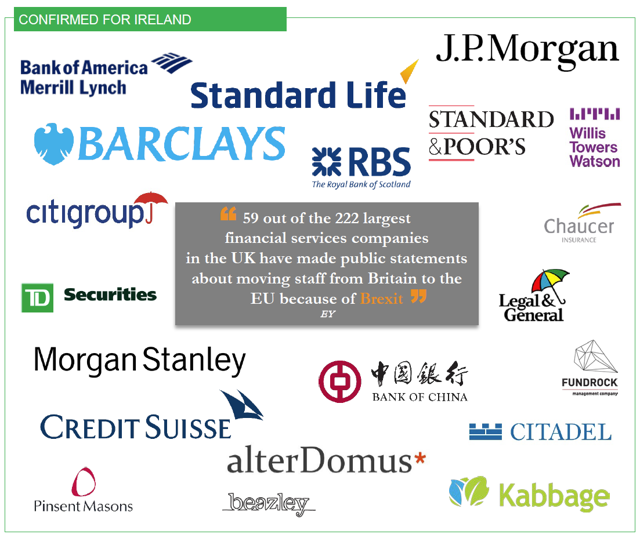 Green REIT 2017 Results Presentation
Dublin is already suffering from a shortage of real estate, especially in the residential area. The combination of low supply and growing demand explains the outsized profits currently offered by the Irish capital.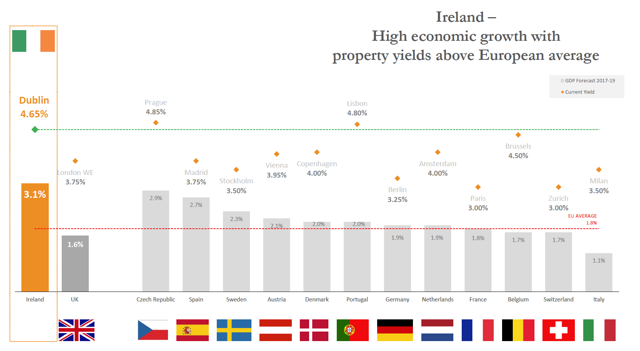 Green REIT 2017 Results Presentation
Dublin has seen a rise in the average rent in the past year by 11.5% to an average level of 1,875 EUR.
The three most relevant Irish
REITs
Since the introduction of the Irish REIT legislation in 2014, three major REITs have appeared. Hibernia REIT (OTCPK:HIBRF), Green REIT (OTCPK:GREEF) and Ires Reit.
All three serve different areas of the market, Green REIT is fully focused on commercial properties, Hibernia REIT's portfolio fair value consists of 90% commercial properties and Ires Reit's portfolio consists of 100% of residential properties.
When analyzing a REIT's income statement, the most important ratios are price/EPRA earnings and price/NAV value:
Green

REIT

Hibernia

REIT

Ires Reit

EPRA Earnings per share
0.064 €
0.028 €
0.062 €
Growth YoY
31%
27%
22%
EPRA NAV per share
1.66 €
1.59 €
1.33 €
Current Price
1.52 €
1.49 €
1.48 €
Price / EPRA Earnings
23.75
53.21
23.87
Price / EPRA NAV
0.92
0.94
1.11
Dividend
0.052 €
0.030 €
0.053 €
Yield
3.4%
2.0%
3.6%
Table by author, based company reports
Hibernia has recently released its annual report, whereas Green REIT and Ires Reit have only released 6-month reports. The earnings per share and proposed dividend are extrapolated to a 12-month period.
The reason for Hibernia currently paying a dividend higher than their earnings is explained by the recent growth the REIT has seen and expect to see in the future. As all three REITs are still very young, they expect to grow NAV and earnings significantly over the next few years, with current YoY earnings growth ranging from 25% to 33% for the three. Accordingly, dividends are expected to increase as well, with Green REIT targeting 3% - 4% of NAV value payout, Hibernia aiming for a 3% - 4% dividend yield, and Ires Reit only stating long term dividend growth as a target.
From the table above, Green REIT and Ires Reit seem to be the cheaper investments than Hibernia, but before I give my verdict, let's also have a look at the gearing and Balance Sheet
Comfortable gearing levels
With the Irish REIT legislation stating a maximum gearing of 45% (based on the loan to fair value ratio, LTV), ideally companies should have significant leeway for this ratio. As the fair value of the portfolio is updated at least annually, a company operating near the maximum gearing level could get into a precarious situation should property values rapidly decline (and LTV rise).
Green

REIT

Hibernia

REIT

Ires Reit

Net Debt (in million EUR)
278,000
202,682
285,000
Loan to Market Value LTV
20%
16%
33%
Table by author, based company reports
All three REITs are comfortably below the 45% mark, with Green REIT and Hibernia REIT showing especially low LTV ratios.
As mentioned in the beginning, these cannot be compared with US-GAAP based REITs as the fair value treatment of assets compresses the LTV in times of rising property prices. Therefore, European REITs mostly show lower LTVs than their American counterparts.
Short trading history leads to significant tenant concentration
Due to their short operational history, two of these three REITs didn't have the time yet to reach their desired levels of diversification. Green REIT suffers from a very strong concentration of rental income, both in terms of tenants and their assets: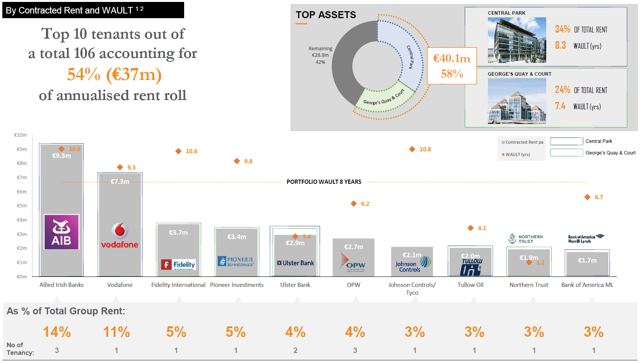 Green REIT 2017 Results Presentation
With 10 out of 106 tenants making up 54% of annual rent roll, there is a certain risk involved. Granted, most of their tenants are reputable firms, but not only do 2 tenants make up more than 10% of annualized rent, 7 out of the top 10 tenants are also from the same industry. This strong focus on the financials may make some investors nervous.
Furthermore, 58% of the total rent is derived from just two out of a total of 10 assets. The company shows occupancy of 98.5%.
The figures for Hibernia are not looking much better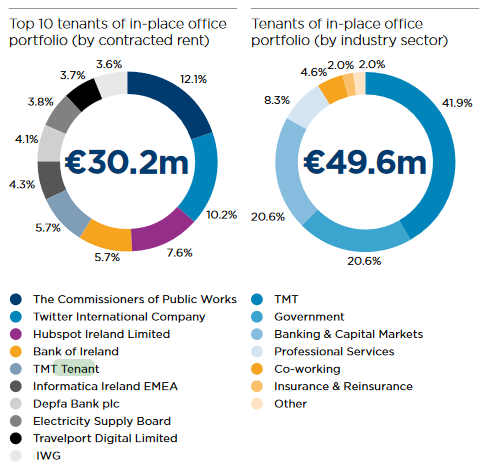 Hibernia REIT 2018 Annual Report
With the top 10 tenants making up 60% of total passing rent and two tenants over 10%, these figures look very similar to Green REIT. At least, Hibernia's occupancy ratio also is at a very healthy 97%.
The only REIT where I currently don't see any concentration issues is Ires Reit, thanks to its focus on the residential sector. With 26 buildings and over 2,600 apartments, Ires has a broadly diversified tenant base. The occupancy rate of 98.7% is also at a very comfortable level.
The sector is hugely attractive, but I have one favorite
REIT
After comparing these three REITs, Ires Reit is currently my favorite. I like the relatively fair price/EPRA earnings and dividend yield. Broker Investec expects Ires to increase the dividend at a compound annual growth rate of 7.6 per cent over the next five years.
While Green REIT's ratios are looking equally good, the high tenant concentration and limited amount of asset diversification, making the stock look less attractive to me. All three REITs should profit from the huge demand for real estate and increasing rents in Dublin.
Investors need to consider that all these stocks are solely invested in Dublin. While I see great potential here, some investors might be put off by the concentration. Also, Ireland charges a 20% withholding tax on dividends paid to foreign shareholders, which needs to be considered by potential US investors.
Disclosure: I am/we are long IRES REIT. I wrote this article myself, and it expresses my own opinions. I am not receiving compensation for it (other than from Seeking Alpha). I have no business relationship with any company whose stock is mentioned in this article.
Additional disclosure: Long Ires Reit stock traded on the Irish Stock Exchange.