1H 2018 financial reports have been already released, so it is a good time to discuss the results delivered by silver mining companies.
Introduction
Here is the list of the miners qualifying into my research: First Majestic (AG), Endeavour Silver (EXK), Great Panther (GPL), Silvercorp (NYSEMKT:SVM), Fortuna Silver (FSM), Pan American (PAAS), and Hochschild Mining (OTCPK:HCHDF).
To remind my readers, a company qualifying to my study must meet the following criteria:
Silver sales account for more than 40% of total revenue
Annual total revenue is higher than $100 million
Now, due to its super-large size, I had to exclude Fresnillo plc (OTCPK:FNLPF) from my survey. Simply put, in 1H 2018, the miners listed above delivered joint revenue of $1.3 billion and Fresnillo, with its revenue of $1.1 billion, would definitely distort the entire study (the joint results would be overshadowed by this mammoth).
Finally, although Great Panther does not meet the second criterion (in 2017, the company reported revenue of $64M, only), I have included this miner into my research.
Exposure to silver
Now, the chart below lists silver plays according to their exposure to silver prices (silver exposure is defined as silver revenue/total revenue):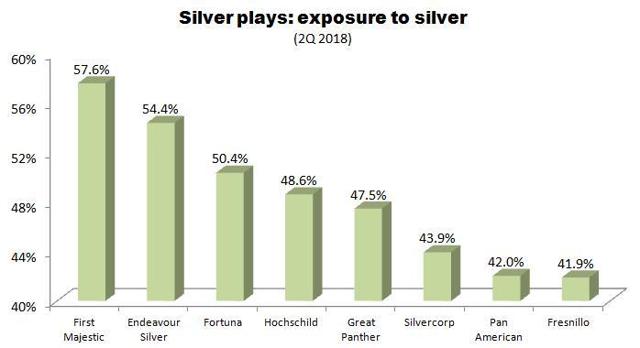 Source: Simple Digressions
As the chart shows, the leader is First Majestic, offering a 57.6% exposure to silver. On the other hand, the lowest exposure is demonstrated by Fresnillo plc and Pan American (41.9% and 42.0%, respectively).
Methodology
I have gathered all data presented in financial statements of the above-listed miners and created a joint statement of operations for the entire group of silver producers. The results are expressed in US dollars.
To calculate certain financial measures, I am using the concept of the so-called "an ounce of silver equivalent". According to this method, costs of production or margins are divided by ounces of silver equivalent sold (for example, gold ounces sold are recalculated into their silver equivalents).
Silver Sector - joint Statement of Operations
The table below shows the silver sector joint statement of operations: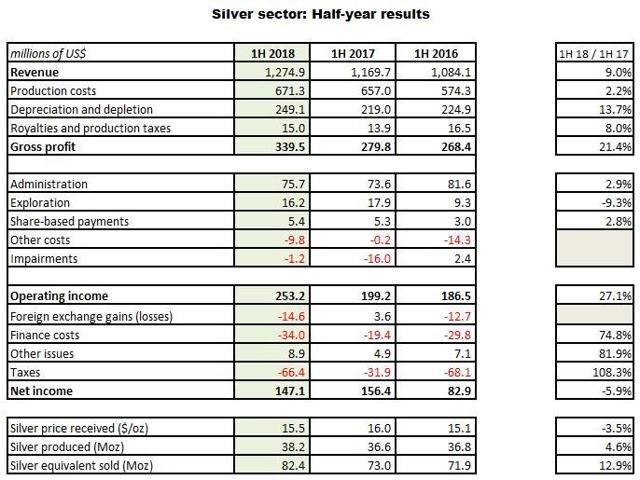 Source: Simple Digressions
Note: To arrive at silver equivalents, I have made my own calculations based on metals prices realized in first halves of 2018, 2017, and 2016. In other words, I have not copied the data presented in the financial statements published by the miners (for example, most of the figures published in these statements are based on outdated gold/silver ratios)
Comment:
It looks like the silver has been in a long-term trading range. As the lower panel shows since 1H 2016, the price of silver realized by the sector has remained generally unchanged (between $15.1 and $16.0 per ounce of silver).
The same is with silver production since 1H 2016, it went up 4.6%, which was nearly nothing. On the other hand, sales volume went significantly up (by 12.9%), indicating a change in the production profile (now the sector produces more zinc, lead, and copper).
Now, a bit lower silver prices realized in 1H 2018 plus a substantially higher sales volume resulted in strong sales (an increase of 9% compared to 1H 2017). This and stable costs of production were the main contributing factors standing behind a stronger gross margin ($339.5M in 1H 2018 vs. $279.8M in 1H 2017). Definitely, the sector is in a good condition, so the precious metals investors interested in silver should be satisfied.
Further, in 1H 2018, the sector recorded a depreciation charge of $249.1M (an increase of 13.7% compared to 1H 2017). Let me digress a little bit about this issue. In the first halves of 2016, 2017, and 2018, the total sector's capital spending (CAPEX) was $798M while the total depreciation charge was $693M. The difference is $105M in favor of CAPEX, which means that the sector has added value to its core business (mainly adding or developing mining properties).
Sadly, stronger profits attract the taxman - in 1H 2018, the sector showed higher taxes ($66.4M vs. $31.9M in 1H 2017).
Summarizing - in my opinion, the silver sector performs very well. For example, despite unchanged silver prices, most of financial measures across the board (margins, operating profit, or gross income) improved. On the other hand, silver bulls may be a bit dissatisfied to see the stagnating silver production. Unfortunately, it seems that this pattern is going to stay here for longer. For example, the world's largest primary silver producer, Fresnillo plc, had cut the silver contribution from 61.6% in 2011 to 41.9% in 1H 2018.
Economics of mining
Below, I present a few important performance measures (unit costs of production, margins, and cash flows) expressed in US dollars per ounce of silver equivalent:

Source: Simple Digressions
How to read this table? Oh, it is quite easy. For example:
In 1H 2018, silver producers were selling their metals at an average net price (after deducting treatment and refining charges) of $15.5 per ounce of silver equivalent
The direct cost of production was $8.1 per ounce of silver equivalent
As a result, a gross margin was $7.3 per ounce of silver equivalent (silver price less direct cost of production)
Now, as the table shows, in 1H 2018, the sector cut its unit direct cost of production from $9.0 per ounce of silver equivalent in 1H 2017 to $8.1 in 1H 2018. I like this occurrence very much because it is a clear indication of an ongoing improvement. Interestingly, in 1H 2018, the silver sector was producing its metals at a cost comparable to the big gold sector. To remind my readers - in 1H 2018, the big gold sector was producing gold at a unit direct cost of $678 per ounce. Using a gold/silver ratio of 79 (recorded in 1H 2018), it means that a direct cost of $8.1 per ounce of silver is equivalent to $640 per ounce of gold equivalent, a bit below than the cost reported by the big gold sector. I think it is a very important observation:
These days, for the first time during the current precious metals cycle, the silver producers are lower-cost miners than their big gold counterparts.
Further, a stable price of silver plus a lower direct cost of production resulted in a higher gross margin, the highest since 1H 2016. In other words, each ounce of silver equivalent sold on the market delivered a gross margin of $7.3 per ounce.
Cash flows and capital spending
To make this survey more detailed, below, I have plotted the table showing cash flows and capital spending reported by the silver sector. All figures have been recalculated into ounces of silver equivalent:

Source: Simple Digressions
Comment:
As the first row shows, in 1H 2018, each ounce of silver equivalent sold on the market generated $4.2 in cash flow from operations. This figure was a bit higher than last year.
However, of $4.2 per ounce generated in cash flow from operations, the sector tied $0.4 in working capital (for example, building ore stockpiles). As a result, each ounce of silver equivalent delivered $3.8 in cash flow from operations, excluding working capital issues. I like this measure because it shows how much cash the sector's operating mines are able to deliver. And it looks like the sector's cash flow generating power is rising - despite lower prices of silver recorded in 1H 2018, the sector was able to generate higher cash flow ($3.8 per ounce of silver equivalent in 1H 2018 vs. $3.4 in 1H 2017).
Further, the sector is spending less and less cash on its core business than before - note that in 1H 2016, each ounce of silver equivalent sold on the market, as much as $4.0 was spent on mineral properties or acquisitions (CAPEX - row 4). However, in 1H 2018, the CAPEX was cut to a mere $3.0 per ounce. I think it is another very interesting feature - either the current low silver prices have a negative impact on investment decisions taken by the managers or there are other reasons standing behind this phenomenon (for example, low supply of interesting mining projects).
However, due to a lower CAPEX, in 1H 2018, the sector was able to report free cash flow of $0.9 per ounce of silver equivalent. Well, I guess it is the good news for silver bulls. For the first time since the beginning of the current precious metals bull cycle (the beginning of 2016), the sector showed free cash flow. To remind my readers, free cash flow drives up the value of a company or a sector so, definitely, 1H 2018 was very positive for investors interested in silver plays.
By the way, free cash flow may support a more aggressive dividend policy. As the chart below shows, in 2Q 2018, the sector paid off $7.5M in dividends. Compared to 1H 2016, the progress is obvious (look at the blue arrow):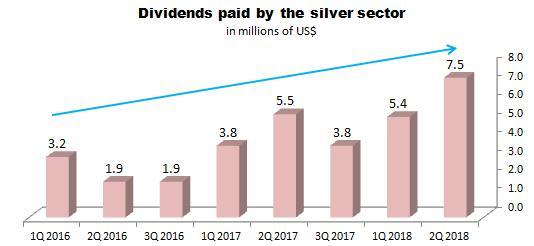 Source: Simple Digressions
Summary
In my opinion, in 1H 2018, the silver sector showed very decent results. Despite lower silver prices (compared to 1H 2017), silver plays under this survey increased revenue, cut costs of production, and delivered free cash flow.
On the other hand, in 1H 2018, the sector slightly cut CAPEX. This occurrence may have an adverse impact on the sector's long-term growth potential but in the short term, it may result in more aggressive dividend programs or share buybacks.
Finally, the cash flow measures discussed in this survey support a thesis that the sector is able to deliver free cash flow even at today's, relatively low, prices of silver (around $15 per ounce). I think it is a very positive indication for investors looking for exposure to silver prices. Simply put, the sector is less vulnerable to significant silver price drops…
Final Note
Did you like this article? If your answer is yes, please visit my Unorthodox Mining Investing Marketplace service where I manage a portfolio of up to 10 mining picks, discuss new investment ideas, and provide subscribers with a medium-term outlook on a few financial markets (particularly the base/precious metals market).
Disclosure: I am/we are long CEF, GDX. I wrote this article myself, and it expresses my own opinions. I am not receiving compensation for it (other than from Seeking Alpha). I have no business relationship with any company whose stock is mentioned in this article.
Editor's Note: This article covers one or more microcap stocks. Please be aware of the risks associated with these stocks.