The gold price made an all-too-familiar U-turn on Tuesday after an impressive rally the previous two days. Gold was unsettled by recent headline developments, causing the bulls to quickly lose heart as sellers forced the yellow metal below its pivotal breakout level from last week. In today's report we'll examine the prospects for another relief rally attempt for gold. I'll make the case that while gold still has immediate-term rally potential, a couple of things are required before it's safe to buy again.
After teasing an immediate-term breakout Monday, the gold price was slammed on Aug. 28 and gave back some of its recent gains. The December gold futures price finished below its closing price of the last two sessions and ended up at $1,208 for Tuesday. A renewed trade deal between the U.S. and Mexico was blamed in part for gold's latest show of weakness.
Last week's turnaround in the metal was largely attributable to the relief rally in China and the emerging markets. The rally in emerging market stocks allowed the U.S. dollar to weaken, which in turn helped push gold prices higher. However, the U.S.-Mexico deal to overhaul the North American Free Trade Agreement (NAFTA), which some analysts believe will alleviate a trade war to a certain extent, removed a safe haven support for gold and threatens to undermine its turnaround attempt.
Yet another factor which is threatening gold's latest rally attempt is the latest show of strength in U.S. Treasury yields. The reduction of trade worries prompted investors to unload safe-haven positions of T-bonds, which pushed yields higher. Shown here is the 10 -Year Treasury Note Yield Index (TNX), which rallied 1.26% on Tuesday. The threat of rising Treasury yields has worried many gold investors due to the historical tendency of rising rates to diminish the demand for non-yielding bullion. A rally in the TNX, which reflects higher bond yields, would likely act as a headwind for gold's latest relief rally.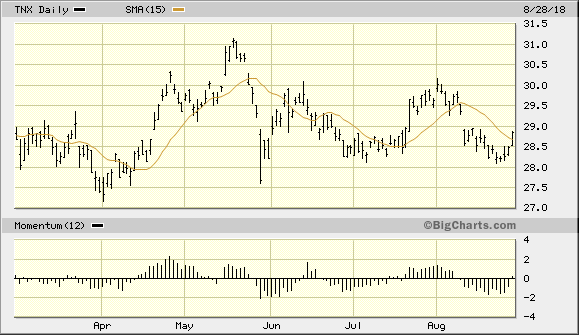 Source: BigCharts
Meanwhile the U.S. dollar index (DXY) remains slightly below its widely watched 50-day moving average as of Aug. 28. However, I think it's worth noting that the Invesco DB US Dollar Index Bullish Fund ETF (UUP), which I often use as a dollar proxy, hasn't yet closed under its 50-day MA. The UUP chart is shown below, and as you can see the ETF is stubbornly clinging to its 50-day trend line. The dollar ETF hasn't actually violated the psychologically important 50-day MA on a closing basis since the dollar's rally began in April. This may have some immediate-term significance, for if the currency traders who use this ETF as a benchmark for the greenback see no evident signs of weakness in UUP, they'll likely consider the dollar's short-term upward trend to still be intact. This would obviously serve as another potential headwind for a gold rally in the days ahead.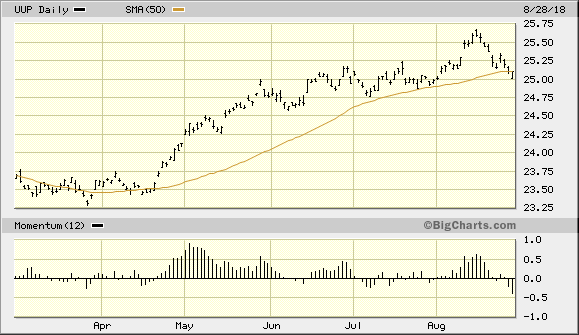 Source: BigCharts
It should also be noted that while the U.S. dollar index (DXY, below) remains below its 50-day moving average, it's still close enough to the 50-day MA that a recovery back above it could quickly be made. Thus it may be necessary for the dollar index to weaken significantly before traders are absolutely convinced that the dollar's short-term uptrend has been broken. This in turn would argue strongly in favor of a strong short-covering rally for gold.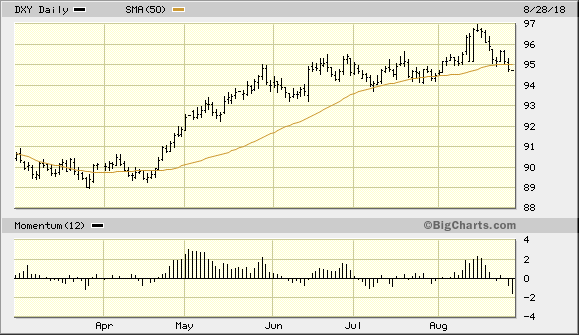 Source: BigCharts
Meanwhile, my favorite gold ETF and trading vehicle, the iShares Gold Trust (IAU), wasn't quite able to confirm an immediate-term (1-4 week) buy signal per the rules of my trading discipline. While the gold ETF price did close two days higher above its 15-day moving average on Monday, this signal was invalidated on Tuesday before we had a chance to enter a new long position in IAU. As discussed in my previous commentary, a move under the $11.56 level (the first pivotal close above the 15-day MA) in the IAU on Tuesday would mean that the ETF would fail to confirm an immediate-term bottom under the rules of my trading system. Unfortunately, this is exactly what happened as IAU invalidated its latest bottoming attempt. While it's still not too late for the gold ETF to make another rally attempt, I recommend that investors remain in a cash position while we continue to wait for the gold price to decisively establish a price low.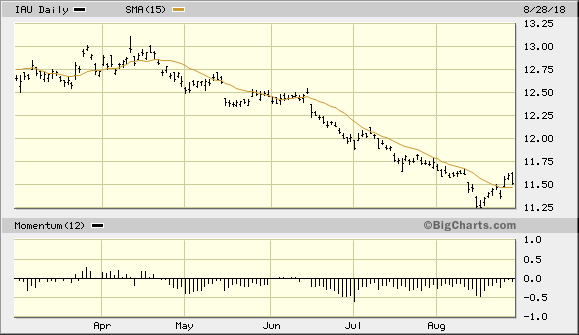 Source: BigCharts
The silver price also hasn't been able to confirm an immediate-term bottom yet. The iShares Silver Trust (SLV), my silver proxy, remains below its 15-day moving average as of Aug. 28 and hasn't yet closed even once above this important trend line. This failure tells us that sellers remain in control of silver's immediate trend, and as long as this is true, gold will have one less support in its attempt at reversing its decline. Ideally, silver should synchronize with gold's next rally attempt. Doing so will greatly increase gold's near-term strength based on the historical silver-gold relationship mentioned in recent commentaries.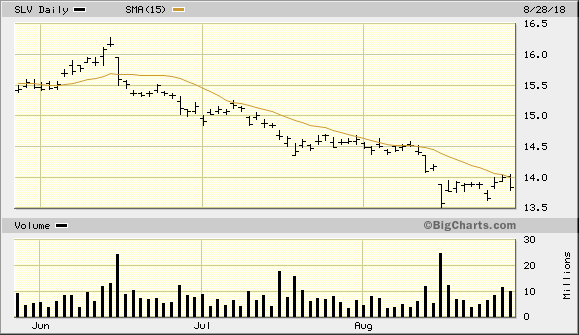 Source: BigCharts
To reiterate, the U.S. dollar index (DXY) needs to show even more deterioration before gold is ready to commence a major turnaround. In light of the above-mentioned factors, I consider gold's current outlook to be tenuous and uncertain. On a strategic note, only if the iShares Gold Trust (IAU) closes above the $11.60 level this week to complete an immediate-term bottom signal per the rules of my trading discipline will I consider buying a new trading position in the gold ETF. I'll also update my trading position on the IAU in my upcoming gold market commentaries. For now, the gold market remains vulnerable to the dollar-related weakness and I recommend that traders remain in cash for now.
Disclosure: I/we have no positions in any stocks mentioned, but may initiate a long position in IAU over the next 72 hours.
I wrote this article myself, and it expresses my own opinions. I am not receiving compensation for it (other than from Seeking Alpha). I have no business relationship with any company whose stock is mentioned in this article.