Since I first shared my public equity positions here on Seeking Alpha, I've benefited greatly from the site's collective wisdom. I am so happy with my portfolio that I decided to give it a name. I'm calling it my Turtle Tech portfolio. Here is the status: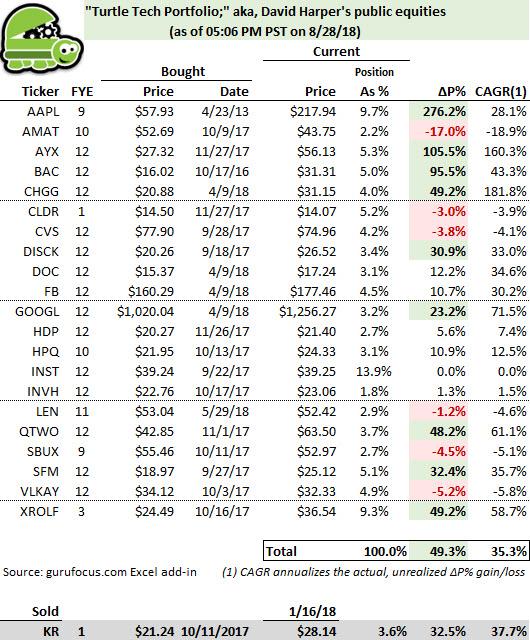 Of course, I have so far been the very lucky beneficiary of heavy technology exposure (>50%). Yes, I do have macroeconomic and geopolitical concerns, but that's for a different article. We shall see if the good luck continues. I think of myself as a value investor. What does that even mean, to be a value investor? To me, it is simply the belief that valuation is a worthwhile exercise and a primary (if not exclusive) consideration, if for no other reason then it requires us to quantify our assumptions about the future. It also means that I try to ignore the historical price chart (a bias that I find very hard to overcome in practice!). But clearly I also channeling my inner Growth at a Reasonable Price (GARP) personality. After teaching finance for over a decade, the practice of actually investing has been supremely humbling and self-revealing. For one thing, I've learned that I suffer many biases (e.g., familiarity bias) that are not easily dismissed just because I recognize them.
My basic plan has been to buy stocks where I perceive a discount (of at least 15%) but otherwise meet most of my criteria for quality, including growth and, ideally, a possible long-term catalyst. I also prefer to participate in long-term theme such as data science, learning, FinTech, or demographics. I would like to think that patience is my advantage. It may be obvious, but the beauty of quality is that you can just wait. Quality allows you to be patient. The one other thing I do--which may or may not be a bit unique--is attempt to discern some signal(s) with respect to governance. After years of consulting to the Boards of public companies (e.g., Amazon), I came to believe that good governance is the critical issue with respect to risk management. Unfortunately, I also believe that it's almost impossible to accurately evaluate governance from a distance. That is, without actually visiting the company. You think you know a company, but you don't. Given this reality, I am just looking for breadcrumb-like signals of good governance. Toward this end, I carefully read the earnings transcripts, especially the Q&A, and proxy statements (e.g., compensation plans). For most companies, I don't have the time to make an concrete judgement about governance quality. But sometimes, I can exclude a company due to governance red flags, or in the case of Instructure, identify green flags. In spite of the stated belief, I still have made two exceptions to my "good governance" criteria: Facebook and Volkswagen, obviously (Cloudera is a borderline case given their dilution practices).
I'll briefly highlight some thoughts, and I will definitely appreciate any feedback! Geez, I find it hard to sell winners. I'm a (very) part-time investor, so I can't afford the cost of constantly monitoring positions. I think a lot about the implications of part-time devotion. I think it significantly restricts my actual opportunity set. Some stocks are simply too hard to analyze without domain expertise (e.g., AMAT) and plenty of time.
Two longer-term value stocks (Apple and Bank of America) shift from buy to hold
My two oldest holdings, AAPL and BAC, have closed the gap on their discounts and, by some measures, are approximating fair value. Every time I re-look at Apple, I cannot find a good reason to sell it. I concur with Stone Fox Capital's (Mark Holder's) view yesterday: the generous capital plan plus (+) the surging services business, at a minimum, make this a hold. I am still evaluating Bank of America (and hope to write a full analysis soon) but it appears to be within a fairly valued range.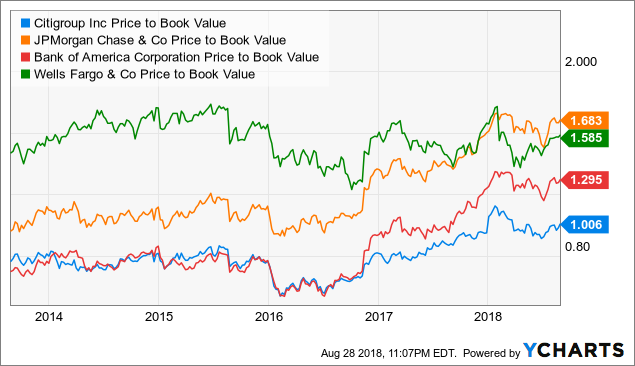 Data science cluster (Alteryx, Cloudera, Hortonworks)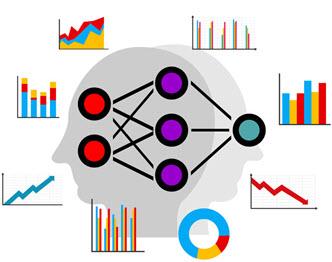 My data science cluster (CLDR, HDP, and AYX) is +42.3% because Alteryx (AYX) has doubled in less than one year. Hortonworks is +7.0% and Cloudera is -3.1%. Alteryx is now undeniably very expensive: trailing Price/Sales and EV/Revenue exceed 20. However, its growth fundamentals are breathtaking even in comparison to high-performing software-as-a-service (SAAS) peers; e.g., gross margins improved 600 basis points to 90% in the recent quarter. Fundamentally, Alteryx is without weaknesses. Their net retention revenue rate is 131%. International revenue is tiny ($13.3 million) but doubling. The company's market capitalization is only $3.5 billion. Next quarter's EPS guidance of $0.04 to $0.06 confirms we are approaching visibility into reported profit breakeven. I am so boring to always be agreeing with him, but again I agree with Gary Alexander that it's too early to sell.
Cloudera and Hortonworks are quite different companies but share a common perception problem that Hadoop (to which Cloudera traces its roots) may have already peaked. Any buyer should at least be aware of Virginia Backaitis' skepticism of Cloudera. The last reported quarter did not dramatically alter the fundamental question about Cloudera: is their problem merely organizational (e.g., sales configuration) and not technological such that their very specific plan to pivot to a diversified set of cloud-based machine learning tools will be successful, where fierce and formidable competition awaits? Bert Hochfeld has expertly explained the issue. I am willing to wait for further developments, especially given the near-term downside seems limited. Hortonworks turned in a superb quarter. I'm glad it's about half the size of my other data science positions, because it is the hardest (of these three) for me to currently evaluate.
Technology value (Apple, Alphabet, Applied Materials, Facebook, and HP Inc)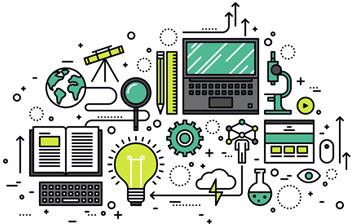 I am currently holding three-fifths of the FAANG, but except for Apple (discussed above) I was a late arrival to this party. Alphabet's pullback in early April gave me a chance to add a small position when I was surprised to see it meet my valuation-based criteria. Today, from a financial standpoint, I don't think it's cheap: trailing P/E is 54 and forward P/E is 26. But I tend to agree with Mehdi Zar that most of the moon shots (i.e., incubated ventures under GV) are approximately free options to investors. My business runs an active YouTube channel (7,400 hours viewed per month) and my hope is that one day YouTube will finally be parsed out in the reporting, and this will be a positive catalyst. YouTube's financials are currently buried in single top line, along with Gmail, Google Maps, and Google Play (in the last quarter, for example, 86.0% of the quarter's total revenue of $32.6 billion were advertising, include YouTube, Maps, and Play). I added Facebook immediately after the data scandal. FB is not a forever holding, as I happen to perceive the governance and reputational risks to be serious, but I am opportunistically holding as I don't see how it can avoid eventually returning to $220 or more, in the near term.
HP Inc is a great fit with my investing personality: almost no drama. I agree with Aurium Investments who describes it as a "stable, low-risk" play. If you need a natural alternative to NyQuil, considering pulling up HPQ's chart and financials, and you'll soon be sleeping like a baby! Less well understood might be HP's potential to be disruptive in the massive 3D printing market, where HP's focus is commercial not consumer. The CEO has said this is a 5 to 10 year market. I added AMAT because I wanted semiconductor exposure but I soon discovered that I am way out of my depth when it comes to semiconductors (or hardware, for that matter). I am attracted to AMAT's product diversity and exposure to multiple markets as an veritable one-stop shop, which I think has been nicely summarized by Matt Funaro.
FinTech (Q2 Holdings and Bank of America)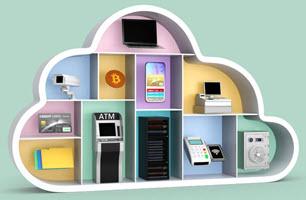 Q2 is a pure-play fintech who helps regional and community financial institutions (RCFI) scale and optimize under a software-as-a-service SaaS model. They earn bonus points for headquarters in Austin, TX, which I would like to argue is America's coolest city. They are still small (revenue of $215 million and market capitalization of $2.7 billion). The valuation was already rich when I purchased, but after a +48% gain, the trailing price-to-sales is now 12.7x. I love the business, but I'm uncomfortable with the valuation. Earlier this month they bought Cloud Lending Solutions for about $105 million (not cheap for them), an acquisition discussed by Donovan Jones that I have not had time to analyze (except to note the CFO said on the call that Cloud is growing faster than Q2).
Wait, why do I have Bank of America categorized in FinTech? Okay, I admit this is an exaggeration ... but not entirely. I bought BAC in the wake of the Wells Fargo account scandal, in the early phase of the Fed interest rate hikes. At the time, I did not appreciate their digital banking efforts. But this big bank is impressively disrupting itself with "High-Tech & High-Touch" investments, including Erica, the AI-enabled virtual assistant. BAC's digital innovation proves that I cannot predict the future. Maybe I will entrust future portfolio decisions to Erica instead!
Learning (Instructure and Chegg)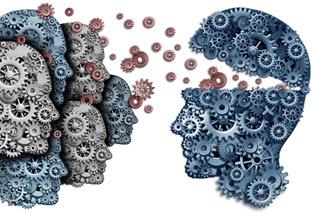 This is my favorite long-term theme (human capital) and Instructure is my highest-conviction holding, to which I have added three times. I'm exactly flat against my cost basis. No worries, it's going to be a fabulous journey. I think the medium- to long-run risk/reward is compelling, as I've previously written. If you are interested in this stock, for what it's worth, I think you can afford to wait until the key question is addressed with some quantitative evidence: can they be also successful in the corporate market with Bridge?
Chegg's financial profile reminds me of QTWO, except its price has jumped faster (by +51.8% in less than five months). As an adult learner, I stumbled across them seeking access to step-by-step solutions to end-of-chapter problems in a math textbook. They are a direct-to-student learning platform and their recent execution--about three years after a big pivot from physical textbook rental to an all-digital business--has inspired investors. The valuation is (super?) rich but the underlying business appears to have miles of runway ahead of it.
Real estate (Lennar, Physician's Realty Trust, and Invitation Homes)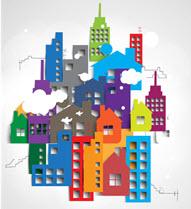 I added two REITs because I wanted the sector exposure (and diversification of income stocks) and I wanted to learn more about the industry. Whenever I really want to learn about something, I find that buying a few shares is solid motivation! Demographics led me to select Invitation Homes (INVH). I follow Alex at Hoya Capital who here summarized the pros/cons of single-family rental REITs here. I selected Physician's Realty Trust almost by deduction: being inexpert in REITs, I didn't feel sufficiently knowledgeable to invest in either the discounted sectors, in particular retail, nor the premium-priced sectors. After reading Brad Thomas' newsletter for a year, I decided that DOC was a good fit for me: leadership in a growing sector (medical office buildings), emphasis on quality tenants, compelling fundamentals, and attractive valuation. Brad has recently affirmed his strong buy, although his admirers (including me) know that he is sort of an eternal optimistic! (still waiting for a sell recommendation on something Brad, anything ...).
I wrote last month about my Lennar purchase. It's a tilt contrarian given consensus concerns about housing affordability (in California where I live, this is a devastating problem) and, to a lesser extent, input inflation. I think they are terrifically positioned for strong consumers and an aging housing stock. They are now the largest homebuilder but underappreciated is their progress in digital (e.g., Alexa in all new homes): according to John Burns Consulting, 60% of new home shoppers (n = 23,720) are willing to pay more for a smart home, and prioritize features like security that favor smart homes. I have no expectations for upcoming quarter(s) and expect Lennar may require some patience.
Special situation: CVS Health and Volkswagen
I purchased Volkswagen at a discount assuming the Dieselgate event risk because its fundamentals are strong (although as a German company, ownership is complicated by a supervisory board structure that appears to slow down reform efforts). I underestimated this problem. Geez, you would think three years is enough time to apply a tourniquet and, you know, shift a culture. But just yesterday, an anticipated report was released that concludes "Volkswagen has not done enough to avert future wrongdoing and create a stronger sense of ethics."
CVS Health continues to trade at a discount: the forward P/E is only 10.3x and rolling EPS growth is 14.3%. The proposed Aetna merger greatly complicated my initial and (to me) elegant anti-Amazon theme. They want to pay a lot, and this might be a value trap; I am not confident because I haven't modeled the CVS/Aetna combination yet. Reading between the lines, it seems like we might hear about DOJ approval soon. But that will still be a long way from balance sheet and performance clarity that investors will be looking for.
My Familiarity Bias Cluster (Discovery, Sprouts, Starbucks, Xero)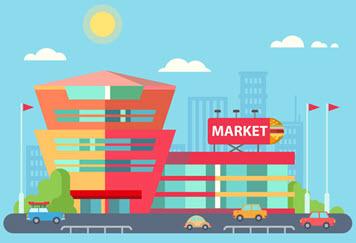 I could try to claim these last four are consumer cyclical/defensive, but in fact they are artifacts of my familiarity bias, and anyway Xero doesn't fit that mold. Year ago, I selected Xero (cloud-based accounting software) to run my business. It's beautiful software, it achieves the holy grail, usability. They are building a special community, and killing the numbers. I just today received an email today from them, it looks like our monthly subscription price may be doubling to $60.00 under their new U.S. pricing.
At the beginning of the year, I sold Kroeger's and held Sprouts. Discovery's acquisition of the high-quality Scripps Network solidified its position as the leading non-fiction channel with compelling demographics and international footprint. I think all three (XROLF, SFM, and DISCK) of these are "holds" for me.
My concern is actually Starbucks. I hold it with weakening conviction. Like many others, I had assumed China offers a obvious, compelling growth opportunity. But learning about Luckin Coffee causes me to want to re-check this assumptions. As a relatively safe dividend-grower (2.68% yield), their capital plan is promising, but there perhaps is valuation risk (PEG is 2.05) if competitive threats undermine the company's strategic priorities.
Summary
Given those thoughts, I think my views are:
Hold these (strongly felt): AAPL, FB (short-term only), GOOGL, HPQ, INST, LEN, SFM, and XROLF
Hold these (but weakly felt): AMAT (ignorance), AYX (valuation), CHGG (valuation), CLDR, DISCK, DOC, INVH, and QTWO (albeit valuation)
Review these (i.e., lacking conviction): BAC (valuation), CVS (asap), HDP, SBUX, and VLKAY
Thank you for reading, good luck out there!
Attribution note: images are by pratyaksa (data science), bloomua (technology value), cheskyw (FinTech), lightwise (learning), vska (real estate), and jossdiim (familiarity bias) at https://www.123rf.com.
Disclosure: I am/we are long AAPL, AMAT, AYX, BAC, CHGG, CLDR, CVS, DISCK, DOC, FB, GOOGL, HDP, HPQ, INST, INVH, LEN, QTWO, SBUX, SFM, VLKAY, XROLF.
I wrote this article myself, and it expresses my own opinions. I am not receiving compensation for it. I have no business relationship with any company whose stock is mentioned in this article.
Additional disclosure: I am long the stocks in the portfolio exhibit above.
Editor's Note: This article discusses one or more securities that do not trade on a major U.S. exchange. Please be aware of the risks associated with these stocks.