Marathon Oil Corp (MRO) is breaking out higher following fundamental strength. Its share price and operations declined in recent years due to weakness in commodity prices. Management however, is focusing on making its operations more efficient, benefiting from recently climbing energy prices. Its balance sheet is strengthening after becoming overly leveraged in recent years due to significant weakness in energy prices. Its relative valuation looks attractive to its peers, while its share price is trending steadily higher. I am taking a long position in this name after the most recent pullback due to its improving fundamentals.
Results Review
MRO has had success recently through the combination of better well performance, as well as greater drilling efficiencies. This execution, on top of capital discipline and higher oil prices enabled MRO to generate roughly $250 million of organic free cash flow during Q2, further strengthening its operating flexibility. The company continues to churn out impressive well results in both its Bakken and Eagle Ford locations. Bakken grew oil production 14% sequentially over the most recent quarter, continuing its basin-leading performance with the Winona and Mamie wells in West Myrmidon. These wells set new basin oil records for the Three Forks with average IP 30s greater than 3,000 barrels of oil per day, according to the company's most recent earnings call.
Eagle Ford production grew 2% sequentially with another quarter of consistent results from its 39 wells brought to sales, delivering average IP 30s of nearly 1,900 boe per day at a 66% oil cut. MRO is seeing continued improvement in well performance with 90-day cumulative production up 50% relative to a few years back. Eagle Ford again contributed significant free cash flow through the combination of well performance and strong LLS-based oil realizations that were again above WTI.
Oklahoma Operations
In Oklahoma, MRO is shifting from STACK leasehold protection to primarily multi-well pad development in both its overpressured STACK and the SCOOP Woodford. The four-well Lightner pad boasts an impressive IP 30 of over 2,600 boe per day from lateral links that average 6,800 feet. More importantly, initial oil cuts exceeded expectations at almost 50%, placing these among some of the best Woodford oil wells in the play.
Northern Delaware
In its Northern Delaware location, MRO made progress capturing drilling and completion efficiencies, including a 45% improvement in average drilling feet per day since the Q4. It is also averaging nine frac stages per day on the three-well Fiddle Fee pad. These efficiencies allowed the company to move from five to four rigs in June while maintaining its original 2018 guidance of 50 to 55 wells to sales.
The region only accounts for roughly 5% of its production mix but is advancing midstream solutions, maximizing margins through enhanced realizations and LOE reduction. Specifically, MRO has expanded its oil gathering agreements and is finalizing a term oil sales agreement. The company recently executed a water handling agreement in the Malaga area that will significantly reduce its unit LOE. All of this is supported by its Midland-Cushing basis hedges at a discount of less than $1 to WTI.
Portfolio Management
MRO recently closed on the sale of three non-core non-operated conventional assets in the U.S. These assets contributed 5,000 boe per day in the first half of the year and were roughly 75% oil. With these volumes adjusted out, the company still raised total company 2018 oil and boe guidance.
Revenue & EPS
MRO is at the will of the broader energy commodity environment, seeing disastrous effects of this over the last decade, following a prior strong run from 2000-2008. Its looks as if the strengthening of commodity prices currently, as well as management's focus on efficiency are leading to an uptick in its bottom-line growth. Top-line growth remains well below its previous high levels, but one must consider its divestitures in recent years as having an effect on this lower metric.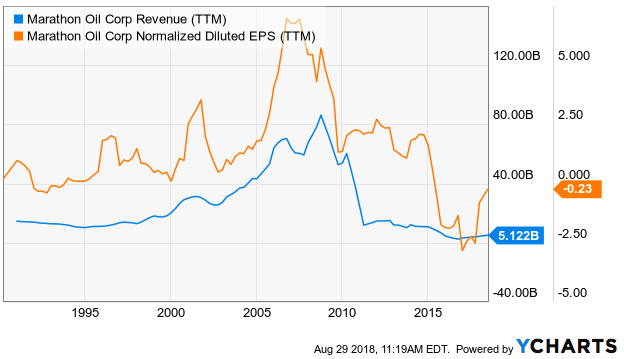 Balance Sheet
MRO's relative debt levels peaked in 2016, when its debt to sales ratio spiked above 2x. Currently, as its operations have expanded, as well as the company reducing its absolute debt burden, its leverage has declined to nearly 1x. Its balance sheet should only further improve as its top- and bottom-line turns higher, alongside management's focus on reducing its total debt on the books.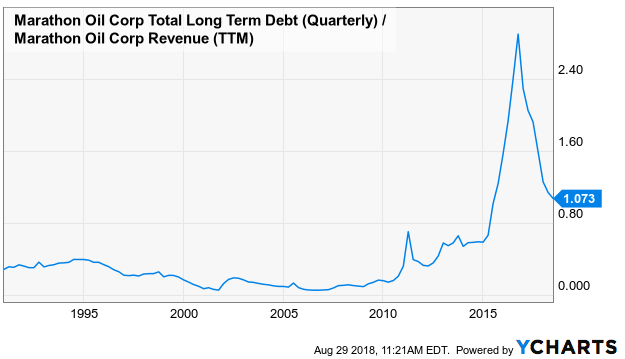 Relative Valuation
Below is a chart of the company's EV to EBITDA ratio. This valuation metric reduces the effects of leverage on a company's valuation as it takes into account the company's debt value using enterprise value. Its peer group is listed as Devon Energy Corp (DVN) and Continental Resources Inc (CLR). As is seen, a combination of operational improvement and MRO price weakness in recent years has led it to become very attractively priced relative to its peers. If there is continued improvement in the energy sector, MRO is likely to outperform due to both its growth prospects and attractive valuation multiple.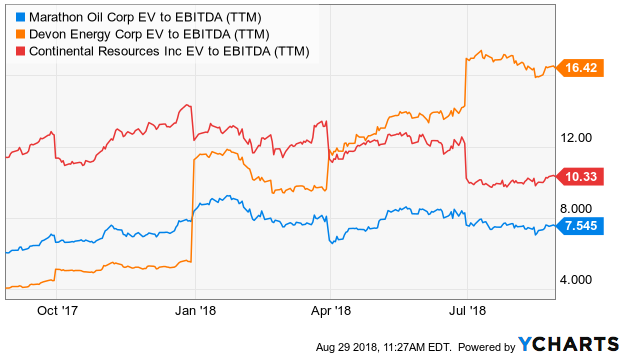 Price Action
MRO looks to be breaking out higher after a brief consolidation. On the longer-term chart, the stock looks to have reached a low point in 2016, making higher highs and higher lows over the past three years.
Its share price looks to now be in a trend higher, periodically pulling back to its 200-day moving average before resuming higher. Its share currently look to be in an environment such as this, with MRO breaking out above $21 following a multi-month pullback to its trend line.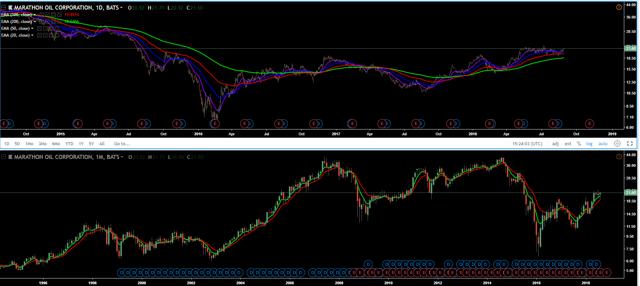 Source: Trading View
Conclusion
MRO is ultimately an energy company, at the will of commodity price cycles. If energy prices turn lower in coming quarters, both MRO's share price as well as its operations will likely turn lower. Currently however, its share price looks to be trading higher on strengthening fundamentals. Its bottom-line growth is picking up, while its leverage is declining. Its relative valuation is attractive compared to its peers, leading me to take a long position in this name as it continues to trend steadily higher.
Disclosure: I am/we are long MRO. I wrote this article myself, and it expresses my own opinions. I am not receiving compensation for it (other than from Seeking Alpha). I have no business relationship with any company whose stock is mentioned in this article.