By Robert Hughes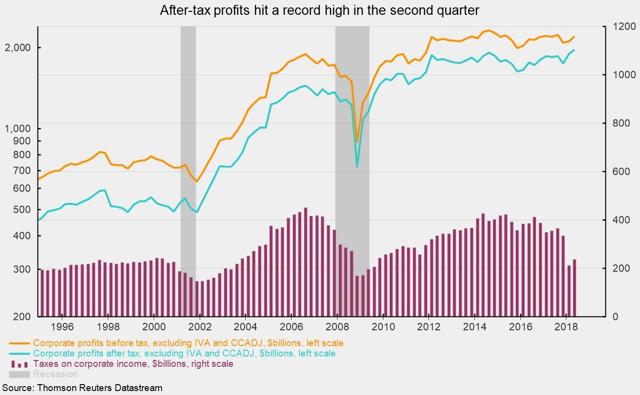 Revised estimates show the U.S. economy grew at a 4.2 percent annual rate in the second quarter, better than the initial estimate of 4.1 percent. In general, the revisions were small. The most significant upward revision was to business fixed investment in software. Business fixed investment in equipment was also revised higher. Imports were revised lower, which adds to GDP growth. Price indexes were marginally higher compared to the prior estimates, and the rate of increase remains moderate.
Included with Wednesday's release were estimates of corporate profits. Corporate profits after tax on a NIPA (national income and product accounts) basis rose 2.4 percent in the second quarter following an 8.2 percent rise in the first quarter. From a year ago, profits are up a robust 16.1 percent. Removing inventory-valuation adjustments (IVA) and capital-consumption adjustments (CCADJ) made for NIPA accounting methods - bringing the figure closer to private sector accounting standards - after-tax profits rose 3.7 percent in the second quarter following an 8.5 percent gain in the first quarter. After-tax profits on this basis totaled $1,968.5 billion at an annual rate, a new record (see chart). After-tax profits are benefiting from strong economic growth and from recent cuts to corporate tax rates. Solid corporate-profit growth helps support future hiring and investment as well as supporting stock prices.
Among the details of second-quarter GDP, consumer spending, or personal consumption expenditures (PCE), rose at a revised 3.8 percent rate in the quarter, up from just 0.5 percent in the first quarter. Spending on durable goods rose 8.6 percent, and spending on nondurables rose 3.7 percent. Both grew at a faster pace compared to the first quarter, but both were revised downward from the initial estimate. Spending on consumer services rose 3.1 percent, up from 1.0 percent in the first quarter.
Business fixed investment decelerated to an 8.5 percent pace of growth in the second quarter from 11.5 percent growth in the first quarter as spending on structures rose 13.2 percent; equipment investment decelerated to 4.4 percent growth; and investment in intellectual property products rose at an 11.0 percent pace. Residential investment, or housing, fell at a 1.6 percent annual rate in the second quarter, the second decline in a row following an 11.1 percent gain in the fourth quarter of 2017.
Combined, consumer spending, business investment, and housing rose at a very solid 4.3 percent annual rate in the second quarter.
Real exports rose at a 9.1 percent rate in the second quarter while imports decreased at a 0.4 percent pace. The increase in the net trade balance resulted in a contribution of 1.17 percentage points to real GDP growth in the quarter. Real government expenditures increased 2.4 percent in the quarter and added about 0.4 percentage points to overall growth.
Price indexes increased at a slightly faster pace in the second quarter, with the GDP price index gaining 3.0 percent at an annual rate while consumer prices (the PCE price index) increased at a 1.9 percent annual pace. Over the past four quarters, the GDP price index rose 2.4 percent while the PCE price index increased 2.2 percent. Excluding the volatile food and energy components, the core PCE price index increased 1.9 percent over the past four quarters.
Overall, second-quarter real GDP looks slightly better in the revised estimate and shows growth reaccelerated sharply from a weak first quarter. Price increases are accelerating modestly but remain moderate by historical measures. Record-high corporate profits are another very positive element in the latest report.