As an investor that spends most of my time analyzing retail and consumer discretionary stocks, and with shares trading at a new multi-year low after the company cut FY 2018 guidance, it was time for me to take another look at L Brands (LB). That said, and for context, I have never owned shares of L Brands because qualitatively, I have always thought Victoria's Secret business model and go to market strategy was flawed (selling overpriced women's intimate apparel items endorsed by super models).
However, with shares of L Brands down roughly 72% from its Q4 2015 all time highs, it was time for a fresh look at the company. Moreover, I have been intrigued by a few recent patch of bullish Seeking Alpha articles penned by authors that have gone as far as to claim the bottom is in for L Brands at $29 or $30 per share. These series of events led me to kick the tires another time at L Brands.
Let's start with the numbers.
If we look at the full year figures for FY 2015-FY 2017, we notice that Victoria's Secret operating margins have declined from 18.1% to 12.6% and FY 2017 comps were really bad at -8%. Bath & Body Works is growing nicely and is now generating more operating income than Victoria's Secret.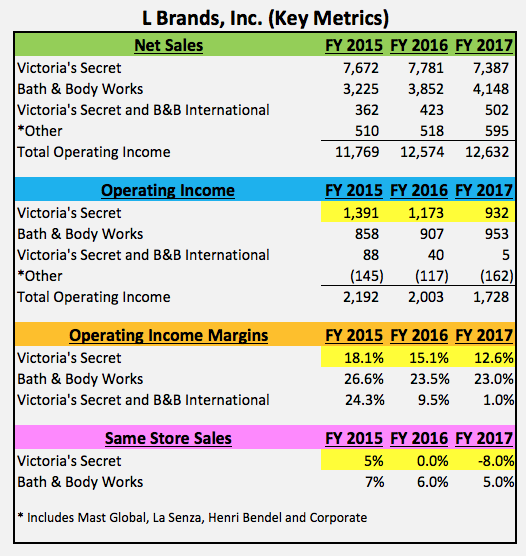 Source: My charts using data from L Brands' annual reports
So the real concern and the big reason for the latest leg down in LB's stock is driven by operating results have really deteriorated during the first half of 2018. L Brands hasn't filed its Q2 2018 10-Q, so I don't have the specific operating income and margins for Victoria's Secret, but we do have the aggregate Q2 numbers and operating income is down 24% YoY for the quarter. Also, notice that in Q1 2018, YoY, Victoria's Secret operating income margins were down 520 Bps from 10.4% to 5.2%.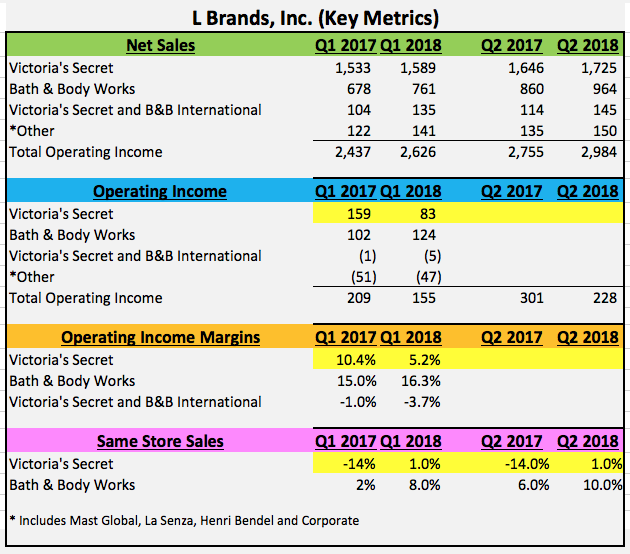 Source: My charts using data from L Brands' quarterly reports
Next, what some bullish authors fail to even mention is that L Brands has a ton of debt! In the Q2 2018 earnings release, L Brands doesn't provide balance sheet or cash flow figures, but we know that long-term debt was $5.719 billion as of May 5, 2018. Net of cash, net debt was $4.7 billion, again as of May 5, 2018.
So the linchpin to buying stock is L Brands is trying to work out what happens to normalized operating income. During the first half of 2018, operating income was $383 million (down 25%), but interest expense chewed up $196.2 million (or 51% of operating income), so the leveraged balance sheet doesn't leave any margin for error. And with an annual dividend of $2.40 per share, and I realize that Q4 is LB's biggest cash flow quarter, LB's annual dividend expense is about $665 million (based on 277 million shares outstanding). In other words, with the operating income declining so fast and almost $400 million of annual interest expense, the stock price will be super sensitive to changes in operating cash flow.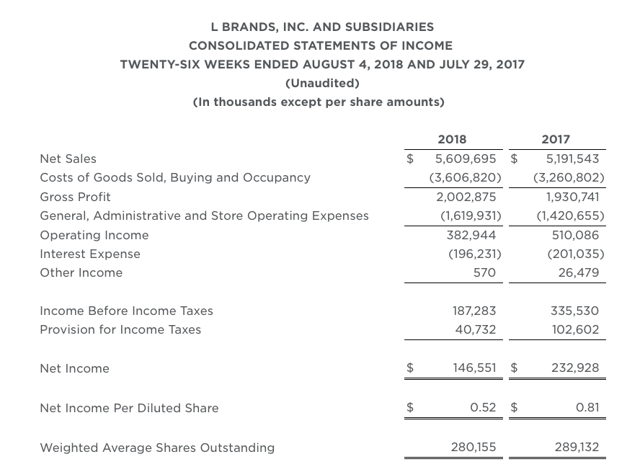 Source: L Brands Q2 2018 Earnings Release
With last week's big FY 2018 earnings guidance cut, at the high end of the new range, 89% of LB's net income will be used to service the dividend. So despite the strength at Bath & Body Works, the market is rightly and correctly concerned.
The company updated its guidance for 2018 full-year earnings per share to $2.45 to $2.70 from $2.70 to $3.00 previously and issued guidance for third quarter earnings per share between $0.00 and $0.05.
Qualitatively
Although this is much harder to prove as I don't have the empirical data per se, my sense is that Victoria's Secret brand and go to market strategy is broken. Using supermodels and celebrity endorsements to market women's body images that are unattainable for 99% of women, even if they eat perfectly and worked out vigorously four days a week (because they don't have supermodel genes), is a bad business model in 2018 (think #Me Too).
I would argue that many women of 2018 are smarter and don't want to be viewed as objects and sex symbols and my sense is that Victoria's Secret brand is on the wrong side of this trend. Setting aside my perceptions of Victoria's Secret's declining brand cachet and failed marketing proposition, there is a ton of competition in women's intimate apparel. This competition is undeniable and has markedly shown up in Victoria's Secret's sharply declining operating margins.
Takeaway
L Brands shares are extremely oversold and very well might experience a dead cat bounce. Perhaps, this could be triggered by a sell-side analyst upgrading the stock, or an activist potentially filing a 5% ownership stake. If either of these events were to occur, no question this could create a short-term pop and a short squeeze could ensue. However, short-term stock prices aren't my barometer for making good investment decisions.
So for me, as an investor that actually does fundamental analysis and thinks about businesses and not stock charts, I'm just not brave enough and just don't see a fundamental reason to get long L Brands stocks, even at $27. Again, maybe it could be a decent trade, but that's not my bag. You need to see tangible operating income and operating margin stabilization for this stock to have a V-shaped recovery.
As I noted, the operating margins are falling off a cliff at Victoria's Secret and PINK. And qualitatively, as I emphatically stated, I think Victoria's Secret is on the wrong side of the #Me Too movement and out of step with women.
That said, keeping an open mind, if L Brands does cut its dividend, and the stock has another leg down, perhaps I might reconsider. For now, I am on the sidelines watching.
Appendix