There's a lot to like about Bitauto (BITA), even amidst the auto bloodbath. While the Chinese OEMs suffer from "peak auto" pessimism, Bitauto has similarly been relegated to the China penalty box on three counts: 1) Chinese auto slowdown, 2) Chinese tech stocks falling out-of-favour and 3) Rmb depreciation. As a result, BITA currently trades at a measly 16x earnings multiple despite enjoying low double-digit growth.
In this note, I dig into the Q2 numbers and find four key takeaways: 1) The core business remains resilient amidst the auto downturn, 2) the Yixin turnaround has begun, yet remains greatly underappreciated, 3) sell-side mis-modeling of the holdco discount has artificially depressed BITA, and 4) underappreciation of BITA's long term earnings potential has created an attractive time arbitrage opportunity.
Resilience in an Auto Downturn
Overall revenue rose 29% YoY in 2Q18 to Rmb2.56bn, handily beating the high end of guidance (Rmb2.52bn) by ~2%. The core advertising and subscription business remained resilient through the downturn, with top line up 16% YoY to Rmb1.07bn on higher ASPs. 2Q surprised many as rising OEM spend along with higher price points for subscription packages (70% of total subscribers now on premium) boosted revenue despite flat subscriber growth.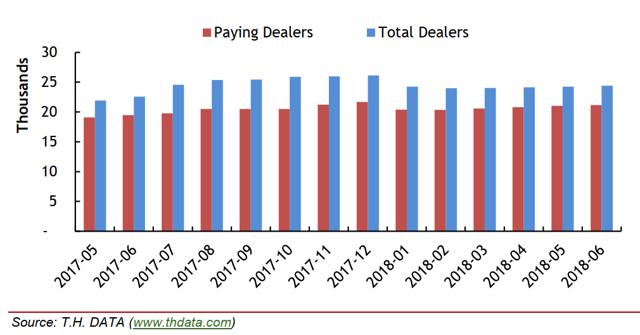 Chinese auto sales growth has suffered in recent months as a combination of purchase subsidy withdrawal in 2018 coupled with volatile pricing has led to customers holding back on purchase decisions – auto growth is now down to 2015 lows.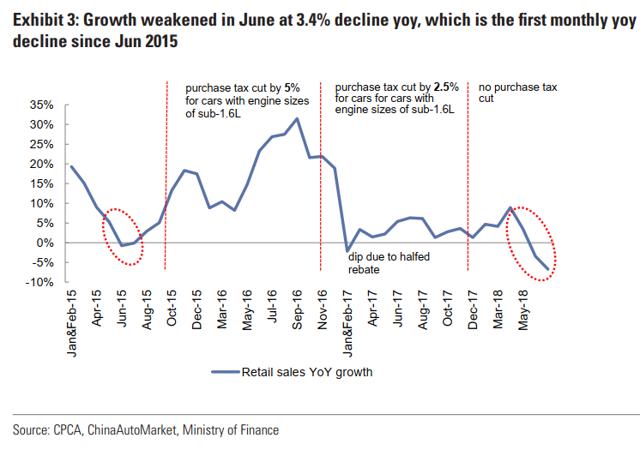 The rampant price war isn't necessarily bad for Bitauto's advertising business – dealers and OEMs tend to advertise more in downturns to compensate. But the budget tends to tighten, and OEMs have been shifting the ad budget toward performance-oriented ads. Which isn't a bad thing considering BITA's traffic is channeled from the likes of JD, Baidu and Tencent.
Operating margins (non-GAAP) also rebounded to 16.7% in 2Q on lower sales and marketing spending and other gains (Rmb45m from disposal of used car business). The lower marketing costs in 2Q was a bright spot as the lower traffic acquisition costs offset higher funding costs at the transaction business (Yixin). 2H margins will be dragged by higher spending on much-needed new product launches and brand upgrades.
Non-GAAP net income attributable to Bitauto came in at Rmb257m in 2Q17, beating Bloomberg consensus by 25% (Rmb206mn), with an implied 13.8% net margin. Overall, adjusted net profit grew 283% QoQ and doubled YoY to RMB257mn, indicating a much earlier-than-expected turn toward profitability. The bottom line boost was mainly thanks to lower sales & marketing expenses as well as a greater shift toward third party loan facilitation at Yixin.
Underappreciated Yixin Turnaround
Transaction services (Yixin) was a surprising bright spot as the segment grew 50% YoY to Rmb1.27bn on the back of strong transaction volume growth amidst a challenging macro environment. Total financed auto transactions grew 58% YoY to 218k - loan facilitated volume was 28k or 12.8% of the total with self-operated financing volume also rising 39% YoY to 190k.
Provisioning was encouraging as well - past due ratio for 30+ days stabilized YoY at 1.48%, with both 30+ days and 90+ days past due ratio increasing from 0.23% and 0.82% to 0.48% and 1.05% respectively.

Provisioning for target credit losses was lowered to Rmb500m from Rmb600 mn, representing 1.2-1.5% of the total loan balance. Yixin ended the Q with total finance receivables of Rmb36bn. Guidance points toward this being sufficient as the company expects a largely stable past-due ratio going forward as the model shifts more toward third-party loan facilitation (3P).
The biggest take from the quarter though was Yixin's move to actively expand its 3P services (which now accounts for 19% of total financed auto transactions, up from 8% in 1Q). Third party loan volume is targeted for 20-30%/40-50% of auto finance volume in 3Q18/4Q18 from 20% in 2Q18. This is largely the key to a Yixin turnaround – the high and stable 3P GPM of 70.0%+, is significantly higher than 1P's 48.9%, with substantially less balance sheet risk. The net effect of this shift should mean overall GPM stabilises and moves higher over the next three years.
Encouragingly, Yixin is also set to partner with more banks from five currently (i.e. ICBC, Minsheng Bank, Bank of Shanghai, Baoshang Bank, Webank). The move should help shift Yixin toward a higher margin 3P model. The 3P shift is timely, as funding costs of the self-operated finance leasing business is set to rise on emerging competition from the likes of Youxin Pai (UXIN) and guazi.com. Funding costs weighed on 2Q gross margin, which dropped YoY to 63.3%.
2Q also saw Yixin inject its used-car related assets (Taoche.com and Taoche app) into Yusheng (an online used car transaction platform) in June. The transaction was structured as a US$260mn convertible note (20 years interest free), translating into a 40.6% equity stake if converted. As part of the deal, Yixin will provide used car transaction traffic support to Yusheng with Tencent and JD also agreeing to subscribe to Series A-1 and Series A-2 of Yusheng preferred shares, and will hold <30% of voting interests.
As the used car business was both loss-making and under heavy competition, the margin profile in 2H should improve post spin. By moving the used car assets off balance sheet through Yusheng, Yixin has gone some way to derisking the balance sheet as well – the transaction business has cash and cash equivalent of Rmb4.25 bn against borrowings (incl, assetbacked securitization debt) of Rmb 29.03bn.
No Credit for Being No. 2
Bitauto/ Yixin's major competitive advantage is really the data-driven ecosystem it has built through strategic partnerships with JD, Tencent, Baidu and Autotrader. These partnerships not only allow Bitauto to obtain high quality traffic at a low cost, but it also enables more comprehensive credit profiling/ risk management using data from its strategic shareholders.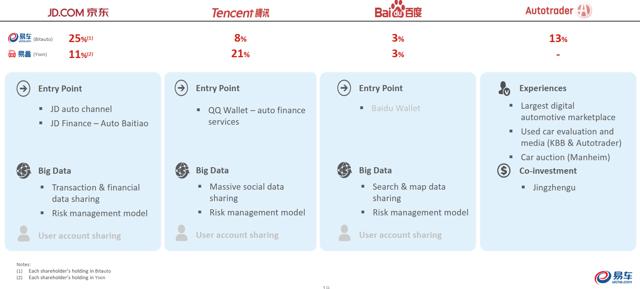 While Autohome is the no. 1 player in the advertising segment, Bitauto, through Yixin, is building an ecosystem spanning transactions, ads and more importantly, 3P loan facilitation where balance sheet risk is outsourced to financial institutions. In the meantime, Bitauto/ Yixin's proven ability to offer auto financing and other value-added services on both new and used cars is cementing its foothold across both new and used Chinese auto platforms.

On a relative basis, Bitauto seems mispriced – it trades at the low end of its peer group despite offering good growth potential and an inherent competitive advantage through its strategic partnerships. As the comp table below shows, the market simply isn't giving Bitauto any credit for being a solid no.2.
| | | | | |
| --- | --- | --- | --- | --- |
| | Price | Market cap (US$ mn) | 2018E | 2019E |
| 58.com | 74.7 | 10,583 | 32.2x | 20.1x |
| Autohome | 78.4 | 8,881 | 22.7x | 17.7x |
| Bitauto | 22.0 | 1,568 | 16.2x | 12.3x |
| Soufun | 2.9 | 1,294 | 23.8x | 11.2x |
| 51Job | 72.3 | 4,503 | 25.2x | 20.3x |
| Average | | | 24.0x | 16.3x |
(Source: Credit Suisse, As of 22nd Aug)
Valuation Discrepancies
A month or so ago, Mox wrote a must-read report on Bitauto's unnaturally high short interest. Here's an excerpt:
"Short interest in BITA has quietly risen to 11.4 million shares. But because the float numbers are not pulling into Bloomberg, most hedge funds are unaware that this now amounts to 80.5% of the tradable float. BITA recently announced a $150 million share buyback which could now reduce the float to well below 11 million shares. The short interest would suddenly exceed 100% of float. BITA has $1.4 billion of cash sitting on its balance sheet to execute a mere $150 million buyback. The buyback was stated to be within the next eight (8) months"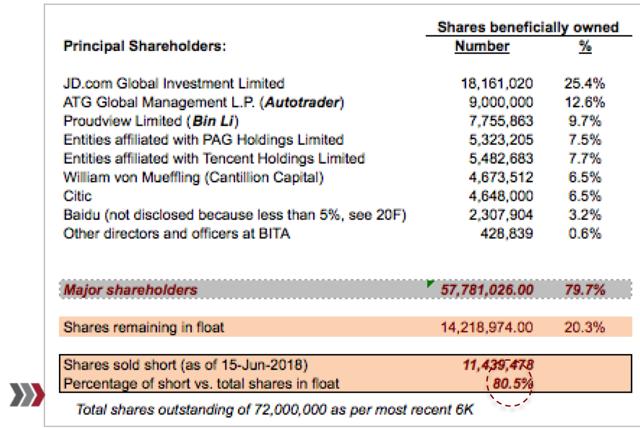 (Source: Mox Reports)
The short interest is now down to ~50% without much effect on the price, but an impending buyback should deliver some upside from a technical standpoint. I won't build too much on Mox's points, as I think they are valid and should play out over time, but I would like to point out the "stub" valuation discrepancy also at play here and why I think BITA is so heavily shorted.
The crux of the issue at hand is the confusion in sell-side modelling of BITA, in particular, the (mis)use of the holdco discount in "sum-of-the-parts" (SOTP) valuation models. For instance, CLSA's analyst, who has an underperform rating on the stock, applies a 25% haircut on the whole entity's equity value. Firstly, given the complete lack of complexity in Bitauto's structure, a 25% haircut seems excessive to me. The second, more important point, however, is that the holdco discount is applied across both the stub and the Yixin holding.

Applying the same 25% holdco discount across both the stub and the Yixin stake, the implied value of the stake equates to a premium of ~5%. If this were true, it makes sense for arbitrageurs to short BITA and buy Yixin. I believe modelling BITA's SOTP this way may be a root cause of the unnaturally high short interest (~50%).

(Source: Author)
Now, if we were to instead apply a more prudent 20% holdco discount to just the Yixin stake, we get a different valuation entirely, with the implied discount actually at ~54%.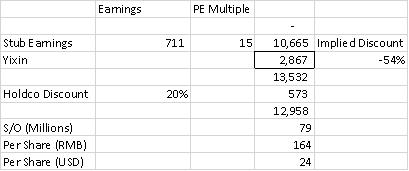 (Source: Author)
It seems sell-siders have taken three main approaches to the holdco discount – 1) an excessive holdco discount to both the stub and the Yixin stake, 2) holdco discount to just the Yixin stake and 3) no holdco discount whatsoever. The divergence in approaches seems to have created a technical dislocation in the stock price, creating an opportunity for medium-long term investors.
Additionally, very little credit is being given to BITA's ability to grow earnings into the future as consensus is largely using FY18e/ FY19e numbers as the basis for the SOTP, when EPS could easily double or triple in just a few years. A classic time arbitrage opportunity, if you ask me.
Overall, I like Bitauto (BITA) at these levels. To summarize: 1) The core business remains resilient amidst the auto downturn, 2) the Yixin turnaround has begun, yet remains greatly underappreciated, 3) sell-side mis-modeling of the holdco discount has artificially depressed BITA prices, and 4) underappreciation of BITA's long term earnings potential has created an attractive time arbitrage opportunity. Plus, the technical tailwind (Mox's "infinity squeeze" thesis) makes this a particularly exciting one to watch as the buyback unfolds.
Disclosure: I am/we are long BITA. I wrote this article myself, and it expresses my own opinions. I am not receiving compensation for it (other than from Seeking Alpha). I have no business relationship with any company whose stock is mentioned in this article.