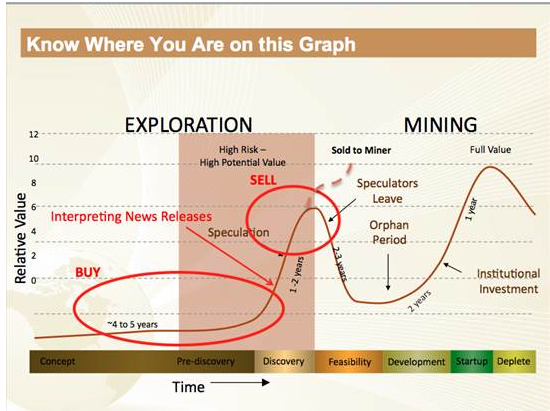 Source: Exploration Insights
Introduction
Welcome to the second edition of Gold Panda's weekly series of articles covering the best drill interception in the metals mining sector. My first article from the series can be read here.
If you're into investing in the mining sector, you should know the above chart very well. Exploration and discovery can add a lot of value for a mining company across all stages of its life cycle although the greatest increases in the share price usually happen when a small company makes a major discovery and the hype arrives. However, great exploration results can also improve the economics of large projects of established global mining companies.
I'm planning on writing a weekly series of articles in which I will analyze the three projects with the most significant drill interceptions over the past week as well as the prospects of the companies which own these projects. I will use data from the weekly bulletin of RSC Mining and Mineral Exploration which can be found on their website. Note that the drill interceptions are converted into grades of gold equivalence using the following formula:

Source: RSC Mining and Mineral Exploration
RSC Mining and Mineral Exploration have chosen gold as the metal equivalent for all conversions as they consider it the most widely-used and best understood benchmark to determine or appreciate the grade tenor of a drilling intercept.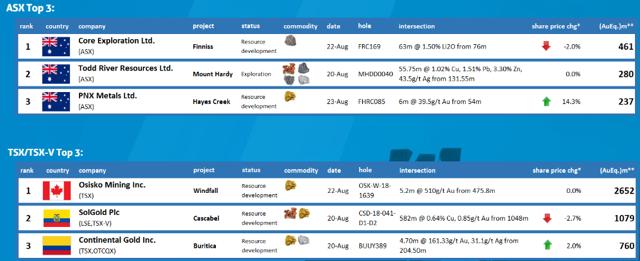 Source: RSC Mining and Mineral Exploration
1) Windfall Lake gold project in Canada
The best result this week was 510 g/t Au over 5.2 meters from hole OSK-W-18-1639 at the Lynx zone of the Windfall Lake gold project of Osisko Mining (OTCPK:OBNNF).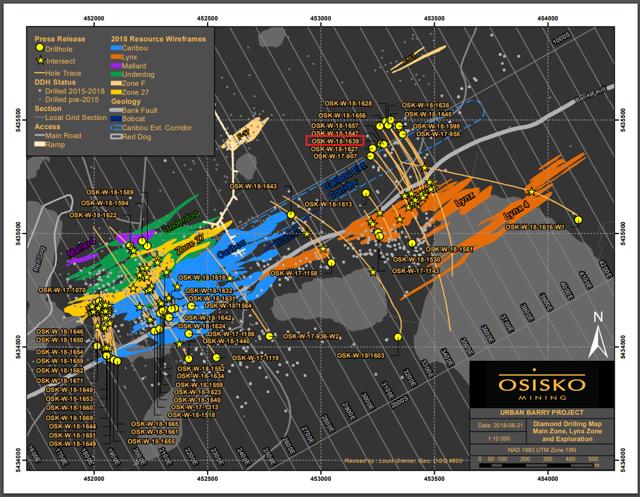 Source: Osisko Mining
This is equal to 2,652 (AuEq.)m and it managed to make it into the top 5 of the most significant drill intersections on the TSX of 2018 to date: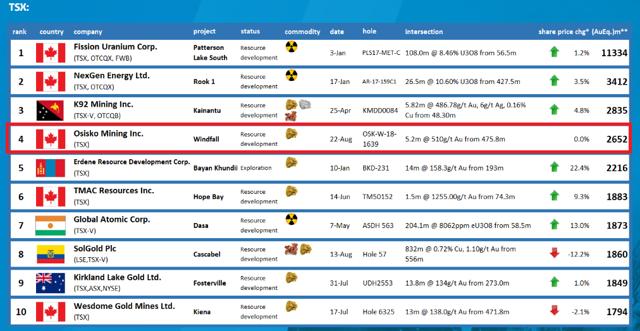 Source: RSC Mining and Mineral Exploration
Osisko reported results from 80 intercepts in 53 drill holes and one wedge focused on infill of the Main Windfall Lake and Lynx deposits and on deep-exploration targets. Other significant drill intersections included:
742 g/t Au over 2.2 meters in hole OSK-W-18-1589
21.6 g/t Au over 19.4 meters in hole OSK-W-18-1655
198 g/t Au over 2.0 meters in hole OSK-W-18-1638
25.7 g/t Au over 8.9 meters in hole OSK-W-17-1313
The company is currently focused on infill drilling within the main Windfall gold deposit and the adjacent Lynx deposit as well as exploration and expansion drilling on main mineralized zones.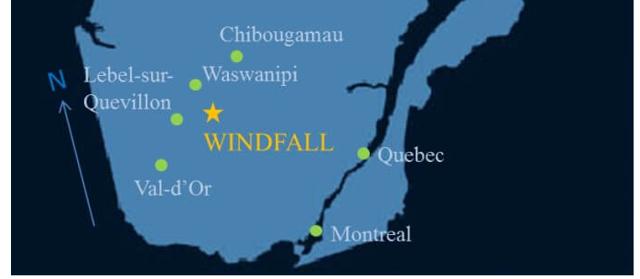 Source: Osisko Mining
Windfall Lake is located between the Val-d'Or and Chibougamau projects in Québec and is one of the highest-grade gold projects in Canada. Its mineral resources include 2,382,000 tonnes at 7.85 g/t Au (601,000 ounces) in the indicated mineral resource category and 10,605,000 tonnes at 6.70 g/t Au (2,284,000 ounces) in the inferred mineral resource category using a cut-off grade of three grams gold per tonne:

Source: Osisko Mining
Osisko says that the gold-bearing, intrusive-related system is open along strike to the northeast and at depth and that the Lynx and Underdog zones have down-plunge potential for more mineral resources. The company's exploration budget this year for its Quebec projects is $100 million and it plans to drill 800,000 meters at Windfall and Lynx and 50,000 meters at Osborne-Bell, as well as the surrounding Quévillon area. The additional drilling is already proving very effective with the discovery of new gold bearing zones in July and August. These excellent exploration results will improve the already impressive economics of the Windfall project outlined in a Preliminary Economic Assessment in the middle of July 2018: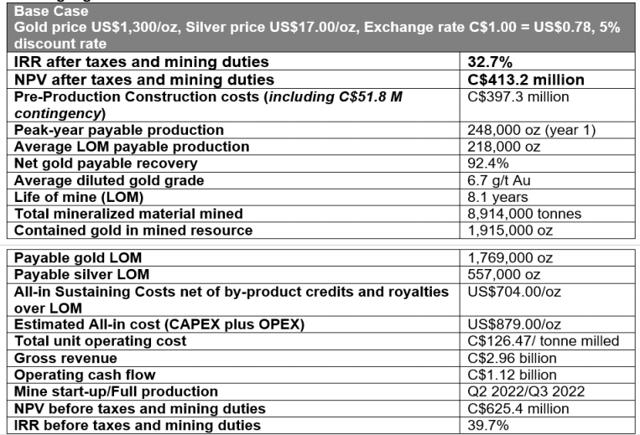 Source: Osisko Mining
2) Casbabel copper-gold project in Ecuador
On 20 August, Solgold (OTCPK:SLGGF) reported more assay results from infill and extension drilling at the Alpala Central zone of its flagship Cascabel copper-gold project in northern Ecuador. The highlight was hole 41-D1-D2 which intercepted 582m @ 0.64% Cu and 0.85g/t Au, including 340m @ 0.78% Cu and 1.21g/t Au. This equals to 1,079 (AuEq.)m meaning that Cascabel has managed to release a top three best drilling intercept for the second consecutive week. On 13 August, Solgold announced that hole 57 hit 832m @ 0.72% Cu, 1.10g/t Au, which is equal to 1,860 (AuEq.)m.
Solgold has so far completed an additional 83 kilometers of drilling since it announced its initial resource estimate in January and there have been several very impressive infill drilling results. They confirm the core of Cacabel to have uninterrupted true dimension of up to 750m vertically, 700m long, and 300m wide, at a cut-off grade of 1.5% CuEq. I covered Cascabel more extensively in last week's article here.
Alpala Central is revealing a far more robust high-grade core than estimated in Cascabel's December 2017 Mineral Resource Estimate. Solgold's study manager Eduardo Valenzuela said that this high-grade core could be mined at a higher production rate in the early years of Cascabel thus boosting the net present value and internal rate of return of the project.
Solgold currently has 12 rigs at the project and is targeting a mineral resource of 10 million tonnes of copper and 25 million ounces of gold, which is starting to look realistic with the latest drilling interceptions.
It's already one of the most significant discoveries in the past 10 years with 12.3 million ounces of gold and 5.2 million tonnes of copper:

Source: Solgold
There is a preliminary economic assessment underway for Casbabel and I think a project with this much promise will turn Solgold into a compelling takeover target, with the likely buyers being Newcrest (OTCPK:NCMGF) and Guyana Goldfields (OTCPK:GUYFF) who already own 14.54% and 6.08% of the company, respectively.
3) Buritica gold project in Colombia
On 20 August, Continental Gold (OTCQX:CGOOF) released the results from nine diamond drill holes into the Veta Sur system at its Buritica gold project in Colombia and the most impressive one was BUUY389 which intercepted 4.70 meters @ 161.33 g/t gold and 31.1 g/t silver, which is equal to 760 (AuEq.)m.
All nine holes intersected the Veta Sur system over 1,200 vertical meters and the four shallower drill intercepts continue to demonstrate an improvement of grades in the master vein sets versus the mineral resource block model. I have covered Continental Gold in an article on 21 August here.
The company's Buritica project is the eighth largest gold find in the past decade with resources standing at more than nine million ounces of gold across all categories and its all-in sustaining costs (AISC) are just $489 per ounce: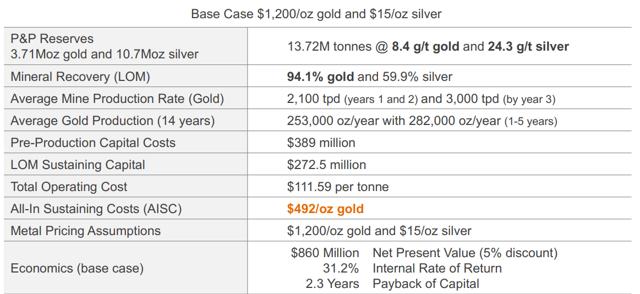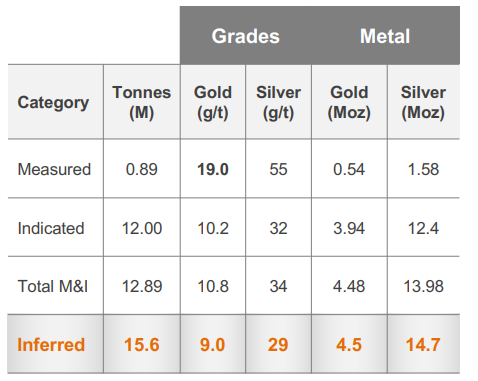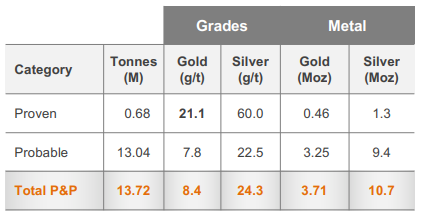 Continental plans to drill 137,000 meters at the project in 2018, including 40,000 meters of definition, 41,000 meters of infill, 15,000 meters of step-out as well as 41,000 meters into some of the 10 greenfield targets found at the project. The company currently has 14 diamond drill rigs in operation and an update to the mineral resources at Buritica is expected in the first half of 2019.
The company is trying to prove its theory that infill drilling improves the grade of master veins at Buritica and that the vertical dimension of high-grade veins remains continuous at depth. Continental also thinks there may be broad mineralized zones, which encompass much of the material between the project's defined veins. Around 30% of the gold above a two-gram cutoff at Buritica was excluded from the current resource estimate and a lot of that amount should make its way back to the updated resource estimate with the drilling planned for 2018.
Conclusion
Osisko Mining is delivering excellent drill results at Windfall Lake which should help the company improve the resource and economics of an already great project. Investors seem to agree that the company has a lot of promise as on 15 August Osisko Mining announced that it has arranged a CAD 68 million private placement financing at a price significantly higher than the market price of its shares. I think that Osisko Mining is undervalued and it has a lot going for it now – good exploration results, strong balance sheet and great team. The company has the same management team, engineers and geologists as well as many of the same directors that put Canada's largest gold mine, Canadian Malartic, into production.
Solgold has been releasing very good assay results from infill and extension drilling at Cascabel and its target of a mineral resource of 10 million tonnes of copper and 25 million ounces of gold is starting to look realistic. The outstanding 17,000 meters of planned drilling at Alpala will see around 100 kilometers of further drilling incorporated into an updated Mineral Resource Estimate at Cascabel. I think that it's a world-class project and I wouldn't be surprised if Solgold becomes an acquisition target over the next few years.
Buritica is one of the best gold deposits discovered over the past decade and I think that it has the potential to improve much more. In 2017, Continental Gold rejected additional funding from Newmont Mining (NEM) at a 46% premium to the share price which comes to show the level of confidence of the management in the project. Given the nature of Buritica, I think it's very likely for its proven and probable reserves to easily surpass five million ounces of gold and total resources to go over 12 million ounces. I wouldn't be surprised if Newmont acquired Continental after the resource estimate for Buritica is updated in the first half of 2019.
Disclosure: I am/we are long CGOOF.
I wrote this article myself, and it expresses my own opinions. I am not receiving compensation for it (other than from Seeking Alpha). I have no business relationship with any company whose stock is mentioned in this article.
Additional disclosure: I am not a financial adviser. All articles are my opinion - they are not suggestions to buy or sell any securities. Perform your own due diligence and consult a financial professional before trading.

Editor's Note: This article discusses one or more securities that do not trade on a major U.S. exchange. Please be aware of the risks associated with these stocks.
Editor's Note: This article discusses one or more securities that do not trade on a major U.S. exchange. Please be aware of the risks associated with these stocks.