Investment Thesis
The pending legalization of cannabis in Canada has caused a massive inflow of speculative money into Canadian cannabis stocks, and valuations across the board are frothy. Canopy Growth Corporation (NASDAQ:CGC), the largest pure-play publicly-traded cannabis company, is priced beyond perfection, and investors deploying capital at current valuations will very likely face long-term losses.
The price of a pound of trimmed buds has dropped immensely in US locales that have legalized, and this drop has hurt growers the most. With so many producers competing with a similar quality product, cannabis has become a commodity in these regions, and wholesale prices have fallen sharply. When recreational pot becomes legal in Canada, I anticipate that prices will fall and producers will bear the brunt of the pain.
Canopy also has its own set of financial issues: an unreasonably high stock-based compensation expense resulting in continued dilution, and questionable accounting assumptions used to calculate inventory value (changes which come through to the income statement "mark-to-market").
The company is also overvalued on every metric even as it continues burning cash at an accelerating pace. Market participants desperate for exposure to cannabis have bid the equity price so high that the valuation has no fundamental basis.
I believe an investment in Canopy today is akin to investing in Cisco (CSCO) or Microsoft (MSFT) at the very peak of the dot-com bubble - when this bubble bursts, investors could wait years before seeing a reasonable return on their capital, if ever at all.
Stunting the Growth Story
Canopy Growth Corporation engages in the production, possession, and sale of cannabis in Canada. The company also invests in outside ventures in jurisdictions where marijuana is federally legal, which for now includes parts of Europe, Latin America, and the Caribbean.
Canopy Growth has an extremely frothy valuation as a result of the speculative investment, trading at over 120x TTM sales and over 10x book value: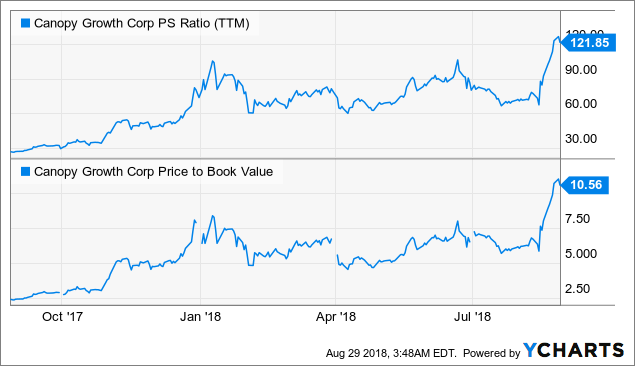 Meanwhile, the company has accelerated its cash bleed and substantially diluted its shareholders: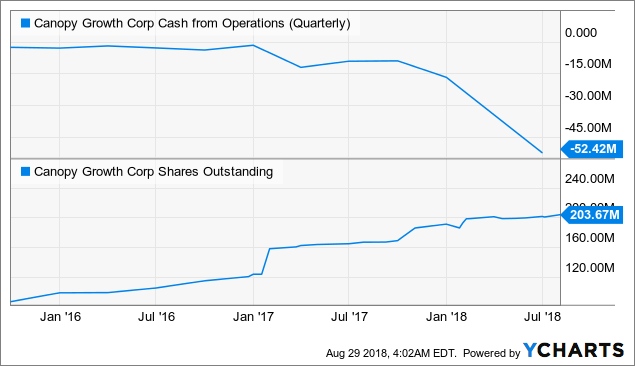 Still, investors love Canopy Growth for the story of Canadian legalization. I anticipate that revenues will materially rise as legalization takes effect. But Canada is a tiny market at around 36.5 million people, many of whom already smoke cannabis or even grow it themselves.
Another pillar of the bull thesis is that Canada will become an exporting hub, giving the companies access to markets around the world. I disagree wholeheartedly - Canada's weather is not suited for cannabis growth. Most of the country is tundra which is suboptimal for agriculture.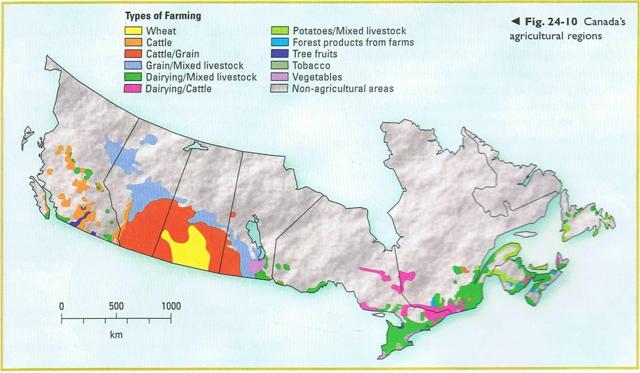 Source: Google Images
Cannabis can grow in a variety of climates, but it is generally best suited to the Mediterranean climate, known for its warm-to-hot summers and mild winters - one reason that northern California is the largest cannabis growing regions in the world.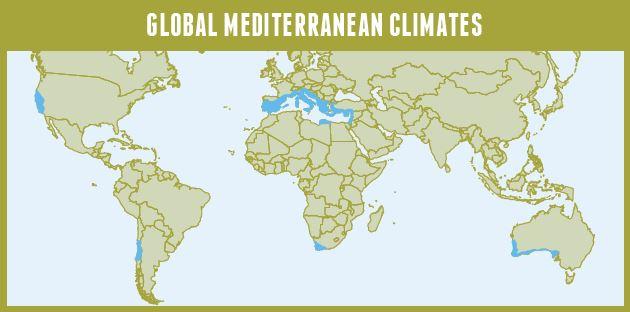 Source: California Almond Board
With the help of a greenhouse, high-quality marijuana can be grown year-round in California, parts of Chile, the Mediterranean, South Africa, and the southwest coast of Australia. These regions are already global breadbaskets due to their favorable climates, and if we obtain something resembling global legalization, I suspect these regions will produce the lion's share of cannabis.
Additionally, Canopy does not operate in the United States, which is far and away the largest legal cannabis market. This limitation is a big strike against Canopy, as part of the bull thesis rests on its eventual entry into the US market. It gives a sizeable head start to existing companies operating in states with favorable growing climates and already-legal recreational and medical pot such as California and Oregon. American companies are already in the process of jumping through regulatory hurdles and snapping up the best land for growing. If and when cannabis becomes federally legal, Canopy will need to compete with established operators in these states.
Constellation's Investment in Canopy
Recently, Constellation Brands (STZ) invested an eye-popping $4 billion in acquiring enough stock and warrants for a controlling stake in Canopy, should STZ choose to exercise the warrants. This acquisition gave investors confidence and pushed the stock to new highs.
But Constellation's backing does little to assuage my concerns of overvaluation. Constellation has a history of overpaying for certain assets when it is desperate to enter a new market that could pose a threat to its existing brands - like craft beer, for example.
Craft beer fans may recall Constellation's purchase of Ballast Point in 2015 for a cool $1 billion - a valuation that was unheard of for a brewery at the time. I questioned whether or not this acquisition would be accretive for Constellation given the price tag.
Ballast Point has a reliable brand. Its famous beers such as Sculpin IPA and Victory at Sea fly off the shelves at a premium price. That said, Ballast Point was projected to sell about $115 million of beer in 2015, which means Constellation paid close to 9x sales for Ballast Point. Given the mounting competition in the craft beer space, a sales multiple of 9x was just too expensive.
Unsurprisingly, Constellation took a huge impairment charge on the value of Ballast Point's intellectual property as a result of weaker-than-expected performance from the brand.
Trademarks: For the first quarter of fiscal 2018, we identified certain negative trends within our Beer segment's Ballast Point craft beer portfolio which, when combined with the recent negative craft beer industry trends, including slower growth rates and increased competition, indicated that it was more likely than not that the fair value of our indefinite-lived intangible asset associated with the craft beer trademarks might be below its carrying value. - Constellation Brands Q1 FY 2018 10-Q
As a result of the impairment, Constellation wrote down the value of the Ballast Point trademarks from $222.8 million to $136 million for a total impairment of $86.8 million.
If paying 9x sales was too expensive for a craft beer company, I firmly believe that paying 100x sales or more for a cannabis company is an atmospheric valuation with no basis in reality. I questioned the price tag of Constellation's investment in Canopy, and given Constellation's recent history of overpaying for assets, the $4 billion investment should scare investors rather than excite them.
Legalization Historically Hurts Growers' Profits
With several US states legalizing marijuana for recreational use, the wholesale price of cannabis has plummeted.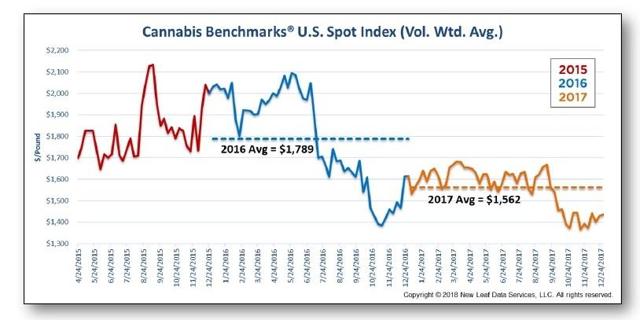 Source: Cannabis Benchmarks
The above chart shows a clear downtrend in the price of cannabis, but in states that have legalized, the picture is even more apparent.
As a business consultant, I worked with a cannabis cultivation company with operations in California and Oregon, and the picture was incredibly dismal. This company has been in business for over a decade and has been profitable for a majority of that time. During medical legalization, this grower could regularly sell its greenhouse-grown cannabis to dispensaries for $1,600 per pound or higher. Today now that both states have legalized, they are lucky to receive $1,000 per pound, with a current average selling price of $850.
To put this number into perspective, this grower pays $150 per pound to have the buds trimmed for presentation purposes. Add to that the cost of soil, labor, depreciation of the greenhouses, taxes, licensing fees, and the numerous other costs of growing, margins have sunk to practically zero. The grower has cut costs and managed to remain profitable by pivoting its business model to focus on concentrates, but total profits are down by more than three-quarters since 2014.
Of course, this is just one example, but reading the tea leaves from other states that have legalized paints the same picture. Cannabis prices are materially lower after legalization in all cases I could find.
Now that several states have legalized recreational marijuana, there is plenty of data to suggest that legalization hurts growers as wholesale prices plummet. I firmly believe that Canada will follow suit and to carve out a profit as a cultivator will be an arduous task.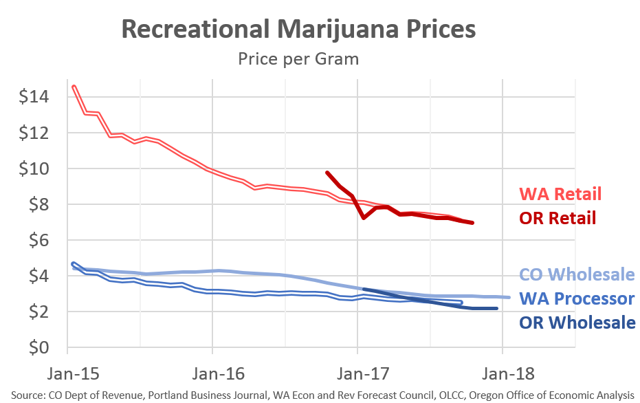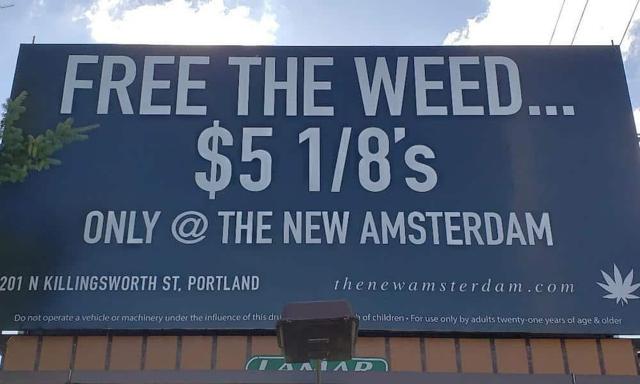 $5 per eighth comes out to $1.42 per gram. Retail, not wholesale.
Source: High Times
Aggressive Accounting Assumptions
Valuation aside, I question the assumptions used to arrive at the value of biological assets for Canopy Growth. The company uses an accounting convention that measures inventory at a mark-to-market basis and presents changes in the value of its inventory through the income statement.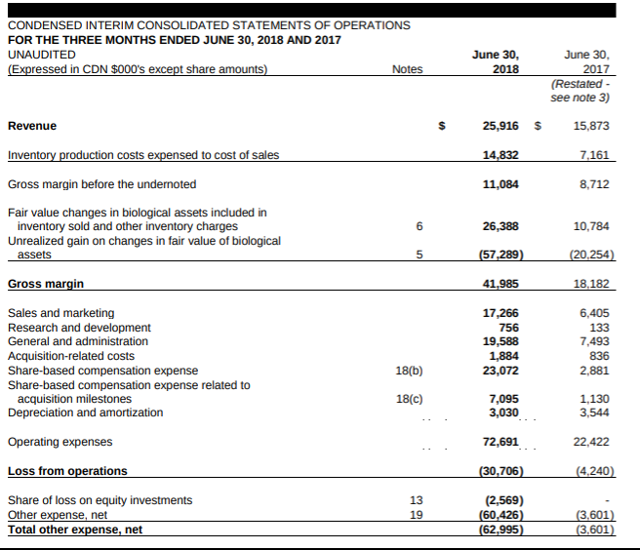 Source: Canopy Growth Corporation Quarterly Report Q1 FY 2019
Canopy explains the methodology used to arrive at the value of its biological assets:

Source: Canopy Growth Corporation Quarterly Report Q1 FY 2019
I think Canopy is using very aggressive assumptions here, and I doubt that it can sell its cannabis for CAD 5 to CAD 12 per gram. These prices are equivalent to US$4-12 per gram, or $1,812-5,448 per pound. While $1,812 wholesale could be reasonable for higher grade greenhouse or indoor buds, $5,448 is a very aggressive assumption for even the highest-quality cannabis.
A pound of top-quality indoor marijuana in California is usually $2,400 at the most based on my experience in the industry. Some brand-name, prepackaged weed can bring in up to $3,000 per pound, but this is the exception, not the rule. Currently, I see weed prices here in California at $600-800 for a pound of outdoor-grown cannabis, $850-1,000 for greenhouse-grown, and $1,800-2,400 for indoor-grown.
I believe the prices Canopy uses to determine the carrying amount of its inventory have no basis in reality. Currently, management asserts that it can sell its product for about double the going rates in mature legal markets.
Canopy even notes that a slight decrease in the assumed selling price of its pot would result in a significant reduction in the value of its inventory. I believe that the inevitable decline in the pricing of cannabis will force Canopy to use less aggressive assumptions going forward, and will necessitate a write-down of inventory. This write-down could destroy investor confidence and trigger a sell-off in the stock.
I prefer a management team to be conservative in its estimates, and this aggressiveness is indicative of a management team whose goal is to promote the company rather than provide reliable information to shareholders.
A Word on Stock-Based Compensation
A feather in the cap of the bear thesis against Canopy is the staggering amount of dilution that shareholders face. In just two years, total shares outstanding have nearly doubled. This dilution puts a hard ceiling on potential upside in the name.
Equity issuance can be a smart tactic if the stock is expensive, which is undoubtedly the case for Canopy. The problem with the dilution, in this case, is that many of the shares are issued directly to management as compensation. The company receives zero tangible assets as a result of this dilution.
The stock-based compensation expense in Q2 2018 was over CAD 30 million. When compared against company revenues of CAD 26 million, stock-based compensation expense far exceeded the amount of money that the corporation took home in sales.
Shareholders should express concern at this data point - it is rare to see stock-based compensation exceed revenues even for the lowest-quality companies in the market. The dilution that results from this compensation will negatively affect long-term returns for investors. The company is not only structurally unprofitable but also is bleeding shares to its management team.
Conclusion
Canopy Growth Corporation is uninvestable due to its nosebleed valuation of over 120X TTM sales. On top of this, I believe the book value of its biological assets is significantly overstated based on the market rates of cannabis in legal markets. The Constellation investment does not provide a basis of support, as Constellation has a history of overpaying for assets, proven by the impairment charge it took on the Ballast Point intellectual property.
Investors eager to get exposure to the cannabis industry are better off sitting this out, as the potential for steep losses offset any potential for further gains. There is no fundamental basis for the current share price.
I have no position in Canopy. To take a short position, I would need to see a severe drop in the momentum in the shares. However, I believe it is possible for speculators to profit from the decline of Canopy by purchasing long-dated put options. I would prefer to use put options as a vehicle to short the stock as opposed to borrowing shares to limit the potential downside in the event of continued irrational exuberance.