Mall retailer Express (EXPR) recently reported second quarter numbers which beat consensus expectations across the board. Management also lifted its full-year sales and earnings guides, while guiding higher on third quarter earnings. Yet, the stock failed to rally on the strong numbers, as investors instead chose to focus on declining merchandise margins.
We think this narrow focus on slight merchandise margin compression in Q2 is unnecessarily short-sighted. In the big picture, Express is a strong retailer with improving fundamentals, strong growth drivers, and sizable earnings growth potential over the next several years as retail bounces back. Indeed, we think EXPR stock has $12 upside by the end of this year, and $16 in a four to five-year window, making this stock a good investment at present levels.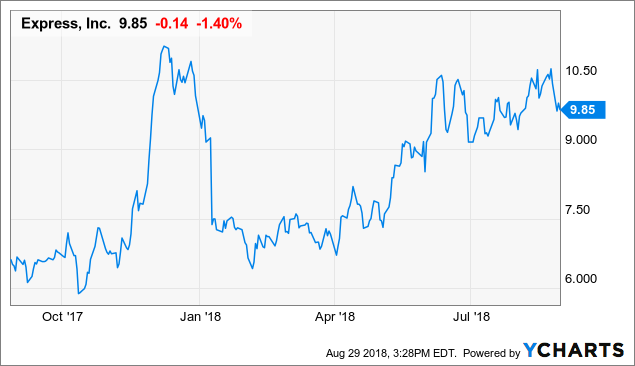 Across the board, EXPR's second quarter numbers were quite good. Revenues topped expectations. Earnings did, too. Same with comparable sales, which rose 1% versus expectations for a 0.1% decline. This marks the second quarter in a row of positive comparable sales growth, with comparable sales also rising 1% in Q1. But, in Q1, the lap was really easy (-10%). This quarter, the lap was much tougher (-4%), so on a two-year stack basis, comparable sales trends are dramatically improving.
Meanwhile, e-commerce sales are still red-hot, growing 37% year over year. That is up from 28% growth in the year ago quarter and 35% growth in Q1. The acceleration in e-commerce sales growth can be attributed to the company's expanded omni-channel commerce capabilities, including Ship from Store and Buy Online, Pick-up in Store.
On the margin front, gross margins rose 60 basis points in the quarter, while the SG&A rate was flat on the year. Management sounded a bullish tone about getting operating margins back to the mid single-digit range in three years, which would be a huge improvement from this year's guided 2.3% operating margin base. Looking forward, management also hiked the full-year comparable sales growth and earnings guides, while guiding above on third quarter earnings.
In other words, EXPR's quarter was really good. Comparable sales growth is positive and still improving. Margins are improving, too. The guide was strong. The e-commerce business is heating up. Management sounded bullish on the conference call.
If the report was so good, why did EXPR stock fall? Merchandise margins. Merchandise margins fell back in the quarter, after rising in the first quarter, due to a bigger mix of e-commerce sales. Investors are worried that with merchandise margins falling back, improved profitability from here will be tough to come by.
That is a legitimate concern. But, merchandise margin compression feels like a near-term phenomena. According to management, merchandise margins fell back in the quarter mostly due to increased omni-channel sales through Ship from Store (higher shipping costs). But, longer term, Ship from Store should actually improve margins as it reduces future markdown rates through lowering pre-clearance inventory. Thus, merchandise margins should be "OK" long term.
Overall, EXPR's second quarter was really good, despite the negative stock price reaction, and affirms that sales and margin trends are positive for this retailer. The quarter also affirms this company's long-term bull thesis, which is as follows:
The Express core demographic is young professionals in the 20-30 age range, most (if not all) of whom are technologically savvy and love shopping online. Express has done an excellent job of accommodating its core demographic, and has a e-retail business that represents a quarter of its entire business today. Because the boom in e-commerce will likely not slow any time soon, and because EXPR's core demographic will remain tech-savvy consumers, Express is set up for long-term success through continued robust expansion of its digital commerce business. As revenue trends stabilize, margins should improve and earnings growth should come roaring back into the picture. EXPR stock isn't priced for reinvigorated profit growth, and as such, should head higher in the event that earnings do grow.
Operating under this thesis, we believe that EXPR can grow revenues at a 1-2% clip over the next several years. We also think that gross margins will continue to improve, while disciplined cost control will drop the opex rate. That should lead to mid single-digit operating margins within the next five years, versus management's three-year target. Under those assumptions, and factoring in buybacks, we think that EXPR can do about $1 in earnings per share in 5 years. A market-average 16X forward multiple on that implies a four-year forward price target of $16. Discounted back by 10% per year, that equates to a year-end price target of ~$12.
Clearly, our earnings estimates are above where the Street currently sits. But, we feel that earnings estimates are about to head consistently higher over the next several quarters as the entire retail industry makes a big comeback. Retail sales are already up 6% over the past 3 months, and judging by August's nearly 20-year high consumer confidence reading, it looks like already robust retail sales growth is about to head even higher. If so, we could be in store for a massive holiday season, the likes of which will boost EXPR stock and force analysts to revise their estimates higher.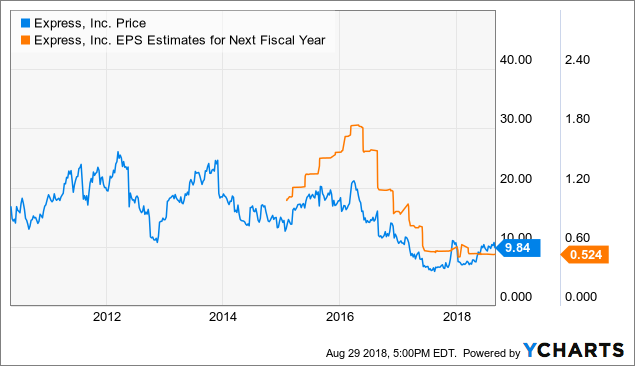 Overall, we think EXPR stock is actually one of the better small to mid-cap stocks in the mall retail segment. We like the company's competitive positioning with a massive e-commerce business and tech-savvy target consumer, and also believe current trends point to further operational improvements in the future. Meanwhile, the balance sheet has a ton of cash with no debt, and the valuation is reasonable.
Having said that, the big risk here has to do with merchandise margins. If the company's entire growth narrative going forward is fueled by e-commerce and omni-channel commerce build-out, then higher shipping costs will likely continue to weigh on merchandise margins. If merchandise margins don't rise, EXPR will have a tough time growing earnings in the long run.
But, we think that EXPR's growth going forward will be multi-faceted, not driven exclusively by e-commerce. As such, we think that this risk is mitigated, and that EXPR stock is a buy at current levels.
Disclosure: I am/we are long EXPR. I wrote this article myself, and it expresses my own opinions. I am not receiving compensation for it (other than from Seeking Alpha). I have no business relationship with any company whose stock is mentioned in this article.