Big box sporting goods retailer Dick's Sporting Goods (DKS) recently reported mixed second quarter numbers which largely disappointed investors. Earnings topped expectations, but revenues and comparable sales missed expectations by a wide margin. Meanwhile, the full-year earnings guide was lifted, but the full-year comparable sales guide was cut.
Overall, DKS stock initially dropped big in response to the Q2 print but then rebounded strongly. We think this rebound makes sense. The big takeaway from Q2 earnings is that, while the company still has a long way to go, the fundamentals are gradually improving, and there is a viable path forward for DKS as a go-to retailer of premium end sportswear. Meanwhile, the valuation on DKS stock is depressed enough to warrant this stock being undervalued, and we reasonably see upside to $40 by the end of the year.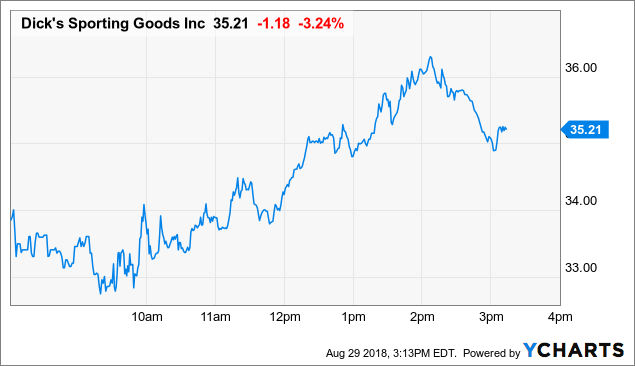 Dick's second quarter numbers were a mixed bag. On one end, sales growth remains sluggish, and if anything, things on the top line are getting worse. Comparable sales dropped 4% after adjusting for calendar effects, which is much worse than the 2.5% decrease reported last quarter. It is also a big slowdown from the year ago quarter, when comparable sales were up 0.1%, and the two years ago quarter, when comparable sales were up 2.8%. Moreover, this trend of slowing comparable sales growth is expected to persist. Comparable sales are expected to drop 3-4% this year, versus a 0.3% drop in 2017 and a 3.5% rise in 2016.
Overall, top-line growth trends at Dick's remain sluggish. This sluggishness speaks to the fact that the athletic retail industry is dramatically changing, and not for the better when it comes to Dick's. Athletic brands are increasingly building out direct-to-consumer (or DTC) retail channels, and instead of shipping product out to Dick's, they are keeping a lot of product in-house and selling it themselves. It is a classic "remove dependence on the middle man" move.
Thus, the long-term bear thesis on DKS stock is that the company continues to get squeezed out of the athletic retail distribution model. In such a scenario, comparable sales growth will remain negative, and DKS stock will ultimately head lower.
But we think this bear thesis is flawed. While athletic brands are pushing DTC distribution, we can't imagine a world where everything in athletic retail is DTC. After all, Dick's does offer all-in-on convenience that is lacking in a brand-owned DTC channel. Plus, if you look at the DTC shift in retail, e-commerce only accounts for ~10% of total retail sales, meaning that traditional retail is still a big piece of the pie. As such, we think athletic retail distribution will remain a blended model with a higher mix of DTC sales.
Under this assumption, we think DKS stock will head higher. The entire athletic retail industry has been uprooted by this DTC shift, and many sporting goods retailers have either gone bankrupt or are on the verge of declaring bankruptcy. Except for Dick's, which is the largest sporting goods retailer in the U.S. and which has a fairly clean balance sheet. As such, once this shake-out in athletic retail finishes up, Dick's will be one of the last men standing, meaning that the company has a unique opportunity to become a big fish in a small pond.
As a big fish in a small pond, Dick's will have pricing power. We are already seeing this. Despite sluggish comparable sales growth in Q2, gross margins bounced back and rose 80 basis points as the company stopped chasing low-margin sales. In so doing, Dick's preserved its full-price nature and is taking steps towards creating a culture of being a full-priced retailer of premium sporting goods.
In the big picture, we think Q2 earnings simply affirmed what we view as the most likely outcome for DKS going forward. Comparable sales growth will remain sluggish but eventually rebound as peers go under and the DTC shift moderates. Meanwhile, gross margins will keep trending higher as Dick's establishes itself as a full-price retailer of premium product. Thus, in a five-year window, DKS is a company with healthy sales, margin, and earnings growth potential.
That potential isn't priced into shares at the current moment. Assuming sales growth runs around 1-2% per year, margins rebound slightly but remain off previous highs, and that buybacks persist, we think DKS can net around $4.50 in earnings per share in 5 years. Historically speaking, DKS stock trades around 12X forward earnings. A 12X forward multiple on $4.50 implies a four-year forward price target of $54. Discounted back by 10% per year, that equates to a year-end price target for DKS stock of roughly $40.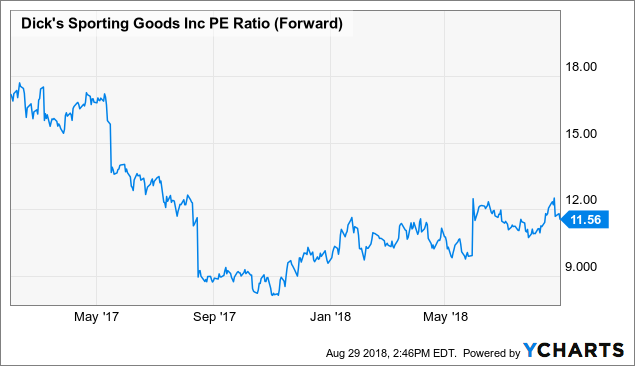 Overall, we think Dick's Q2 report was actually pretty good and illustrates that this company does have a viable path forward as a full-price retailer of premium sportswear product. We do not think upside from this viable path forward is fully priced into DKS stock yet and see this stock heading towards $40 by the end of the year.
Disclosure: I am/we are long DKS. I wrote this article myself, and it expresses my own opinions. I am not receiving compensation for it (other than from Seeking Alpha). I have no business relationship with any company whose stock is mentioned in this article.