Editor's note: Seeking Alpha is proud to welcome Steve Kelley as a new contributor. It's easy to become a Seeking Alpha contributor and earn money for your best investment ideas. Active contributors also get free access to the SA PRO archive. Click here to find out more »
Introduction
My name is Steve Kelley, and I am a 33-year old millennial (yeah, I know, don't shoot me). I have a growing family with a wife and two kids (13 and 4) that currently reside in West Virginia. In our immediate family, my wife and I both work full-time jobs, and I am currently employed as a civilian government employee. My family's personal portfolio shown further below is in real money percentages of value, and I will provide updates along the way as changes are made. In addition to the shared portfolio, we both contribute to our 401(k) programs. As a member of Seeking Alpha since 2013, I truly value reader input and feel the comments section provides a rare opportunity to have a live discussion.
My brother and I created a business, American Wealth Project, LLC, which is officially launching in September 2018. In a nutshell, American Wealth Project (AWP) is a consulting company that teaches people how to utilize money as a tool to reach specific goals and increase financial literacy. Big banks, hedge funds and large institutional investors do not offer this niche service to the average person simply because s/he does not possess the wealth needed to make it worth their time.
At AWP, we've developed a finely-tuned set of programs from the ground up that's crafted around the client's needs to create a blueprint to success. AWP is small enough to care, but large enough to make a difference. It is an exciting time and something that we are both very passionate to see grow going forward. To be clear, American Wealth Project does not make specific investment advice. Our goals as a company are to help people learn how to budget, eliminate debt, and provide options that can lead to financial independence ahead of the typical retirement age.
I have wanted to write for Seeking Alpha for a couple years but kept putting it off until recently. I decided to take the plunge and follow several authors that have done the same. I love the open discussions, reading the logic behind strategies implemented, and getting to meet new people that share the same interests.
Goals
My short-term goals consist of regularly contributing to Seeking Alpha, providing periodic updates to new developments, and generating feedback from you. My long-term goals are to retire from a regular job by age 55 and create the "AWP Investment Club." If my business takes off the way I envision, my dream scenario would be to focus on that full time. Although there is not a lot of current interest in West Virginia, I think investment clubs can be a great way to network and bounce some ideas around. I plan to have approximately 5-7 individual streams of income by age 55 between stock investments, real estate, and small businesses.
Methodology and Current Portfolio Positions
My wife (Mrs. K) is great (understatement), and I am very proud she has developed an interest in stocks. We often talk investments and I like to include my oldest son in some of those discussions in hopes he wants to invest soon. Additionally, my oldest soon recently became a teenager so I can keep a pulse on what the upcoming generation may or may not be into. With all that being said, I maintain my family's portfolio and it's constructed to behave like one. Outside of a few investments we both fully believe in, there will be very little overlap to increase diversification.
The methodology of creating this portfolio evolved into its current form over the past decade. Although my risk tolerance is on the higher side, I have developed a set of parameters that I use to analyze investment opportunities when new money hits the account. I have a huge basket of stocks across every sector that sit in my watch list to receive notifications about quarterly reports and market sentiment. I keep a list of what I feel are the top two or three companies in every industry and notate not only how they got there but also what companies may be on the verge of disrupting their business model. I also compare the company to the industry's average financial metrics and growth profile to determine if a company is worthy of an investment.
The majority of the portfolio is reserved to stocks that either pay or increase a dividend. Given that my long-term goal is to have several streams of income, dividend-paying stocks were one of the first routes taken. It has become the solid foundation to the entire portfolio and would have been very difficult without the critically acclaimed CCC List. However, since we are both in our thirties, I also want a significant portion of the portfolio tilted to growth stocks, but only at reasonable prices. I have a special spot in my heart for dividend stocks, but I also want to find the next batch of blue-chips that transition from high growth to dividend payers. Lastly, I do have a portion of the portfolio dedicated toward small-caps and speculation. There is no denying that the small-caps have outperformed historically. I will add more exposure during the next pullback.
We both invest separately into our company's 401(k) plans, which are not included below, as well as saving some dry powder for a real estate investment in the near future. Additionally, sharing this portfolio and my rationale into its revisions are not to be misconstrued as financial advice.
Without further delay, here is the composition of our personal portfolio: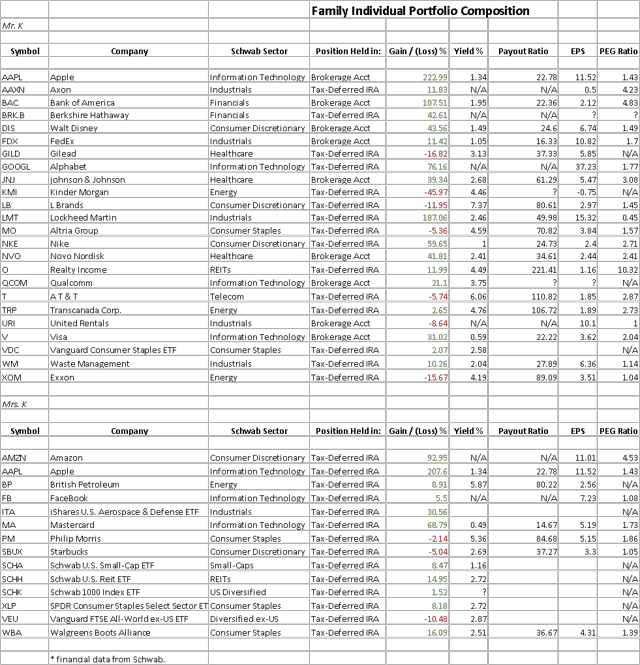 I have also attached my Google Sheets link below in case someone would like to see on a larger format. However, my wife and I are going to be fine-tuning these in future releases so I would suggest waiting a little bit longer before saving a copy (Copy of Family Individual Portfolio Composition Revised).
Seeking Alpha Community
I just wanted to take a moment to thank all the readers and commentators on this forum, in addition to the developers that made this site and app possible. Not to get too far off topic, but SA has been a place I've visited quite frequently over the years to find and talk with people about a hobby we all share. It's been tough in West Virginia the past several years especially considering our economy and the drug epidemic.
Although I am sure to forget someone or upset another, here is a very quick list of people who probably have no clue they have influenced or helped me along the way: the late David Fish, Chuck Carnevale, richjoy403, Buyandhold 2012, as10675, Dividend Sensei, The Part-time Investor, Dale Roberts, RoseNose, Nick Ward, Steve Rasher, Investment Pancake, geekette, Archman Investor, Simply Safe Dividends, Dividend Sleuth, Bob Wells, Mike Nadel, David Crosetti, Regarded Solutions, Brad Thomas, Chowder, and so many more.
Might You Be Featured In My Next Article?
I would like to gauge the interest in creating the 2018 Fantasy Football League of Stocks. In the spirit of football season starting and my obsession with fantasy football, I would like to assemble a group that would be interested in selecting their stock team. I would like to provide updates as the "season" progresses as a friendly competition with the readers! If interested, please send me a direct message or comment below. Thank you for taking the time to read and please share your thoughts!
Disclosure: I am/we are long ALL STOCKS LISTED IN THE CHART/GRAPH. I wrote this article myself, and it expresses my own opinions. I am not receiving compensation for it (other than from Seeking Alpha). I have no business relationship with any company whose stock is mentioned in this article.