N.B. All data was graphed by the author and should not be reproduced sans permission.
Overview
Since the beginning of 2018, Emerging Markets have been in turmoil. We have observed a paradigm shift from the economic axioms that underpin their performance and structural changes have also been highlighted.
Oil levels had surged - triggered not by rising global demand but by OPEC production cuts and the intensifying global geopolitical landscape.
The atypical concoction that supported the oil rally brought with them an unusual impact on Emerging Market currencies (which are prone to appreciate in such situations of rising commodity prices), depressing them broadly versus the dollar.
Fig.2. DXY, Dollar Index Levels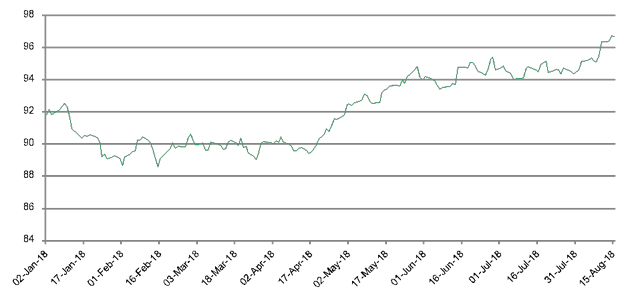 Source: S&P Global
The economic principle that, ceteris paribus, a currency depreciation improves the ability of local goods and services to compete more effectively, internationally, was challenged.
Expressed empirically, the correlation between local currencies and their respective markets has been strengthening and polarizing towards the positive end of the spectrum. This is a relationship that has progressed incrementally over the past decade and has been magnified by the recent political strain.
Fig.3. Correlation between local currencies and local markets (represented by respective MSCI equities indices) (2000-2018)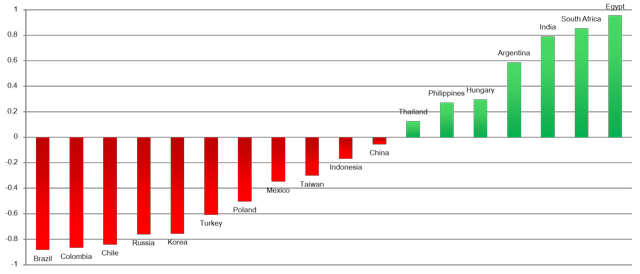 Source: MSCI, S&P Global
Fig.4. Correlation (LHS) between local currencies and local market (represented by respective MSCI equities index) (2015-2018). Respective regional weightings (RHS) as per the Markit iBoxx $ Emerging Markets index have also been charted.

Source: MSCI, S&P Global
Fig.5. Indexed: Emerging Market Equities Indices versus Emerging Market Currency Indices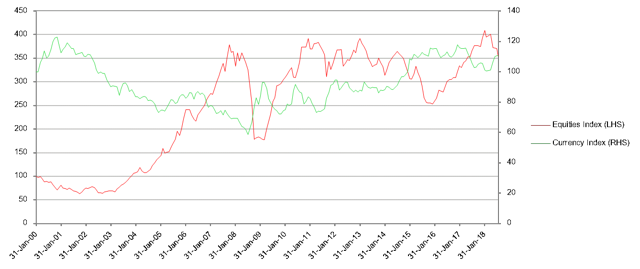 Source: MSCI, S&P Global
N.B. EM Currencies: devaluation since January 2018 (top index constituents)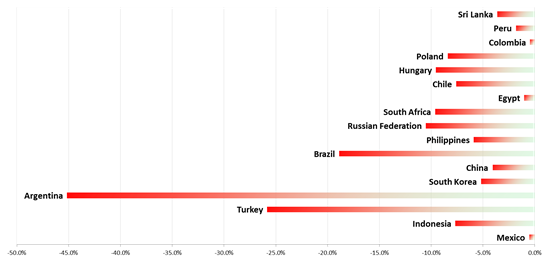 Source: S&P Global
As economies mature, their productive activities are reorganized. Subsequently, capital inputs begin to saturate and specialize in the more sophisticated, higher value-add industries and sectors. Synchronically, we begin to observe divestment and the de-saturation of input capital from sectors with 'basic' economic roles. EMs are experiencing this phase en masse, which has a disruptive impact on the economy on the interim as the structural changes phase in.
Fig.6. Changes in sectorial activity over time (YoY% change)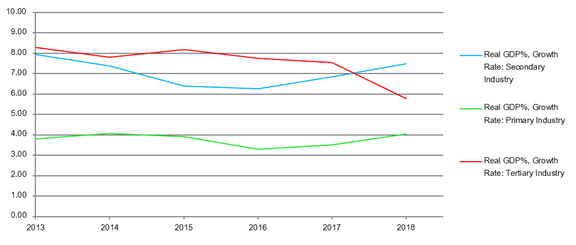 Source: IMF, OECD
By historical standards, the industrialization and economic development processes of nations are the fastest it has been, bolstered by strong global infrastructure, the liberalization of capital, the amplified flow of credit, and an elevated standard of living.
Current Conditions
With regards to the key indicators of growth stimulation, Emerging Markets have expectedly performed poorly recently. Globally, construction activity has been lacking, but most recently, Emerging Markets have spearheaded this sharp decline.
Fig.7. Construction figures, ranked by order of (negative) change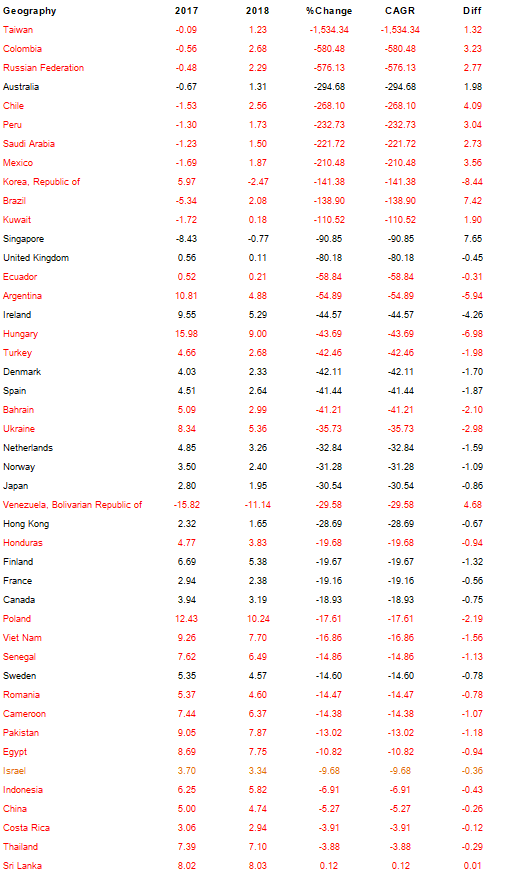 Source: IHS Markit
Furthermore, the overall PMI figure for Emerging Markets continues to underperform globally.
Fig.8. PMI Overall figures

Source: IHS Markit
The current account balance of Emerging Markets has endured a steep decline, landing the grouping into a burdening deficit. Whilst headlines have pointed particularly to the negative contribution to China, by IMF targets, China's recent improvement suggests a move towards breaking even by 2035. Furthermore, China's debt levels have been cited as 'dangerous' and 'unsustainable'. Their debt percentage to GDP pales in comparison with other developed nations such as Germany, Japan, the United States, and the United Kingdom.
Fig.9. Debt % to GDP levels compared over time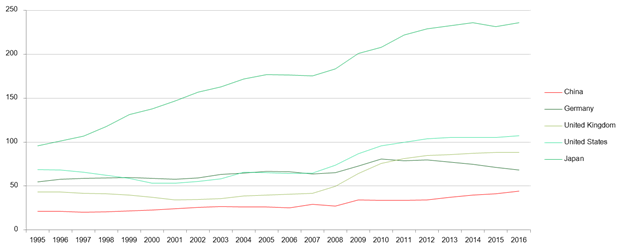 Source: IMF
Consumption appetite has begun to recede and consumers have become more prudent in the aggregate. The rate of savings across EMs is rising faster than proportionately to the rate at which GDP is rising. Import activity, nonetheless, remains robust relative to export activity.
Fig.10. Proportionality of savings to GDP increases (and spread) (percentage change)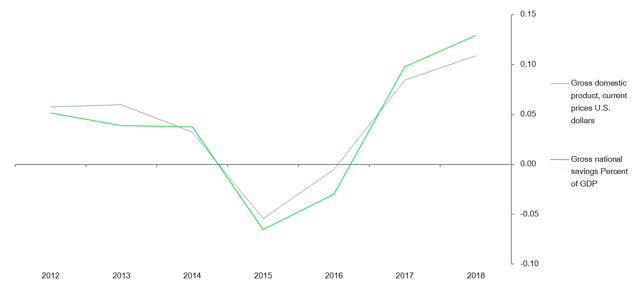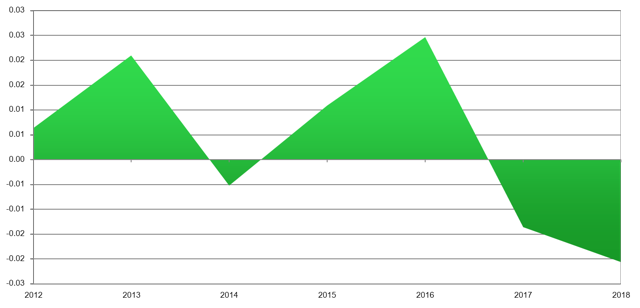 Source: IMF, OECD
Import volumes are rising more than proportionately to export volumes. The margin has been following a consistent pattern of widening over time.
Fig.11. Widening import/export gap ($billions)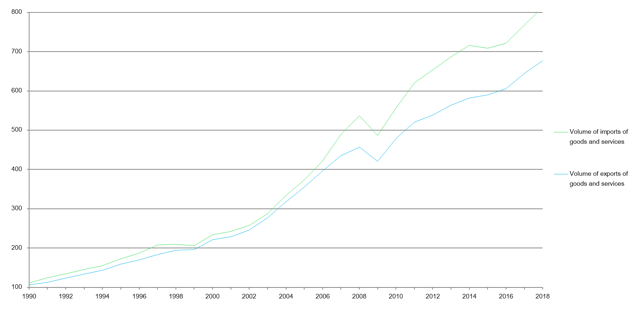 Source: IMF
The blanket EM currency depreciation has accentuated the group's debt burden. The attributable external debt, as a percentage of GDP has seen gradual declines but continues to operate in the higher historical ranges (1990-2018). The interest (financing) on external debt as a percentage of GDP continues to balloon, however.
Fig.12. External Debt Service (percentage of GDP)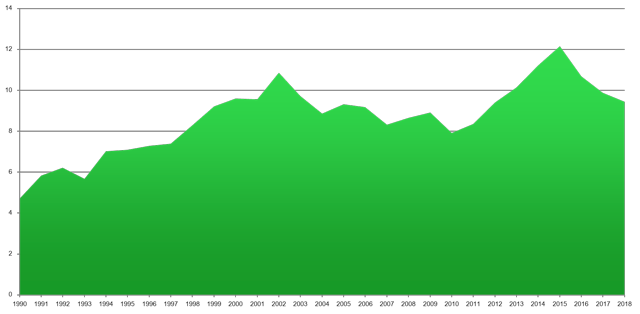 Source: IMF
Fig.13. External Debt Service Interest (cost) (percentage of GDP)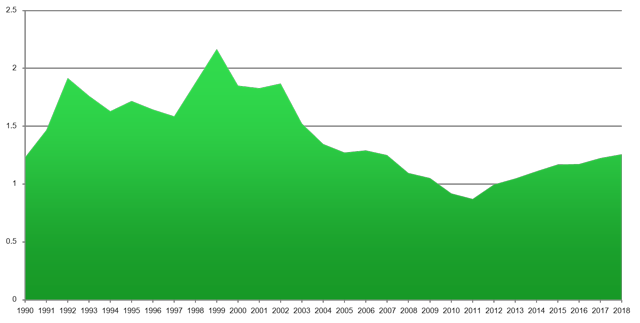 Source: IMF
The new order of diplomacy by tweet is circulating tremors globally. A less accommodating, unilateral approach (dismissive of the mutual benefits of trade) has been adopted, bringing with it pressure on international relations and the confidence of investors (particularly those exposed to Emerging Markets).
As the economic fear gauge begins to tick up (VIX) and investor sentiment towards EMs begin to depress, we see volatility act as a catalyst to encourage capital withdrawals (South Africa). The US has continued to ameliorate conditions for domestic investors. A more bullish stance towards entrepreneurship has inspired policies such as the lowering of domestic tax. This has incentivized the mass repatriation of capital (and consequently depressed EM valuations further).
Currently, Emerging Markets have a Shiller-PE (Price-to-Earnings Ratio) of 14.4, whilst Developed Markets have a PE of 18.1 (the United States clocks in at 21.4).
Imminent threats
Commodity Stability
Commodity prices must stabilize and recover decreases in price levels for Emerging Markets to re-assume a position of security. Further volatility and/or negative impacts to price will pose a barrier to investment and will impact the incomes of sovereign, sub-sovereign, and export-led economic agents. This impact will surely trickle down.
The currency movements have inspired lower crude oil prices and tariffs have throttled other input prices, whilst these can be capitalized on as tailwinds to local development, EM economies rely, to a greater extent, on their export abilities.
Fig.14. (Forecasted) changes in Cold-rolled Coil Steel Prices (QoQ%)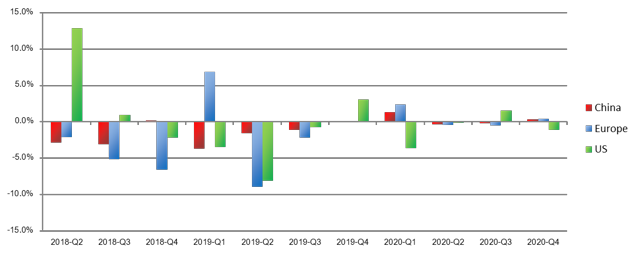 Source: IHS Markit
Fig.15. (Forecasted) Spot Price of Cold-rolled Coil Steel

Source: IHS Markit
Fig.16. (Forecasted) Brent and West Texas Intermediary Crude Spot Prices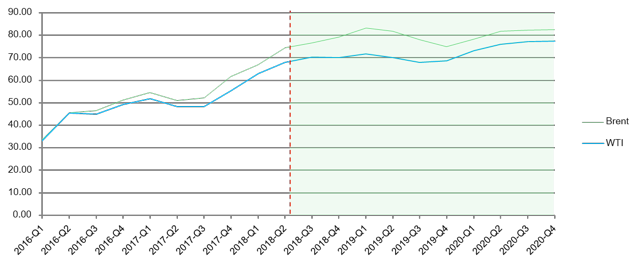 Monetary Policy
Markets are very responsive to local and foreign monetary policy. With a few to the US, Emerging Market performance has indicated a strong positive to tightening Fed Policy rates. Excessively hawkish decisions bare with them (negative) global systemic risk implications, however.
Fig.17. The relationship between EM bonds and Fed rates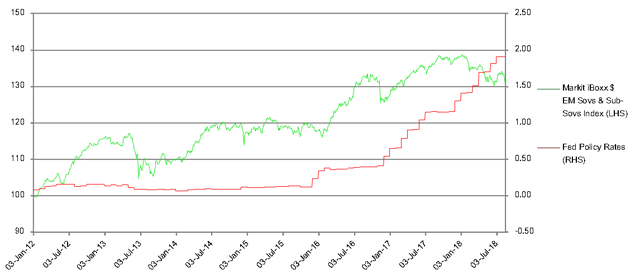 Source: IHS Markit, FRED
Locally, policy makers should exercise restraint in response to inflation, should inflation continue to exceed expected figures. Investors will be highly observant of any deviations to deviate from the current policy orthodoxy. A flight/return to heterodoxy or general abandonment of coordination will be complemented by greater implied risk to investors.
A Full-Scale Trade War
The notional trade war, feared greatly by markets, does not have a comprehensive outcome and will depend on a myriad of factors.
At face value, total EM exports to the US represent circa 4.5% of cumulative GDP (distributed unevenly, regionally). This is not immaterial.
Notwithstanding, a more conservative scenario would suggest that the 'trade war' will remain constrained, confined to a limited spectrum of goods and services. If this indeed pertains, global growth should not be impacted significantly. Investors can attest to the resilience of the current economic cycle, which has withstood the fear-mongering and far-reaching protectionist measures. This resilience is also testament to the relatively robust sentiment towards EMs able to withstand supply shocks and perhaps even acclimatize to more strenuous economic/political conditioning.
Government Stability
Independent of a trade war, Emerging Markets require strong and stable leadership to scaffold future growth. Their purpose is double-pronged: to navigate the global trade maze, promoting international diplomacy and multilateral trade as well as addressing internal issues relating to (but not limited to) corporate governance, commodity security, and preventative counter-terrorism measures.
Embers of hope have begun to emerge as amicable, constructive, and progressively secular regimes (fraught with the ambition to tackle the aforementioned obstacles to progress) tee-up to take office in Argentina, India, and Peru. This is not to say that EMs are immune from politically-induced shocks (indeed, contentious exceptions exist). In the same breath, investors will continue to observe vigilantly the next moves of Turkey and Venezuela.
Future Growth Capacity
With regards to long-term growth potential and capacity, EMs have ample room for development, the following facilitators will allow for structural growth:
1). Benign Demographics
The working-age population of Emerging Markets is forecasted to excel exponentially versus the developed world over the next few decades. This will be the driving force.
2). Excess Greenfield Sites
Land is abundant and underutilized across EMs, as aggregate wealth begins to increase (and capitals become overcrowded), these sites will allow for expansion, the development of large infrastructure and the erection of multiple centers of buoyant economic activity.
3). Rapid Growth, Accelerating
Armed with rich natural resources and low input costs, EMs have the 'fuel' to stimulated further growth. The World Bank forecasts that by 2035, the BRIC (Brazil, Russia, India, China) economies will constitute 60% of the world economic activity (up from levels of 37% today). This far more long-term view would suggest that the current dynamics are short-term fear shocks, and that EMs are trading at a favorable discount, at a short-term nadir. To support this, EM equity valuations, relative to DM equity valuations are cheap on a Price to Sales ratio and EM currencies are assumed to be trading at a discount with a view to Purchasing Power Parity (PPP). Also, when the increasing spreads to Treasuries are considered, the case for EM looks even more attractive.
Fig.18. Indexed: EM PPP versus the EU28 and Benchmark (US)

Source: OECD
Macro fundamentals appear to be improving, with the addressal of constituents' current account deficit. A large contributor, China, as it has been forecasted by the IMF, is expected to have addressed its imbalance and run a current account balance by 2022, following recent progress. On a global scale, China's current account deficit pales in comparison with nations such as Japan and Germany.
Whilst the international war of words continues, the shrewd investor will have the opportunity to navigate capital to asset classes and regions which have endured disproportionate collateral damage to valuations. As volatility rises (see Fig.19 and Fig.20), opportunities to allocating capital, prudently, to out-of-favor markets should pay handsomely as fundamentals strengthen. The simmering of exogenous risks should be a catalyst for EMs, a confidence-trigger to restore asset-class valuations - there are some particularly unique and alluring stories within credit, particularly as we see some upgrade potential and spread compression.
As this is written, however, we see sharp 'record' outflows of investment from South African bonds (a key proxy position for EM investors, contributing to some 2.5-3.0% of EM indices' underlying bonds, as a region) at what is a turbulent time.
Fig.19. VIX EM, VIX US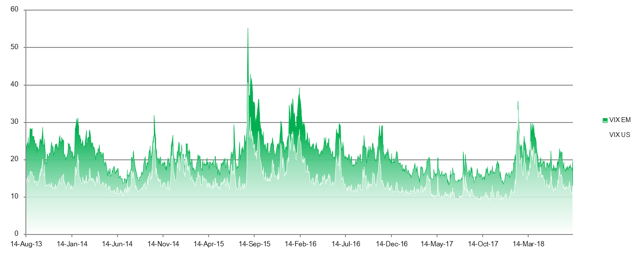 Source: ICE
Fig.20. Bond Market Volatility, $-denominated Emerging Markit Bond Index versus the $-denominated Sovereign and Sub-sovereign Family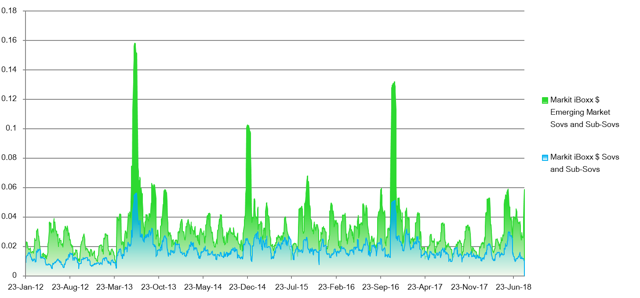 Source: IHS Markit
Such a thesis plays to the horizon of a long-term investor, and investors whose volatility tolerance is particularly high. Investors should be aware of the less attractive prospective carry and illiquidity (see the dispersion of bid/ask spreads versus the global playing-field, Fig.21 and 22) and the imminent threats - should they materialize or should the stance of EMs weaken temporarily, so the asset classes will (over)react.
Fig.21. Markit iBoxx USD Emerging Market Sovereigns and Sub-Sovereigns: Current Bid/Ask Spreads on underlying bonds. Average spread indicated by the red horizontal line.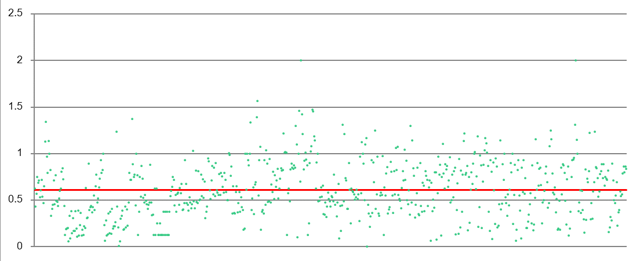 Source: IHS Markit
Fig.22. Markit iBoxx USD Sovereigns and Sub-Sovereigns: Current Bid/Ask Spreads on underlying bonds. Average spread indicated by the red horizontal line.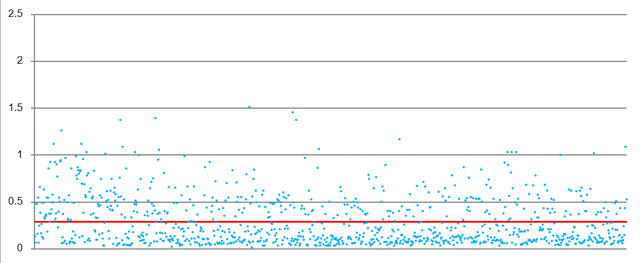 Source: IHS Markit
Disclosure: I/we have no positions in any stocks mentioned, and no plans to initiate any positions within the next 72 hours. I wrote this article myself, and it expresses my own opinions. I am not receiving compensation for it (other than from Seeking Alpha). I have no business relationship with any company whose stock is mentioned in this article.