As regular readers know, I'm skeptical about the stock market at the current inflated valuations. I'm especially skeptical when only the US stock market has recovered since the January peak, while the rest of the world's markets remain in bearish downtrends.
The first step I recommend in such a situation is to play defense first. Hold onto a decent-sized cash cushion. Own Treasury bond funds. Own some gold (GLD) (PHYS). Own some real estate. Reduce your allocation to stocks, and choose safer stocks like Apple (AAPL), Johnson & Johnson (JNJ), and Exxon Mobil (XOM) rather than riskier stocks like Amazon (AMZN), Netflix (NFLX), and Nvidia (NVDA). Shift some funds from stocks to investment-grade corporate bonds.
Depending on your personal financial situation, this may be all you need to do. Please keep in mind that Seeking Alpha is a global public forum, so anything you read on this website, by me or by anyone else, is general advice and commentary, not personal individualized investment advice. All investments involve risk, and you are responsible for doing your own due diligence and making your own investment decisions.
If your primary concern is holding onto the wealth that you already have, the defensive portfolio I described above is probably good enough.
But if your primary goal is to make big financial gains by investing in the market, I'm afraid that right now is a challenging time.
I believe that most of the big gains in this stock bull market already are behind us. Most financial assets in most asset classes are all at extremely high valuations by now, and probably overpriced. It's hard to expect very big future gains by buying any of them now.
But trying to make money by shorting the stock market is a dicey and difficult game. I should know: I tried it a lot in 2015 and early 2016. And even though that was a quite bearish stock market back then, with big declines in August 2015 and January-February 2016, I still didn't make much money by shorting it. Whether you use short selling, inverse ETFs, or put options, every month that you're wrong will cost you. Shorts lost a lot of money in 2015 before August, and then they lost a lot of money again from September to December 2015. And this was in the middle of a bearish market.
Instead, if you want a shot to make big money in the markets right now, and you are willing to take some risk, junior gold miners may be an excellent opportunity.
Keep in mind, there are safer and riskier ways to invest in gold miners. One safe option that I like very much is the U.S. Global GO GOLD and Precious Metal Miners ETF (GOAU). It holds large positions in the safe, reliable, and profitable gold and precious metal royalty stocks Franco-Nevada (FNV), Wheaton Precious Metals (WPM), and Royal Gold (RGLD). Then it holds a selected basket of other strongly performing gold miner stocks, some senior miners and more mid-tier and junior miners. I'm very confident that over the long run, the GOAU fund will outperform generic gold miner funds like GDX and GDXJ.
But if you want to make bigger profits, you have to take more risk than that. In my experience, the biggest gains can be found in junior gold mine developers. Many of them are listed on Canada's TSX Venture Exchange, and trade in the U.S. on the Over The Counter (OTC) exchanges.
I recommend a selection of these stocks for subscribers to my service, the Stock & Gold Market Report.
After my bad experience trying to short the stock market in 2015, as I described above, I recognized in late 2015 that the gold price and gold miner stock prices were extremely undervalued. I bought shares of many junior gold miner stocks in December 2015 and January 2016. My largest position was in a stock called Goldrock Mines. In June 2016, five months later, the company was acquired by Fortuna Silver Mines (FSM) and I made about a 450% gain on my investment in less than six months.
I believe we may be near a similar bottoming point in the gold miner stock sector right now. Let me explain the reasons I say this:
5 Reasons Gold Miner Stocks Will Rise from September 2018 through 2019
1. We may have just passed peak Fed hawkishness on rate hikes.
Yes, the Fed will hike rates again in September. They may very well hike rates one more time in December. But the widespread idea in the market that the Fed will simply continue to hike rates throughout 2019 as well, perhaps as many as three or four more times, has now been called into question.
Fed chairman Jerome Powell's comments last Friday were the first time he has somewhat toned down his hawkish tone on rate hikes this year. Before last week, Powell appeared to be dead-set on hiking rates every quarter from now until an actual recession hit. But his latest comments showed a degree of nuance and openness to pausing rate hikes, should financial conditions warrant it. This verbal concession is the first step in a dovish direction, and it's an important sign.
One reason gold and gold miners have suffered is the belief that rate hikes would continue this year and next year at a steady pace, driving up bond yields and driving down the relative attractiveness of owning gold. If the Fed even has to slow down the pace of its rate hikes, that will be a bullish signal for gold and gold miners, compared to the prior expectations of rapid rate hikes.
2. Treasury bond yields are due for a strong downward correction.
Related to point 1 about the Fed and rate hikes, the interest rates and bond yields themselves are due to reverse course and decline for the rest of 2018, I believe. There's already much talk in the markets and financial news about the flattening yield curve and the risk of an impending inversion of the yield curve. The point is, the Fed's rate hikes have driven up the short-term three-month to two-year Treasury bond yields, but they haven't done as much to move the longer-term 10-year and 30-year Treasury bond yields.
This is a sign of strong resistance in the long-term Treasury bond yields against going higher. If they can't go higher, the only direction from here is down. If you don't believe me, just ask another Jeff, Mr. Gundlach - he is saying the same thing right now.
This would be bullish for gold in multiple ways. First of all, falling bond yields are bullish for gold in and of themselves - if bonds provide less yield, their attractiveness over gold declines.
Second, falling bond yields could wreak havoc with the Fed's plans for further rate hikes. Their hikes have pushed the two-year Treasury bond yield up to 2.66% as it is. The 10-year yield is now 2.86%. Even just one more 0.25% rate hike in September could push the two-year and 10-year yields to be just about even with each other.
And if the 10-year and 30-year yields start falling, then the next rate hike could drive the two-year yield clearly above the longer-term yields. This would be the "inverted yield curve" that everyone is talking about and everyone is afraid of. It's well known as a harbinger of recession.
If this happens this fall after the September rate hike, it could give the Fed pause, and we might not even see a December rate hike, much less multiple further hikes in 2019.
All of these events would be extremely bullish for gold.
3. In a world of QE, gold is less likely to crash with stocks like 2008.
The 2008 financial crisis and market crash was a serious cautionary tale for all gold, precious metals, and gold mining investors. Gold has always been thought of as a hedge for one's stock portfolio and other financial assets - if other things lose value, gold can protect your wealth. But in the fall of 2008, that expectation failed completely. Because gold and gold miners already were in soaring bull markets along with stocks in the years leading into the fall of 2008, the financial crash took down all of them together. Gold and especially gold miner stocks crashed along with the rest of the stock market.
It's very good to remember this, and to be cautious about our expectations for gold and gold miners in the short term if the stock market declines. But at the same time, we shouldn't expect that things have to happen just like 2008 again either.
Remember, the fall of 2008 was before central banks around the world adopted their QE policies. The QE policies came afterward, in response to the 2008 crisis, as part of the attempt to recover from the crisis and to prevent it from happening again.
And QE policies are bullish for the gold price. QE drove gold up to extreme highs in 2011. The announcement of the Fed's intent to taper and eventually end QE, made in 2013, was the biggest factor driving gold's declines in the bear market of 2011-2015. (The gold price actually remained quite elevated until the spring of 2013 and the taper/end of QE announcement by the Fed.)
If the stock market rolls over and declines, Treasury bond yields are very likely to fall along with it. The Fed will be even less likely to hike rates again. The central banks in Japan and Europe will be sure to give up any thoughts they may have had about tapering or ending their own QE policies. Eventually, the Fed will even start cutting interest rates again. In fact that's one of the main purposes of the current round of Fed rate hikes: To get rates to the level where the Fed has room to cut them again when they need to.
The point is, in a world of QE policies, as soon as the stock market appears to be at risk of falling significantly, the Fed and other central banks will jump into action with QE, QE-like, and other easing policies much more rapidly than they did in the fall of 2008.
And as soon as they do, those types of policies will be bullish for the gold price.
4. Gold miner stocks are priced at low valuations again right now.
With this month's gold miner stock selloff, prices have dropped down to some quite attractive valuations now.
For those of us who consider gold as real money, gold miners can be thought of as comparable to financial stocks: Banks and financials make profits on their returns from dealings in fiat currency money, while gold miners make profits from producing real money in the form of gold.
Back in the days when currencies were backed by gold, the miners literally invested the equivalent of a certain amount of gold, in order to dig a greater amount of gold out of the ground. This is not really so different from the way a bank invests money in order to earn more money in returns. In the "carry trade," the emerging market where a financial group invests money to earn a higher interest rate is like a "money mine" that the investor sinks funds into. Both an emerging market "money mine" and a real gold mine have significant risks, but they both offer promising returns of greater amounts of money/gold if the investment/mining operation is successful.
Those who believe fiat paper currencies are healthy and safe today, consider financial stocks significantly undervalued at their current prices. Likewise, those of us who believe that gold is a much safer form of money than fiat paper currencies in the long run should recognize that many gold miner stocks are significantly undervalued at their current prices.
For example, let's compare some basic valuation metrics of a top financial stock, Berkshire Hathaway A (BRK.A) (NYSE:BRK.B) and a top senior gold miner stock, Newmont Mining (NEM):
Berkshire Hathaway:
27.07 P/E
20.90 Forward P/E
2.17 P/S
1.46 P/B
18.93 P/FCF
Newmont Mining:
20.58 P/E
20.40 Forward P/E
2.32 P/S
1.56 P/B
19.31 P/FCF
Their financial valuation metrics look almost exactly the same! The only difference is, Berkshire Hathaway is "mining" money in the form of fiat paper currency, while Newmont is mining money in the form of gold.
If you believe that the fiat paper currency-based global economy is fundamentally healthy, and interest rates will rise in a healthy way over time in the years ahead, then financial stocks like Berkshire Hathaway and the big banks are the undervalued bargain value stock buys today.
If you believe that the global economy is not fundamentally healthy, and gold will hold its value much better than fiat paper currency over time in the years ahead, then stocks like Newmont Mining and other gold miner stocks are the undervalued bargain value stock buys today.
Other examples of gold miner stocks with attractive valuations today include the following:
Barrick Gold (ABX) at 15.95 Forward P/E, 1.60 P/S, and 1.32 P/B
Goldcorp (GG) at 17.37 Forward P/E, 2.87 P/S, and 0.69 P/B
Kinross Gold (KGC) at 9.87 P/E, 18.59 Forward P/E, 1.14 P/S, and 0.82 P/B
Yamana Gold (AUY) at 17.13 Forward P/E, 1.44 P/S, and 0.65 P/B
5. Gold and gold miners are at oversold extremes, and gold futures traders are positioned at negative extremes.
Typically in the gold futures market, the commercial traders are net short, selling their future gold production, and the speculators are net long, betting on higher gold prices.
When the speculators' positioning reaches an extreme one way or the other, that's often a sign that a reversal may be due soon. Usually, that just means they are a lot more net long or a lot less net long.
But earlier this month, the large speculators (money managers) actually went net short gold futures. You can read the details in this article by Hebba Investments on August 20. Some sources describe this as the largest such positioning extreme in history, others say it's the largest since the year 2001.
Here's a chart of gold futures trader positioning from the article cited above: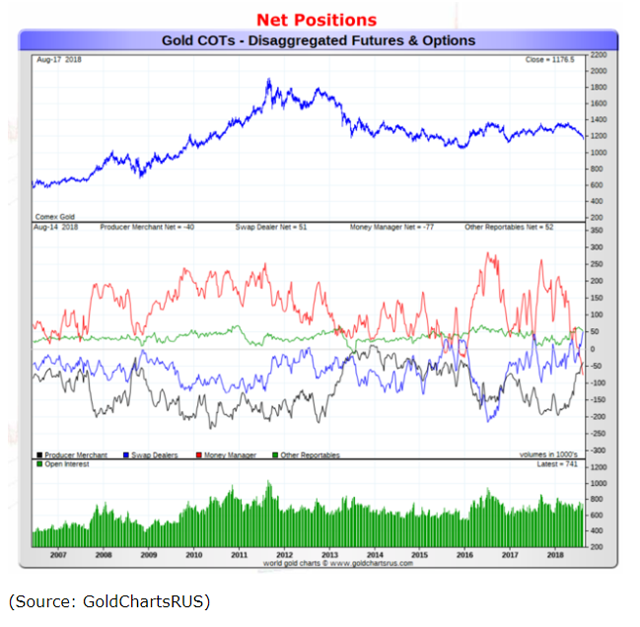 The red line is the money managers, the large speculative traders. As you can see at the right hand edge of the chart, they are now more net short than any other category of trader, even the producer merchants, who are the black line. This is an extremely rare, perhaps unprecedented, positioning extreme.
We also can see that it was during the same week (August 13-17) that the gold price reached an extreme low for the year, which it has since bounced back from: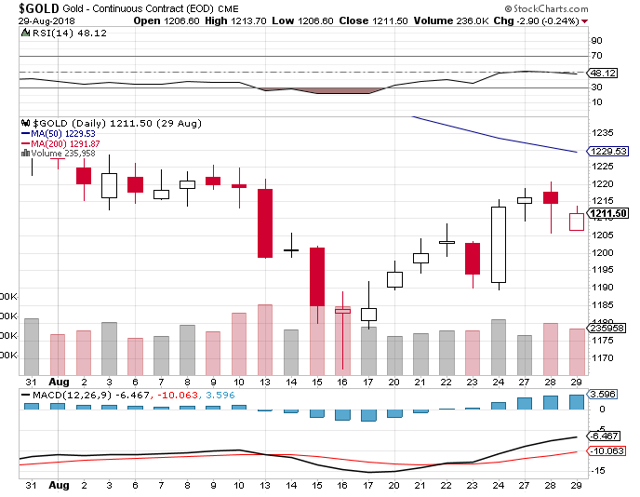 As you see, on August 16, gold traded as low as under $1,170 per ounce, but at that extreme the market finally rejected this price level and the gold price closed that day back up at $1,184.
Similarly, we have seen a big selloff in gold miner stocks in August. The extreme oversold level also was reached in mid-August. Of course, I'm not saying gold miner stock prices cannot go lower from here - that's why I mention risk in the title of this article - but I'm saying you may be getting a very good value and return if you buy at these levels and you are patient for the rest of the year and into 2019.
Look at the RSI (Relative Strength Index) indicator at the top of the following GDXJ junior gold miners chart in particular: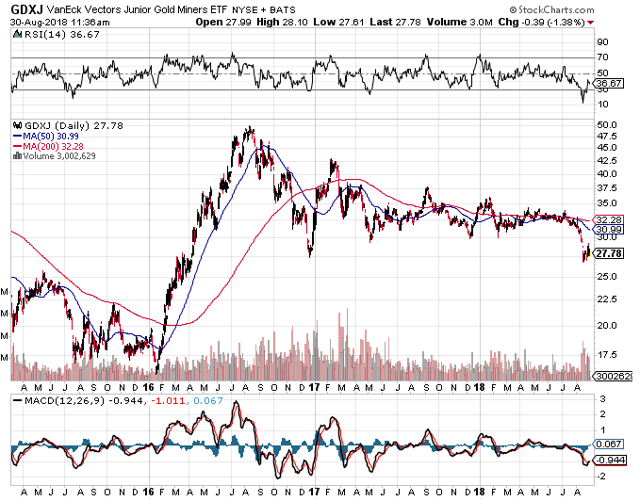 You can see the extreme low oversold level in the RSI of the GDXJ index in mid-August, and you also can see how it has since moved up out of the oversold level. This is important since otherwise you never know how long a price can remain oversold.
Looking at the last three years on the chart, you can see that this month was the biggest oversold extreme for GDXJ since all the way back in the summer of 2015. (And this month was an even bigger extreme than back then.)
This comparison provides some valuable perspective. The summer of 2015 was indeed an excellent time to buy gold miner stocks. But you had to be patient about it. There was a small rally in October 2015, but that rally failed. However, the truly extraordinary gains were still ahead, in the first half of 2016.
Conclusion
If you are patient, and you are willing to take some risk, I believe gold miner stocks can produce some extraordinary gains in the rest of 2018 and through 2019.
My subscription service, the Stock & Gold Market Report, offers a complete model portfolio, including 7 junior gold miner stock picks and 2 platinum miner stock picks right now.
If you are interested in speculating in junior gold miner stocks, and you are willing to take some risks, I believe you can make a lot of money with my stock picks for the rest of 2018 and through 2019.
Please understand that this is not an active trading service: If all goes well, you can buy the stock picks and ride them to big gains for a long time without the need for frequent trading.
The value of the Stock & Gold Market Report subscription service, beyond the initial stock picks, is that I offer you valuable guidance about when to take profits on stocks, when to sell stocks, when to let winning positions ride, when to cut losses, and when to hold positions through temporary volatility. I also provide weekly portfolio updates and weekly commentary on all global financial markets, with a focus on the gold and gold miners market.
I encourage you to check it out and subscribe today!
Disclosure: I am/we are long PHYS, GOAU. I wrote this article myself, and it expresses my own opinions. I am not receiving compensation for it (other than from Seeking Alpha). I have no business relationship with any company whose stock is mentioned in this article.
Additional disclosure: I am long many junior gold miner stocks. Further details are available to subscribers of the Stock & Gold Market Report.