This report covers the week ending August 31, 2018. Daily data for August 25 to August 30 is estimated. Daily data for August 31 is forecast.
Total Supply/Demand Balance
We estimate that aggregate demand for American natural gas (consumption + exports) totaled around 525 bcf this week ending August 31 (up 4.0% w-o-w and up as much as 13.0% y-o-y). The deviation from the norm stayed positive and actually increased from +16% to +22% (see the chart below). According to our calculations, aggregate demand for U.S. natural gas (on a weekly basis) has been above 9-year norm since February 24, 2017. The weather conditions heated up, but the increase in cooling was very sporadic and patchy. We estimate that the number of nation-wide cooling degree-days (CDDs) rose by 16.0% w-o-w, for the week ending August 31. Total energy demand (measured in total degree-days) was as much as 37% above last year's level. Seasonal trends call for a declining number of CDDs and TDDs. Natural gas consumption should hit a trough in mid-September or early October.
Total exports increased by 3% w-o-w, mostly due to stronger LNG demand. According to Marine Traffic data, Sabine Pass and Cove Point together served at least 5 LNG tankers this week (total natural gas carrying capacity 18 bcf). In annual terms, total exports were up 33.0%.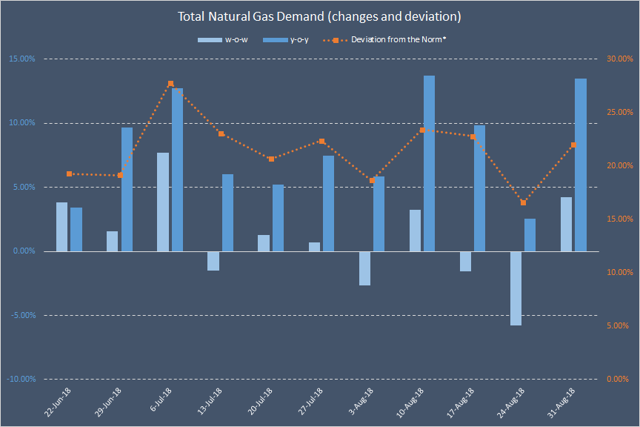 * norm defined as simple average over the last nine years. Source: Bluegold Research
We estimate that dry gas production has been expanding in annual terms for 65 consecutive weeks now. We estimate that dry gas production will average 83.4 bcf/d in August, 84.0 bcf/d in September, and 84.5 bcf/d in October. The aggregate supply of natural gas (production + imports) averaged around 92.0 bcf per day for the week ending August 31 (up 15.0% y-o-y and up 1.0% w-o-w). Overall, total supply/demand balance should be positive at around 120 bcf. The volume is some 17 bcf smaller than a week ago but is 16 bcf above 5-year average for this time of the year (see the chart below).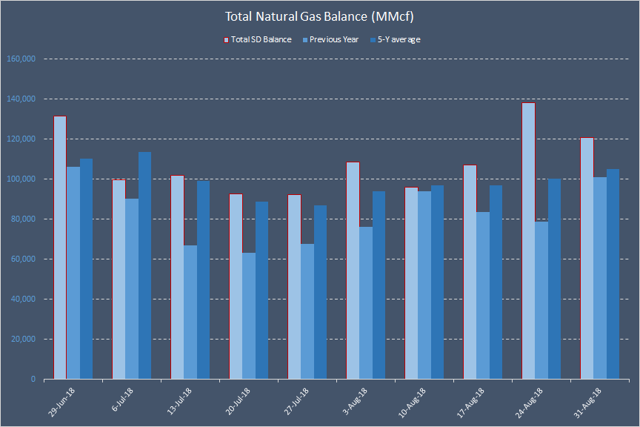 Note, that the total Supply-Demand Balance does not equal storage flows. Source: Bluegold Research
In the simplest of terms, and with all other things being equal, this kind of volume is bearish for natural gas prices since it is above last year's level and also above the historical norm. However, the market is forward-looking and this week's data is, to some extent, irrelevant for traders. The price is often a function of a 2-week weather forecast, but as we are moving into the shoulder season, other factors start to play an important role - notably, end-of-season storage outlook and winter forecast. At Bluegold Research, we provide a daily (early morning and afternoon) update on the weather forecast as well as a full update on the end-of-season storage outlook. In addition, we publish the latest results of the extended-range ECMWF model (twice per week). Consider signing up, if interested (see the link below).
Latest Trading Results And Trading View
We first began to share our trading results last week (see this article). Below is the list of trades that were initiated and closed in the month of August. Note, that returns are "unleveraged". If you trade ETNs, equivalent returns would have been 2 or 3 times greater. Our subscribers received real-time alerts for all of the above trades.

As it became obvious that weather was beginning to turn bullish again (first confirmed by numerical short-term prediction models early in the morning on Wednesday), we decided to reduce our short exposure and wait for a higher price to re-enter (on the bearish side) later.
Two fundamental developments support our current bearish stance:
Dry gas production shows no signs of weakening. Our long-term forecast indicates that production can reach 85 bcf/d in November. CFTC COT reports show that producers were already quite happy to hedge their output at $2.800 strip. Barring any force majeure events, there are no strong reasons to expect that dry gas production will suddenly start declining. We will be monitoring the situation closely, but at this point in time, supply looks very strong and can easily satisfy 5-year average demand by a margin of 8 bcf/d for another three months (at least).
Preliminary December-March weather outlook suggests a weak El-Nino, which increases the probability for a warm winter in the U.S. As you know, even short-term weather forecasts can be extremely volatile and therefore, there is a widespread view that long-term weather forecasts should be entirely ignored - precisely because they are so uncertain. Still, we believe that we must keep the long-term view at the background. Our end-of-withdrawal-season storage index is currently above market expectations as well as above last year's level and 5-year average figures. We would not feel comfortable being on the long-side of the trade with this kind of projection in place. As with all the other market variables, we will be monitoring the weather closely and will be updating our EOS indices on a daily basis (see the latest results in the table below).

Thank you for reading our weekly report. We also write a daily update of our forecast for key natural gas variables: weather, production, consumption, exports, imports, and storage. Interested in getting this daily update? Sign up for Natural Gas Fundamentals, our Marketplace service, to get the most critical natural gas data. In addition, every Sunday, we publish three special reports: "Trends in the U.S. Electric Power sector", "Trends in Global LNG Market", "Global Oil Products Inventories".
Disclosure: I/we have no positions in any stocks mentioned, and no plans to initiate any positions within the next 72 hours.
I wrote this article myself, and it expresses my own opinions. I am not receiving compensation for it (other than from Seeking Alpha). I have no business relationship with any company whose stock is mentioned in this article.