(Editors' Note: This article is meant as an introduction for Energy Profits in Dividends, a new Marketplace service by Power Hedge).
What a long journey it has been. As I sit here writing this, I realize that I now have been publishing articles on Seeking Alpha for almost eight years. When I first began my writing journey here, my goal was simply to present American investors to foreign stocks that offered higher dividends and generally better investment theses than comparable American companies. However, over time I gravitated towards energy stocks, which quickly became my focus and I began publishing much more in-depth research on these companies than I was doing on some of my other areas of interest. This ended up becoming what I have become best known for.
One of the biggest complaints that I hear amongst retirees is that many of the investment options available to them produce very low income yields. For example, the S&P 500 (SPY) currently yields 1.7%. This is hardly enough to live on. Fortunately, there are other options available, which is the purpose of my new Marketplace service, Energy Profits in Dividends. This service is designed for the investor looking to generate a much higher income (7%+) from their portfolios. We will do this primarily by investing in energy stocks that pay off high dividends by themselves and potentially use options to boost our returns. The goal is to generate high levels of current income while protecting our money against potential downside.
As anyone that has been following the markets for the past few years can attest, energy was not a very good place to be over the 2014-2016 period and admittedly some of the companies that I was closely following became victims. In particular, shareholders in Seadrill, Vanguard Natural Resources, and Breitburn all essentially saw their positions wiped out. There were a few other companies that I recommended that did well and have delivered solid gains during the most recent recovery such as Equinor (EQNR), Eni (E), and Suncor (SU). The bear market in oil was unprecedented however (December 2014 was the largest one-month decline in oil prices ever), so hopefully I can be forgiven for underestimating the magnitude that the bear market would reach. As some readers have hopefully seen in my more recent writings though, I have become much more cautious regarding a company's debt load than I used to be. That can be attributed to lessons learned in the crisis.
The energy market has been shifting in the last few years as well. This is what is known as the Green Revolution. The generation of power using renewable sources will be the fastest growing sub-sector in the energy industry and we have already seen some excellent renewable energy plays paying out high dividend yields such as Pattern Energy Group (PEGI).
The Green Revolution has only just begun, but it is likely to be a major growth engine going forward. According to the EIA, renewable energy consumption in the United States will more than quadruple between now and the middle of the century: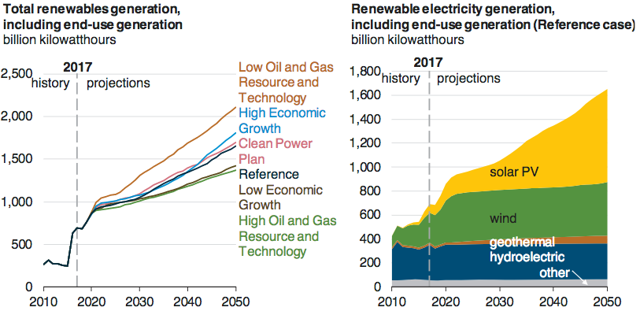 Source: Energy Information Administration
Energy Profits in Dividends will show you how you can cash in on this emerging industry while generating a high level of income for yourself.
Now that oil prices have recovered, we have begun to see some more opportunities to earn high levels of income in the energy markets. Companies such as Summit Midstream (SMLP), for example. Thus, it is with great pleasure that I am launching my new subscription service, Energy Profits in Dividends, to assist you in generating high levels of income off of energy companies. The service is specifically targeting a minimum yield of 7% and will include both traditional energy companies and renewable energy companies to help us cash in on the strong forward growth from this emerging sub-sector of the industry. In addition, the service will show you various options strategies that can be used to both boost your effective yields as well as protect your wealth from the vagaries of the market.
At this point, you may be wondering why you should subscribe to this service and pay when I will still be publishing articles on Seeking Alpha that are available for free. The short answer is that the information available via the service will be far more in-depth and personalized than anything that is available via my free articles. In addition, the added benefit that the options strategies will give you to protect your wealth and boost your returns will not be provided in any of my free work.
I am also pleased to announce that I'll be offering a launch special for Energy Profits in Dividends. In addition to a two-week free trial, the first 20 people to sign up will receive 50% off the regular rate for life! It will only cost $25/mo. or $200/yr. until you choose to cancel if you are one of the first 20 members on board. Sign up today to lock in the low introductory rate!
Disclosure: I/we have no positions in any stocks mentioned, and no plans to initiate any positions within the next 72 hours. I wrote this article myself, and it expresses my own opinions. I am not receiving compensation for it (other than from Seeking Alpha). I have no business relationship with any company whose stock is mentioned in this article.