In this article, we examine the significant daily order flow and market structure driving WTI price action.
31 August 2018:
As noted in Thursday's WTI Daily, the trapping of buyers (evident in the order flow), that occurred into the Thu's NY close resulted in price discovery lower into Fri's London auction, achieving the Globex Stopping Point Low, 69.64s. Buying interest emerged there as sellers trapped, developing balance, 69.64s-70.24s, into the NY Open. Narrow, two-sided trade dominated the early portion of the NY auction before buyers trapped amidst selling interest within key supply, driving price lower within the balance as the Buyside failed at the Structural Low Usage (evident in the market profile) that developed from Thursday-Fridays' auctions, 70.50s-70.30s.
Price discovery lower developed before selling interest emerged, 69.90s, driving price lower to 69.66s, ahead of the NY Close, where sellers trapped, closing at 69.80s. From a structural perspective, Friday's auction fulfilled balance development following this week's prior Buyside imbalance phase from 68.21s. While Friday's price action was narrow, the development of the current trade cluster, 70.50s-69.55s, is worth noting. The commitment of trade has developed around 69.93s, the high-volume node, currently 19.2k contracts. The represents meaningful near-term consensus developing. As consensus and commitment develop, conditions percolate for the next imbalance (directional) phase.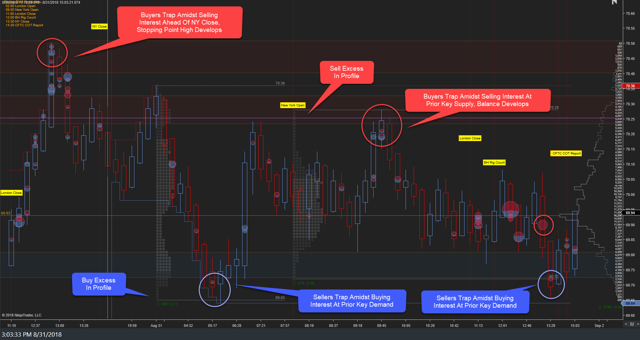 Looking ahead, it is worth noting that this week's Buyside imbalance phase (229 ticks/828k contracts/7k net Buyside delta) was shorter in amplitude, volume, and cumulative buyside delta when compared to last week's Buyside imbalance phase (458 ticks/2.1mil contracts/8k net Buyside delta). As the market has auctioned into the first key area of supply overhead, this is important market generated data to indicate a weakening of the Buyside participation amidst the current rally from 64.42s.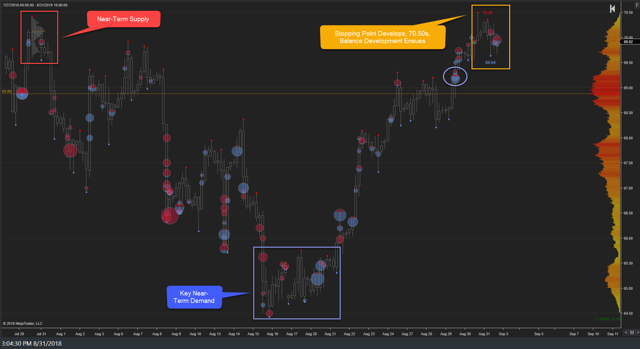 As noted in the last week's WTI Weekly, the self-similar buying interest at prior key demand implied potential for price discovery higher to key supply areas overhead. The initial Buyside phase toward micro-supply has unfolded where a Structural Stopping Point has developed, 70.50s, amidst prior key supply and weakening Buyside participation. Development of the current cluster, 70.50s-69.55s, and any initiative activity at its edges will guide the way in the days ahead.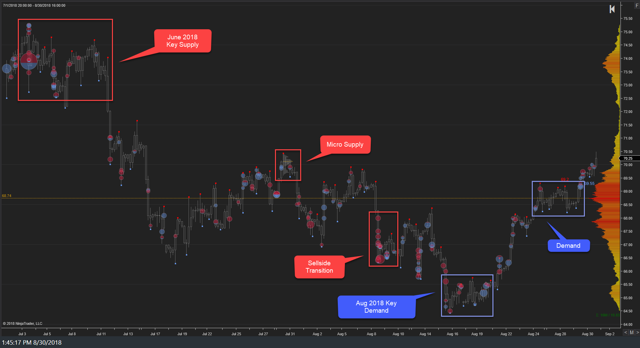 Disclosure: I/we have no positions in any stocks mentioned, and no plans to initiate any positions within the next 72 hours.
I wrote this article myself, and it expresses my own opinions. I am not receiving compensation for it (other than from Seeking Alpha). I have no business relationship with any company whose stock is mentioned in this article.