U.S. equities continue on their upward trend, reaching new all-time highs in August. The S&P 500 (SPY, IVV) is up about 3% in the month, bringing its year-to-date gain to nearly 9%. What's next for U.S. stocks?
Our basic premise at Model Capital is that fundamentals drive markets. Higher prices make the stock market slightly more expensive, but economic fundamentals continue to be strong and supportive of the market. We expect U.S. economic growth to continue at about the same rate as in Q2 - which was impressive at 4.2% - and to accelerate further in Q4. Here's why.
The latest statistics generally paint a bright picture of U.S. economy in the current quarter, Q3-2018. The rebound in business investment was one of the primary engines of growth last year, as business optimism surged on the heels of President Trump's initial pro-growth policies of deregulation and energy production. And the effect of the personal tax cut is now beginning to take hold, driving a rise in consumer spending.
Atlanta Fed's Q3 GDP Estimate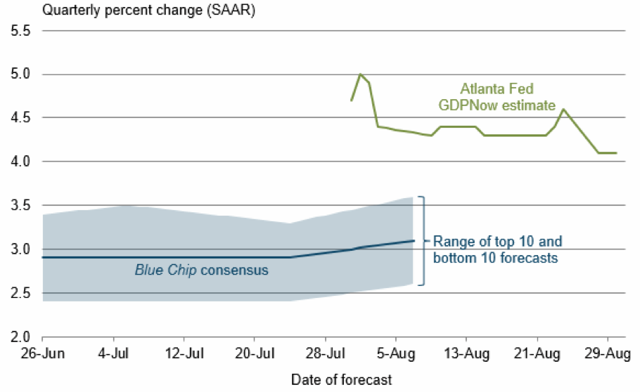 Source: Atlanta Fed
Industrial production has slowed somewhat in July, but consumer spending continues at a robust pace, up 0.4%. The sum/total of all the different numbers is best seen in the expected GDP growth: 4.1% in Q3, according to the Atlanta Fed's GDPNow estimate (see chart above) - about the same as 4.2% last quarter (revised from 4.1% initial estimate). Above-4% growth has not been seen since Q2-Q3 2014 (when it lasted for only two quarters), and in 2003 before that. It exceeds the around-3% growth in 2017, which was already above the 2% average during the Obama administration. We think that this will continue, based on improving business inventories (see below) and where we are moving on trade.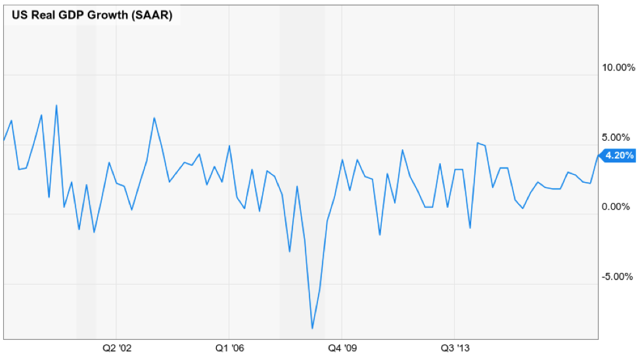 Source: BEA
Trade War or Fair Trade?
What about trade - or "trade war," as mainstream media keep calling it? Equalizing the old lopsided trade agreements such as the NAFTA will be very positive for the U.S. economy, in our view. Competitive advantage works given equal trade terms, but these agreements put together in the wake of World War II are lopsided because our trading counterparts charge high tariffs, while the U.S. has low or no tariffs. A representative example is automobiles: the U.S. tariff for imported cars is 2.5%, the EU's 10%, and most of Asia's 25% (and non-tariff barriers which render exports impossible).
The simple reason why equalizing trade will be positive for the U.S. is that the domestic demand for goods is now partially satisfied by net imports. To the extent that imports are replaced by domestic production, it will grow our economy. New fair-trade deals will reduce trade deficit and thereby increase U.S. production. We already see the first results of this effort. The first fair trade agreement was just reached this week with Mexico. Canada might still be able to join at the last moment by the Aug-31st deadline. And the EU appears to be willing to negotiate trade terms, agreeing to lower its tariffs on U.S. cars - but not yet meeting all the U.S. demands of reciprocal terms.
Inventories are critical for Q4 growth
The Census Bureau's inventory-to-sales ratio is very important for future GDP growth. Economic activity accelerates when inventories are low, as new products need to be manufactured to satisfy demand. Inventory-to-sales ratio below 1.3 has been a "sweet spot" for our economy in recent years - a level low enough that continued production is necessary. Conversely, a high ratio indicates a glut of stored goods; a ratio above 1.4 has been accompanied by recessions.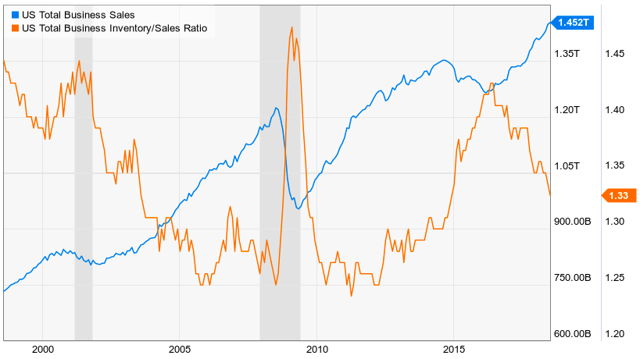 Source: Census
The rise in inventory-to-sales above 1.4 in 2015 to early 2016 did not bring an official recession, but was a symptom of a bad period for U.S. economy, a "mini-recession" in manufacturing. A reversal of that kind of overproduction was extremely challenging without major stimulus (and monetary stimulus was impossible given near-zero rates). It turns out the 2016 election brought about the change.
The improvement since Sept. 2017 has been nothing short of remarkable. Inventories now dropped to 1.33 in June. If this trend continues, it might reach 1.3 sometime in Q4, which should help GDP growth accelerate from that point.
Portfolio Strategy
As investors witness continued above-4% economic growth, we think that U.S. stocks will continue to be strong in the near term. Valuation is now higher, but not extreme. Of course, short-term drawdowns are always possible - for example, after a period of investor exuberance - but our short-term risk model doesn't indicate any elevated risk based on sentiment or other indicators. We continue to maintain maximum-bullish equity allocations in our client portfolios, with a focus on growth (VUG) and technology (QQQ, XLK) sectors to try to capture the continued market upside.
Disclosure: I am/we are long QQQ, VUG. I wrote this article myself, and it expresses my own opinions. I am not receiving compensation for it. I have no business relationship with any company whose stock is mentioned in this article.
Additional disclosure: Roman Chuyan is the president and general partner of Model Capital Management LLC ("MCM"), a Registered Investment Adviser. This article is for informational purposes only. There are risks involved in investing, including loss of principal. Roman Chuyan makes no explicit or implicit guarantee with respect to performance or the outcome of any investment or projections made by him or MCM. There is no guarantee that the goals of the strategies discussed in this article will be met. Information or opinions expressed may change without notice, and should not be considered recommendations to buy or sell any security.

Certain figures in this article represent return forecasts or outlook for certain asset classes and not for any strategy, and are not a guarantee of future performance. These forecasts are forward-looking statements based on numerous assumptions, risks, and reasonable beliefs of MCM, which change over time. They speak only as of the date they are made, and MCM assumes no duty to update them. Actual results may differ materially from those anticipated in forward-looking statements.