Great news arrived for stocks this past Tuesday, and better news arrived on Wednesday. The American consumer is feeling good about things, and is, increasingly, in a position of strength to spend. The American economy is service sector centric and consumption oriented, so look for corporate earnings to continue to drive equities higher. It should help, also, that the latest evidence of real economic health showed well in its latest revision. So, when frantic traders are bidding equities lower on trade rhetoric and relative fears, consider the points that matter most and find the opportunity I still see for stocks.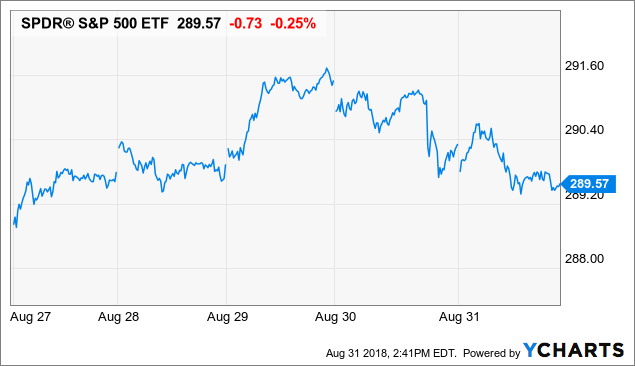 What Matters Most for Stocks
Consumer confidence, reported by the Conference Board, marked an 18-year high this past Tuesday. The index measuring the mood of consumers marked 133.4, exceeding economists' expectations for 126.8, showing that consumers are ecstatic about the present situation, while feeling better than they did in July for the forward six months. Furthermore, consumers' assessment of business conditions and the labor market improved.
The U.S. economy is service sector centric, driven largely by spending for things like dinners out. Given our labor population is fully employed now, with the unemployment rate last reported at 3.9% for July, consumers should be poised to increase their spending further. But, on Wednesday of this past week, we received another important and even more tangible update for the better.
Second quarter GDP growth was revised higher, to a very strong 4.2% rate. So, we know the economy is accelerating. That means already quickly growing corporate earnings are well founded. Earnings are the "E" in the P/E valuation ratio. But what about the "P?"
State Street reported its Investor Confidence Index this week as well, and it was lower both globally and in North America. The reason seems clear, as equities fluctuate daily on rumors, rhetoric and concerns about the latest developments in U.S. trade policy. This week, the U.S. made some progress toward deals with its trading partners, namely with Mexico. At the same time, though, U.S. leadership threatened to impose tariffs upon others, namely China.
This all matters because of how tariffs and reciprocal tariffs from overseas could slow economic growth while raising prices for consumers globally. Inflation is a real concern relative to these policy changes, and it could lead central banks toward more aggressive tightening efforts. The "P" in the P/E ratio is carrying a drag now because of these forward concerns.
However, as the U.S. comes to terms with its trading partners, which is what I expect, stocks should reflect the tangible realities of today. Still, we hope deals are achieved before sporadic trade fire turns into an all-out trade war, including the use of economic weapons of mass destruction. I'm talking about the nuclear option China holds in its holdings and investment in U.S treasury securities and its ability to affect the relative value of its currency. Fortunately, China's stake in U.S. Treasuries means it would suffer if it signaled a change in its interest in such securities, so it has reason enough not to signal as much.
Risks weighed, stocks today still mostly reflect economic good times in America. The S&P 500 Index marked an all-time high this week, before backing off it. I expect the index, and its ETF tracker the SPDR S&P 500 (SPY), to mark even higher ground when trade deals are achieved. Industrial securities and others found in the Dow Jones Index (DIA) should likewise mark record highs once trade concerns are taken off the table. And the riskier shares found with the Nasdaq-100 (QQQ) and the Russell 2000 (IWM) also should do well as economic risk is reduced. Value today is captive to these concerns, despite the high-mark levels achieved this past week.
So, in conclusion, I remind investors of what matters most. The economy is doing well, and American consumers are feeling good about it. If these trade weights are removed and investor sentiment restored, equities should be unleashed to swiftly mark higher ground.
Disclosure: I/we have no positions in any stocks mentioned, and no plans to initiate any positions within the next 72 hours.
I wrote this article myself, and it expresses my own opinions. I am not receiving compensation for it (other than from Seeking Alpha). I have no business relationship with any company whose stock is mentioned in this article.