Market Intro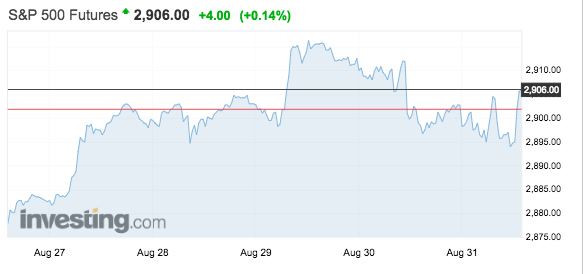 US markets (SPY, DIA, QQQ, IWM) "tried" to take the negative press regarding stalled trade agreements with Canada seriously, but ultimately the tape closed unch and S&P futures wrapped up the week up 5 points from the prior close. Spot VIX dumped into the close after having spent a good portion of the day printing mildly higher.


CNBC: Friday Close
Friday's session witnessed a lack of conviction on the part of equities traders, perhaps unsurprising as we head into the long weekend and summer wraps up.
The month of August featured a strong showing for stocks, with consumer discetionary (XLY) and Tech (XLK) leading the pack and energy (XLE) putting in the only meaningful loss.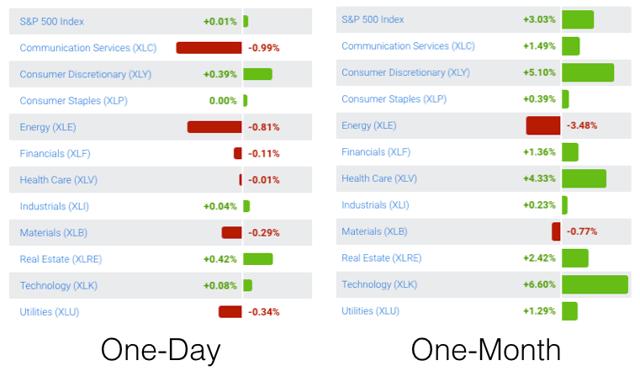 The emerging markets fixed-income space (EMB) demonstrates, however, that trouble may be bubbling not too far from the surface. Issues linked to currency blowups, such as Turkey, Argentina, and to a much smaller degree Indonesia, hint that clouds could soon be gathering in the EM pockets of global risk assets.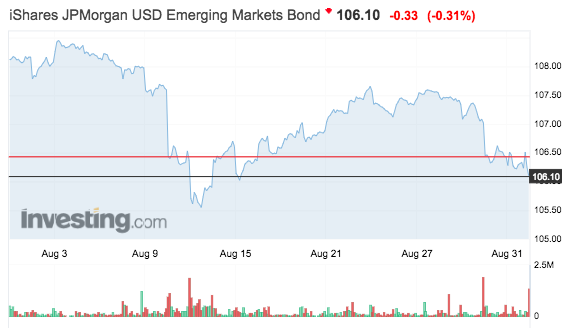 Thoughts on Volatility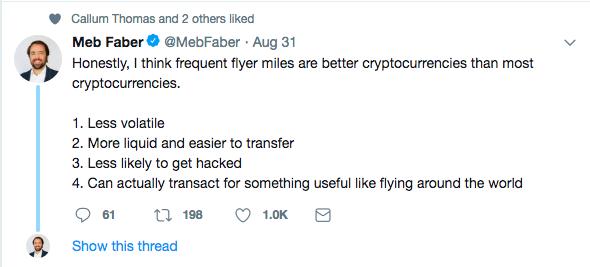 I do not comment much on crypto, as I believe that it is a region governed less by signal and more by noise. But hey – some thrive on that noise. Of course, perhaps I am incorrect and the current slate of crypto currencies has the set of disruptors that will be with us a decade from now. In the mean time, Meb Faber makes a case that many items could one day become regarded as a currency of some form or other.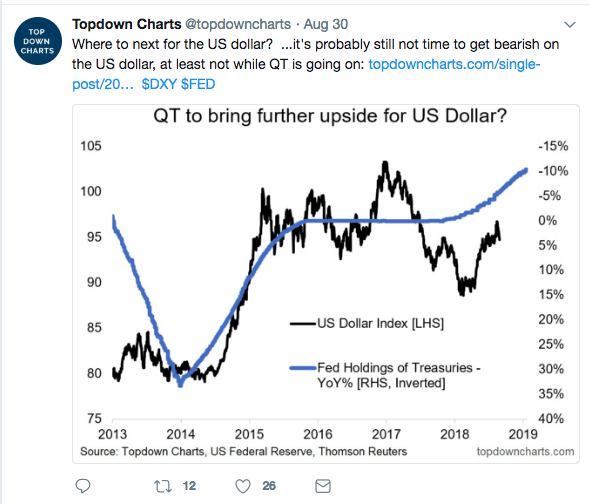 My take is that the dollar (UUP) will become a crisis instrument, with an attractive chicken-and-egg dynamic, over the next couple years. I think a strong dollar is problematic for much of the emerging world, which can paradoxically raise the demand for dollars… which destabilizes patterns of trade…which (you get the idea). I don't actually think QT is an issue so long as the DM net monetary position is to tighten.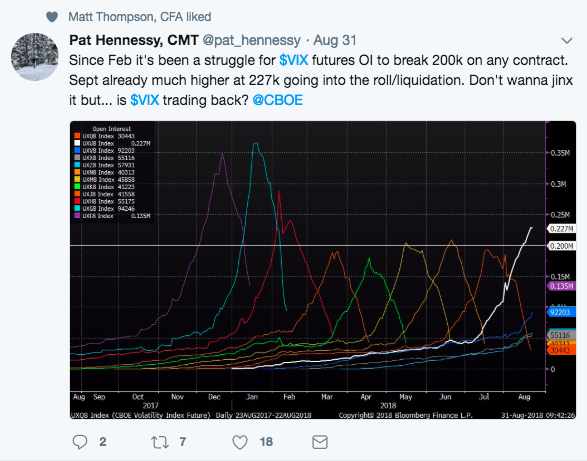 We're getting some action in VIX trading once more, now that nerves are calmed. It makes sense to trade larger when the "prices" are lower, and also when confidence on the range of potential values is more confined. We see that builds could increase before volumes reach the same levels that they did a year or so ago.
Term Structure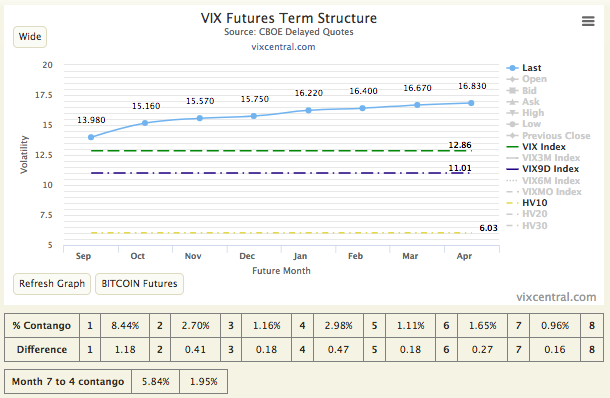 VX10 at 6! This may be part of the reason that spot VIX dropped so precipitously into the weekend. We're not able to get much in the way of sustained chop in the present markets, and vol traders are taking note. This condition can reverse, and traders are giving themselves a lot of room (large volatility risk premium).
I suspect that there is room here for the entire term structure to buckle some over the next week or two, and it would not surprise me to see the M1 to trade in the high twelves by the end of trade on Friday.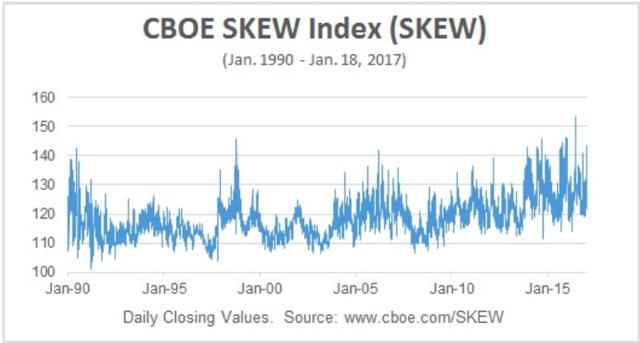 Alan248 asked a great question a few days ago about regime shifts in Skew. I'd love to get reader views on why the trends have run as they have. For now, Skew is running at 146, historically on the extreme side.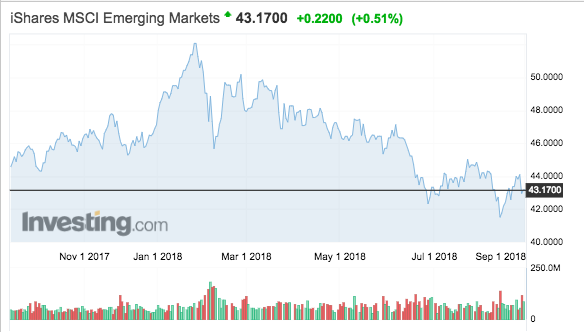 I am not quite certain that EEM is down 43% YTD ( maybe 23%?) Still, the point stands. EEM quite arguably overheated last year, and has since encountered real issues. For instance, trade concerns may impact emerging markets quite a bit more than developed markets, as much of the EM world are net exporters. For those looking to go long vol (VXX, UVXY, TVIX), this may be a better place to do it.
Conclusion
If this is your first time reading Market Volatility Bulletin, thanks for giving it a try. If you're a regular, we thank you for your ongoing contributions in the comments section.
Thank you for reading, and enjoy your Labor Day weekend!
Please consider following us.
Disclosure: I/we have no positions in any stocks mentioned, and no plans to initiate any positions within the next 72 hours. I wrote this article myself, and it expresses my own opinions. I am not receiving compensation for it (other than from Seeking Alpha). I have no business relationship with any company whose stock is mentioned in this article.
Additional disclosure: I actively trade the futures and options markets, potentially taking multiple positions on any given day, both long and short. I also hold a more traditional portfolio of stocks and bonds that I do not "trade". I do believe the S&P 500 is priced for poor forward-looking returns over a long timeframe, and so my trading activity centers around a negative delta for hedging purposes.