Midstream had a rough week, the worst since late March and 4th worst so far this year. Oil prices rallied for a second straight week, NGL prices were sharply higher, the broad stock market was higher again, but midstream and MLPs lagged badly.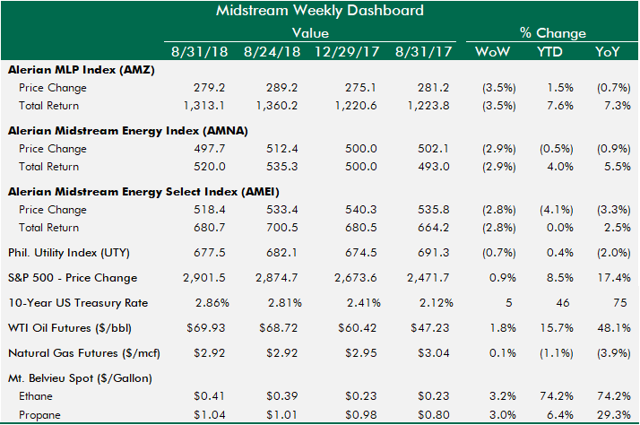 Anecdotally, MLPs sometimes have bouts of extreme volatility in either direction when the market thins out around holidays and us die hard midstream followers feel the market's apathy setting in. But digging into the numbers, it turns out the last two weeks were quite unusual. By the numbers, over the last 10 years, this was the worst pre-Labor Day period of trading for MLPs.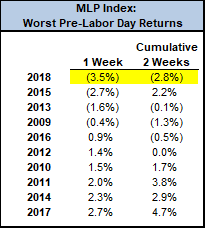 Maybe it can be chalked up to profit taking, long-only managers being on vacation, or just summer doldrums. Or maybe that reference to Field of Dreams I made a few weeks back is at play ("If you build it, they will come…"). MLPs are re-building it, as evidenced by a great earnings season that included a surprise overhang clearing simplification (ETE/ETP), but the market hasn't eagerly lined up to scoop up attractively-priced midstream stocks.
With oil prices cresting $70/bbl and NGL prices at multi-year highs, it's just a matter of time before the market gets excited about midstream again. Time to get back to work, everybody.
Status Update
Even with the selloff this week, MLPs closed out August in the green for a second straight month. MLPs broke a 3-year streak of negative returns in August. MLPs are up 7.6% YTD with all of that return generated in 3Q.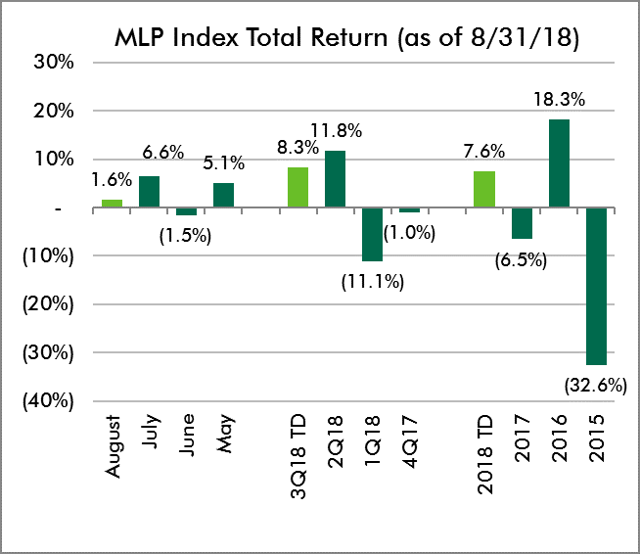 The broader midstream universe index (including Canada and midstream corps) is represented by the AMNA index. AMNA was negative in August and is trailing the MLP Index by a wide margin both YTD and quarter-to-date.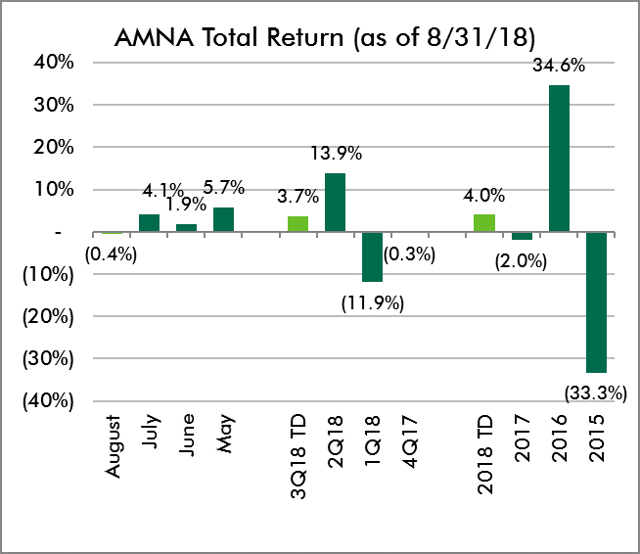 Winners & Losers
Not a single MLP in the top 5 this week is a constituent of the major MLP indexes. On the downside, each of the bottom 5 was down more than 5%. A bad week where limited liquidity saw prices blow out to the downside.
Notable that MLPs with the most impact from the Colorado initiatives were not the biggest underperformers, despite Colorado initiatives making news this week. Although the worst performer this week (NGL Energy (NYSE:NGL)) would be impacted by a slowdown in upstream development in Colorado.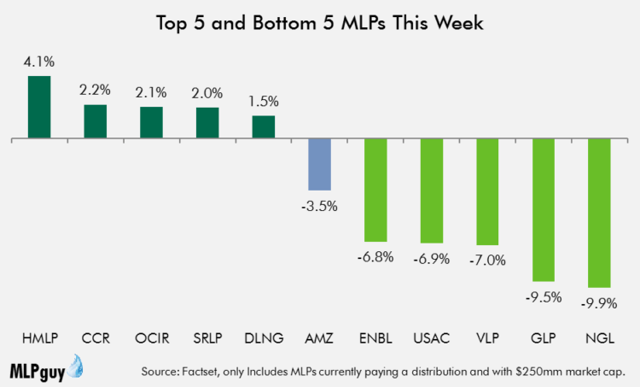 CONSOL Coal Resources (NYSE:CCR) repeated near the top of the sector. Valero Energy Partners (NYSE:VLP) and NGL repeated in the bottom 5. On the YTD leaderboard, Energy Transfer Partners (ETP) climbed into second place behind Crestwood Equity Partners (NYSE:CEQP), and each of the top 5 is still up at least 30% this year.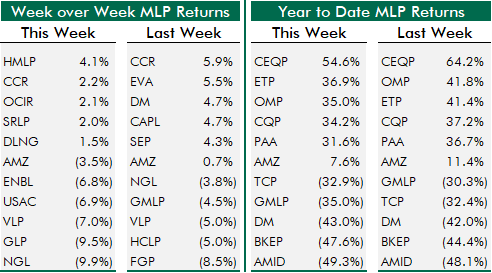 General Partners and Midstream Corporations
Cheniere (NYSEMKT:LNG) was the only positive stock in the GP and midstream corporation this week and repeated as the best performer of the group as Sabine Pass train 5 in-service edges closer. The median performance of the group was -4.2%, but the midstream corporations with larger weights in the S&P 500 (Kinder Morgan (NYSE:KMI), Williams Companies (NYSE:WMB), ONEOK (NYSE:OKE), Targa Resources (NYSE:TRGP), LNG) outperformed. The bottom 5 names once again were mostly the unresolved general partners that aren't held in many indexes or passive vehicles. Tallgrass Energy LP (NYSE:TGE) was an outlier as a resolved GP that underperformed.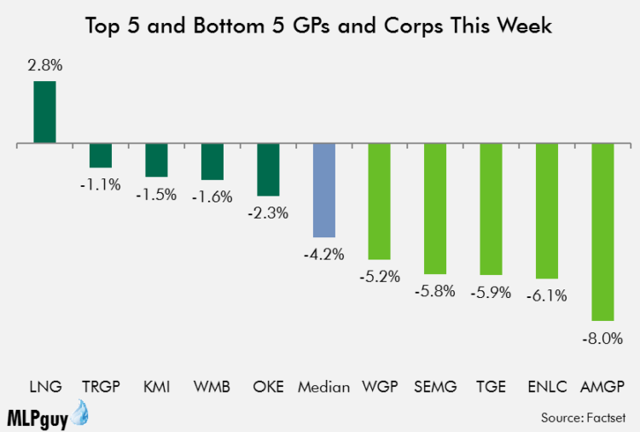 Antero Midstream (NYSE:AMGP) made it two straight weeks at the bottom of the group. AMGP has declined 13.2% in just 7 trading days on no news. The recent rally by LNG has helped it climb a few spots on the YTD total return leaderboard to within striking distance of OKE.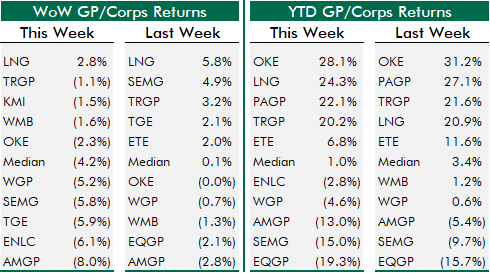 Canadian Midstream
Canadian midstream stocks were mostly negative this week, with KML the only positive name in the group. The largest of the group were down the most, in a trend that has persisted throughout 2018.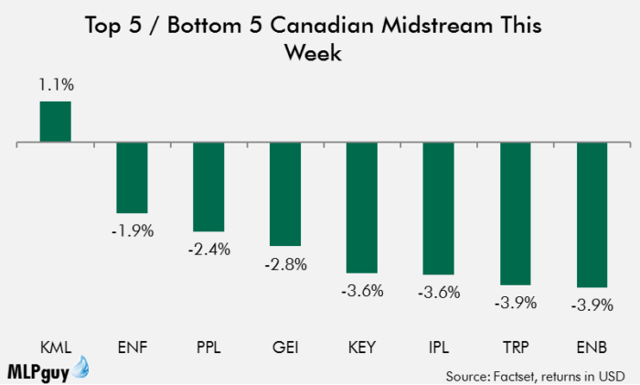 Enbridge (NYSE:ENB) was the worst performer for a second straight week, Pembina (NYSE:PBA) showed some resilience after a poor relative showing last week. TransCanada Corp. (NYSE:TRP) is back in double-digit negative return territory YTD.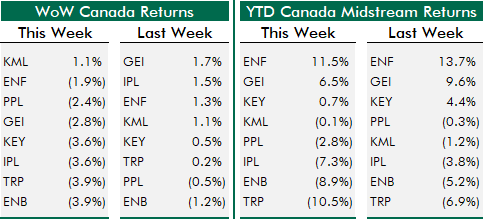 News of the (Midstream) World
This week highlighted that while the private sector tends to take a break at the end of August, the public sector is still plugging away. News was light from companies, but still active on the regulatory front. No capital markets activity and no new M&A news. The dueling Colorado initiatives continue to make progress, and their impact should continue to move certain midstream stocks through election day in November.
Growth Projects/M&A
Other