To review, sector performance had been very defensive the last few weeks, with healthcare, consumer staples, and utilities outperforming more aggressive sectors like tech and consumer discretionary. That changed this week:

Consumer discretionary led the pack, rising 1.79%. Tech was a close second, increasing 1.78%. Healthcare was third, followed by industrials. The latter's increase is important: that sector had been trading sideways for the last few months as a result of rising trade tensions. Utilities and staples each dropped marginally.

Tech also outperformed on a one-month basis; it was up 6.6%. Discretionary was second best. Healthcare was third with financials fourth. Utilities and staples were in the middle of the pack.

The three-month performance is also taking a more bullish orientation. Yes, healthcare is still the leader and staples are the third-best performer. But discretionary and tech are number two and four, respectively.
Turning to the longer-term relative performance, we have these graphs and accompanying table: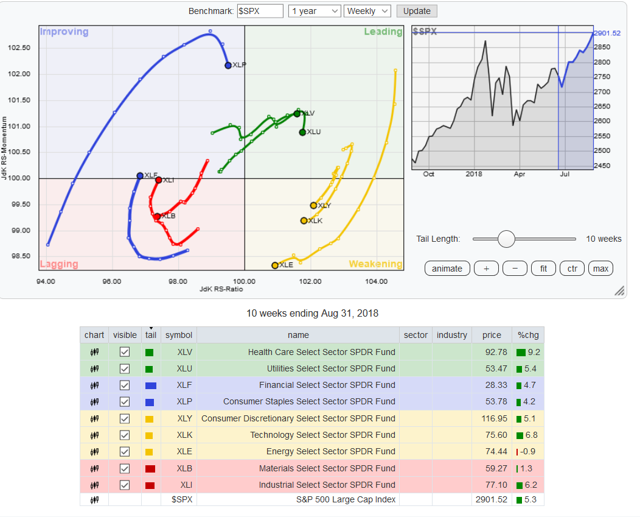 Healthcare and utilities are still outperforming. But financials are just now moving into the "improving" category. Industrials are right on the cusp.
Because the financial sector ETF is moving into "improving" territory, it seems appropriate to look at this sector in a bit more detail, starting with the daily chart: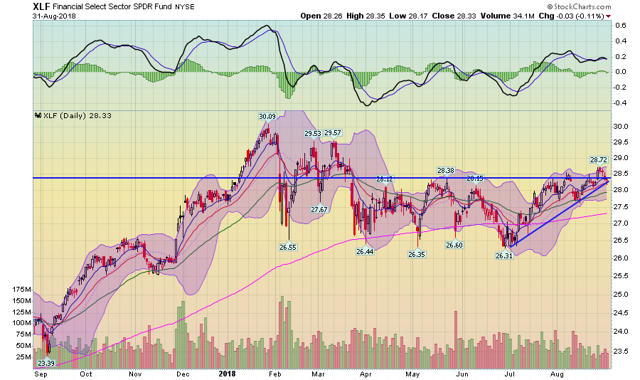 Prices have trended sideways between the mid- and upper-20s since early April. There is a smaller rally that started in late June which sent prices to resistance in the upper 20s, where they currently reside. The underlying technicals are bullish: all the EMAs are moving higher and the shorter EMAs are above the longer EMAs. Prices are using the shorter EMAs for technical support. The MACD, while moving sideways, has ample upside room to move higher.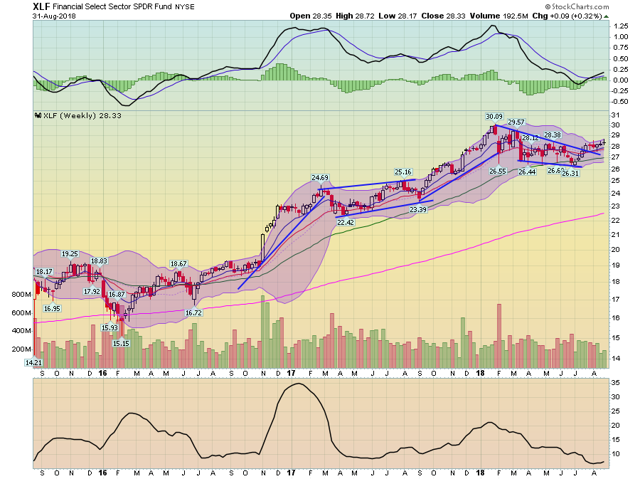 The weekly chart is also bullish. Prices are in a very nice consolidate/rally/consolidate pattern that has been occurring since the end of 2016. The EMAs are again bullishly aligned, with the shorter above the longer. Best of all, the MACD has given a long-term buy signal and has a year's worth of upside room to move.
Let's turn to the two-month charts of the 10 largest members: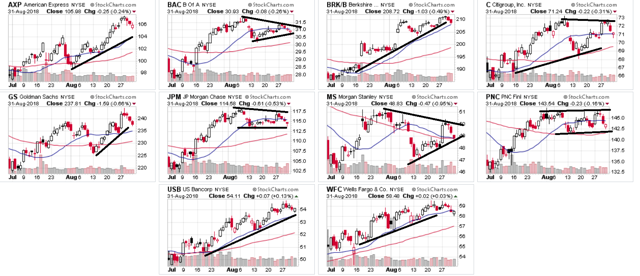 There's a lot to like. All of the charts are in either short-term rallies (AXP, USB, and WFC) or have rallied and are now consolidating (BAC, C, JPM, MS, and PNC). None of the issues are moving lower.
Let's pull back to the year-long time frame: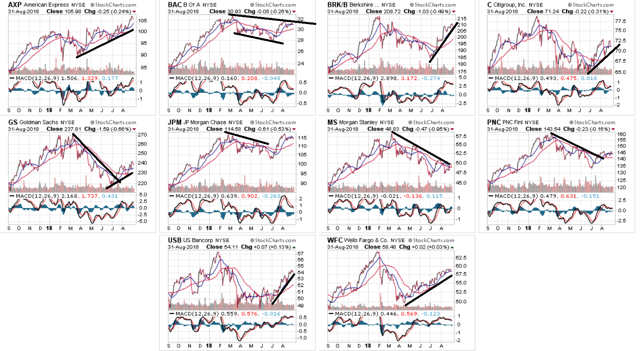 American Express has the best chart (upper left): it's just shy of a 52-week high. JPMorgan (middle row, second from left) has broken through resistance and is also flirting with 52-week highs. Berkshire (NYSE:BRK.A) (NYSE:BRK.B), Citigroup, Goldman Sachs, U.S. Bancorp, and Wells Fargo are all rallying from a 52-week low. The others are trending lower.
Let's look at these issues from a dividend perspective:

The best yield is WFC, and it's right below 3%. The rest of the yields are fair, but nothing to write home about.
Let's look at forward valuations:

Financial stocks are usually lower-PE issues. Given that, GS, MS, and C all look attractive from a forward valuation perspective.
What's throwing me about this rally is its timing. Standard investment theory says that financial stocks are more attractive earlier in the economic cycle when interest rate spreads are wider and loan growth is just starting to pick up. We're near the end of this expansion. Interest rate spreads are tightening, loan growth is slowing, and we're seeing stories about declining loan quality. That doesn't mean this rally will inherently sputter; markets are not known as entirely rational actors. Still, it gives me a bit of pause.
Disclosure: I am/we are long C.
I wrote this article myself, and it expresses my own opinions. I am not receiving compensation for it (other than from Seeking Alpha). I have no business relationship with any company whose stock is mentioned in this article.