Equities posted an exemplary performance in August, exceeding the expectations of most analysts as several major averages posted new all-time highs. While the stock market is riding a major high heading into September, already there is talk that the month ahead could witness a huge disappointment based on a growing list of global worries. In today's report, we'll examine these concerns as I lay out the case that the odds still favor higher stock prices as summer closes out.
The stock market finished the month of August on a mixed note. The S&P 500 Index (SPX) was barely changed on Friday, while the Nasdaq Composite Index was 0.26% higher. The Dow Jones Industrials Average was 0.01% lower. Yet, overall, the stock market had a stellar month. The Dow and the SPX recorded their best August in four years. Meanwhile, the Nasdaq Composite saw its best month in 18 years.
Yet, the market isn't without its worries. On Friday, several market writers expressed concern that the stock market was setting up for a potential plunge in September. Bearish analysts point out that September has a history of seeing its fair share of stock market sell-offs, and with the major averages coming off a stellar summer performance, there could be some vulnerability to selling pressure.
Then there is the fact that volatility as measured by the CBOE Volatility Index (VIX) spiked 15% last week and was up 7.5% for the month of August. An analyst quoted in a MarketWatch article on Friday pointed out that the last time the VIX had a similar performance while the major averages were up was in January, immediately prior to the February decline. The following graph from Tom McClellan of the McClellan Market Report illustrates the 10-day correlation between spikes in the VIX and declines in the S&P 500 Index (SPX).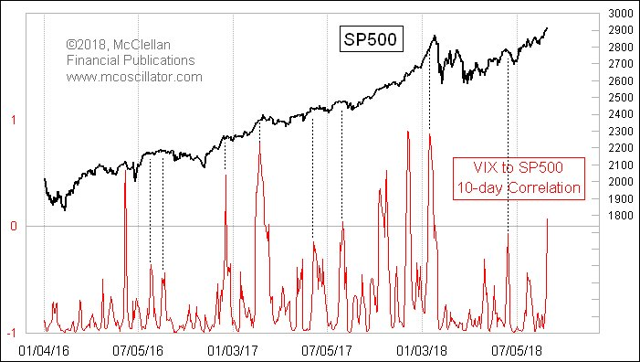 (Source: MarketWatch)
It was also reported on Friday by MarketWatch that Italy sold 7.75 billion euros (or US$9.03 billion) of debt at the highest yield in over five years. It was also noted that Italy has experienced negative capital flows this summer, which haven't been seen since the worst part of the eurozone financial crisis in 2012-2013. This reflected the concerns of bond investors over Italy's financial condition and also sparked concerns among analysts that Italy's problem could serve as a catalyst for a global market decline at some point in the coming weeks.
In light of the above-mentioned concerns, should U.S. equity market investors worry about a September market correction? The current weight of technical evidence says "no." Let's start with the concerns which some have expressed about the Volatility Index (VIX). While it's true the VIX spiked last week, broad market volatility still remains remarkably subdued. Shown here is the year-to-date VIX performance. As you can see, the VIX remains well under its February highs and is also well below the 20.00 level. The 20.00 level isn't without psychological significance. Historically, whenever the VIX hovers near (or above) this level for weeks at a time, the stock market is indeed vulnerable to a major decline. That hasn't been the case lately, though, as the VIX has spent most of this summer below the 15.00 level. Volatility measured by the VIX is still well below the long-term average.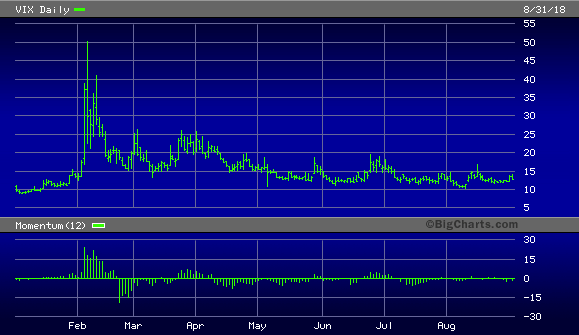 (Source: BigCharts)
There are also lingering concerns over the U.S.-China trade war, the Turkish lira, as well as the aforementioned financial troubles in Italy. Yet, these concerns have been brewing for most of the summer and have mostly served as temporary distractions for investors as opposed to full-fledged crisis catalysts. An argument can be made that the myriad global market worries have instead served to bolster the bull market's "wall of worry" by keeping the bulls honest and increasing short interest. This short interest, in turn, has served as fuel for periodic rallies, as the stock market's powerful forward momentum has forced the skittish and uncommitted bears to reverse their positions.
Indeed, momentum is perhaps the strongest argument for higher stock prices heading into the historically turbulent month of September. The following graph illustrates the momentum of the new 52-week highs and lows on the NYSE. There is no stronger sign of how much incremental demand exists for equities right now than this graph. As long as this indicator is trending higher, the stock market is assumed to be in strong hands.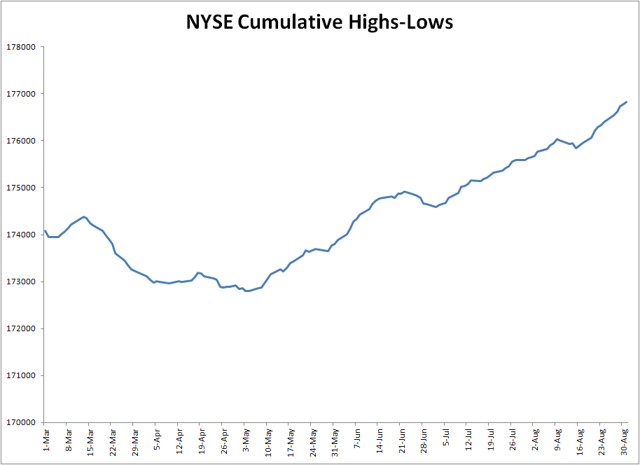 (Source: WSJ)
Even more impressive has been the momentum of the new 52-week highs and lows for the Nasdaq. The tech sector remains in a relative strength position versus the S&P 500 entering September, and this has historically been a sign that distribution (i.e., selling by informed investors) is not currently a problem. It should also be noted that the number of Nasdaq-listed stocks making new 52-week lows recently has been well under 40. This is a further sign that internal selling pressure isn't currently a problem for the tech sector.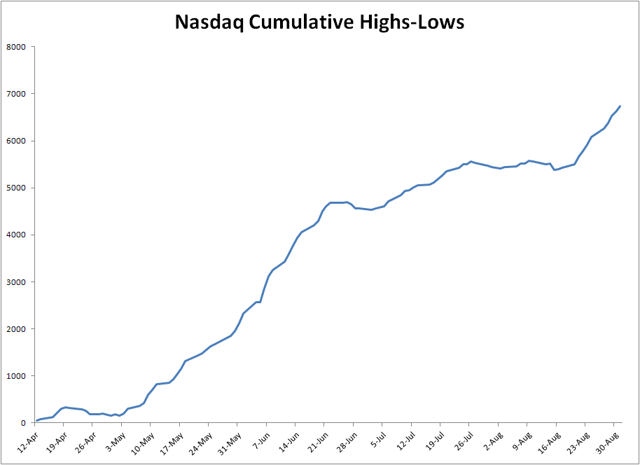 (Source: WSJ)
On a related note, the relative price strength of the Nasdaq versus the S&P 500 (SPX) is encouraging. Prior to the last major correction in early 2018, tech stock prices sharply declined in December and remained weak relative to the SPX through February. This time around, the tech stocks are holding their own when compared to the SPX and show no signs of unusual weakness. The following graph compares the Technology Select Sector SPDR ETF (XLK), my favorite tech sector proxy, with the S&P 500 Index (SPX) and underscores this point.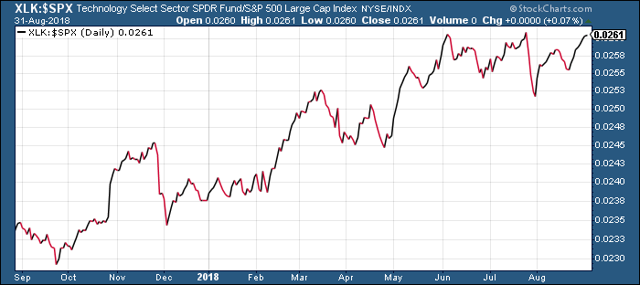 (Source: StockCharts)
All things considered, the path of least resistance for U.S. equities remains up heading into September. An argument could also be made that the recent increase in geopolitical turmoil might lead to increased demand for U.S. equities, as investors are beginning to view the U.S. as a safe harbor from emerging markets risk. If my optimistic assessment proves wrong, however, we'll know it when the NYSE and Nadsaq cumulative new highs-new lows indicators mentioned here do a sudden, sharp about-face and break their upward trends. This, combined by deterioration in the XLK:SPX ratio shown above, would be enough to convince me to pull in my horns and raise some cash, while reducing my long exposure to equities. Otherwise, I plan on maintaining my long positions in September, as I expect U.S. stocks to continue this summer's strong performance.
On a strategic note, investors should also continue to maintain longer-term bullish exposure to the stock market via ETFs and outperforming individual stocks in the strongest sectors and industries. This includes, in particular, the retail, transportation, real estate and tech sectors, all of which have shown impressive relative strength versus the S&P 500 Index this summer. A conservative money management discipline is also recommended at all times in the event of unexpected market weakness. This includes the use of rolling stop losses on all existing long-term positions, as well as periodically taking profits in stocks and ETFs which have experienced impressive upside moves.
Disclosure: I am/we are long XLK, IYR, IJR. I wrote this article myself, and it expresses my own opinions. I am not receiving compensation for it (other than from Seeking Alpha). I have no business relationship with any company whose stock is mentioned in this article.