If you're looking for that sweet spot of decent yield and a sustainably high dividend growth rate, Lockheed Martin (NYSE:LMT) should definitely be a part of your portfolio.
This company has been a key part of defending the U.S. for more than 100 years. For the last 15 years it has been busy defending dividend growth investors' portfolios as well as it has been raising that dividend at a nice clip every year over that period.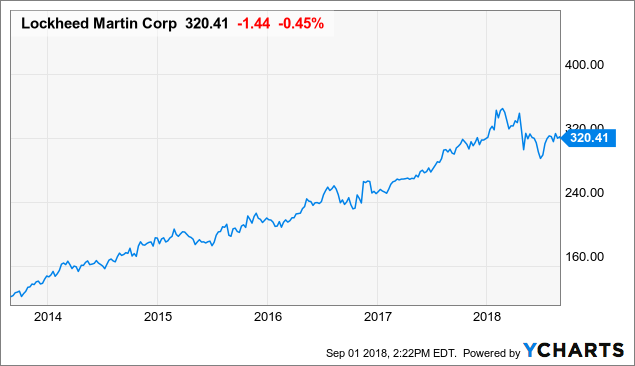 So this chart is as close to perfection as you could wish for. Up from $124 five years ago to $320 today for a gain of 158%. That's an average annual return of 21% -- before dividends. That is more than twice the long term overall returns of the stock market. This company has definitely performed so far.
Historical Dividend Growth
Lockheed Martin has been paying dividends for a long time. Its investor relations page lists dividends back to 1995. The dividend went both up and down for a number of years but has been steadily rising since 2003 -- 15 straight years.
Ten years ago the quarterly dividend per share was $0.42. The current dividend is $2.00 for a total increase of 4.8x or an annual average increase of 17%. This is a growth rate that is not sustainable over the long term and the growth rate has indeed been coming down recently.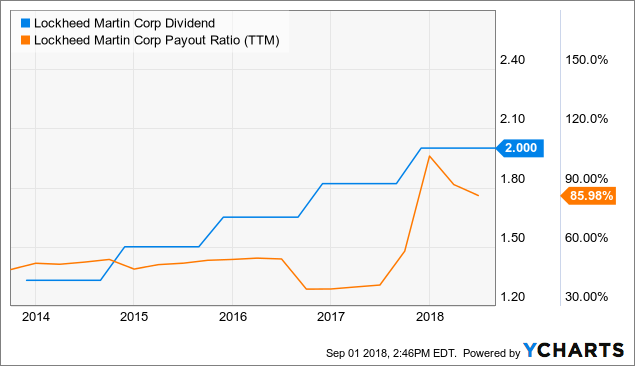 As can be seen in the chart, the dividend has been rising steadily over the last five years. If there is one thing we can call the Board of Lockheed Martin, it is that it is consistent. The last three dividend increases have been of exactly 10% each. Before that it was 13% and five years ago it was 16%.
The payout-ratio, though, has not been as consistent. Mostly, it's been hovering around the 50% mark but has at times veered off to 35% on the downside and around 100% on the upside. This, of course, is because of volatility of earnings. In 2017, the EPS came in quite a bit lower than in previous years. Luckily, it seems like earnings will be back up this year. Consequently, I am not too worried about the payout ratio as it should land in the 50% area on this year's earnings.
September Dividend Hike
As I said, consistency is the thing when it comes to the Board of Lockheed. At least since it started regularly hiking the dividend in 2003, late September has been the date when the dividend hike is announced.
The company's Q2 numbers were quite good, beating estimates both on the top and bottom lines. Guidance was also raised to an EPS range of $16.75-$17.05. As for a lot of companies, the tax rate has fallen for Lockheed Martin as well, underpinning a higher EPS for 2018.
So what would be the minimum dividend raise for a company that does well operationally, is enjoying tax cuts and has been raising the dividend at 10% every year for the last three years? The answer is not an inch below 10%. There is simply no good argument for doing that. They have the money to do it and the signal to the market would be very negative. My absolute lowest estimate for a raise would thus be 10%.
More realistically, though, the dividend should be quite a bit higher than 10% for reasons alluded to above. True, EPS is going to more than double in 2018 from last year, but the Board is going to look through that, just as it didn't let the dividend suffer just because last year was a bad year. It is therefore better to look at the longer term trend. EPS has been growing from the $10-11 area a few years ago to a projected $17 this year. Next year EPS is expected to grow 12%, further fuelling the prospect of a 10%+ hike this year.
If the Board were to hike the dividend by 15%, that would be a number that is higher than the last couple of years, and thus enough to excite long term investors, but still a number that the company has been comfortable offering historically. Further, the new annual dividend of $9.2 would entail a payout-ratio of 54% if earnings land at $17 for the year. Hardly anything to be worried about. Lastly, if you were an investor and read this, namely that the tax cuts will lead to $460 million in more investments in R&D, money for prizes, training of employees and more, you would be disappointed if nothing of that windfall were to fall on you. In other words, the Board has room for an extraordinary hike this year and investors should expect it.
My estimate for the new quarterly dividend is therefore $2.30 for an increase of 15%.
Risk Factors
A substantial risk for defence contractors is that its customers are few and powerful. If you screw up your relationship to the U.S. Government, good luck! Further, especially in these times, there are shifting friendships and alliances around the world. For instance, NATO-ally Turkey is planning on buying Russian missile systems. If you can't even sell to your allies anymore, the market situation is getting murkier. Another risk, which admittedly would be good for most of us, is the spreading of peace around the world. If the world becomes more peaceful, defence spending will inevitably come down. Lastly, tighter public budgets around the world will put pressure on defence contractors' revenues.
Current Valuation
Before making a final decision on whether or not to buy a particular stock, it is always sensible to check its valuation as compared to its peer group. As peers for Lockheed Martin, I've chosen two close competitors in the defence space, namely Northrop Grumman (NYSE:NOC) and Raytheon (NYSE:RTN).
| | | | |
| --- | --- | --- | --- |
| | Lockheed Martin | Northrop Grumman | Raytheon |
| Price/Sales | 1.8x | 2.0x | 2.2x |
| Price/Earnings | 36.7x | 23.4x | 24.0x |
| Yield | 2.5% | 1.5% | 1.7% |
Source: Morningstar
As we can see, Lockheed Martin does quite well in the price/sales category, snatching first place from Northrop Grumman. In the price/earnings category, however, Lockheed ends up in third place with a substantially higher multiple than the other two. It wins the dividend yield category with a yield of a full 80 basis points above Raytheon which came in second.
In all, these companies should be quite solid investments but are a bit on the pricey end. It should be remembered, however, that as we've seen earlier in the article, earnings will be a lot higher this year at Lockheed Martin than they were last year. If EPS comes in at $17, then we're talking a price/earnings multiple of 19. Suddenly not so pricey after all.
If I had to invest in one of these three, I would go for Lockheed Martin, knowing what we know about EPS guidance and the likely boost to the dividend. The yield above will soon get quite close to 3%.
According to Yahoo! Finance analysts expect annual EPS growth over the next five years to come in at 47%. I find that a little hard to believe. If we instead look at the nearer term, expected growth next year from this year's expected $17 is a growth rate of 12%. If that were to be sustained for five years and the multiple doesn't change, we're talking a total average annual return of 14.5%. Not bad for such a large and stable company with a proven dividend growth track record.
Conclusion
Lockheed Martin has reliably been hiking its dividend for 15 straight years. Tax cuts and stellar operational results at the company will ensure that investors will receive a higher than usual dividend hike this year. It is likely that the Board of Lockheed Martin will hike the dividend with a full 15% this year for a new quarterly dividend of $2.3. If you're a dividend growth investor looking for that sweet spot of a nice yield and high and reliable double-digit growth rate, Lockheed Martin should definitely be in your portfolio.
Disclosure: I/we have no positions in any stocks mentioned, and no plans to initiate any positions within the next 72 hours.
I wrote this article myself, and it expresses my own opinions. I am not receiving compensation for it (other than from Seeking Alpha). I have no business relationship with any company whose stock is mentioned in this article.