The stock markets never stop to amaze me. While July was heavily driven by concerns about a deteriorating trade war, August, in general, was a big rally, with markets hitting new highs and the euro dropping down to as low as $1.13.
Overall net capital spending was around $2,650 as I divested various smaller holdings, entered new speculative positions, and invested into Chinese stocks as well as Germany's best stock, Wirecard AG (OTCPK:WRCDF).
Earnings season continued, and Apple's (NASDAQ:AAPL) ongoing post-earnings rally has propelled my portfolio to new records as the company crushed the $1 trillion market cap barrier and has never looked back ever since. Chinese stocks got hammered as volatility spiked. While the broad market seems to have let off the US-China trade war, Chinese stocks were not immune to the lingering uncertainty and are trading between 20-40% below their 52-week highs despite sizzling earnings.
Portfolio Changes | 6 new stocks, 4 sales, 3 trims and 20 repurchases
I deployed around $2,650 in fresh capital in July, which means it was a rather quiet month but still way above my minimum target of $1,000, which I have increased to $1,500 now that the dividends and income from Seeking Alpha allow me to invest more than before. Still, at $2,650 capital deployment, this also means that I am reducing overall liquidity in a market which keeps on setting new highs and could be one tweet way from a major correction. However, as it is anyone's guess if or when that happens, I try not to think too much about that and instead mostly invest in businesses I can safely hold for 10 or more years.
On the sale side, I closed my holdings in Broadcom (NASDAQ:AVGO), Starbucks (NASDAQ:SBUX), CF Industries (NYSE:CF) and Arista Networks (NYSE:ANET).
I bought Broadcom after it dropped below $200 following the $18.9 billion buyout of CA and sold it with a small profit. The dividend is great, but I am not understanding the business well enough in order to keep the stock for many years.
Starbucks, despite its 20% dividend increase, was just too small of a holding to make a meaningful contribution to dividend income. I like the business and the valuation, but I do like both of these better for the investments I made instead.
It has been a great ride with CF Industries, as the stock doubled, but unfortunately, my position was just so small that I felt it was time to close it out with a nice profit and move on. This is a great cyclical business to invest in, but I am concerned about margins and potential future pricing issues if demand slows down.
Arista builds tremendous products, and I bought the stock after it crashed below $250 some months ago. I really like the business, but given that Cisco (NASDAQ:CSCO) is one of the largest portfolio holdings and is doing great as well, I saw no need to keep both at this stage, especially as Arista was just around 1/10th of my Cisco investment.
I sold out most of my position in Exxon Mobil (NYSE:XOM), as I like Royal Dutch Shell (NYSE:RDS.B) and, especially, BP plc (NYSE:BP) with its first dividend hike since Deepwater Horizon much better at this stage. I dropped some shares in PepsiCo (NASDAQ:PEP), as it has seen a great run, with the intention of buying then back later. I did this before the SodaStream deal was announced, and while I think it is a great addition to PepsiCo's portfolio, $3.2 billion is a lot of money. Finally, I trimmed a rather insignificant 5 shares of Southern Company (NYSE:SO) ahead of earnings, as the company usually disappoints the market, and with more than $1 billion in additional cost for the Vogtle plant construction, this is exactly what happened. I invested that money to open a first position in NextEra Energy Partners (NYSE:NEP) and plan to extend that further as time goes by.
Although I trimmed or exited several positions, I basically like all of these businesses, but with capital being limited and opportunities endless I had to make some changes in order to invest more money elsewhere.
My biggest purchase were 4 shares in high-flying Wirecard AG, Germany's leading credit card payment processor, before the company released another stellar earnings report. I am very late to the party here, as the stock has increased more than 10.000% since its IPO almost 10 years ago, but with growth being strong, the current €23 billion market cap still leaves a lot of room for further expansion in the future. Wirecard grew transaction volumes by 48.5% in the first six months of 2018, revenue by 45.8% and free cash flow by 40.2%. It is trading at a high 60 times earnings multiple, as the stock price has gone into overdrive mode in 2018.
I usually stay away from such exponential stock price movements, but I firmly believe that similar to Visa (NYSE:V), any small or larger dip in Wirecard will get immediately bought. Long term, Wirecard will be a winner anyway, as it strongly benefits from the mega trend of mobile payments. Currently, Wirecard is part of Germany's TecDAX (the equivalent to the Nasdaq basically), but it is highly likely that it will join the much more prominent DAX in September, as its market cap has already passed those of various other members of the DAX. On a weekly basis, the stock gets fired up as the company announces new cooperations and partners, and joining the DAX family will provide further impetus.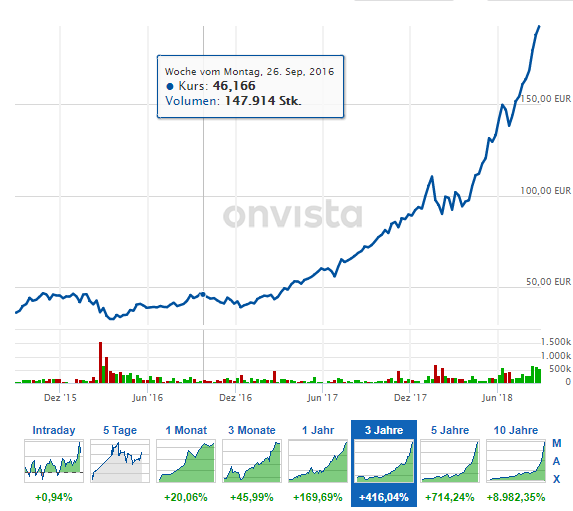 (Source: onvista)
I added to my positions in Alibaba (NYSE:BABA) and Baozun (NASDAQ:BZUN) and opened one in Weibo (NASDAQ:WB), as all of these stocks are priced very attractively and growing strongly. Alibaba is growing its top line by 60%, yet the stock is in no man's land. The cloud nearly doubled in the most recent quarter. The trade war anxiety is creating very attractive opportunities, and the stock has remained cheap despite such earnings. I am very tempted to buy more of these Chinese stocks, but it is really a tough choice as to which one, as I like them all, from BABA, JD.com (NASDAQ:JD) to Momo (NASDAQ:MOMO), Baozun, Huya Broadcasting (NYSE:HUYA) and iQIYI (NASDAQ:IQ).
Having read a great article by SA author Dividend Sensei, I decided to open a position in the midstream segment with EQT Midstream Partners (NYSE:EQM) in an attempt to profit from America's gas boom. The distribution is already at a juicy 7%, but is expected to grow double digits over the next 10 years. I am no expert in that industry, but the investment case makes sense to me, and I am not worried about potential hiccups on the way.
Repurchases
My repurchases break down as follows:
1) Continue ongoing monthly stock savings plans: These are routine investments between $50 and $115 each into Wells Fargo (NYSE:WFC), Visa, McDonald's (NYSE:MCD), Johnson & Johnson (NYSE:JNJ), Apple and the lesser-known Commonwealth Bank of Australia (OTCPK:CBAUF).
2) Invest in dividend and growth stocks:
One additional share in Apple to celebrate the company crushing the $1 trillion mark. I was not expecting the strong rally afterwards though.
Two shares in Germany's Bayer AG (OTCPK:BAYZF), which got crushed in court, as the company's recent Monsanto acquisition has sent shockwaves among investors, as a jury awarded $289 million in punitive damages in a glyphosate-related cancer case to a man, with many more outstanding cases still expected to go to court. Bayer lost several billions in market cap afterwards, and I simply had to buy the stock after such a massive drop.
All net purchases and sales in August can be seen below: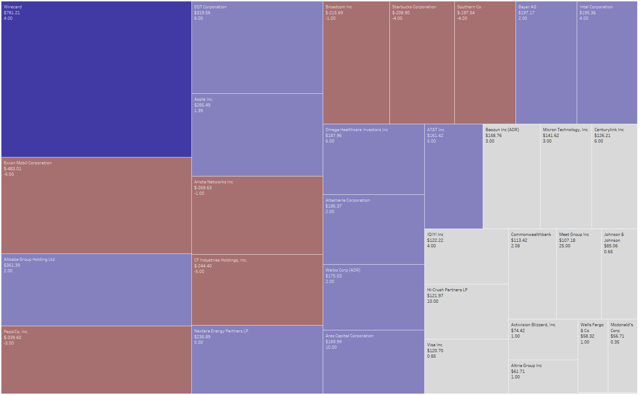 Dividend Income: What happened on the dividend side?
My income from 23 corporations amounted to $205 in dividends, up 25% Y/Y and down 44% sequentially.
The top five companies led by AT&T (NYSE:T) accounted for 62% of monthly dividend income. As always, in August, the overwhelming majority of dividend income (32%) originated from AT&T. This high share is attributable due to T being my largest position despite all the problems and challenges surrounding the company. However, I would like to lessen the importance on T for income by continuing to invest in other dividend stocks.
A 44% sequential decline sounds scary but quickly reverses into a 3% gain when excluding the annual dividend payments from German companies in May.
All dividends break down as follows: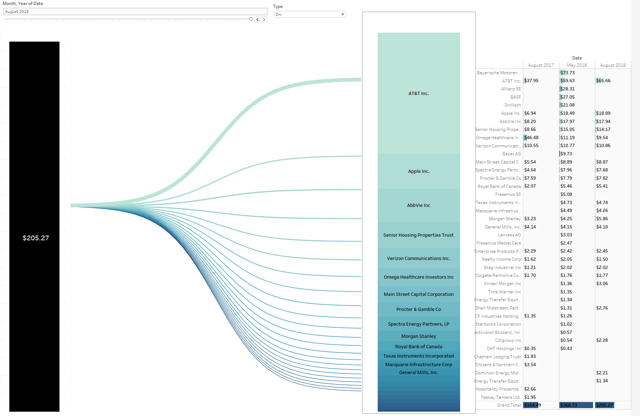 The dashboard above shows how the monthly dividend income breaks down into individual stocks. It also shows the change in income versus the previous quarter and year.
I also created a new dashboard which shows all-time dividends by stocks clustered in a tree map which best shows the relative importance of each holding. Let me know in the comments section if you think this is a useful visualization.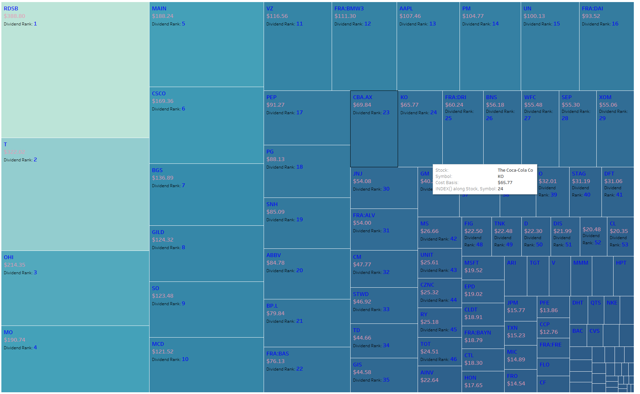 Here is a look at my favorite chart: the net dividend income development by month over time between 2015 and 2018, where you can easily see the development of my dividend income as well as the average annual dividend in a given year: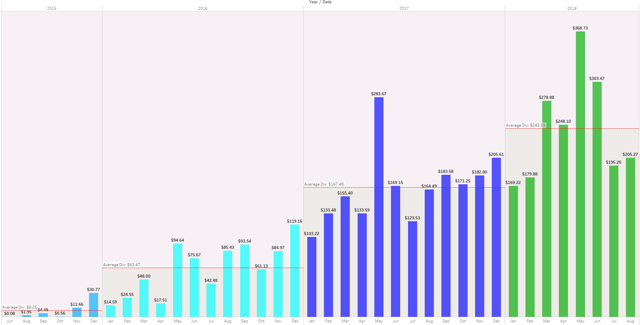 The yearly average in net dividend income dropped $9 compared to the previous update but still remains on track to hit $3,000 in annual dividend income. Accounting for the fact that this is my weakest month, I still expect to reach that point already in November.
Next, I have scattered all the individual dividend payments I have ever received and colored them by year, rearranging the years side by side rather than horizontally as in previous updates: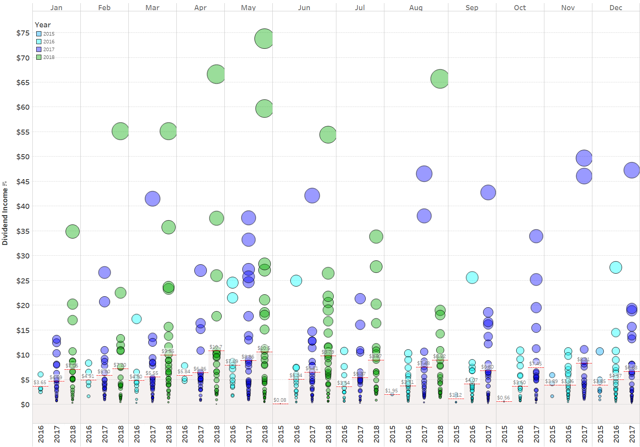 The readability of the numbers is rather poor, as there is so much data, but the bigger picture becomes apparent regardless of these numbers. I am just looking at the size and quantity of the bubbles as they keep on climbing higher and expanding in size.
It remains fascinating to watch how all these metrics develop over time. Right now, as I am still in the early stages, these metrics are not that impressive but the growth is truly striking, and all these instruments help me measure it and provide meaning to it.
Speaking in terms of meaning, another way to express the monthly dividend income is in terms of Gifted Working Time (GWT). I am assuming an average hourly rate of $25 here. My annual target is to replace 120 hours of active work with passive dividend income. This translates to $3,000 in annual net dividends, or around $250 per month.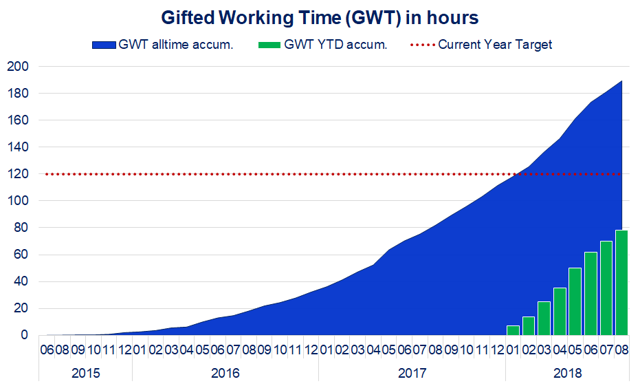 What this shows is as follows:
All time (blue area) - Around 190 hours, or 23.7 days, of active work have been replaced with passive income since the start of my dividend journey. Assuming a 5-day work week, that equals almost 5 full weeks, or more than an entire month, of vacation funded via dividends.
YTD (green bars) - Around 78 hours, or 9.7 days, of active work have been replaced with passive income in 2018 already. If the target of 120 hours is achieved by year end, this represents a total of 15 days, or three full weeks, of active work to have been replaced by passive income. We are at 2/3rd of our annual goal, and with 2/3rd of the year having just passed, we remain right on track to hit and exceed it.
September Dividend Preview
The snapshot below is taken from my newly released Dividend Calendar & Dashboard Tool (make sure to follow instructions) and shows expected gross dividend payments for September 2018.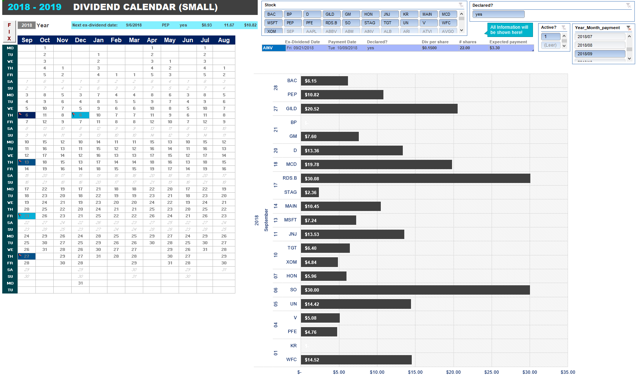 I use that tool basically every day, and I would be happy if you give it a try as well, for free of course. I am also very interested in your ongoing feedback regarding this, as it continues to be popular across the community. In case of any problems, I am more than happy to assist you in setting up everything. I am also working on simplifying and automating it further, as well as adding new features. This, however, takes a lot of time actually, so please be patient.
My portfolio composition
As of end of August, based on cost basis and previously mentioned clustering, my portfolio is composed as follows:
Value - 54% (+1pp)
Growth - 40% (-1pp)
Speculative - 6% (unchanged)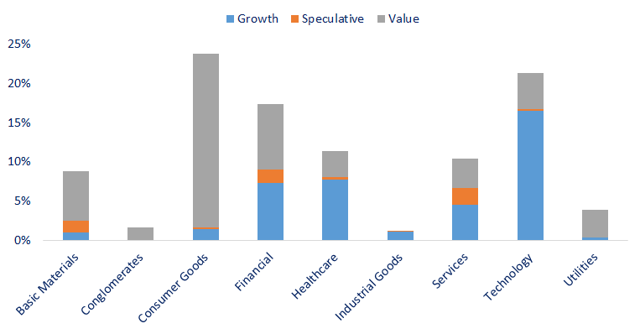 By holding, it looks like this:
| | | |
| --- | --- | --- |
| AT&T Inc. | (T) | 5.49% |
| Apple Inc. | (AAPL) | 4.68% |
| Royal Dutch Shell Plc Class B | (RDS.B) | 4.20% |
| Altria Group Inc | (MO) | 3.53% |
| Cisco Systems, Inc. | (CSCO) | 3.17% |
| Gilead Sciences, Inc. | (GILD) | 3.07% |
| Mcdonald's Corp | (MCD) | 2.75% |
| Visa Inc | (V) | 2.53% |
| AbbVie Inc | (ABBV) | 2.42% |
| Southern Co | (SO) | 2.38% |
| Main Street Capital Corporation | (MAIN) | 2.02% |
| Micron Technology, Inc. | (MU) | 1.94% |
| Johnson & Johnson | (JNJ) | 1.90% |
| Wells Fargo & Co | (WFC) | 1.89% |
| Unilever NV (ADR) ADR | (UN) | 1.81% |
| Daimler | (OTCPK:OTCPK:DDAIF) | 1.79% |
| B&G Foods, Inc. | (BGS) | 1.74% |
| Siemens Healthineers | (SHE) | 1.70% |
| 3M Co | (MMM) | 1.67% |
| Philip Morris International Inc. | (PM) | 1.64% |
| Microsoft Corporation | (MSFT) | 1.39% |
| Toronto-Dominion Bank | (TD) | 1.37% |
| Bank of Nova Scotia | (BNS) | 1.36% |
| PepsiCo, Inc. | (PEP) | 1.26% |
| Canadian Imperial Bank of Commerce (USA) | (CM) | 1.26% |
| Bayerische Motoren Werke AG Preference Shares | (OTCPK:OTCPK:BMWYY) | 1.23% |
| Dominion Energy Inc | (D) | 1.20% |
| Bank of America Corp | (BAC) | 1.17% |
| Honeywell International Inc. | (HON) | 1.15% |
| Verizon Communications Inc. | (VZ) | 1.12% |
| NVIDIA Corporation | (NVDA) | 1.11% |
| Baozun Inc (ADR) | (BZUN) | 0.98% |
| Procter & Gamble Co | (PG) | 0.98% |
| The Coca-Cola Co | (KO) | 0.95% |
| BASF | (OTCQX:OTCQX:BASFY) | 0.92% |
| Morgan Stanley | (MS) | 0.92% |
| Omega Healthcare Investors Inc | (OHI) | 0.91% |
| Senior Housing Properties Trust | (SNH) | 0.88% |
| Texas Instruments Incorporated | (TXN) | 0.87% |
| Intel Corporation | (INTC) | 0.87% |
| Wirecard AG | (OTCPK:WRCDF) | 0.80% |
| Spectra Energy Partners, LP | (SEP) | 0.78% |
| Advanced Micro Devices, Inc. | (AMD) | 0.76% |
| General Motors Company | (GM) | 0.75% |
| Alibaba Group Holding Ltd | (BABA) | 0.74% |
| BP | (BP) | 0.73% |
| Sixt | (OTC:SXTSY) | 0.72% |
| Royal Bank of Canada | (RY) | 0.72% |
| Tableau Software Inc Class A | (DATA) | 0.66% |
| Ares Capital Corporation | (ARCC) | 0.63% |
| JPMorgan Chase & Co. | (JPM) | 0.63% |
| Momo Inc (ADR) | (MOMO) | 0.63% |
| General Mills, Inc. | (GIS) | 0.63% |
| Bayer AG | (OTCPK:OTCPK:BAYZF) | 0.62% |
| Target Corporation | (TGT) | 0.58% |
| Allianz SE | (OTCQX:OTCPK:AZSEY) | 0.58% |
| Facebook, Inc. Common Stock | (FB) | 0.57% |
| Drillisch | (OTC:OTC:DRHKF) | 0.57% |
| HUYA Inc - ADR | (HUYA) | 0.55% |
| Nike Inc | (NKE) | 0.54% |
| Walt Disney Co | (DIS) | 0.49% |
| Exxon Mobil Corporation | (XOM) | 0.48% |
| Stag Industrial Inc | (STAG) | 0.47% |
| Pfizer Inc. | (PFE) | 0.46% |
| Realty Income Corp | (O) | 0.46% |
| Starbucks Corporation | (SBUX) | 0.45% |
| Pebblebrook Hotel Trust | (PEB) | 0.44% |
| Fresenius SE | (OTCQX:OTCQX:FSNUF) | 0.43% |
| CoreSite Realty Corp | (COR) | 0.43% |
| Citigroup Inc | (C) | 0.42% |
| Albemarle Corporation | (ALB) | 0.41% |
| IQIYI Inc | (IQ) | 0.40% |
| Starwood Property Trust, Inc. | (STWD) | 0.35% |
| QTS Realty Trust Inc Class A | (QTS) | 0.35% |
| Teekay Tankers Ltd. | (TNK) | 0.34% |
| Centurylink Inc | (CTL) | 0.34% |
| Colgate-Palmolive Company | (CL) | 0.33% |
| EQT Corporation | (EQT) | 0.33% |
| Walgreens Boots Alliance Inc | (WBA) | 0.31% |
| Uniti Group Inc | (UNIT) | 0.30% |
| Lanxess AG | (OTCPK:LNXSF) | 0.29% |
| Kinder Morgan Inc | (KMI) | 0.28% |
| Enterprise Products Partners L.P. | (EPD) | 0.28% |
| Osram | (OTCPK:OSAGF) | 0.26% |
| Macquarie Infrastructure Corp | (MIC) | 0.25% |
| Vonovia | (OTCPK:VONOY) | 0.24% |
| Nextera Energy Partners LP | (NEP) | 0.24% |
| JD.Com Inc(ADR) | (JD) | 0.23% |
| Blackstone Group LP | (BX) | 0.21% |
| Activision Blizzard, Inc. | (ATVI) | 0.20% |
| Dominion Energy Midstream Partners LP | (DM) | 0.18% |
| MediGene AG | (OTCPK:MDGEF) | 0.18% |
| Weibo Corp (ADR) | (WB) | 0.18% |
| Fresenius Medial Care | (FMS) | 0.18% |
| Apollo Commercial Real Est. Finance Inc | (ARI) | 0.13% |
| Energy Transfer Equity LP Unit | (ETE) | 0.13% |
| Apollo Investment Corp. | (OTC:AINV) | 0.13% |
| Hi-Crush Partners LP | (HCLP) | 0.12% |
| DHT Holdings Inc | (DHT) | 0.12% |
| Shell Midstream Partners LP | (SHLX) | 0.12% |
| Brookfield Infrastructure Partners L.P. | (BIP) | 0.12% |
| General Electric Company | (GE) | 0.11% |
| Meet Group Inc | (MEET) | 0.11% |
| Atlassian Corporation PLC | (TEAM) | 0.11% |
| SUPERVALU INC. | (SVU) | 0.10% |
| Incyte Corporation | (INCY) | 0.08% |
As always, I hope that you find this update interesting and relevant. The biggest inspiration for me is reading these updates from other authors and following their progress over the years. Compared to them, I am still really at the beginning of my journey, and I would appreciate if you want to follow/continue to follow my journey as well. I hope to inspire many more readers to also start and share their journey.
Author's note: If you enjoyed this article, the only favor I ask for is to click the "Follow" button next my name at the top of this article. This allows me to develop my readership so I can offer my opinion and experiences to interested readers who may not have received them otherwise. Happy investing :)
Disclosure: I am/we are long ALL STOCKS MENTIONED. I wrote this article myself, and it expresses my own opinions. I am not receiving compensation for it (other than from Seeking Alpha). I have no business relationship with any company whose stock is mentioned in this article.
Editor's Note: This article discusses one or more securities that do not trade on a major U.S. exchange. Please be aware of the risks associated with these stocks.