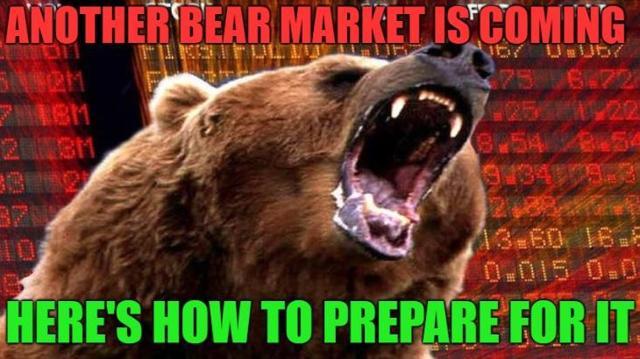 (Source: imgflip)
Note that due to reader requests, I've decided to break up my weekly portfolio updates into three parts: commentary, economic update, portfolio summary/stats/watch lists. This is to avoid excessively long articles and maximize the utility to my readers.
This week there is no economic or portfolio update because I'm on vacation with my family over Labor Day Weekend.
----------------------------------------------------------------------------------------
Given that the last two bear markets have seen stocks plunge by 50% or more, it's understandable that many investors are nervous that stocks (SPY) (DIA) (QQQ) might crash again. That's especially true now that we're in the longest bull market in US history, and the financial media continues to provide us with plenty of prophets of doom that boldly declare a major market crash is inevitable.
While the risks of a recession and the bear market that inevitably accompanies it remain very low today, eventually a downturn in both the economy and stock market will happen.
So let's take a look at what economic and market history can teach us about what the next recession is likely to look like. More importantly, find out why fears of a 50+% market crash are likely overblown, but what you can do to prepare your portfolio for when the bears finally do run wild on Wall Street.
The Next Recession Likely Won't Be As Bad As The Last One
Bear markets (when stocks fall 20+% from all-time highs) tend to only occur during recessions. The Great Recession was one of the most traumatic events in our nation's history. It's thus understandable that many people fearing the next economic downturn will be a repeat, with disastrous ramifications for employment, personal finances, and our portfolios. The good news is that the Great Recession was not a typical economic downturn.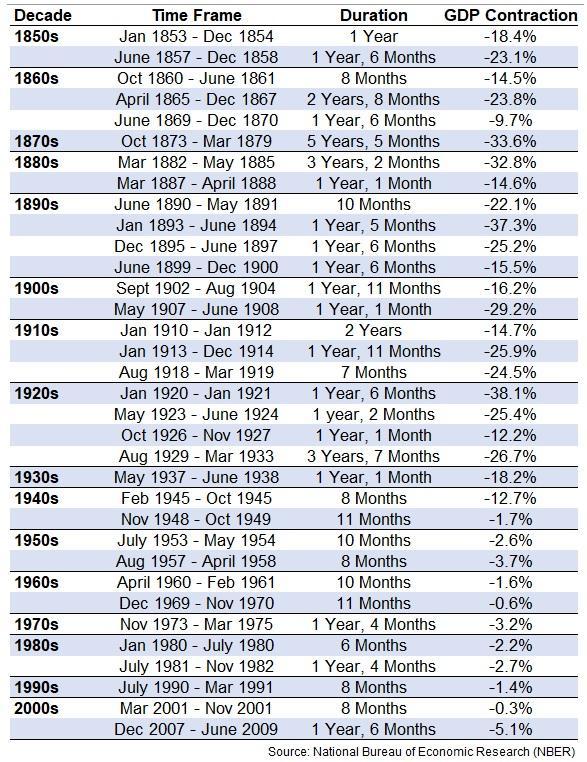 For example, according to the National Bureau of Economic Research, the Financial Crisis triggered the worst recession since 1945. And that 1945 downturn was caused by massive decreases in government spending related to the end of WWII. In fact, excluding financial crisis induced downturns, the 10 recessions of the modern age (post WWII) has averaged 10.4 months in duration and saw GDP contract a maximum of 2%.
This is because the more active Federal Reserve has managed a decent job of smoothing out economic cycles though its use of counter-cyclical monetary policy. This is why we haven't had a repeat of the Great Depression or early periods of economic contraction of 20+%.
Why am I not worried about another financial crisis? Because the US financial system has become far more conservative since the Financial Crisis. That's both due to stricter regulations (Dodd Frank and Basel III internationally), but also because most strategically important financial institutions or SIFIs (too big to fail banks) are still haunted by the crash of 2008-2009.
For example, during the housing bubble subprime loans were bundled by Fannie (OTCQB:FNMA), Freddie (OTCQB:FMCC), Ginnie Mae, and private banks into mortgage backed securities or MBS. These are sold to hedge funds, pension funds, insurance companies, banks, and sovereign wealth funds. Basically anyone looking for a solid source of income, derived from recurring mortgage payments.
Mortgage lenders earn fees when they make a loan, and so they had the incentive to generate as many new mortgages as possible. These could then be sold to MBS originators, so that the mortgage loan could be recycled in a lucrative chain of ever-expanding loans. Unfortunately, when qualified borrowers ran out (with good FICO scores and that could afford 20% down payments), subprime loans such as the infamous 2/28 subprime adjustable-rate mortgage (ARM) were introduced.
These offered a low 2-year teaser interest rate that reset later to a much higher lever that many home buyers couldn't afford. As long as they could sell the house within 2 years at a profit, the mortgage could be paid off and all would be well. But when housing prices stopped rising (home builders produced massive oversupply and interest rates rose sharply), then the entire house of cards collapsed. Of course, the fact mortgage lenders were also making NINJA loans (no income, no jobs, no assets) to people with no business buying a home also contributed to the eventual crisis.
Today things are very different. For one thing the number of MBS organizations from private sources has fallen from 50% in 2006 (the height of the speculative madness) to 5% today.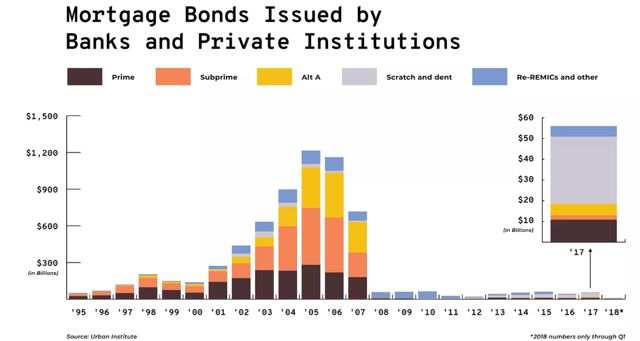 (Source: curbed)
That means 95% of all MBS are issued by Fannie, Freddie, and Ginnie. The qualified mortgage provision of the Dodd-Frank act (went into effect in 2014), prohibits the bundling of unsafe mortgages. Specifically, they require strict debt/income ratios that ensure that no more subprime loans get labeled A or higher and sold to unsuspecting investors. Basically, home lending has become so strict that even some qualified buyers can't get mortgages, and as a result foreclosure rates have fallen to 0.6%, an 11-year low.
Now it's true that subprimes MBS still get made, but only by small financial firms and in very modest amounts. For example in 2006 $933 billion subprime MBS were sold to investors. In 2017 it was $5.6 billion, a 99.4% decrease. And what about MBS based derivatives? The things that Warren Buffett called financial "weapons of mass destruction". Well those have pretty much disappeared from the balance sheet of all major banks.
The point is that the Great Recession was caused by dangerous speculation by every level of the world's capital markets. When these toxic loans and their derivatives imploded, it cut off liquidity to businesses all over the world, thus risking a complete economic collapse.
Do dangerous loans still exist today? Sure, there are plenty of smaller companies making subprime loans in the form of credit cards and auto loans to people who can't make their payments. But these are not anywhere near the size necessary to trigger another financial meltdown. But just to make sure that the Financial Crisis doesn't repeat the Fed runs annual worst case scenario stress tests to simulate a worse global recession that what actually happened in 2008-2009.
This year's results simulated: negative 7.5% GDP growth, 10% unemployment, a 65% crash in the stock market, and a 30% drop in housing prices. Even under such an extreme economic crash all 35 SIFI banks passed, even modeling a recession lasting 27 months. For context the Great Recession lasted 18 months that the last one to last 27 months or more was the original Great Depression (1929 to 1933).
Which is why I'm confident the next recession is likely to be far more modest, resulting in a 1% or 2% decrease in GDP, rather than the massive shock we saw in 2008-2009. Okay, so maybe the next economic downturn won't be a disaster. But the 2000 tech crash was still a huge crash despite happening during the mildest recession in history (-0.3% GDP decline over 8 months). So doesn't that show that investors still have good reason to fear a major crash? Well when we examine the historical record here too we find little reason to believe the next bear market will look anything like the last two ones.
What The Average Bear Market Looks Like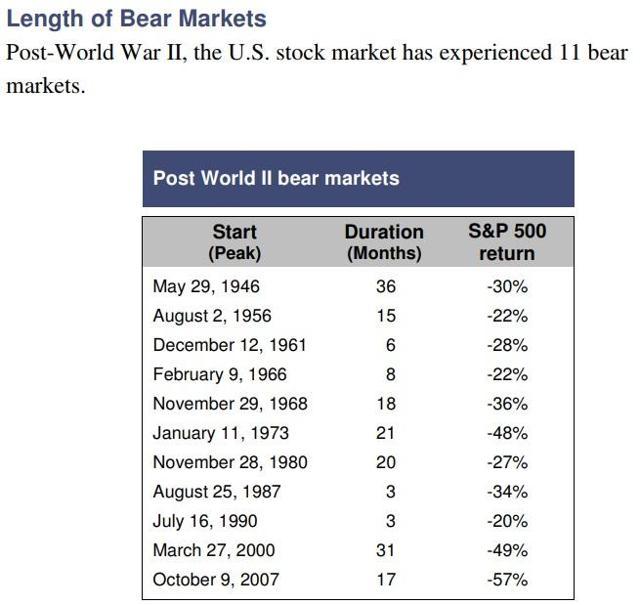 (Source: Moon Capital Management)
Since WWII, there have been 11 bear markets. On average, the S&P fell a max of 33.9% over 16.2 months.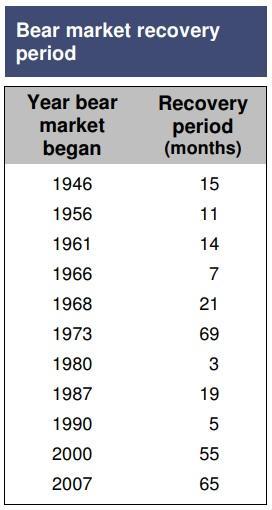 (Source: Moon Capital Management)
The median time it took for the stock market to recover to fresh all-time highs was 15 months, with the average being 25.8 months. Or to put another way, since WWII, even when factoring in the worst financial crisis since the Great Depression, stocks have usually fully recovered all their losses from a bear market in 2 years, and usually less.
But what about 2000 and 2007 when the stock market took an average of 5 years to bounce back? Well again, the Financial Crisis is a whole different kind of beast, and unlikely to repeat. But what about the tech bubble crash? Surely, Amazon (AMZN) and Netflix (NFLX) soaring to the heavens this year is a sign that we're in another bubble and likely for an epic stock market collapse right?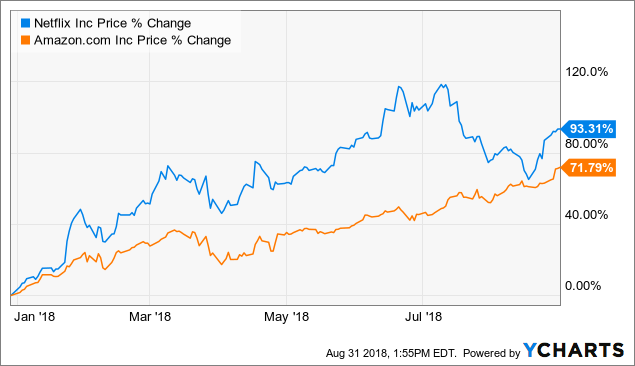 NFLX data by YCharts
Well actually, no. Yes, individual stocks might be overvalued, and some even arguably in a bubble. But let's take a look at the valuations the market was trading at before bear markets began.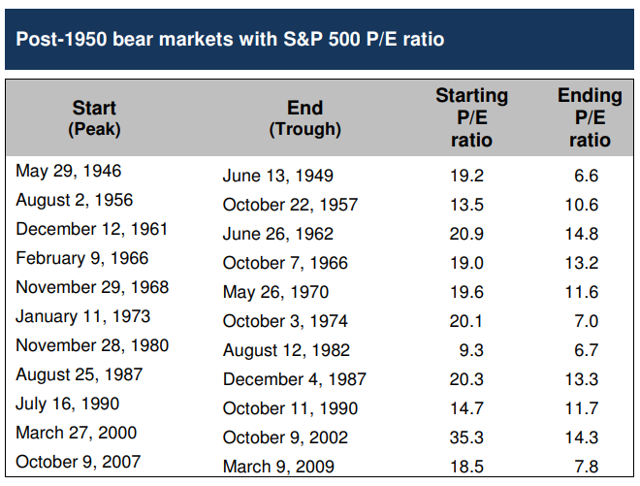 (Source: Moon Capital Management)
In 2000, the S&P 500's trailing P/E peaked at 35.3, the highest point in US history. What about other bear markets?
72% started with market P/E above 15.
55% started with P/Es between 18 and 21.
Severe bear markets (30+% declines) never occurred unless the market's P/E was above 18.
Mild bear markets can occur with P/Es as low as 9.3.
Note that P/E ratios are not a great way to predicting recession. However, it is true that when the market's P/E gets above 18 then the risk of a major bear market is elevated.
S&P 500 TTM PE: 25.1
S&P 500 Forward PE: 17.1
S&P Average Yield Since 1871: 15.7
S&P Median Yield Since 1871: 14.7
S&P 500 5-Year Average: 16.3
At first glance, you might look at the market's trailing P/E ratio, which is the second highest level in history, and concluded the market is doomed to another 50+% crash. But remember that tax reform means that corporate earnings will be permanently higher, meaning that the TTM P/E fails to account for 20% EPS growth in 2018 and 10% expected growth in 2019.
This means that a far more accurate measure for now is the forward P/E ratio, which is just 17.1. Is that elevated by historical standards, including the last 5 years? You bet. But remember that never once, in the last 72 years, has a bear market of 30+% severity ever started with a P/E below 18.
Now could the market melt up and get us into that danger zone? Obviously the answer is yes. In fact, certain market historical trends say the S&P 500 is potentially set to rally about 20% through the end of 2019. That would likely be sufficient to push up 2019's TTM P/E to above 18 and cause investors to worry that the next bear market might result in a 30+% drop. But my point is that barring another financial meltdown, or the market's multiple getting back over 30, another 50+% crash is unlikely.
But that being said another bear market is as certain as the sun rising each day; it's only the timing that's uncertain. So how do you go about preparing your portfolio to handle one?
How To Prepare For The Next Bear Market
There are good ways and terrible ways to prepare for a bear market. The worst thing you can do is try to time the market by selling all your stocks just because you think a bear is imminent. That's for three reasons.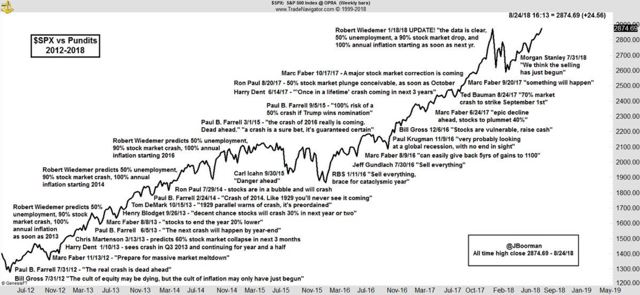 (Source: Marketwatch)
First, NEVER assume a bear market is coming just because some "expert" in financial media says so. As you can see, since mid 2012, dozens of bold predictions of an imminent crash have been made, and none have come true.
What about the market hitting a new all-time high? According to Ritholtz Wealth Management's Josh Brown (the Reformed Broker), the Dow Jones Industrial Average has averaged one new record high per month over the past 100 years. In fact, if the market just hit a new record high, there's a 90% change of another one within four months. As Brown explains:
"If you have this 'Gambler's Fallacy,' where you see a new high and your immediate reaction is, 'Well, that's the top,' it literally works in the opposite direction." - Josh Brown
That's because the stock market naturally goes up over time, due to a growing economy and rising corporate earnings.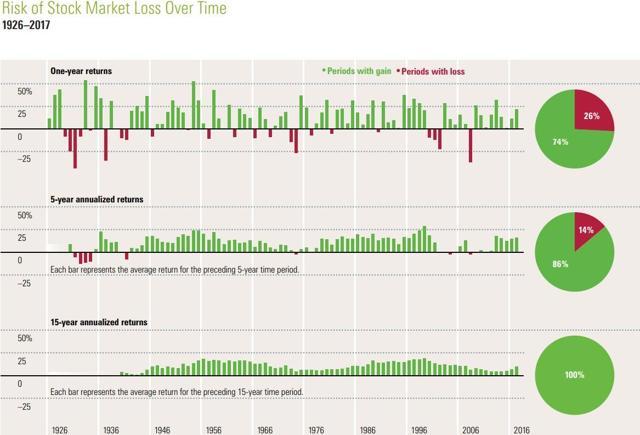 (Source: Morningstar)
For instance, since 1926, the chances of the market rising in any given year has been 74%. Okay, so maybe record highs aren't a clear sign to bail on stocks, but surely, it's still a good idea to try to get out before a recession and bear market right?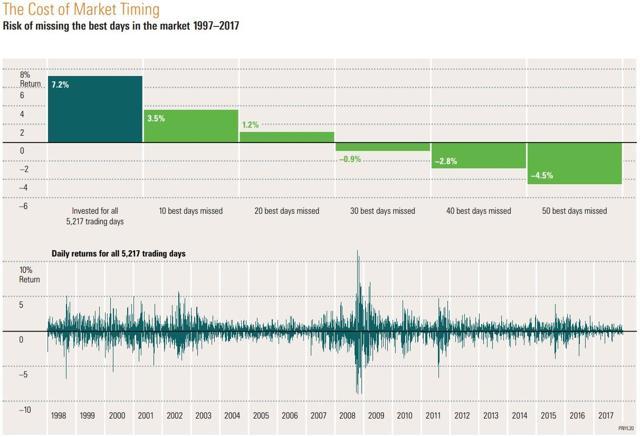 (Source: Morningstar)
Actually, it's a disastrous idea that has cost countless investors a fortune. That's because the market's incredible wealth compounding over time mostly comes from just a handful of its best performing days. For example, since 1997, the market's best 30 days (less than 0.6% of trading days) have accounted for slightly over 100% of gains over the past 20 years. If you missed the market's best 50 days (just 1% of trading days) then you would have lost 60% of your money over a 20-year period. And according to JPMorgan (JPM) Asset Management most of the market's best days come within two weeks of its biggest single day losses.
That means to actually market time profitably means not just selling and waiting for the next bear market to hit (and somehow timing the bottom). It requires becoming a day trader during the very time of peak panic and market volatility that investors are so trying to avoid. But that just can't be! Surely, just sitting in cash and waiting until the next bear market comes will be more profitable than blindly buying and holding! It's just common sense!
Well here's how the average retail investor has done, thanks to their terrible attempts at market timing via this "common sense" approach.

Over the past 20 years, the average annualized total return for investors has been 2.6%, just 0.5% above inflation. For context being 100% in a diversified bond ETF would have achieved about double that return. In fact, there's not a single asset class that didn't do better than the average investor over the past 20 years, which represents half an investing lifetime.
Okay, so if bear markets are totally unpredictable, yet inevitable, and we shouldn't try to time the market, then how on earth do you protect yourself from one? Well that's where good risk management and asset allocation comes in.
This means having the right mix of stocks, bonds, and cash equivalents for your individual risk profile, time horizon, and investing temperament. For instance, here's some model retirement portfolios that Charles Schwab (SCHW) recommends to its clients.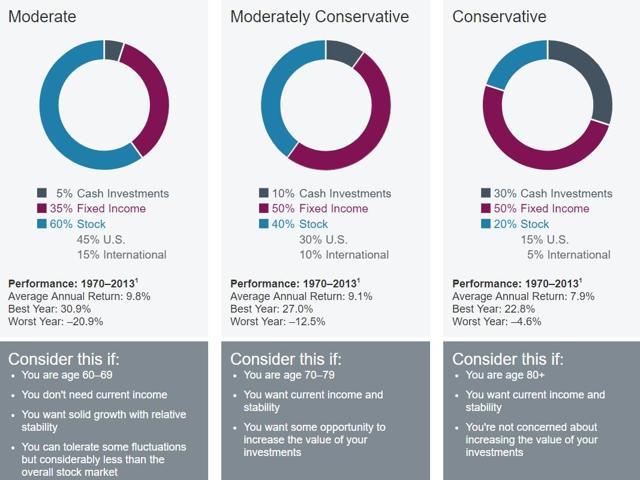 (Source: Charles Schwab)
Note that even for highly conservative retirees, Schwab always recommends owning some stocks. Even those aged 60 to 69, on the brink of retirement or already not working, should likely be 60% in stocks. The key is the cash and bond positions.
The bonds provide regular and safe income (as do blue chip dividend stocks) while the cash position is what you can draw on while you wait for the market to recover. Again, that's usually within 2 years or less. If you want to play it very conservative, you can maintain enough cash for 3 or even 4 years. To nail down what asset allocation is likely right for you, consult a certified financial planner, specifically a fiduciary, fee only one. That means they are legally required to think about your best interests and aren't getting kickbacks from fund companies to recommend certain high fee products.
Bottom Line: Bear Markets Are Unavoidable But The Next One Isn't Likely To Cut The Market In Half
It's natural to fear major portfolio declines. And after a decade of mostly steady and rapid market gains, many investors have become complacent or forgotten what a bear market feels like. This puts many people at risk of making very poor and emotion-driven portfolio decisions when the next recession and bear market finally does strike.
The good news is that when we analyze economic and market history, we find that a repeat of the last two 50+% market crashes are unlikely to repeat. But that won't necessarily help if you need to withdraw money at an unlucky time. This means that good risk management is necessary to help you both sleep well at night during the next downturn, as well as achieve your long-term financial goals.
That doesn't mean market timing, which has been shown over decades of market studies, to be all but impossible. Rather good asset allocation, tailored to your individual risk profile and investing temperament, is the right way to avoid very costly mistakes during the next bear market. That's how you can use the market's incredible wealth compounding power to maximize the chances of achieving your long-term financial goals.