I swear, the last thing I remember was lying down to rest my eyes just as the first half was ending, and now I find that we are already into the second half. Looking at the stats for the first half, the Bottom of the Barrel Club certainly earned their place once again, and the second half projections are not looking like much of an improvement, unfortunately.
The kickoff for the second half has been muffed badly as far as BOTB Club stocks go. Without going into any great detail in this article since the 3Q is not yet finished, the Club is - (15%) as a whole since 6/30, once again succumbing to a market that still loves to play "whack-a-mole." Companies outside the Club were down - (4%) overall, as the market picked on the weakest performers again.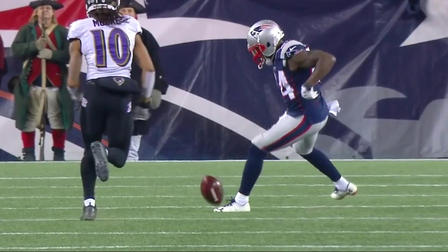 Source: NFL.com
Speaking of the weakest performers in the 3Q through Aug. 31, Gastar (NYSEMKT:GST) has led the pack, - (83%). EP Energy (NYSE:EPE) and Sanchez (NYSE:SN) were both down more than - (40%). Legacy (NASDAQ:LGCY) and Abraxas (NASDAQ:AXAS) were both down more than - (20%), and Chesapeake (NYSE:CHK), Jones (OTC:JONE), HighPoint (NYSE:HPR), Eclipse (NYSE:ECR), Approach (NASDAQ:AREX), and California Resources (NYSEMKT:CRC) all down more than - (10%). Only Contango (NYSEMKT:MCF) and Denbury (NYSE:DNR) have notched gains of more than +10% during the same period. Actually, in the past few days, the numbers have improved somewhat, so we will see what Sept. holds.
Restructuring Activities
Before jumping into the statistical overview for the 2Q, there have been a few more transactions reported. These will be described in more detail after the close of the quarter but summaries are provided below. In addition, several recent articles have more detailed discussions of recent activities, including
#18-3: Still Seeking To Advance Through The Knockout Stages
#18-2: The Market Plays 'Whack-A-Mole
Enduro Resources became one of the few companies to go through a liquidation of its assets in Chapter 11. Enduro is not a member of the BOTB Club, but two companies who are, Comstock (NYSE:CRK) and Mid-Con (NASDAQ:MCEP), purchased assets from Enduro after acting as stalking horse bidders for the properties in the Haynesville ($30 mm) and Wyoming ($5 mm) packages respectively.
As a backstory, Enduro was formed by a well-known Ft. Worth father and son, Jon, and Jonny Brumley. Jon was CEO of Southland Royalty before he left to found Cross Timbers Oil, which became XTO Energy. He then became CEO of Mesa Petroleum (now Pioneer Resources) and later founded Encore Acquisition Co., which was sold to Denbury Resources for $4.5 billion in 2010.
Enduro attracted $200 million in equity financing from Riverstone, a large private equity firm and subsequently borrowed another $100 million from banks to acquire properties. Despite one attempt at restructuring its debt a couple of years ago, the parties decided that liquidation was the better route to go, and the properties brought in less than was owed to creditors.
Most interesting to me, and somewhat humorous, was Enduro's statement in their filing:
Like many other upstream energy companies, the Debtors did not anticipate in the early part of this decade that they would eventually succumb to the demands of repaying the capital they borrowed to invest in their exploration and production activities."
I'm not sure I've seen that acknowledged or expressed so succinctly, but the statement is an accurate depiction of the attitude that still pervades so many E&P managements, that debt will somehow always be able to be repaid out of new debt offerings, even when the assets are no longer capable of supporting that level of debt. Repay your debt? Unthinkable!
Even though a private company, Enduro is a cautionary tale for investors, that even experienced management like the Brumleys (Jonny became COO of Encore when Jon was CEO), along with sophisticated investors like Riverstone, can still make mistakes. The key for Riverstone as an investor is to have enough projects to diversify their portfolio risk, and the same applies to individual investors.
Rex Energy (NASDAQ:REXX) is another example of a company that elected to liquidate rather than reorganize. As I mentioned in my previous article, REXX had a net book value of properties of $900 million under successful efforts accounting, against a nearly equivalent amount of debt. However, with an SEC value of only $500 million and cash flows of less than $90 million on an annualized basis, net book value was clearly drastically overstated.
Tudor, Pickering, Holt conducted an auction of REXX's assets (in the Marcellus/Utica), and the highest bid was submitted by Penn Energy, a private company backed by EnCap Investments, a private equity firm, for $600 million. Though substantially less than the outstanding debt, the respective parties have agreed to recommend and submit that offer to the bankruptcy court for approval at a hearing to be held on Sept. 30. Needless to say, neither preferred or common shareholders of REXX before the bankruptcy will receive anything. Secured lienholders will receive their full claim, while unsecured noteholders will end up with partial recoveries to be determined once all costs have been tallied.
PennEnergy will remain as a private company for now. It will control over 200,000 gross acres in Pennsylvania, with reserves estimated at 8.5 TCFE (20% PDP) having an SEC value of $3.2 billion ($1.7 billion PDP). It expects to have free cash flow at closing and a debt/EBITDA ratio of 2:1. Gross production will be 700 MMCFPD (450 MMCGPD net) from 329 producing wells. Drilling inventories are expected to be in the 20-year range.
Speaking of EnCap, another Marcellus/Utica producer they control, Eclipse Resources, is a member of the BOTB Club. ECR recently agreed to merge with Blue Ridge Mountain Resources (OTC:BRMR), in a transaction that will create a company with an enterprise value of $1.4 billion and a stock market capitalization of $900 million.
In the transaction, BRMR will first receive 230 million ECR shares (@ $1.40/share equivalent to approximately $320 million), giving ECR a total of 540 million shares outstanding. At closing, ECR will affect a 1:15 reverse stock split, giving it a share total of 36 million shares going forward. ECR shareholders will hold 57.5% of the combined company and BRMR shareholders 42.5%.
ECR will own over 220,000 net effective acres, with 735 future drilling locations. Proved reserves are estimated at 1.8 TCFE, with annual EBITDA of approximately $300 million and a debt/EBITDA ratio of 2.1:1, lower than all of its peer group members (Antero, Chesapeake, Equitable, Gulfport, Range, and Southwestern).
BRMR may be better known to readers as Magnum Hunter Resources, as the company was known before it declared bankruptcy in 2016. Former creditors of MHR now own BRMR equity, and MHR management is long gone. New management came largely from the Marcellus division of Chesapeake.
This transaction is very much in line with what I have been discussing in recent articles; i.e., private companies merging into public companies as a way to create liquidity for their investors and potentially greater access to capital markets. Comstock Resources just completed their merger with affiliates of Jerry Jones, HighPoint Resources was created by the merger of Natural Gas Partners' 5th Creek Energy affiliate into Bill Barrett Corp., Talos Energy (NYSE:TALO) merged into Stone Energy, etc. This trend may well accelerate if the capital markets remain largely closed to existing public companies, as private equity firms seek potential exits.
Before leaving my discussion of ECR, I also have to note and commend them for including something in their recent presentation that I have not seen in any other companies' work. They posted both well-level ("half cycle") and corporate-level ("full cycle") IRRs on typical wells. On condensate wells with a 16,000' lateral type curve, well level IRRs are projected at 61%, while corporate level returns are 18% (vs. a 12% cost of capital). Dry gas wells achieve an 84% IRR at the well level and 22% at the corporate level.
This is a very important concept that shows why it is that companies do not achieve rates of return at the corporate level that approach anything close to what their well level projections indicated. My experience, which seems to be borne out by these numbers, is that in general IRRs in the 40-50% range are the minimum required to earn an acceptable return on capital, and yet many companies tout well level returns that are less than that in attempting to create investor enthusiasm. That is one reason why investors and analysts are underwhelmed when companies report results these days… as the last month indicates.
As far as investment considerations, ECR will likely remain stuck near its current price pending closing later this year. In the meantime, funds who need to harvest tax losses may very well sell ECR, which at $1.40 is also in the penny stock currently. With a 1:15 reverse stock split also pending, short sellers and others may also target the company since companies who conduct reverse splits often sell off sharply after the split occurs. For my money, I would only view ECR as a short-term trade currently and would wait until after the transaction closes to initiate an investment position, if at all.
Gastar remains one of the stranger situations in the BOTB Club currently. Around 18 months ago, Ares, a private equity firm, took out GST's debt by advancing over $400 million and taking a significant chunk of equity. The banks had previously told GST they might be declared in default under their existing agreements, so GST was undoubtedly happy to find someone to invest in their company, even if it was a "priming" transaction that placed Ares above other security holders in GST's capital structure.
Fast forward to 2018, and by now, GST had drilled a series of wells with a joint venture partner that were, to put it mildly, "underperformers." The company brought in new technical management hoping to improve their completion methods, and it sold off producing assets to fund its development program. The board sacked the former CEO, paying him a generous severance for what might have been called by many a "termination for cause," and then Ares delivered an unexpected letter to the board seeking to have the company conduct a sale/auction or, failing that, to declare bankruptcy… despite there being no current event of default and none on the immediate horizon.
GST has now opened itself to any and all comers to evaluate and submit offers for financing, mergers, asset deals, joint ventures, etc., with indications of interest to Tudor, Pickering, Holt by Oct. 1. Payments to creditors approaching $450 million and $150 million in preferred liquidation value are certainly targets for bidders, and common shareholders would likely participate only if valuations exceed those totals and/or are necessary to approve the transaction.
With 69,000 net acres, a price per acre of $6,500 would be necessary to repay Ares, while a price of $8,700/acre might get preferreds their liquidation value (vs. $6,600 or so to get to the current preferred stock price of $3.50). Hopes spring eternal for a bid comparable to other recent sales in the $8-10,000/acre range. The STACK generated a great deal of interest from PE firms in 2017 after Permian lease bonuses became so expensive, so it will be interesting to follow the GST process to gauge a current market value. I own GST.A essentially as an option on a price greater than its market price by October, an option that could expire worthless at some point but may also represent good value.
Jones Energy will be conducting a reverse split of its common stock. The split, on a 1:20 basis, will take effect after the close of business on Sept. 7, at which time, JONE will have 4.9 million common shares outstanding and, based on its current trading price of $0.33/share, an indicated price post-split of around $6.60/share. Distressed companies that conduct reverse splits to achieve regulatory compliance with minimum $1 prices rarely see their post-split prices hold; stocks under a range of $1-2 trade more as options, where prices above that require companies to withstand more rigorous valuations. Undoubtedly, JONE is hoping that its stock will hold up as a currency to enable it to convince debt holders to swap into common stock on some basis, but with almost $1 billion in debt and only $33 million in market cap, readers should expect that any restructuring will be severe and, most likely, require a dip into Chapter 11, as bondholders owning more than 80% of the bond values have formed an informal committee to deal with management.
Legacy Reserves is having their special meeting to approve its conversion into a corporation on Sept. 19. A conference to discuss the status of litigation and other matters is scheduled for Sept. 12. I will be dropping LGCY from my coverage by the end of the year to focus on companies that are more attuned to shareholders.
Energy Gulf Coast (NASDAQ:EGC) is having their special meeting on Sept. 6 to approve a transaction whereby privately-held Cox Oil will acquire EGC for $9.10/share in cash. EGC is a former BOTB Club member, EXXI, that emerged from bankruptcy in early 2017 with an indicated valuation of $30/share.
Financial Results
The main purpose for this article is to distribute financial results for members of the Club after 2Q earnings releases. In addition, as has been the case for the past couple of years, I am also including the most recent data on reserves from year-end 2017, as these tie into and can help explain results in 2018.
The data that follows has been collected from public sources I consider reliable, including SEC reports, company websites, news releases, etc. While I have made reasonable efforts to check and cross-check results, the sheer volume of numbers means there may be mistakes, particularly since the spreadsheet these are on employs formulas that could multiply the impact of erroneous numbers. Readers should use this data for screening purposes and/or identification of specific issues but should conduct their own research and analysis before making investment decisions. No specific buy/sell recommendations are made by me.
Comments I have received in the past for similar articles indicate that the data may be too dense for discussion. There is always a chance that by excluding some part of the data collection process has that result, but I think the risk of excluding some aspect of the dataset that may be important to analysis risks losing some of its importance… to me, anyway. In this way, readers can take my "research" and do their own "analysis." As readers know, I am also pretty free with my comments if questions arise.
Production and Income Statements
I often hesitate to use quarterly numbers in trying to assess a company's performance, preferring to use longer periods that might avoid the inevitable hiccups that one quarter can bring. However, for 2018, I am including data that reflects 2Q performance only, in large part because prices then were more reflective of where future prices for the remainder of 2018 might be. Also, of course, if companies are truly able to grow production, using 1Q or 1H figures might understate the potential for 2H results. In any event, the actual data is backward-looking, while the market also looks forward.
It is very important in looking at production to distinguish between the three different product streams, oil, natural gas, and natural gas liquids because actual pricing depends on which product is being sold. Production figures reported by managements, on the other hand, often refer only to 'BOEs' or 'Barrel of Oil Equivalents,' which are converted into oil on a heating basis of 6 mcf/boe, for example. With current oil prices of $70/bbl and natural gas prices of $2.90/mcf, the economic equivalency is more like 24:1. The figures in the table below show both sets of figures (with natural gas at 20:1), largely so readers will not overemphasize the impact that higher (or lower) prices may have on a company going forward.
I have highlighted the top and bottom performers (6 of each) in certain sections in green (for top) or red (for bottom) to make certain distinctions obvious, hopefully. For example, the companies with the most oil revenues as a % of total production revenues are, in descending order, Denbury Resources, Mid-Con Energy, Northern Oil (NOG), EP Energy, and California Resources. The companies with the highest % of natural gas revenues include Comstock Resources, Contango Oil, Eclipse Resources, Legacy Reserves, and Sanchez Energy.
I have to admit being a little staggered when I saw the cumulative net income/(loss) figure for 2Q of ($564) mm. After a quick review, though, it became apparent that the loss was primarily due to the impact of derivative losses of ($864) mm. Excluding derivatives, the companies reported cumulative net income of $321 mm. Great, huh?
Not exactly! You see because some companies utilize Full Cost accounting, their property base has likely been significantly impaired in prior periods. Therefore, their DD&A rate is lower than companies who utilize Successful Efforts accounting. In particular, Chesapeake and Denbury are both FC companies, so generating 'net income' is really more akin to 'recovering a portion of past losses.' FC companies should be able to generate net income by this point in the cycle; if they cannot, they are in a major heap of trouble. Of course, one-time items may impact these quarterly figures, something that factors into cash flows later on in this article.
The $/BOE figures are very informative, showing how revenues/BOE are impacted by the different categories or expenses, and ultimately, how much cash flow is available to be reinvested without incurring additional debt. Surprisingly to many, I'm sure, Denbury has the highest revenues/BOE with almost $68, much higher than Mid-Con, the second-place finisher with $60.57. Rounding out the top 6 are Northern ($56.90), California Resources ($53.88), and EP Energy ($43.84). All of those figures are based off index pricing of $74.90 for Brent Oil, $67.88 for WTI, and $2.75 for NG, roughly.
The top 6 finishers for the recycle ratio (as a % of DD&A, the presumed cost of CAPEX) are Denbury, Northern, Abraxas, Mid-Con, and Chesapeake. Like any metric, though, the context is important; companies with high debt may need to have high recycle ratios ultimately to permit repayment of debt as it comes due (through refinance or other means). The bottom finishers include Gastar, Jones, Approach, Contango, and Legacy, all indicating that improvement is necessary. A level less than 1:1 is particularly concerning.
Please remember that the data is as of June 30. Changes since that date will not show up until 3Q figures become available in early November.
[Note: All of the charts in this article are best viewed by right-clicking on the chart, clicking on 'Open image in new tab', then zooming to a proper viewing level. That tab can also be printed, but the actual spreadsheet/data is not available for distribution; sorry.]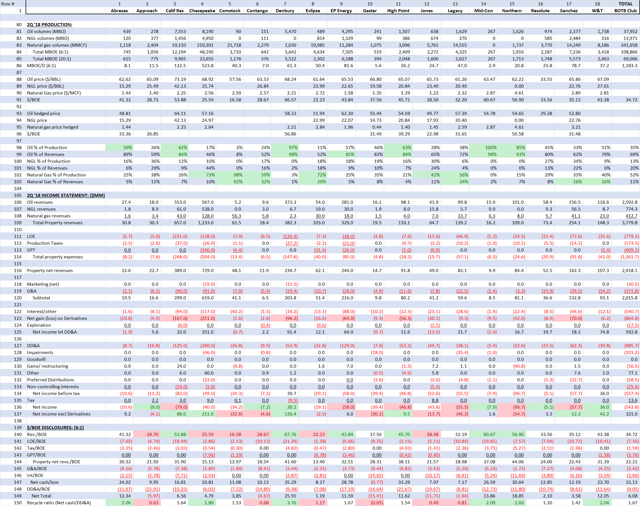 Balance Sheet and Cash Flow from Operations
Likewise, I was stunned to look at the balance sheets and cumulative impact for the BOTB Club. With almost $45 billion in assets, shareholders' equity is only $1.7 billion, and excluding preferred equity of $2.45 billion, common equity is negative by ($1.2) billion. Current account deficits of $3.2 billion and total debt (including preferred and mezzanine items) of $36 billion continue to take their toll on company balance sheets. Bank debt is only $3.8 billion of that $36 billion figure, illustrating how important continued access to capital (debt) markets may be in the coming years (2020-2022) as debt becomes due from issuances prior to the collapse of prices in 2014. Replacing $1 of debt when asset values have fallen dramatically is not an easy thing to do in any industry, much less one where assets deplete.
Fully 50% of the companies in the BOTB Club still have negative shareholders' equity, often the key to showing that debt restructuring is necessary in bankruptcy. "Balance sheet insolvencies" make for relatively easy bankruptcy filings, although obviously, companies will try to show via valuation methods that they are solvent instead… unless, of course, they would prefer to eliminate debt! Beyond the obvious balances lurk additional potential restructuring candidates, hidden in the present because of their use of Successful Efforts accounting. If adjusted to fair market value, some of those companies might well move from being apparently solvent to 'insolvent' a la Breitburn Energy (OTCPK:BBEPQ) and others.
The cash flow figures presented are 6-month figures, straight from the financials. Cash flow from operations include changes in assets/liabilities, which is not an ongoing source of cash but is nonetheless included in the GAAP calculation. Investing activities include all net CAPEX (drilling and completion, acquisitions, sales, etc.). As a result of these items, the free cash flow figure may not equate to how it is calculated by others, but since the term is not a GAAP figure, there is no set definition anyway. My point for including acquisitions/sales activity is that the source or use of cash is mostly irrelevant to the level of cash produced; a well does not know whether it has been acquired or drilled, and cash produced from a sale is just as good as cash flow produced from other sources.
On a cumulative basis, the BOTB Club generated $2.7 billion in cash flow from operations, while investing $3.5 billion. Resulting negative free cash flows of ($800) million were financed primarily with debt since the equity capital markets have been largely unavailable during 2018. The biggest cash generator was Chesapeake, with Denbury, Comstock, Gastar, W&T, and Legacy rounding out the top 6. California Resources might have qualified as well if not for substantial restructuring of its Elk Hills asset through the purchase of Chevron's (NYSE:CVX) interest and a concurrent financing of its processing plants with Ares there.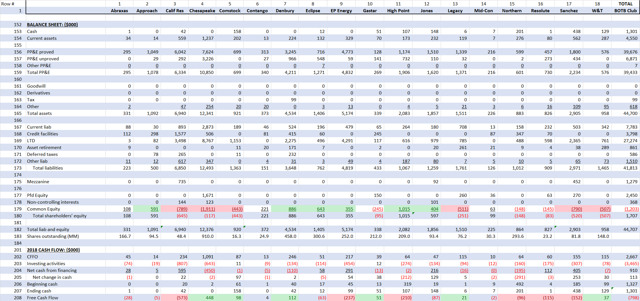 Debt and Market Metrics
One highlight of the section on debt is that it shows not only the debt/EBITDA ratio that so many analysts and bankers have come to rely on but also the debt/cash flow ratio that is FAR more critical. I'm not sure which investment banking analyst first used the term EBITDA as something that should be meaningful when it is largely not, but it has become ingrained into analytics. Companies do not make any payments using EBITDA, they can only use cash, which in rough terms is what is left out of EBITDA after taking interest (and preferred dividends) into account. That is what is left to take care of creditors, invest in CAPEX, etc. So, I emphasize cash flows of a recurring nature, which takes adjusted EBITDA less interest and compares that to debt.
But banks use EBITDA in assessing financial health, you say? Well, sort of. Bank credits often use debt/EBITDA ratios to calculate when a company is in default, but those are "maintenance" covenants, more or less bottom of the barrel financial results that force the creditors to step in. "Incurrence" ratios, though, are those metrics that healthy companies shoot for so that they can obtain new financing. Those ratios are obviously lower than the 3 or 4:1 level that represents default triggers; most companies are shooting for 2:1 according to 2Q reports.
In the chart below, companies that have been mentioned before as likely restructuring candidates stand out. Gastar, Jones, Comstock, and EP Energy in particular, as well as Sanchez, Legacy, and Approach. Abraxas, Contango, and HighPoint are approaching target levels already, rather than "by 2020" or some other future date, good news for their shareholders.
Total debt equal to 125% of SEC is concerning, although the calculations at year-end 2017 were made at prices of $51.34 WTI spot prices for oil and $2.98 Henry Hub prices for natural gas. If "normal" ratios of 40% for healthy companies and maximum ratios of 60% of SEC are applied, companies need to increase by anywhere from 100% to 200% from there by the time of refinance of unsecured debt. Prices and/or reserve increases may well do that, but it may be a very tough road ahead to get there. In the meantime, there are only so many ways companies can create secured debt without running afoul of financial analysts who realize the risks of having 100% of debt secured… if or when prices decrease.
The market metrics capture enterprise values and multiples to (adjusted) EBITDA as well as total enterprise value per flowing barrel (TEV/BOEPD). These are short hand valuations that investors and analysts often use in comparing companies and establishing net asset values. While undeveloped acreage and the number of locations also can be used as factors, those are very ephemeral to quantify and value, especially since their present value may be far enough in the future that they don't impact present values unless the company is liquidated.
Most analysts used 2018/19/20 adjusted EBITDA figures to come up with valuations. A recent institutional compilation I read had 2020 TEV/EBITDA multiples at 4 -5:1, for example. Companies with great Permian exposure may have higher multiples, but within the BOTB Club, there are none with enough acreage to create that kind of premium valuation. Especially since the number of locations corresponds to what an operator may plan to drill in its current strategy, the number can vary greatly as plans change. Of course, having the acreage in the first place is still better than not having it.
Companies with high multiples of current flowing barrels include Gastar, Northern, Comstock, Denbury, and Resolute. Whether that indicates overvaluation or merely a market perception that future growth will be coming is the question of the day. Companies with lower multiples include Eclipse, Legacy, Sanchez, Chesapeake, and Contango. Does that indicate undervaluation, or a lower expectation for future growth, or? It would be nice if the market issued memos to tell investors what it was thinking.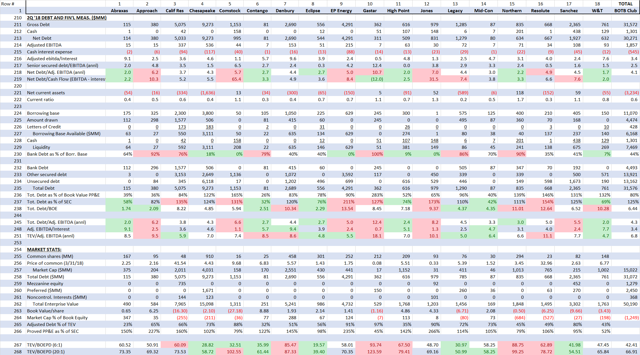 Company Macro
There is no way to do a deep dive into 18 companies, so I would suggest reading other authors' articles on any companies if interest is triggered by any of the details in the charts provided. That said, I will offer my overall take on a few companies' disclosures from 2Q.
Abraxas has sold off after noting that it encountered interference from wells being fracked to offset wells. While this may not be critical, analysts and investors alike are understandably concerned that such interference will not somehow go away, and that the risk of drainage of previous wells by new wells is high. This can be of particular concern where drilling so far has been accomplished primarily to hold acreage, while new, infill wells are being drilled currently. Drainage also could imply that spacing of wells might be tight, putting the number of potential future locations at risk. That is not a specific comment directed at AXAS but rather one that is an industry risk.
Approach's metrics look far less favorable than I thought. By slowing down its drilling program and operating within existing cash flow, it is not providing the growth that the market also expects. As a result, it has sold off, and its debt metrics make a potential restructuring (again) via a debt for equity swap with Wilks and creditors more likely, in my opinion. I am watching AREX but also waiting to see if a swap gets done before getting more serious, at least for now.
California Resources is trying to go back on the offensive with CAPEX, having monetized its Elk Hills processing assets to purchase CHV's interest in Elk Hills itself, as well as provide funds for drilling. Still, its growth from production alone is not expected to be in the range of many other, less leveraged companies. The Ares/Elk Hill deal converted a direct interest in the plant into what is essentially a non-recourse debt instrument that still gets reflected as if it is owned 100% of CRC's balance sheet, then backed out through a "non-controlling interest" one-line item in its financials, something that is easy to overlook in analysis.
Chesapeake's sale of its Utica assets to Encino for $2 billion was discussed in my last article. While it reduces debt at least temporarily, it also will be reducing reported cash flow #s by the equivalent of $400-500 million on an annualized basis. The company will be attempting to replace that cash flow by moving its CAPEX into a heavier Powder River Basin drilling schedule, expecting that may take up to a year.
The Powder River Basin has attracted a lot of interest from E&P companies seeking to diversify away from the Permian Basin only focus of recent years. In addition to CHK, public companies such as EOG Resources, Devon Energy, and Anadarko Petroleum have established sizable (400,000 acres) positions in the Powder. Private companies like Anshutz Exploration, Samson Resources, Wold Oil, Ballard Exploration and Northwoods Energy have also accumulated lease positions of over 100,000 acres, with the backing of private investors and private equity firms.
Surprisingly to many, though, might be how "hot" the Marcellus/Utica remains for transactions. In addition to the Encino purchase from CHK, the ECR/BRMR and the REXX/PennEnergy deals, Ascent Resources (a formerly bankrupt co. originally affiliated with Aubrey McLendon and now backed by Energy & Minerals Group and First Reserve) recently bought properties from CNX, Hess and Salt Fork Resources (a Riverstone-backed portfolio company) for $1.5 billion, conducting an equity raise at the same time (in the hope of going public in the near future). Another London-exchange company, Diversified Gas & Oil PLC (DGOC), has also been acquiring conventional assets in the area from companies like CNX and EQT. I expect one or more of the private companies to be candidates for an IPO if/when the market turns upward for natural gas producers.
Denbury announced a significant new Enhanced Oil Recovery (EOR) project at the Salt Creek Field in Wyoming that, if successful, will be a major undertaking that will increase production and reserves over an extended period. DNR's expertise is in doing similar projects throughout the US. Although still heavily indebted, the company has continued to restructure its balance sheet by converting debt to equity, and the market price has responded positively.
EP Energy's recent debt issuance was not a 2L security, as I may have indicated earlier. It was actually a 1.125L instrument, which has me really shaking my head. How many times can secured debt be layered into (and above) other debt before the market gets concerned (and suspicious?). Calling something secured does not work if the collateral is not there to support it, and EPE has some of the worst leverage metrics in the BOTB Club. Well, now they have a longer runway...
HighPoint Resources is an interesting, more speculative play, in part because its acreage is less developed than many other players. With that comes additional risk potentially, and the recent announcement that Colorado voters will decide in November whether to approve an initiative increasing the spacing requirements for drilling setbacks in a move that would eliminate 80-90% of future locations for all DJ Basin operators, including HPR. HPR, as well as other DJ-focused players like SRC Energy, Extraction Oil & Gas, and Bonanza Creek have sold off after the initiative was announced, and might be watched for signs indicating that the measure will likely fail.
Mid-Con Energy Partners finally posted a nice presentation that gives investors more concrete data regarding its existing projects. Although I expect that it will convert to a corporation at some point in the relatively near future and use its cash for CAPEX rather than for distributions, I will still be dropping it from my coverage by the end of the year. It is simply too small, too focused on waterfloods that do not have the upside that comes with large undeveloped tracts and, by necessity, an enterprise that focuses on high cost, end of life primary reserves that are very price-dependent. Its preferred units, effectively debt at current prices, need to be converted to common shares (at a dilution of 40% to common shareholders, to remain viable in the long term, in my opinion.
Northern Oil's presentation also leaves me shaking my head, and more than a little perturbed. As I indicated in my last article, NOG has been using its equity to swap for debt as well as properties at a rapid pace. My caution to readers was, and is, that you often have to look beyond the headline numbers to see what the real impact of such transactions is and that numbers should be looked at in a growth/share vein. NOG took the other route, touting a "100% growth" in production figure, without also indicating that it has 300-400% more shares outstanding now as it did at year-end. Production per share, therefore, declined substantially, an impact of that dilution. Debt has gone down somewhat, but the full impact of the wheeling and dealing will likely not be known until 10-Ks are filed. Very poor, misleading tactic, in my opinion.
Sanchez Energy was the only company I recall that came up well short of expectations and guidance, due to drilling problems that have been well documented elsewhere. The primary caution with SN is that their debt load was very onerous even before their "transformative" deal with Blackstone/GSO, but the assets added reside safely (for GSO) largely in an unconsolidated subsidiary that GSO essentially controls. If the assets added do not meet the (14%?) IRR hurdle rate, SN will likely lose control and/or access to those assets, which are still fully reflected in the balance sheets and financials (with offsetting non-controlling interest entries). That SN, a well-established operator, recently hired an outside consultant to come in and evaluate ways for them to improve their processes raises a few eyebrows, especially given how well-compensated SN management has been.
Market Macro
I am not sure there has ever been a time with as many cross-currents and as much uncertainty as the current environment. As I said in my 2018 preview of things to watch for, a change in OPEC's policy at its mid-year meeting was more likely than at the end of the year, and geopolitical concerns have come from many different avenues. Saudi Arabia's Aramco IPO was zombified quite a while ago (yes, they can re-animate it at any time, but it's a zombie), and yet OPEC still claims to be able to replace any production lost, whether from Venezuela, Iran, Libya or any of the other feeble producers.
Saudi Arabia's need for an Aramco IPO was lessened or eliminated by the confiscation of $100 billion in a "corruption crackdown" (or shakedown) move earlier this year. An offering of 5% of a $2 trillion Aramco IPO would have netted them... roughly the same amount. Then there is the bigger issue that valuations of Aramco were coming in at far less than the figure hoped for by the Saudis. A subsequent move to have Aramco buy a stake in SABIC, Saudi Arabia's large chemical company, might provide additional funds as well.
Why haven't oil prices increased more than they have? My short answer is that all of the things above, as well as several others, were already well known and largely considered by the market earlier in the year. The price increase from January 1 was in anticipation of such events, and the decreases after the news from the OPEC meeting was a not-uncommon "sell the news" reaction. Right now, the market does not appear to know quite what to do about the Iran sanctions and the global trade war developing. Far more impactful than simple supply and demand forecasts now would be major demand destruction arising out of any of those events. For me, that is the most important factor to watch for in terms of potential downside risks.
The market appears to be approaching balanced supply/demand and storage figures, as adjusted by me to exclude the artificial impact of overproduction from 2014-2017. Personally, I think that Saudi Arabia and others can squeeze another 1-1.5 million barrels of oil per day out of existing fields, and the Saudis supposedly have another 300 million barrels in storage that they do not need for domestic usage. Two fields the Saudis jointly hold with Kuwait that have been shut in over legal disputes could be brought on production in 2019 to produce upwards of 500,000 BOPD, and if the US releases volumes from its own SPR, the net impact will be to delay price spikes until 2019 or beyond… certainly beyond the midterm elections.
One of the best moves that the Saudis made was to reduce imports to the US beginning in the summer of 2017. Not coincidentally, the price of oil began to rise at the same time. Continuing to supply the US had given the markets the impression that the markets were still oversupplied, but given the more transparent US storage market, the import reductions served to show a reduction that was not apparent in the more opaque foreign storage figures. Having seen storage levels in the US decline to more normal levels recently, the Saudis have begun increasing imports, roughly in line with their continued statements to make sure that markets are made more steady. The reduction in imports made possible what the quota cuts had not achieved, even with the collapse of Venezuelan production.
What about the huge underinvestment in recent years? That's one of my favorite statements from OPEC that is both true and misleading. Yes, $1 trillion in CAPEX was not invested from 2014 on. However, just as the lack of investment in the US brought costs down, so too on the international front; day rates for offshore rigs have plunged by 50-75%, so the efficiency of future CAPEX should be greatly improved. According to Rystad Energy, project FIDs are increasing rapidly, possibly not quickly enough for 2020, but the nature of such projects is changing also. The lead times have been lessened, the use of subsea tiebacks and other factors are shorter now than they ever have been, and the number of projects projected to be drilled is increasing quickly. Not enough to cure the longer-term issues of smaller discoveries and increased demand in years out, but certainly possible in the short term. More than anything, though, the markets know that all it requires is a tweet to change things to bring back Iran and China to the markets… Venezuela not so much.
Closer to home, only the transportation bottlenecks in the Permian can come close to stopping increased oil volumes, and pipelines underway will be giving relief towards the second half of 2019, if not slightly sooner. The number of DUCs in the Permian illustrates how the market is delaying completion activity until prices are higher and/or constraints are lifted. I don't think I've seen a single company show actual results that are less than projected by their type curves, but, of course, early flush production can be misleading; IRRs cannot.
Finally, one regulatory change may begin to creep into the market's field of vision. The International Maritime Organization (IMO) has adopted rules that severely limit the use of high sulfur fuel oil in marine applications. Existing fuels will have to be modified to comply with the new rules, new scrubbers and/or emissions equipment will need to be installed, and/or alternative fuels such as LNG will need to be used. Switching from current high sulfur fuels to something lower may sound easy, but the timing of the collapse of demand for the former and the surge in demand for the latter may create significant disruptions in the supply chain for petroleum products.
Natural gas storage being this low should be great for producers, right? Well, maybe so. In the very short term, additional pipeline capacity out of the Marcellus/Utica and Permian will be added, maybe not in time to prevent price spikes over the winter if it is brutally cold, but enough to serve markets in most scenarios. In the longer term, producers still have enough reserves/locations to continue to increase production well beyond existing levels. Exports to Mexico are already being handled for now with LNG and new pipelines from the Permian, and exports to foreign ports from Cheniere's facilities are beneficial to LNG and its purchasers, but much less so to producers who still have no pricing power.
Several foreign LNG projects have come online in 2018, bringing supplies from Russia and Australia to Asian markets. Qatar has also recently reached an agreement with China to supply them with LNG from North Field, the largest natural gas field in the world, which has been shut in for technical studies since the early 2000s. Although demand continues to grow, supplies do as well, and trade wars may increase alliances among parties outside the US that restrict access of US LNG. European markets for US LNG, likewise, may be impacted by Russian supplies via Nord Stream I and II, resulting in compressed margins for US suppliers. Current foreign prices permit profits for purchasers of LNG, but by the time costs are taken into account, producer wellhead prices remain restricted.
Given all of this, I wake up each day and read as much as I can about what is going on with respect to markets, and I make my decisions about investments or trades based on my views as of any given time. Even holding onto a stock is essentially a buy/sell decision on a daily basis; by holding any stock, investors are making the decision that it is worth buying at that level. Personally, I watch for certain volume and price movements to occur to confirm my decision because the market is way smarter than me. Preservation of capital is critical, so taking small losses is part of an overall strategy to maximize net profits, for me at least. I wish I could say that this isn't still a trading market, but I think it is, at least for these companies.
What trends should readers be on the watch for besides oil and gas product price trends? Well, certainly one area is the continued ascension of private equity as prime market movers. Some sources suggest that with the evaporation of equity markets, in particular, private equity is now drilling almost 50% of Permian wells, and their participation in acquisition and divestiture activity has been noted in almost 80% of deals in 2018. Certain examples have been cited above, but the private equity landscape is vast, something like 475 portfolio companies and over $100 billion in capital available. While many investors think that private equity will come to rescue (bail out) their company and assume legacy debt, most private equity companies will be looking at any opening in the capital markets to come forward with IPOs of their own... free of such debt. So far, Berry Petroleum is the only IPO to date in 2018 that is not a SPAC or a mineral company, as far as I recall.
Will the Permian producers continue to sell off in the face of pipeline constraints? This is not something that affects the BOTB Club per se (Approach is the only pure Permian company) but it is one theme worth watching. Potential selloffs in small- to mid-caps like Earthstone, Callon, Parsley, Jagged Peak, Matador, Laredo and even Halcon might prove attractive to larger companies at some point due to valuation. Pipeline constraints should hit in 4Q and into 2019, affecting pricing volumes both, some companies more than others. Watchlists of basin participants help in monitoring these stocks.
Sorry to those who might want a more extended discussion of oil and natural gas markets, but I intended this mostly to get the 2Q financial data out. I may still put out something in a short while, after the traders return to their turrets from the Hamptons and began moving again… or not, if there isn't enough interest. Or feel free to discuss issues among yourselves in the comment section below.
Conclusion
Financial performance during the 2Q of 2018 was less than stellar for the BOTB Club, as the market selloffs since that time, and after earnings, indicate. Companies remain overly leveraged, and while liquidity issues have not reared their head except in situations long anticipated and noted in prior articles, the road ahead is still pretty hazy. Companies who can find merger partners willing to take on legacy debt, like Comstock, may be able to survive without additional capital market access, but most companies in the BOTB Club are not likely to attract the likes of Jerry Jones to bail them out. While the restructuring pace has actually picked up this year, it is still likely not over, and caution needs to be maintained to avoid undue risk of loss, in my opinion. Maybe the 4Q will prove to be a more positive environment for investors, but even there I would caution investors to remember that companies who have experienced sharp losses during the year may be sold in the October-November tax year-end timeframe that many funds and institutions abide by. Always something…
After-Credits Material
You know how, if you stay through an entire movie, past the credits, there is often a short clip, known as an "after-credits" scene? Well, in this article I am also including data about company reserves in the chart below. This data is all effective 12/31/17 and would have been included in the article itself, along with commentary, if the article were not so long to begin with. Despite the fact that I see little discussion on SA about reserve data, historical finding costs, reserve replacement, etc., these data can also be very important in analyzing companies. Past is often preluded.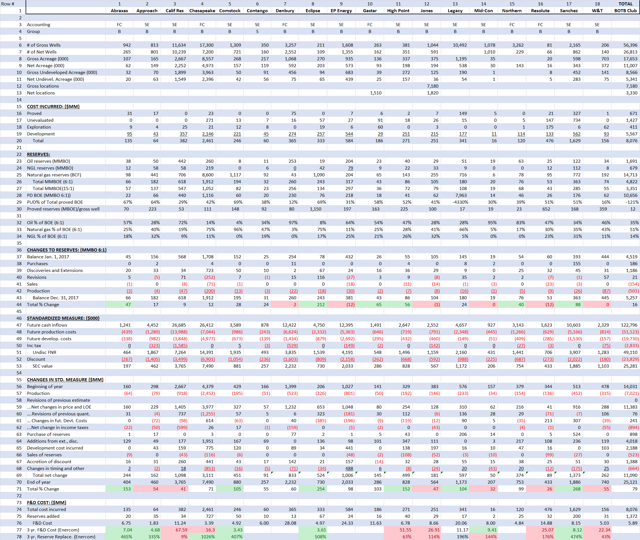 Disclosure: I am/we are long GST.A. I wrote this article myself, and it expresses my own opinions. I am not receiving compensation for it (other than from Seeking Alpha). I have no business relationship with any company whose stock is mentioned in this article.
Editor's Note: This article covers one or more microcap stocks. Please be aware of the risks associated with these stocks.