With markets at all-time highs, there certainly is no dearth of bearish arguments. At the forefront of those that give bulls pause are those involving cyclically adjusted price to earnings (CAPE) ratios. These ratios were made popular by Robert Shiller and aim to adjust the valuation on the markets over a longer horizon. The crux of this logic is that boom times boost margins and bear markets lower them, hence the traditional P/E measures fail to adequately signal good buying opportunities.
On the surface, this makes sense and past market peaks have been marked by high CAPE numbers. The current levels also do appear cause for concern.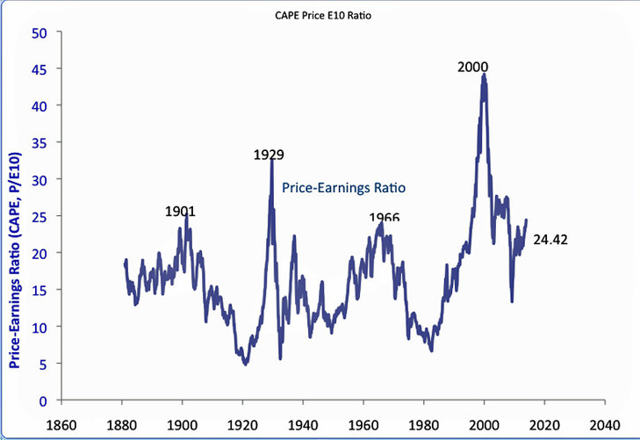 What the averages do not tell you
We have often joked that Warren Buffett and our family have an average net worth of over $40 billion. You could not extrapolate our net worth from it. Nor could you use it assess our creditworthiness next time we borrow money from you. What that line does tell you is practically nothing useful. Shiller P/E can fall in the same category. While "averages" are low with this Shiller P/E, the range is rather large. In fact, the worst returns with a low starting CAPE, are exceeded with the best returns with a high starting CAPE.

An even better metric?
Dr. John Hussman is notable for having called some significant tops and bottoms in the market. He has done some interesting work with CAPE, most notably adjusting it for profit margin variation. The resulting metric has shown an even tighter correlation with subsequent returns than a standalone CAPE metric.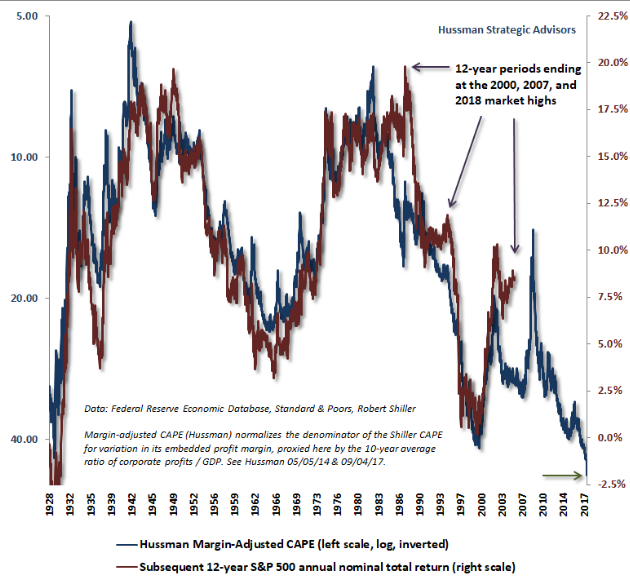 That metric now forecasts a 12-year compounded annual total return of negative 2.5%. Considering that the market yields close to 2%, Dr. Hussman's projected ending value for the S&P 500 at end of 12 years would be close to 2,030... assuming dividends grow at 2% a year for the next 12 years.
One point that we would note here is that the indicator strays from its projected path rather often. Currently, this shows that the 12-year return is almost 6% higher per year than it would have been as projected by the indicator. That is not an insignificant difference. Essentially, back in 2006, this indicator would have forecasted the S&P 500 to be sub 1,700 today versus the actual value of 2,900.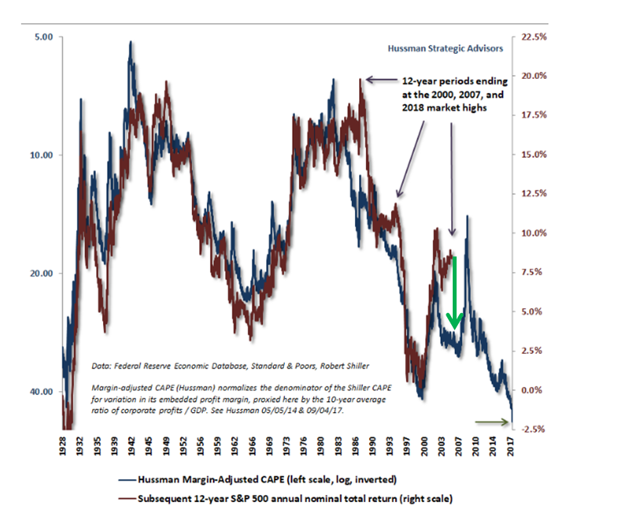 So while returns appear well correlated, and this may be one of the best indicators that we can come up with, it is hardly a crystal ball.
Why you should be worried and what you can do
Backtesting has its limitations and curve fitting can create spurious correlations that are not necessarily predictive of the future. We, however, do believe that here, adjusting CAPE for rolling 10-year margins, is a good idea and likely is a good tool for estimating future returns. We would also note that both recent examples where returns strayed higher than expected were followed not only by catch-up events but by undershooting expected returns.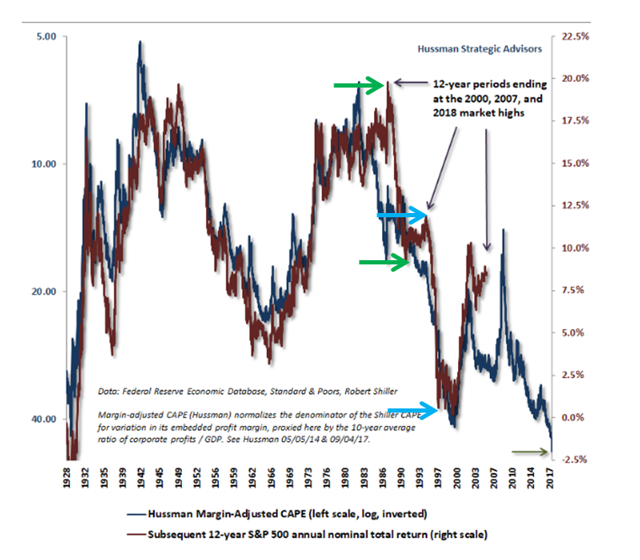 The one caveat we would add is that the bulk of the catch-up on the downside will happen during a recession and in the absence of that Dr. Hussman (and his indicator) will appear to be wrong for long periods.
Even if Hussman is half right and stocks stay flat over 12 years, those returns would squash many, many retirement dreams. We have our own separate metrics and even those suggest a very best case of 4% compounded total returns over 10 years. So we agree that the risks are extremely high at this point. We are going to give two suggestions here as to what people can do to reduce the impact of this.
Avoid tech like the bubonic plague
Technology has driven the bulk of the recent gains and the sector is now over 27% of the stock market capitalization, almost 2X its long-term average. Where previously have we seen such a distortion? Oh yes...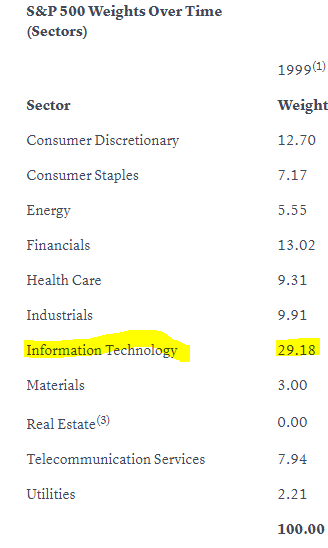 Source: Factset
What happened from that point? The Invesco QQQ Trust (QQQ) returned a rather blah -32%, while energy and materials which were about half their normal weighting in the index, did exceptionally well.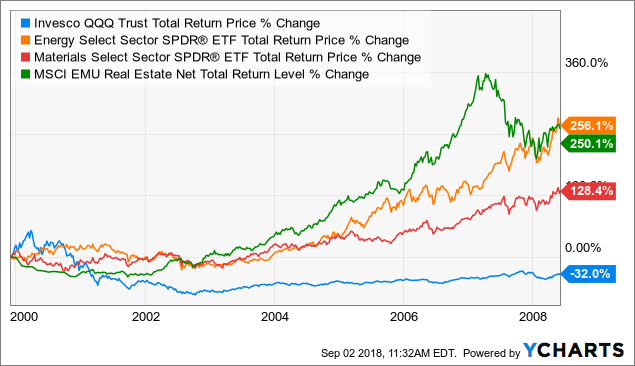 REITs too were fundamentally undervalued back then and delivered excellent total returns.
The current weights in the index are very similar with Energy (XLE) and Materials (XLB) significantly below their long-term averages.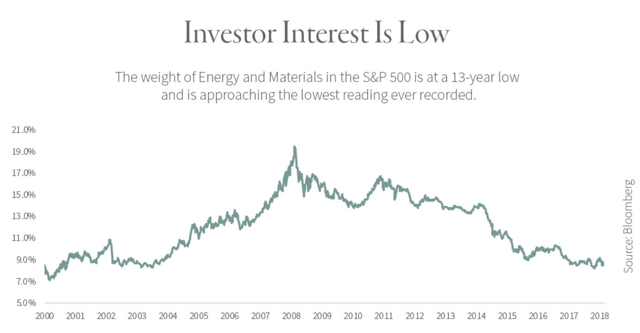 We believe between Energy, Materials and Real estate (see our argument on this asset class here) investors can significantly avoid the pain that in store for the market. At the minimum, investors should consider eliminating or reducing their technology exposure.
Consider emerging markets and developed markets outside of the US
While the US has enjoyed a merry run, emerging markets have been slaughtered. In fact, the US has never performed this well relative to the emerging markets while the Fed has been raising rates.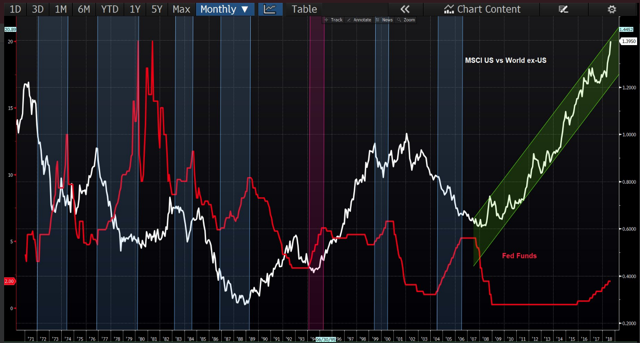 Source: Julian Bridgen, Macro Intelligence 2 Partners
Does this spread come in or are we in for a new normal? We will let investors dive into this area for themselves but we have a suggestion of what kind of research would be very helpful in making this decision. We would highly recommend reading Karim Henide's work on emerging markets. His article on the subject (non-paywalled) was extremely in-depth and helped us put our thoughts in better perspective.
Many of the developed markets, ex-US are also significantly cheaper and while they have issues, it is precisely those problems that make the market a wonderland of bargains.
Conclusion
From the height of the internet boom in 2000, semiconductor revenues grew at less than 1% CAGR when measured against 2009 revenues. Think about that. We had an explosion in cell phone usage, smartphone usage, iPods and of course internet and internet data during 2000-2009. Yet revenues were growing at a measly rate. Of course, in 1999, it was not uncommon to hear 30% compounded rates thrown around for the "next 2-3 decades."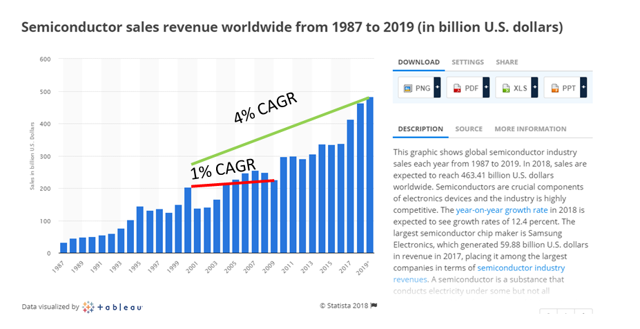 Now, from 2000-2019 projected revenues, we get to a 4% compounded rate. Again, a time frame that most would agree represents a cornucopia of new technologies being used and distributed. Sure, we may see a couple of more years of 10-15% growth rates, but the longer run growth rate of this segment is not going to be in the double digits. Not even close. Now what happens when that reality dawns on stocks pricing in 40-50% growth rates into the future?
Semiconductors were just one example within technology. Will the extremely high growth rates of today hold a decade or even five years from now? Will the margins hold through the next recession? We remain skeptical.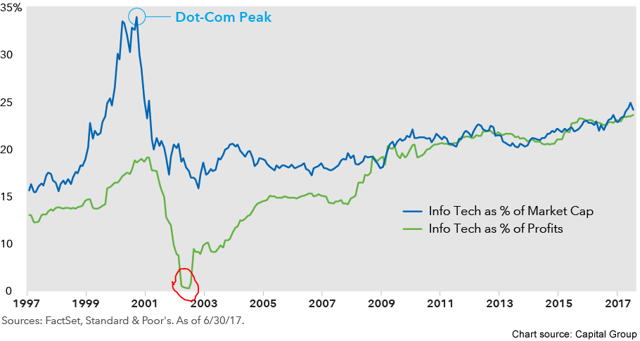 For more analysis such as this, along with real-time alerts on income stocks on both sides of the border along with option income ideas, please consider subscribing to our marketplace service Wheel of Fortune.
Disclaimer: Please note that this is not financial advice. It may seem like it, sound like it, but surprisingly, it is not. Investors are expected to do their own due diligence and consult with a professional who knows their objectives and constraints.
Seeking Alpha has changed its policies. Previously "following" someone required a ritualistic commitment and an offering of not less than 4 oxen or 3 breeding horses. Now, all it takes is one click! If you enjoyed this article, please scroll up and click on the "Follow" button next to my name to not miss my future articles. If you did not like this article, please read it again, change your mind and then click on the "Follow" button next to my name to not miss my future articles.
Disclosure: I am/we are short QQQ. I wrote this article myself, and it expresses my own opinions. I am not receiving compensation for it (other than from Seeking Alpha). I have no business relationship with any company whose stock is mentioned in this article.
Additional disclosure: We are long several energy and real estate related securities.
We are short a few technology securities.