Company Profile and Strategy
CoreSite Realty Corp. (COR) is a REIT that primarily owns a number of real estate properties equipped for use as data centers mostly for colocation, interconnection hubs, and multiple development projects intended to serve the technology industry and companies with high levels of data storage or transfer requirements. Its portfolio comprises 20 operating data centers distributed across eight key communication markets, which are also among the largest and fastest growing data center markets in the US. These are Northern Virginia, New York, and San Francisco Bay areas, Chicago, Los Angeles, Boston, Miami, and Denver, all of which are concentrated sites of key businesses and corporations that typically seek new, high-quality data center space and interconnections. Within these geographic areas, the top three markets for COR make up nearly 80% of total annualized rent, with San Francisco contributing 31%. Not surprising, considering the number of tech companies based in Silicon Valley.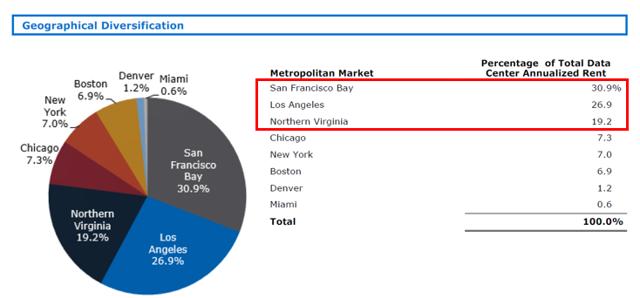 Source: Investor Presentation, May 2018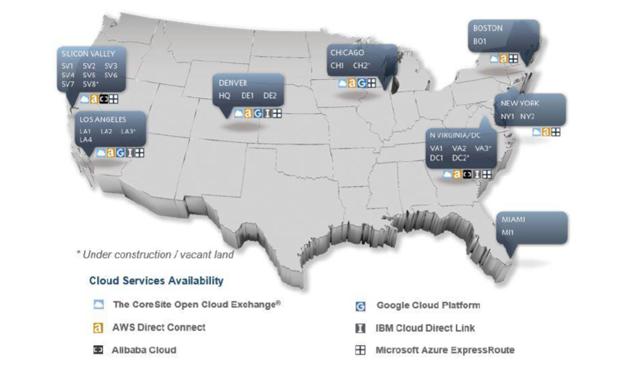 Three Core Segments
COR's customer base is composed of three segments: Enterprise, Cloud, and Network. Enterprise is primarily comprised of digital content and multimedia companies, systems integrators, and managed service providers, as well as providers of financial, healthcare, education, government, manufacturing, and other professional services. The Cloud segment pertains to cloud and IT service providers, and Network refers to domestic and international telecommunications carriers, internet service providers, content delivery networks, and subsea cable companies. As the chart below indicates, almost half of annualized rent comes from the Enterprise component.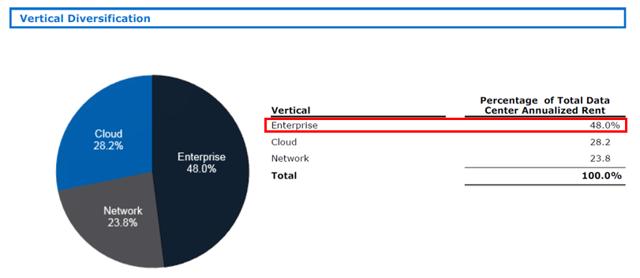 Source: Investor Presentation, May 2018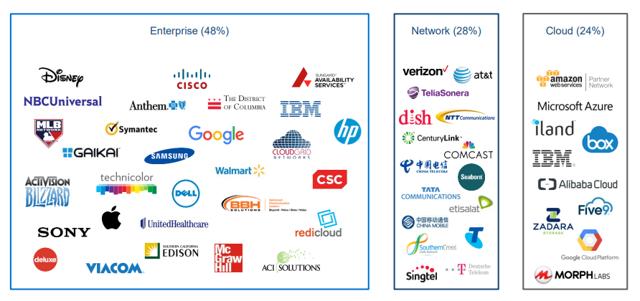 Revenue is generated from leases of data center spaces, but the revenue consists of both rental components and non-rental components, with non-rental consisting primarily of charges for power, interconnection, and other ancillary data center services. Rent accounts for 55% of total operating revenue, while power and interconnection contribute 28% and 13% respectively. Ancillary data center services and rent and other revenue from non-data center facilities each account for 2%.

Source: Earnings Release and Supplemental Information, Quarter Ended March 31, 2018
The company's strategy to continually expand and advance its position as a leading provider of retail colocation spaces with a capacity for larger scale deployments in the US has two focal points. The first focus is on organic growth, by optimizing already operational facilities and the current customer base through encouraging the absorption of more square footage and the uptake of more interconnection and power services by incumbent tenants, alongside leveraging in-place infrastructure and entitlements in the development of new data centers in proximity to existing campuses. The second focus is on external growth, to widen the company's geographic footprint and diversify served segments by reaching out to new customers as well as through selective acquisition and development in both new and existing markets.
The chart below shows the difference between new logo and existing client expansions as a percentage of total lease count and GAAP rent going back to 2011. The percentage of new leases in 2018 and the annualized rent is expected to be higher than its been in any of the last 7 years - an indication of the increasing demand for data center services from new players as much as it may be coming from more established companies.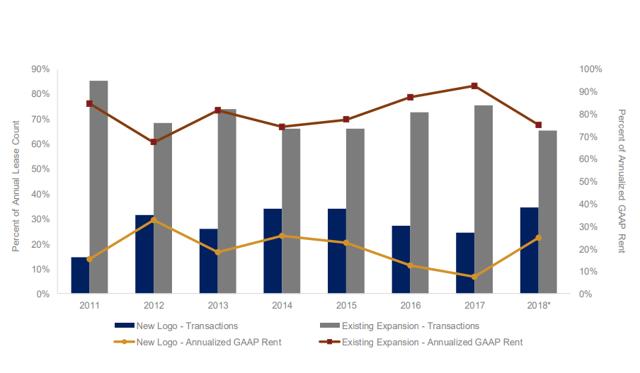 As an owner, lessor, developer, and operator of data centers and technology-related real estate, COR faces competition for customers from fellow data center REITs and other developers, owners, and operators of technology-related real estate and data centers, such as Digital Realty (DLR) and Equinix (EQIX), among others.
Among the data center REITs, COR's market share is highly dependent on geographic region. For example, in the South Central and Central regions, COR has a 0% and 6% market share, respectively. Compared to the Northwest and Southwest, where it has an 18% and 19% market share, respectively, and behind only Equinix and Digital Realty, both of which are much larger.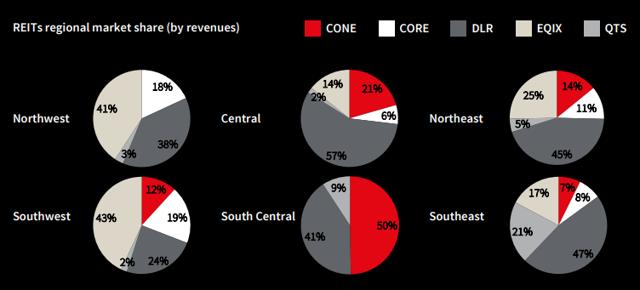 Source: Jones Lang LaSalle Global Data Center Outlook Year-end 2017
In this highly competitive environment, COR considers its ability to provide customers with flexibility and scalability to be its key differentiator. On one level, an array of spaces in strategic locations, with the requisite power and interconnection options, enables customers to select the configuration best suited to their requirements. Beyond that, the company's ownership of some 203,000 NRSF of unoccupied space, a further 220,000 NRSF under construction, and approximately 1.296 million NRSF at multiple facilities available for future development are seen to readily accommodate customers' respective needs for expansion when that need arises.
1st Quarter Results and Challenges
COR posted double-digit growth across key metrics on a year-on-year basis. Total operating revenues rose by 12.8% to $129.6 million from $114.9 in the same period last year, attributed to increases in data center rental, power, and interconnection revenue. Rental and power revenue increases were due to the start of new and expansion leases and lease renewals at a rent growth rate of 9.2%. The increase in these areas was partially offset by move-outs. Meanwhile, the interconnection revenue increase was due to a higher volume of cross connects from new and existing customers, and customers migrating to higher end fiber product.

Source: CoreSite Realty Corporation Form 10-Q
FFO growth generally mirrored that of total operating revenues, with a 12.9% increase from $54 million to $61 million compared to the same period last year. FFO per share increased at a similar rate, by 12.4%, from $1.13 to $1.27 per share compared to the same period last year, having benefitted from one-off items - better than expected cash collections that allowed for reversal of bad debt expense and funds from a legal settlement with an office customer. As for AFFO, the increase was 18.1%, due primarily to lower levels of tenant improvements and capitalized leasing cost.

Source: Investor Presentation, May 2018
President and CEO Paul Szurek credited this strong performance to consistent execution of COR's strategy to promote both internal and external growth - so kudos to the business development folks. Internal growth, which accounted for 75% of annualized GAAP rent signed in the first quarter, was characterized by healthy same-store performance and monthly recurring revenue per cabinet equivalent, low churn, increased cash rental rates on renewals, and continuing improvements on operating and power efficiencies. External growth, comprising 47 new logos acquired, accounted for 25% and had been "the highest level in the last twelve months," according to SVP Sales and Marketing Steve Smith. Beyond increasing rent and related revenue in the near and medium term, the company views successful acquisition of quality new logos as an indicator of promising long-term demand from its target customers. In Smith's words:
We had a healthy balance of organic capacity expansions by existing customers coupled with one of our strongest quarters in numbers and quality of new logo acquisition, which has historically boded well for future organic growth. These new logos reflect continued robust demand for our network and cloud-dense platform in large edge markets.
The quarter was not without challenges, however. There was a lack of capacity for larger scale requirements that had constrained sales activity as well as churn in the network vertical. COR management mentioned in the earnings call that sales activity had been constrained in the four largest markets earlier in the quarter, at 32% less than typical levels. Asked for more color on the tightness of inventory, Smith explained that the biggest constraint had been due to not having the larger spaces typically required by likewise larger edge or similar environments in the company's strongest markets. CEO Szurek later in the call shared that the new Virginia and Los Angeles computer rooms that became operational during this period, as well as new construction New York expected to go live in the third quarter and additional properties in the Bay Area in 2019, would relieve pressure on this front and enable the company to capture larger scale colocation opportunities. Essentially, management was saying that that wouldn't happen again.
Another challenge was an increase in disconnects, referring to attrition within the network vertical, which had offset interconnection revenue growth. Addressing an analyst question on this subject, CFO Jeff Finnin clarified that the driver was a single customer that had a higher than typical amount of disconnects due to M&A activity on their side. Specifically, this customer acquired one or two of COR's other customers and are in the process of rationalizing their spend and therefore consumption of data center products and services, in accordance with their current circumstances. A follow up question was on the broader repercussions of M&A activity. CFO Smith's reply was that in spite of significant M&A activity in the telecommunications industry, which is nothing novel and can be expected to continue, the overall market will still continue to grow because the collective demand for data, due to the types of applications the market continues to roll out, and the associated need for interconnection, remain strong. I agree with this assessment. While M&A activity has been a key driver of the evolution of the telecommunications industry, data demand is coming from a much wider variety of sources today than they were just a few years ago. This trend and the demand for data is only going to intensify.
In the context of capacity and churn challenges, key analyst questions were around COR's customer and development pipelines, as well as the impact of competition on the company's booking flow. Without sharing names or timelines relating to the customer pipeline, CEO Szurek stated that the company's focus will continue to be core retail colocation customers, while selectively getting into larger deployments. Further, SVP Sales and Marketing Smith affirmed the company's priority to continue pursuing new customers and expressed confidence in being able to do so:
There is a concerted effort to try to bring in more new logos as they have demonstrated future organic growth for us, so that is the focus for the company and we like the success that we've seen out of Q1, so that is a continued effort. We do see more of that in the pipeline.
As for development, CFO Finnin stated that as of the first quarter, the company had invested $40 million of the estimated $131 million for development projects in various stages, not including projects in the permitting, entitlement, or design stages. Location-wise, CEO Szurek emphasized that the company has thus far reaped the highest returns on capital by deepening and broadening capacity in what he believes are very attractive markets where COR already has a presence and that the company is not inclined to discuss potential targets until they are actually ready to move and something is signed. Overall, he is of the belief that the current pipeline will be sufficient to sustain the optimal levels of available capacity from 225,000 to 250,000 NRSF "seven quarters out of eight for the foreseeable future beginning in 2019" or even by late 2018.
Addressing a question on the impact of competition on slower booking activity observed in the last couple of quarters, SVP Sales and Marketing Smith posited that it was less about competition and more about available space, which is deemed crucial to enter into larger leases of the sort they had previously missed out on, as implied by his remark:
I think really it comes down to those larger leases that likely show up in larger chunks of revenue as well, so as you look at the broader capacity across the platform large chunks of space are fewer in various markets and particularly in some of our strongest markets, which therefore has an effect as to those larger leases and sometimes kind of the larger edge or kind of scale type of environments that we would otherwise win, so that's really the biggest space where we have been constrained.
2Q Results
Second-quarter total operating revenues were $136.4 million, a 15.7% increase year over year while FFO increased 16.4% from the comparable period last year. Especially promising is that same-store cabinet equivalent rental revenue increased 8%+, an indication that revenue growth from existing facilities remains strong and that there is plenty of runway on the demand for additional data center services.
In 2Q, the company raised its dividend 5.1% or $0.05 per share to $1.03 per quarter for a dividend yield of around 3%. While the company lowered its earnings per share guidance, it raised its FFO guidance from $4.92-$5.04 to $5.00-$5.08, the difference between NI and FFO being depreciation and amortization.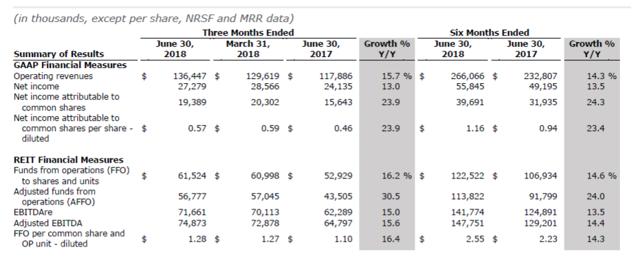 Outlook for 2018
COR has had an excellent start to the year.
The company looks to increase full-year revenue by 12.5% versus 2017, Adjusted EBITDA by 12.3%, and AFFO by 11.5%, in spite of churn rate and operating expenses anticipated to be higher than last year. These guidance figures suggest that COR has diligently considered the headwinds it faces and has calibrated the execution of its strategy in order to overcome them. Beyond that, the increase in the capex allocation for data center expansion, as compared to last year's, confirms their commitment to furthering the company's growth.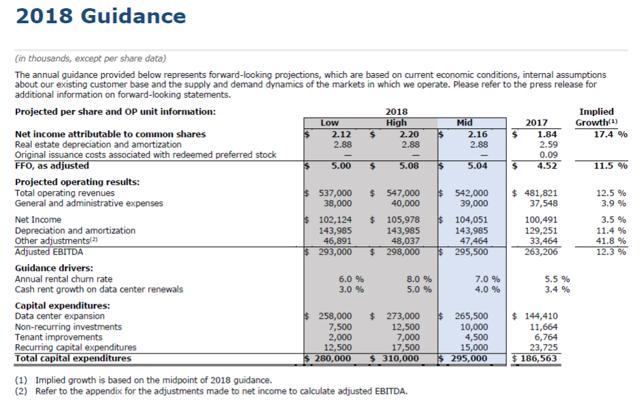 Source: Investor Presentation, July 2018
Dividends
As I mentioned earlier, COR increased its dividend by 5.1% this quarter and now has a dividend yield of approximately 3.7%. That compares favorably to its much larger peers and is slightly below that of QTS, whose dividend yield has increased as a result of stock price declines. The payout ratio is slightly above 'comfortable' levels but with FFO and AFFO growing at double-digit rates, I don't see the higher payout ratio being an issue in the near-term.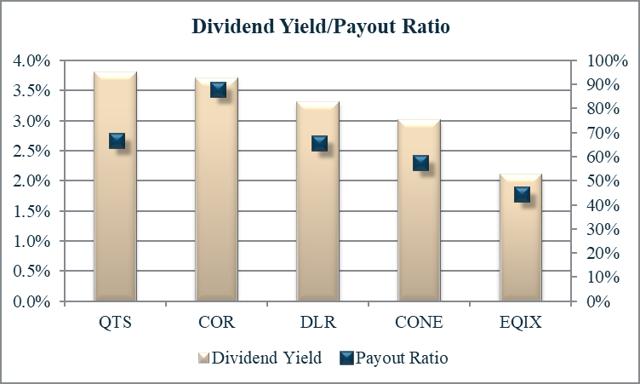 Valuation
Relative to peers, COR has a P/AFFO of 22.5, which is at the high end of the group, slightly above the 22.4 P/AFFO for Equinix and DLR, with a P/AFFO of 20.7.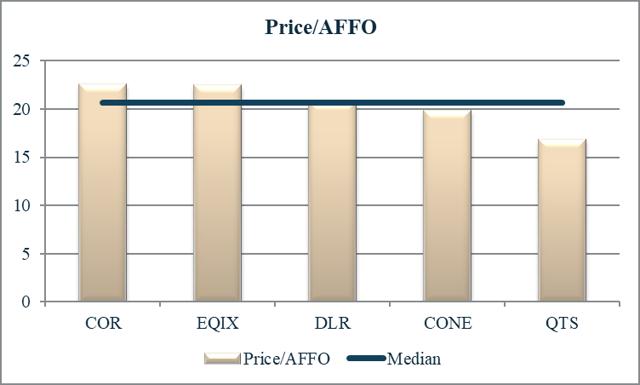 My Take
Despite its lofty valuation, COR has plenty of capacity to grow revenues within its current footprint and I believe the recent pullback below $100 was a good entry point. I was able to establish a position as the stock recovered but still think there is more upside here than with behemoths DLR and EQIX. With its focus on expanding current facilities through substantial capital investments, I believe the company's growth can be better controlled and will have less inherent risk than if it were to acquire or build from the ground up.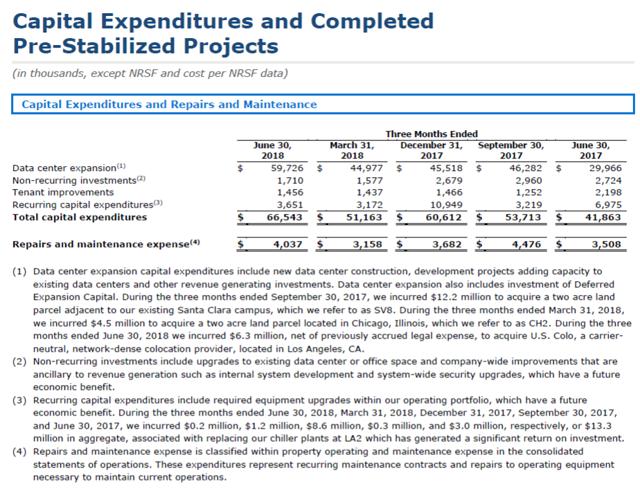 There is always the risk of competing with the much larger firms within the industry and how one misstep could cause COR to falter. However, it's 10 largest customers make up only 29% of net rental square footage, and it is focused on acquiring new logos quarter over quarter. V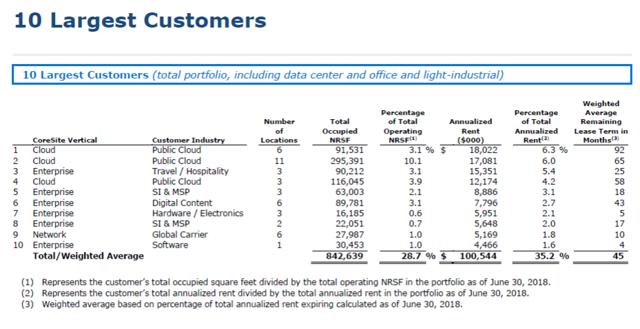 Valuation
Relative to peers, COR has a P/AFFO of 22.5, which is at the high end of the group, slightly above the 22.4 P/AFFO for Equinix and DLR, with a P/AFFO of 20.7. I believe this premium is warranted because COR is more of a growth stock and despite its size, maybe a less risky play than larger peers because of how it's implementing its growth strategy.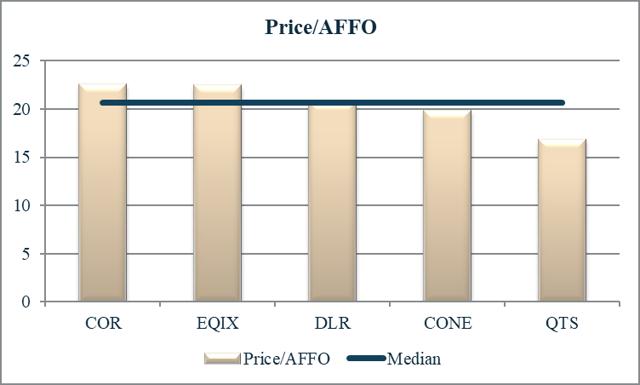 On a historical basis, the P/AFFO is slightly above its long-term average and while the company has guided to $5.00 to $5.08 FFO for 2018, analyst estimates are on the high end of that range, plus an additional 11% growth in 2019 and another 10% growth in 2020. The 2019 FFO estimate of $5.56 implies a forward P/FFO ratio of just over 20 - still not cheap but very reasonable in my opinion. I rate COR a buy and have added it to the Low Vol portfolio with a focus on small caps.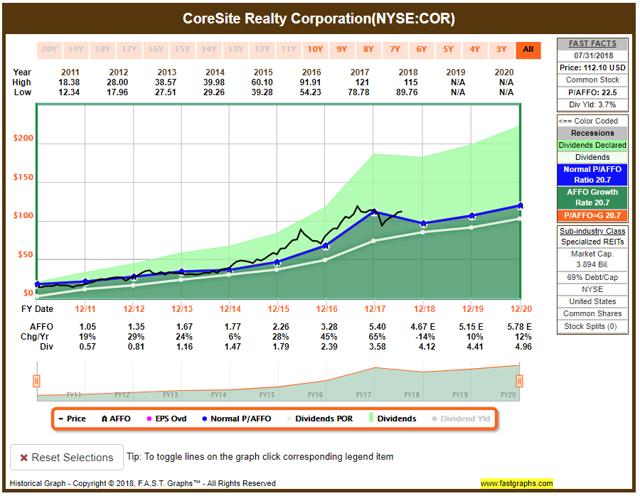 To read more of my articles on Seeking Alpha, click HERE
Disclaimer: Please note, this article is meant to identify an idea for further research and analysis and should not be taken as a recommendation to invest. It is intended only to provide information to interested parties. Readers should carefully consider their own investment objectives, risk tolerance, time horizon, tax situation, liquidity needs, and concentration levels, or contact their advisor to determine if any ideas presented here are appropriate for their unique circumstances.
Past performance is not an indicator of future performance.
Investing in any security has risks and readers should ensure they understand these risks before investing.
Real Estate Investment Trusts are subject to decreases in value, adverse economic conditions, overbuilding, competition, fluctuations in rental income, and fluctuations in property taxes and operating expenses.
This post is illustrative and educational and is not a specific offer of products or services.
Information on this blog is not an offer to buy or sell, or a solicitation of any offer to buy or sell the securities mentioned herein, nor is the author compensated by any of the products mentioned.
Information presented is believed to be factual and up-to-date, but we do not guarantee its accuracy and it should not be regarded as a complete analysis of the topics or subjects discussed.
Information presented is not believed to be exhaustive nor are all the risks associated with the topic of each article explicitly mentioned. Readers are cautioned to perform their own analysis or seek the advice of their financial advisor before making any investment decisions based on this information.
Investment decisions should be based on an individual's own goals, time horizon, and tolerance for risk. Nothing in this content should be considered to be legal or tax advice and you are encouraged to consult your own lawyer, accountant, or other advisors before making any financial decision.
All expressions of opinion reflect the judgment of the author, which does not assume any duty to update any of the information
Any positive comments made by others should not be construed as an endorsement of the author's abilities to act as an investment advisor.
REITs, Opportunities, & Income [ROI]: High potential ROI investment ideas for your portfolio
While much of our coverage is focused on REITs, we also provide in-depth research on little-known small-caps, macroeconomic analysis, and income opportunities. I also share details on a concentrated REIT portfolio designed to outperform the MSCI US REIT Index with lower volatility. Start a free trial now
Recent Posts
Ashford Hospitality - Why I Bought More On The Big Pullback
Heard On The REITs - Housing Is The Bogeymen
Brandywine Needs To Age A Little Longer Before I Take A Sip
This Office REIT Isn't Cheap But The 7% Dividend Yield Is Sweet
The Realty Income Dividend Streak Will Come To An End, But That's Not So Bad
Disclosure: I am/we are long CONE, QTS.
I wrote this article myself, and it expresses my own opinions. I am not receiving compensation for it (other than from Seeking Alpha). I have no business relationship with any company whose stock is mentioned in this article.