REIT Rankings: Malls
In our REIT Rankings series, we analyze one of the fifteen real estate sectors. We rank REITs within the sectors based on both common and unique valuation metrics, presenting investors with numerous options that fit their own investing style and risk/return objectives.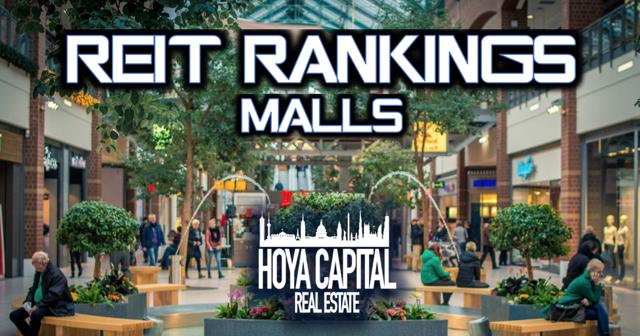 We encourage readers to follow our Seeking Alpha page (click "Follow" at the top) to continue to stay up to date on our REIT rankings, weekly recaps and analysis on the REIT and broader real estate sector.
Mall REIT Overview
Mall REITs comprise roughly 10% of the REIT Indexes (VNQ and IYR). In our Hoya Capital Mall REIT Index, we track the seven mall REITs, which account for roughly $75 billion in market value: CBL & Associates (CBL), Macerich Co. (MAC), Pennsylvania REIT (PEI), Simon Property Group (SPG), Tanger Factory Outlet (SKT), Taubman Centers (TCO) and Washington Prime Group (WPG).

Above we note the characteristics and strategy of each mall REIT. More than other sectors, it's critical to note the "quality focus" of these REITs. There has been a significant divergence in fundamentals and stock performance between higher-productivity malls and lower-productivity malls since the end of the recession. Top-tier malls, as measured by tenant sales per square foot, continue to perform well across all metrics including tenant sales, average rent, and occupancy. Below we outline the five primary reasons that investors are bullish on mall REITs.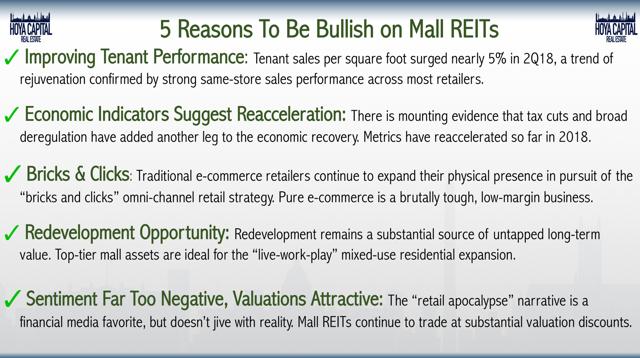 While the "retail apocalypse" may have been exaggerated, retail REITs continue to be challenged by broader secular headwinds. Downsizing retailers have focused their investment into higher-performing stores and have continued to close weaker-performing stores in lower-tier malls. Amid the unusual binge in retail bankruptcies in early 2017, this bifurcation in performance has accelerated.
Recent Stock Performance
Mall REIT delivered strong performance in the immediate aftermath of the recession, but have been relative underperformers in the REIT sector since the start of 2016. The sector was the second worst-performing sector in 2016 and 2017. Retail-focused sectors (malls, shopping centers, net lease) were three of the four weakest-performing sectors last year.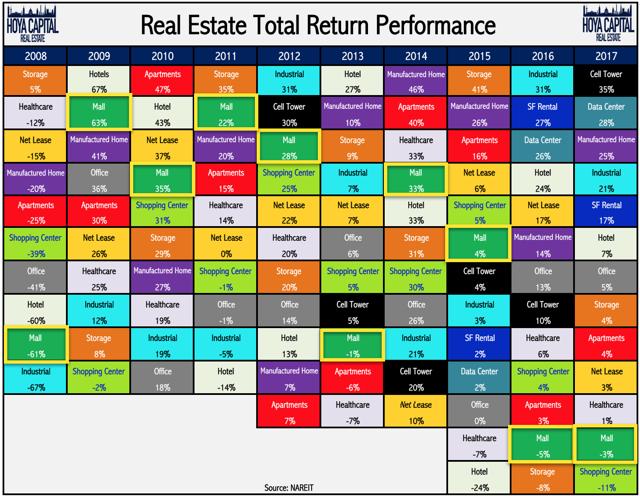 The retail sectors have stabilized in 2018. Mall REITs have gained 3% YTD, slightly outperforming the 2% gain in the broader REIT index. Curiously, retail REITs continue to underperform the performance of their retail tenants. The S&P Retail ETF (XRT) has climbed 13% YTD, outperforming the 9% gain in the S&P 500 (SPY).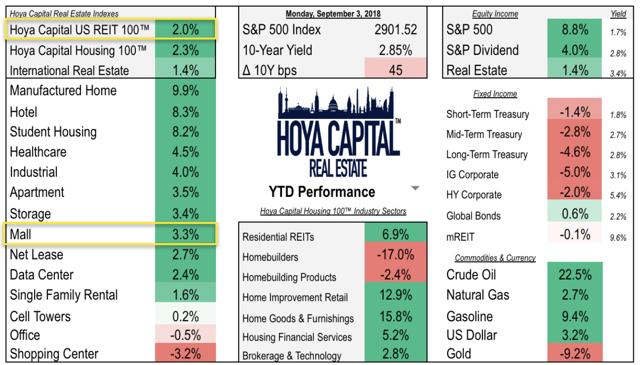 Simon Properties, owning the highest-productivity portfolio, has climbed 7% on the year, in sharp contrast to the poor performance of the lower-productivity portfolios held by CBL and Pennsylvania REIT. Of the lower-productivity REITs, Washington Prime has been the top performer.

Recent Fundamental Performance
Mall REITs reported a solid second quarter as improving tenant sales performance is beginning to translate into improving property-level fundamentals, particularly for the higher-productivity REITs. Tenant same-store sales rose nearly 5% for the three high-productivity portfolios, but just 1% for the five lower-quality portfolios, a sign that the bifurcation in performance has persisted even amid an upward inflection in overall retail sales. The seven mall REITs generally met estimates and maintained guidance with Simon, Tanger, and Taubman being the stand-outs during earnings season.

On a TTM basis, mall REITs are beginning to see a recovery in same-store NOI after the precipitous decline from late 2015 through late 2017. Occupancy stayed relatively flat from last year. The overall REIT sector saw a mild acceleration from the first quarter, powered by better-than-expected economic growth, which we covered in depth in our REIT Earnings Recap.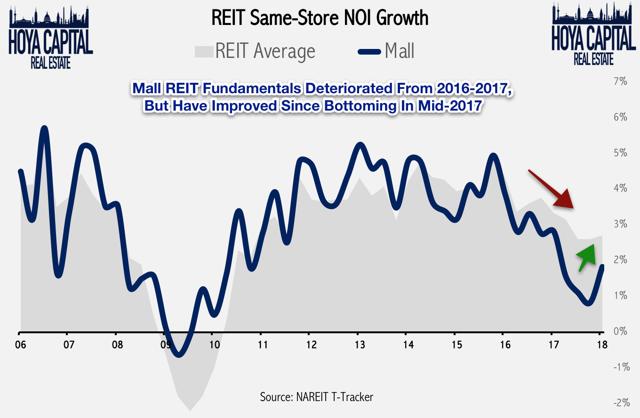 Same-store NOI averaged 0.9% for the four higher-productivity mall REITs compared to -2.0% for the four lower-productivity REITs. This gap has further widened in recent years, and leading spreads indicate that this trend will continue until at least 2020. Leasing spreads for the three high-productivity REITs averaged 9.7% YoY, a mild slowdown from the 13% rate captured in 2015 before the retail downturn, but well ahead of the worrisome -3.7% spreads captured by the lower-productivity REITs.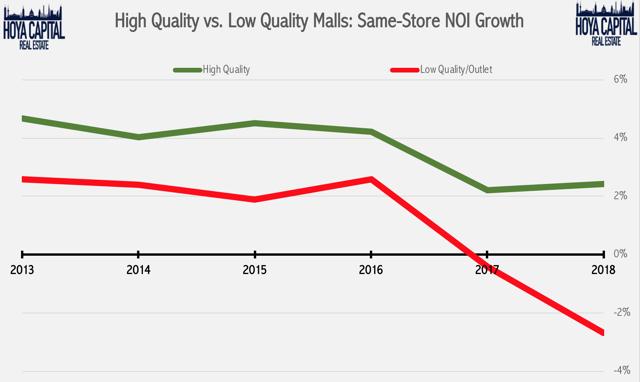 Deeper Dive: Retail Outlook
While the financial media was relentlessly pushing the retail apocalypse narrative, we've been discussing for several quarters that retail sales data has actually been solid and accelerating following a downturn from 2015 through late 2017. Our Hoya Capital Brick & Mortar Index showed an average 4.0% rise in spending at brick and mortar locations over the past twelve months through July. Including online sales from brick-and-mortar retailers and in-store pickups (which are ordinarily included in the nonstore category), that growth rate climbs to nearly 5%.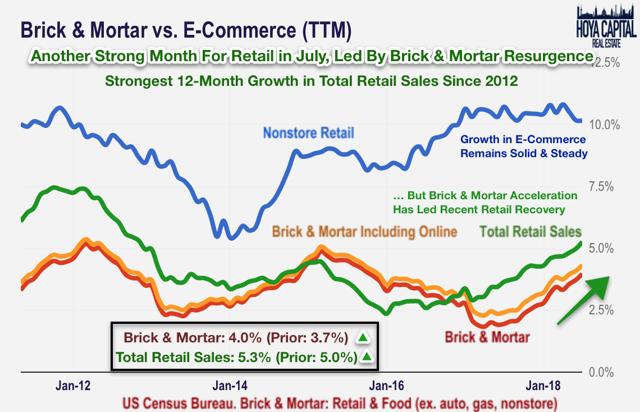 Below we show the performance of mall-based retail categories. Most notable has been the rapid acceleration in clothing and general merchandise sales, two of the most important mall-based categories. Out of all of the retail categories, only the sporting goods/books segment has seen negative YoY growth.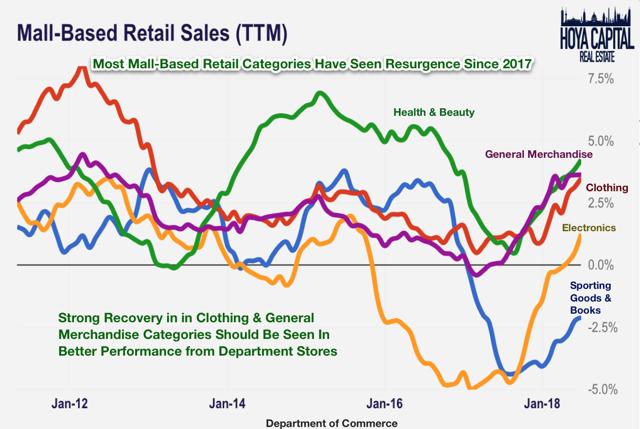 While mall REITs have diversified their tenant base over the last decade away from department and clothing stores, the traditional mall-based retailers remain important indicators of overall mall performance and foot traffic through in-line tenants. Same-store sales at Macy's (M) and J.C. Penney (JCP) has finally turned positive after several years of seemingly endless declines. While Sears (SHLD) remains troubled, Dillard's (DDS) and Nordstrom (JWN) have been stand-out performers in the department store category. Target (TGT), Kohl's (KSS), and Burlington (BURL) have each seen solid and accelerating same-store sales in 2018.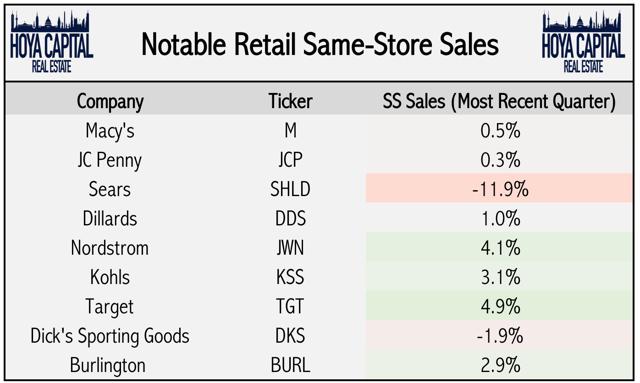 Elevated levels of store closings, however, continue to be an issue as just a handful of retailers are in growth mode amid a broader trend of rationalization of their brick and mortar presence. 2017 was the first year since the recession that saw a decline in the total number of stores in the US, but the decline was quite modest considering the headlines citing a "retail apocalypse." According to Coresight Research, store closings are down 30% YTD compared to the same time last year among major retailers. Total net openings, which include smaller retailers and restaurants, has seen a mild net gain in 2018 based on our estimates.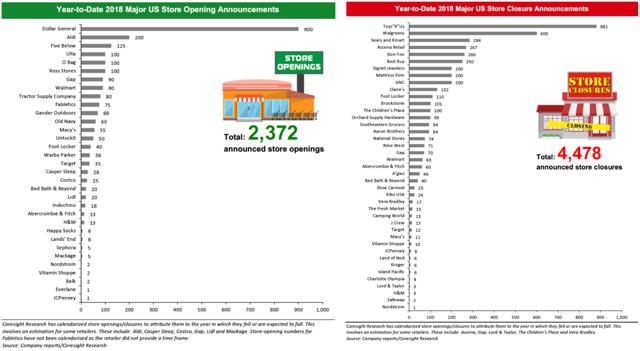 As the pace of store openings has slowed, the productivity of existing space has increased materially over recent years. Each square foot of retail space generated 7% higher sales in 2017 than in 2014 according to Fung Global Research. Traditional e-commerce retailers including Amazon (AMZN), Warby Parker, UNTUCKit, and Duluth Trading Company are rapidly expanding their physical presence as they pursue a "brick and clicks" strategy.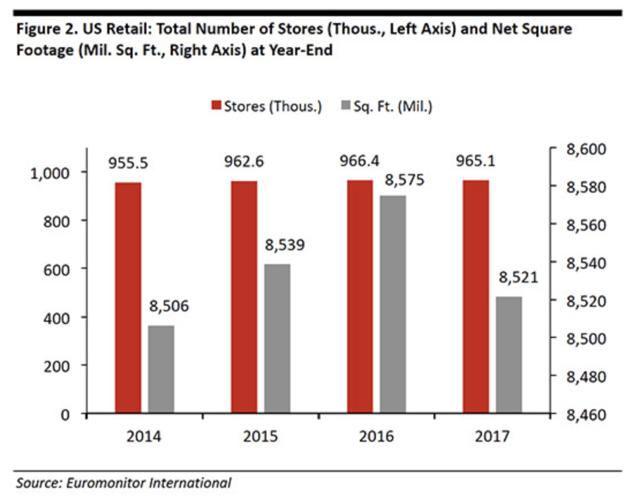 Capital Markets & Property Development
A sharp disconnect has persisted between private market valuations of malls and the REIT-implied valuation. With only 1,000 malls in the US, and REITs owning the majority of them, there are only a few transactions per year to confirm or deny the estimated private market valuations. Analyst consensus is that lower-quality mall assets have depreciated 10-20% over the last two years while higher-quality asset valuations have remained relatively flat. Mall REITs now trade at an estimated 20% discount to private market values. The persistent NAV discount has forced these REITs to be net sellers since the end of 2015.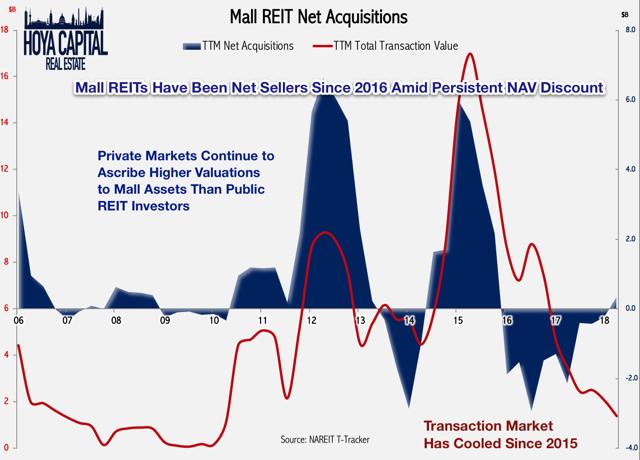 Brookfield Property Partners (BPY) plans to take advantage of this disconnect through their acquisition of GGP, which closed in August. Brookfield already captured millions of dollars in "arbitrage" profits through their sale of three of GGP's mall REITs to CBRE (CBRE) for more than $1 billion. As part of the transaction, Brookfield launched a new REIT, Brookfield Property REIT (BPR), which will hold the malls formerly owned by GGP, along with Brookfield's diversified property portfolio which includes office and residential assets.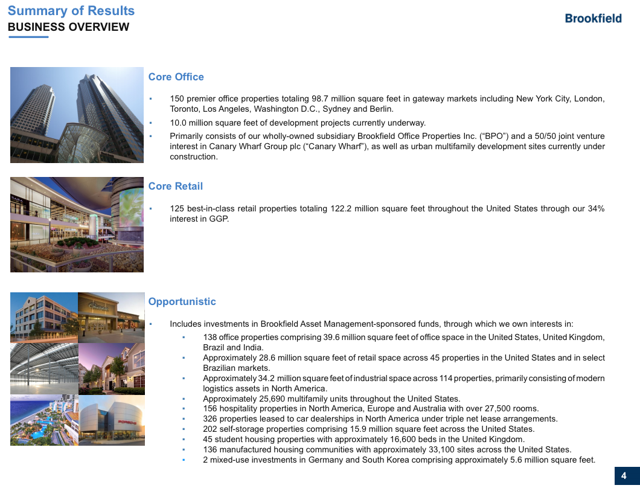 Perhaps the biggest factor in the stabilization of retail REITs in recent years has been the lack of new supply coming to market. New supply growth has averaged less than 0.5% of existing stock per year since the recession, helping the industry absorb the ample "shadow supply" from vacated stores. For several mall REITs, particularly Simon, GGP and Taubman, redevelopment remains a substantial source of untapped long-term value. Top-tier mall assets are ideal for the "live-work-play" mixed-use residential expansion.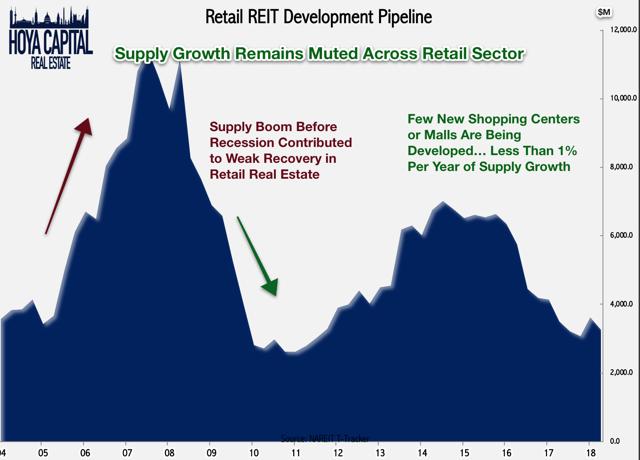 Valuation Of Mall REITs
Compared to the other REIT sectors, mall REITs appear attractive across all metrics. Mall REITs trade steep discounts based on Free Cash Flow (aka AFFO, FAD, CAD) valuation metrics. Mall REITs trade at the widest NAV discount in the REIT sector at roughly 20%.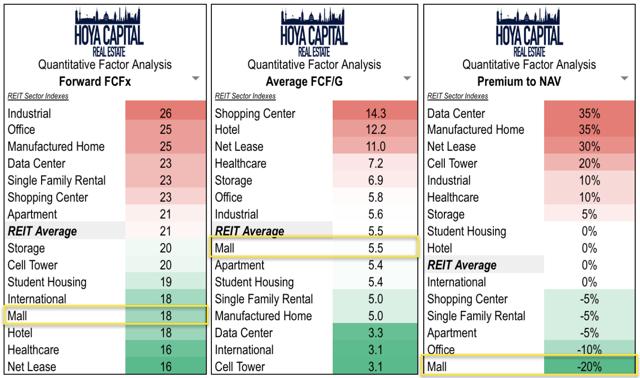 Within the sector, we note the significant divergence in valuations between the high quality and the lower-quality mall REITs. CBL and WPG trade at mid single-digit FCF multiples, even after revising estimates significantly lower. The high-quality mall REITs, while trading above the sector average, are also cheap relative to REITs in other sectors.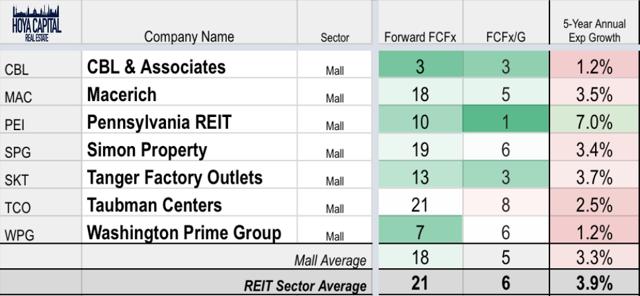 Dividend Yield And Payout Ratio
Based on dividend yield, mall REITs rank towards the top, paying an average yield of 4.8%. They pay out 86% of their available cash flow, roughly in-line with the REIT average. This relatively modest ratio leaves mall REITs with enough cash to redevelop and improve existing properties.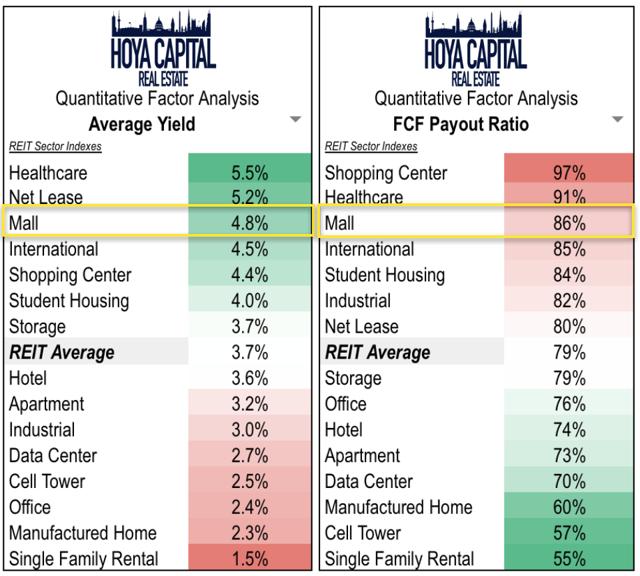 Within the sector, more than other REIT sectors, investors need to be cautious not to fall into common "value traps." CBL and WPG, both yielding over 14%, appear to be diamonds in the rough. The valuation analysis above, though, shows that these high yielders have a bleak growth outlook in the near term and could very well see declining free cash flows and declining dividends if the demand for lower-quality suburban mall space doesn't reverse the current downtrend.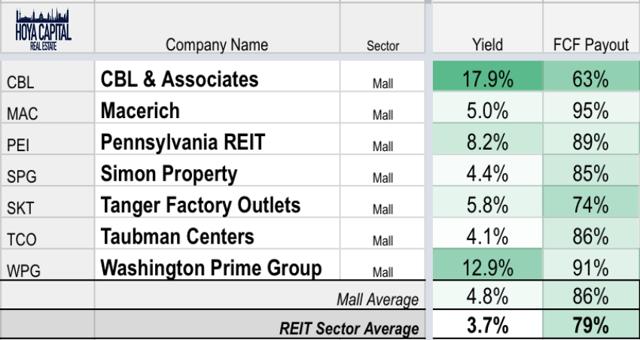 Interest Rate And Equity Sensitivity
Mall REITs tend to exhibit more growth-like qualities than other real estate sectors and respond favorably to a strong economy regardless of its impact on interest rates. Mall REITs exhibit above-average sensitivity to the equity market and below-average sensitivity to the 10-year Treasury yield.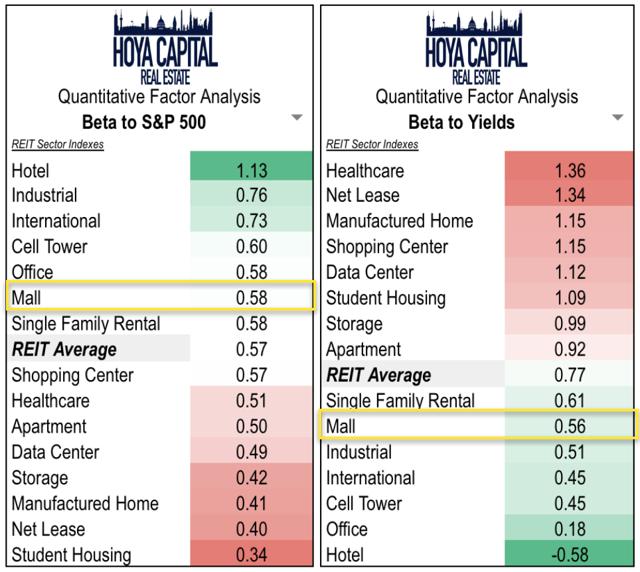 We separate REITs into three categories: Yield REITs, Growth REITs, and Hybrid REITs. As a sector, mall REITs fall into the Growth/Hybrid REIT category. For investors worried about rising interest rates brought about by stronger economic growth, mall REITs may be well suited to outperform.

Within the sector, we note that CBL, MAC, and PEI have more Growth REIT characteristics while the rest of the sector falls into the Hybrid or Yield REIT category.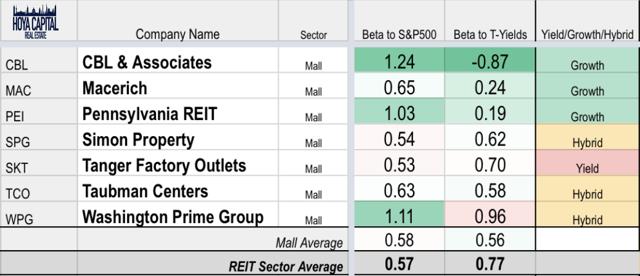 Bottom Line
Goodbye retail apocalypse, hello retail resurgence. Following a brutal two years for the retail industry, conditions have broadly stabilized and pockets of rejuvenated strength have emerged. Tenant sales per square foot have surged nearly 5% over the past year at Class-A malls, consistent with the 5% growth in overall retail sales. Mall-based categories have seen a solid recovery.
The bifurcation between top-tier and lower-tier mall REITs continued in 2Q18. High-productivity mall REITs reported another solid quarter, while lower-productivity malls continue to struggle. Elevated levels of store closings, however, continue to be an issue. Traditional e-commerce retailers including Amazon are rapidly expanding their physical presence as they pursue a "brick and clicks" strategy. For several mall REITs, particularly Simon, GGP and Taubman, redevelopment remains a substantial source of untapped long-term value. Top-tier mall assets are ideal for the "live-work-play" mixed-use residential expansion.
As a sector, mall REITs continue to appear attractively valued across most metrics. Of course, this has been the case for most of the past two years during which the sector has underperformed the REIT averages. We believe that retailers will continue to value the synergistic benefits of the mall format, but 2018 will be a critical year for many malls, particularly the lower-productivity malls fighting for survival.
If the surge in store closings in early 2017 was indeed a relatively one-off year, we should expect to see improved results in 2018 and a strong bounce-back in price performance. If not, we may have to reevaluate the long-term viability of lower-productivity malls. We continue to view the higher-productivity malls - Simon, Taubman, and GGP - as the most attractively valued names within the sector at these levels.
For further analysis on all fifteen real estate sectors and how they all stack up, be sure to check out all of our quarterly updates: Industrial, Single Family Rentals, Data Center, Apartments,Cell Towers, Manufactured Housing, Net Lease,Industrial, Shopping Center, Hotel, Office, Healthcare, Industrial, Storage, Homebuilders, and Student Housing.
Please add your comments if you have additional insight or opinions. Again, we encourage readers to follow our Seeking Alpha page (click "Follow" at the top) to continue to stay up to date on our REIT rankings, weekly recaps and analysis on the REIT and broader real estate sector.
Disclosure: I am/we are long VNQ, SPY, SPG. I wrote this article myself, and it expresses my own opinions. I am not receiving compensation for it (other than from Seeking Alpha). I have no business relationship with any company whose stock is mentioned in this article.
Additional disclosure: All of our research is for informational purposes only, always provided free of charge exclusively on Seeking Alpha. Recommendations and commentary are purely theoretical and not intended as investment advice. Information presented is believed to be factual and up-to-date, but we do not guarantee its accuracy and it should not be regarded as a complete analysis of the subjects discussed. For investment advice, consult your financial advisor.