Brand is so important in the consumer products space. A strong "brand" enables a company to grab mind share for its products, and consumers will sometimes associate the company with the product it sells. The word "Kleenex" is the word many people use to describe facial tissues, even if the actual tissue isn't from a Kleenex branded box. When your product brand is synonymous with the actual item, that is a sign of a truly strong brand. Today's dividend champion spotlight touches on Kimberly-Clark Corporation (KMB). With 46 years of consecutive dividend increases, is Kimberly-Clark set up for future success? The company operates in a very competitive environment, and the company has seen some growth struggles. Investors need to make sure that Kimberly-Clark is right for their portfolios before investing.

Source: Kimberly-Clark Corporation
Kimberly-Clark is a paper products conglomerate that is headquartered in Irving, TX. The company is most famous for its Kleenex brand of facial tissue, but its portfolio also includes toilet paper, feminine products, diapers, paper towels, and more. The company's sales presence touches more than 175 countries, and totals more than $18 billion in annual revenues. The company reports as three segments including Personal Care, Consumer Tissue, and K-C Professional.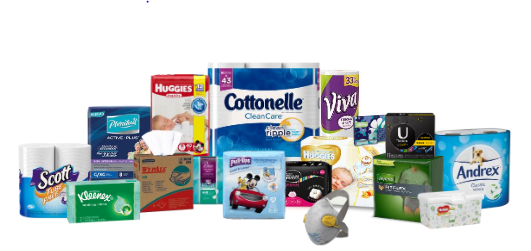 Financial Performance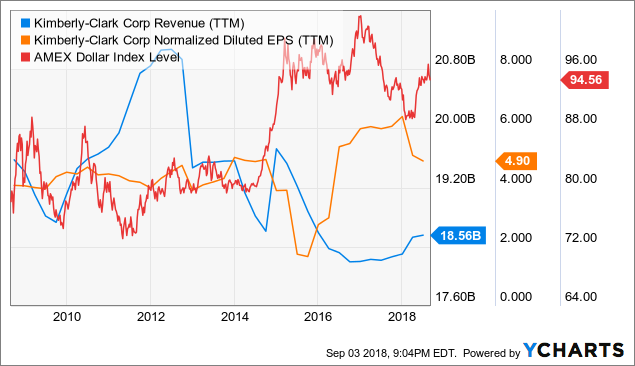 Kimberly-Clark has seen revenues erode since 2012. Part of this has been pricing pressures in a competitive space. The other factor impacting revenues has been a strong US dollar. The dollar has been strong since 2014. The majority of Kimberly-Clark's revenues are generated outside of the US (half of total revenues are outside North America). With a strong US dollar, these foreign revenues shrink when they are converted to US dollars for accounting purposes. There is not much you can do about this, currencies will ebb and flow over time. I try to look at the organic performance of the business, rather than a currency influenced bottom line number.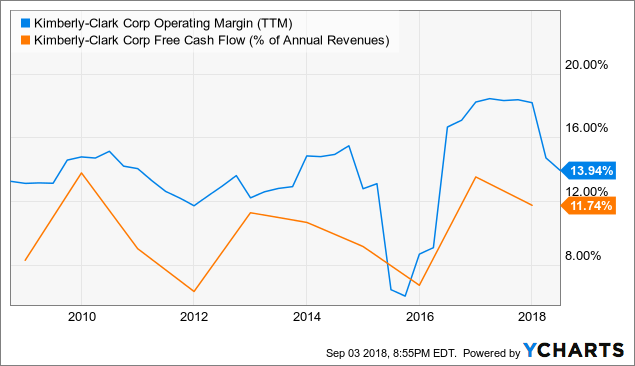 To get a gauge on the cash generating abilities of Kimberly-Clark, we take a peek at operating margins and conversion rates of revenues into free cash flow. We see some mixed performance here. Operating margins have remained pretty consistent (aside from a dip in late 2015).
Meanwhile, the company's cash flow conversion has been very volatile. I typically set a benchmark of 10%, as I want to make sure that a company is generating enough free cash flow to fund dividend raises, and reinvest for growth - without leaning too much on debt. While Kimberly-Clark has met this mark at times, more often than not there has been underperformance here.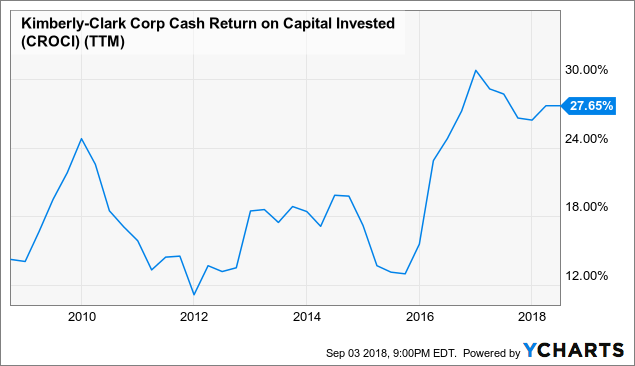 When we move on to the company's cash return on invested capital, Kimberly-Clark makes up some ground here. The company boasts an impressive rate of return of 27.65%, and has trended higher over the past 10 years (I typically look for this rate to be in the low teens). The CROCI is important because it gauges how much return management is generating on its resources from a cash basis. This is also a solid gauge on a company's "moat". Companies with strong competitive advantages tend to dominate the field, and generate strong cash flow on their efforts.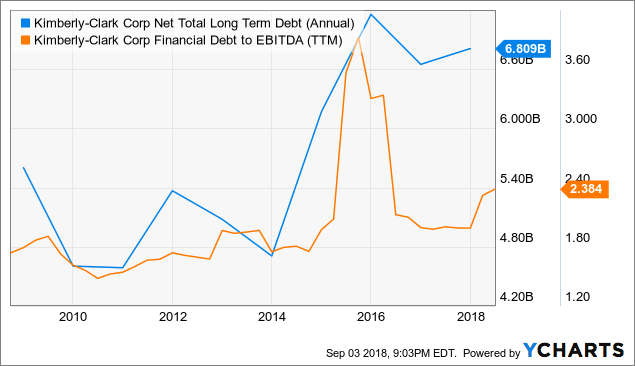 Kimberly-Clark's balance sheet isn't terrible, but it certainly isn't ideal. Debt has risen over the past 10 years to a net figure of almost $7 billion. This has leveraged the company to 2.4X EBITDA, just under the 2.5X threshold that I begin to further scrutinize the company at. Things are trending in the wrong direction here and need to be monitored by investors. If this keeps going, Kimberly-Clark could further hamper its growth as a high debt load will cost more to service in an environment where interest rates are rising.
Dividend Outlook
Kimberly-Clark is almost at the half century mark, with a whopping 46 years of consecutive dividend raises. The dividend now pays out $1.00 per quarter, good for an annual sum of $4.00 per share. The dividend is currently offering a 3.46% yield, making it potentially attractive to income focused investors. The yield is higher than the 2.86% that US 10-Years are offering.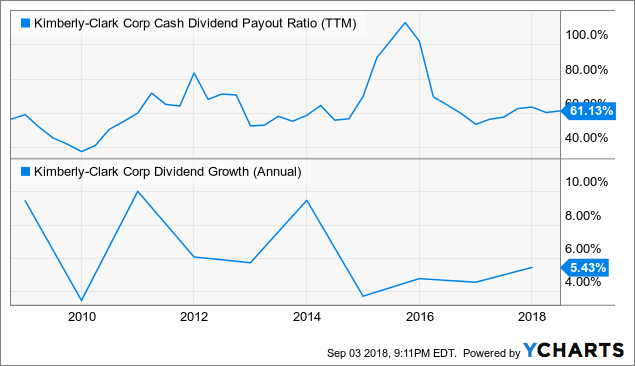 Despite the dividend growing at a CAGR of 6.7% over the past 10 years, the revenue struggles of the past 2-3 years have impacted recent increases. The most recent increase was only 3.1%, which essentially matches historical inflation rates. Management has maintained a pretty steady payout ratio at about 60% of free cash flow, so Kimberly-Clark will need to spark revenue growth or margin expansion in order to get dividend growth going again.
Growth Opportunities & Risks
Sparking growth has been a bit of a touchy subject with Kimberly-Clark. Kimberly-Clark's portfolio is mainly paper based products, and the degree of elasticity is a little more uncertain (how much of a premium will consumers pay for Kleenex versus "brand X?). Inflation has forced Kimberly-Clark's hand on this, as rising input and freight costs have encouraged Kimberly-Clark to issue sweeping price increases across its consumer products portfolio.
Again speaking to margins, Kimberly-Clark just this year launched a restructuring initiative to cut costs. The savings will be derived from a combination of workforce cuts, supply chain optimization, and overhead efficiencies. The program will cost the company $1.9 billion pre-tax to implement, and save the company about $550 million annually after 2021.
In order to grow revenues in a meaningful way, Kimberly-Clark may need to look outside the company. The business is very mature, and the best way to spark growth may be a strategic acquisition. Global population growth is pretty slow at approximately 1.2% per annum, so volume really needs to improve despite a competitive landscape that limits pricing upside.
Currency exchanges will remain a wild card for Kimberly-Clark. Prolonged periods of US dollar strength can have a negative impact on the top and bottom lines. As I said earlier though, I don't knock companies for FX rates, because it has nothing to do with the organic performance of the business.
Valuation
At just over $115 per share, shares of Kimberly-Clark are towards the higher end of 52-week ranges. Management cut full-year earnings guidance during its last earnings call, so using the mid-point of new guidance ($6.70 per share), the stock is currently trading at approximately 17X full-year earnings. This is a slight discount to its 10-year median multiple of 18X.
When evaluating a stock, I like to make sure that I am receiving as much cash flow as possible per dollar invested. Cash ultimately runs the company, while earnings can be distorted. That is why free cash flow yield is one of my favorite metrics.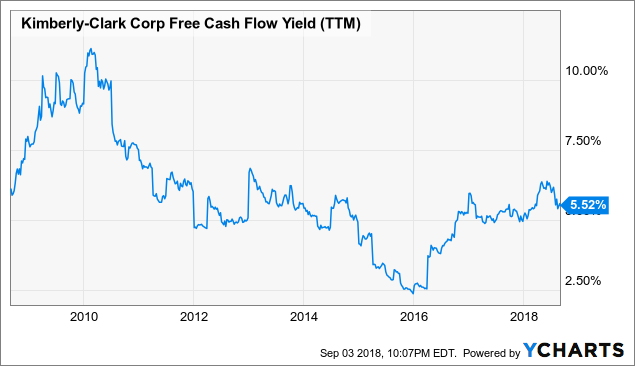 We can see that Kimberly-Clark's free cash flow yield has been pretty consistent since 2012 aside from a dip in 2016. I typically look for a yield in the high single digits - 10% range as an indicator of high value. At 5.52%, the FCF yield at Kimberly-Clark's current share price falls a bit short. Though, it appears that the stock is not drastically overvalued either.
With an earnings multiple that indicates a slight value, and a free cash flow yield that falls within the range of its averages - it would be fair to say that Kimberly-Clark is around fair value right now.
Wrapping Up
But does that make shares worth jumping on? This is a question each individual investor has to answer, but consider the following. Analysts expect earnings to grow at a CAGR of 6% over the next five years. The company is operating in an extremely competitive environment and is getting margin pressure as commodity and freight costs keep rising. Meanwhile, the company must find a way to boost volume despite a business that is very mature.
On the other hand, Kimberly-Clark is the far and away market leader for paper products. The stock is offering a great 3.46% yield. The 6% earnings growth is solid for a company that is extremely reliable and will perform in all economic environments. Meanwhile, the valuation is reasonable and well below the overall multiple of the S&P 500 (currently around 25X earnings).
See what I did? Investors need to weigh the pros and cons, and how they fit into their own goals. Kimberly-Clark is a great company to park money, and receive modest growth and solid income from. For those looking to build capital returns over the coming decades, it would probably be wise to look elsewhere.
Please click the "Like" button if you found this insight useful. You can receive updated content by hitting the orange "Follow" button.
Author Disclaimer: Wealth Insights is an investor, and investment author. His content is not geared to anyone's specific investment goals, time horizons, or risk tolerance. Content is for illustrative purposes only, and is not intended to displace advice from a fee based financial adviser. Accuracy of data is not guaranteed.
Disclosure: I/we have no positions in any stocks mentioned, and no plans to initiate any positions within the next 72 hours. I wrote this article myself, and it expresses my own opinions. I am not receiving compensation for it (other than from Seeking Alpha). I have no business relationship with any company whose stock is mentioned in this article.