Welcome to the August edition of "Monthly Dividend Stock Discounts". Each month, I create a list of US dividend stocks with more than 5% discount in the last month. The purpose is to identify potential bargains for dividend investors. Yet, as you surely know, a dropping stock price typically means one of two things: either it's an opportunity to get more bang for your buck, or it is a warning sign that the company faces serious headwinds and future dividends may be in trouble.
That's why I give you an introduction into the 5 dividend stocks with the highest discounts. The objective is to give you an overview about the current situation of the company by checking the most essential aspects by:
mentioning the earnings and profitabilty situation of the company.
checking if dividends are endangered by looking at cash-flows and optionally debts and assets if necessary.
comparing current to historic dividend yield to determine the valuation from a dividend focused perspective. This is done by what I call the relative dividend yield, which is based on the logic of the implied volatility rank used in option trading. In short, the relative dividend yield examines the current dividend yield in relation to its historical context. The metric's value ranges from 0 to 100. 100 means the current dividend yield is on all-time-high. If the current dividend yield is on all-time-low the relative dividend yield is 0.
Don't expect multiple in-depth analysis in one article. Instead, I present what I think to be the most essential aspects to give you a well founded idea if it's worth digging deeper.
The list of dividend discount stocks considers more than 300 of the most popular dividend stocks in the US. To ensure a minimum quality and attractiveness all stocks, each stock needs to match the following criterion:
Dividend increase of at least 5 years (dividend contender)
Current dividend yield of at least 2%
Market capitalization of at least 1 billion USD
Before we start, let's look back at what happened to the stocks on discount in the previous edition of July.
Dividend Discount Stocks Of July Revisited
"Buy the dip". All stocks in the edition of July went up on August. Yet, the difference in capital gains is huge. While the stock price of Broadcom (NASDAQ:AVGO) remained nearly flat, Telephone and Data Systems (NYSE:TDS) managed a whooping 18.8% increase. The other stocks gained between 2 and 3% while Foot Lockers (NYSE:FL) payed dividends in August as well. The average capital gain was 5.4% while the S&P 500 went up 2.8%.
| Symbol | Company | Price Change % | Years of dividend increase | Yield % | Relative Dividend Yield |
| --- | --- | --- | --- | --- | --- |
| AVGO | Broadcom | 0.6 | 6 | 2.9 | 89 |
| PII | Polaris Industries | 2.3 | 21 | 2.2 | 10 |
| FLL | Foot Locker | 2.6 | 6 | 2.7 | 10 |
| OMC | Omnicom | 2.8 | 8 | 3.4 | 92 |
| TDS | Telephone & Data Systems | 18.8 | 44 | 2.1 | 68 |
August price change of the stocks in the July edition of Dividend Discount Stocks.
Broadcom (AVGO) and Omnicom (OMC) are still on strong discount based on the relative dividend yield. Consult the July edition to find more information about these stocks.
New Dividend Stocks On Discount
The table below contains the US dividend stocks with highest discounts in August:
| Symbol | Company | Discount % | Years of dividend increase | Yield % | Relative Dividend Yield |
| --- | --- | --- | --- | --- | --- |
| UVV | Universal Corporation | -11.7 | 47 | 4.0 | 32 |
| PM | Philip Morris International | -9.0 | 9 | 5.6 | 67 |
| SO | The Southern Company | -9.0 | 17 | 5.4 | 56 |
| PDCO | Patterson Companies | -6.8 | 7 | 4.6 | 92 |
| CVX | Chevron Corp | -5.6 | 30 | 3.8 | 36 |
| SJM | J.M. Smucker | -5.5 | 16 | 3.1 | 43 |
| NUE | Nucor Corporation | -5.1 | 26 | 2.4 | 25 |
US dividend stocks with highest discounts in August 2018.
Universal Corporation (NYSE:UVV) and Philip Morris (NYSE:PM)
The two dividend stocks with the highest discount are tobacco companies. After years of capital gains and rising dividends, the tobacco industry is on retreat as shown by the performance of the S&P 500 Tobacco, loosing 30% since June 12th 2017.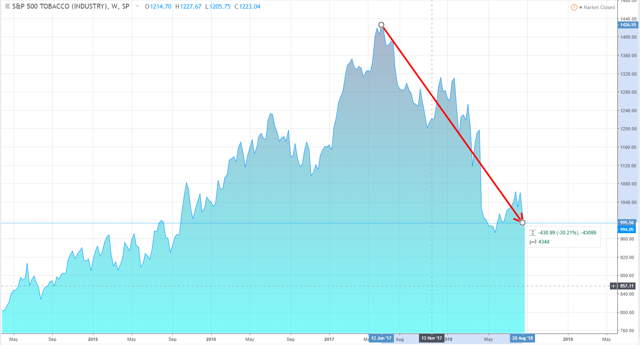 Tobacco industry on decline. Source: TradingView.com
PM is gentle enough to give investors the main reason for the current decline of a whole industry right on the landing page of its website: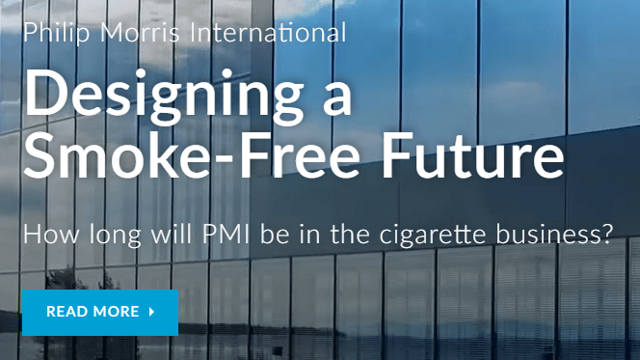 Welcome message: "Leaving cigarettes behind - facing an uncertain future". Source: PM company website
"Smoke-free" translates into abandoning a highly successful product line in favour of an uncertain future. What's good for public health reveals to be unhealthy for the stocks' performance. Still, the current situation of each tobacco company differs.
Universal Corporation (UVV)
Last month, UVV lost nearly 12%. As a leaf tobacco supplier, UVV is at the beginning of the tobacco value chain. Although being a dividend aristocrat with a 47-year streak of dividend increase, the overall stocks' performance is lacklustre – especially when compared to a cigarette producer like Philip Morris (PM).

Long-term performance of UVV – years with ups and downs lead to a modest overall-performance
UVV's modest performance is directly related to its inability to generate long-term profit-growth:

Missing long-term profit-growth yields modest overall-performance
Note: The earnings-gap is due to a business year change.
Yet, dividend investors still might be tempted to buy this dividend aristocrat, especially if the stock seems undervalued. For dividend stocks, an indicator for a possible undervaluation is the height of current dividend yield in its historically context. However, with only 32 out of 100 points, UVV's relative dividend yield is rather low.

The relative dividend yield of UVV shows no trace of an undervaluation
Due to lacking long-term profit-growth and missing undervaluation, UVV does not look attractive to me. If you want to find arguments in favour of the stock, you may find them on SA here.
Philip Morris (PM)
PM came into existence due to a spin-off in 2008 and lost 9% in the last month. Compared to UVV the stock performed much better with only 2 years of capital losses since 2009 compared to 4 years of capital losses for the same period in the case of UVV.

Performance of PM – selling cigarettes yielded better returns than harvesting tobacco
The long-term profit-growth is not without draw-backs, but much smoother compared to UVV's long-term profit-growth profile:

PM: Modest long-term profit-growth still performs better than no profit-growth at all
The relative dividend yield of PM is 67 out of 100 points, indicating a much better valuation when compared to UVV. Only in the wake of the financial crisis investors were rewarded with a higher dividend yield of 6.9%.

The relative dividend yield of PM enters undervalued territory
Facing a changing industry, before buying any tobacco stock, investors need to create their own opinion about the industry's future. In the case of PM this can be done by in depth articles on Seeking Alpha available here.
The Southern Company (NYSE:SO)
Latest discount of 9% and current dividend yield of 5.4% are similar to PM. Yet, contrary to tobacco stocks, utility stocks most often rely on heavy investments. Hence, the existence of a huge gap between operating and free-cash-flow. In the case of SO, current dividends are rarely covered by free-cash-flow.

SO: slow long-term profit-growth combined with uncovered dividend payments
Dividend payments of 2.33 billion USD and a negative current free-cash-flow of 708 million USD sum up to a TTM deficit of more than 3 billion USD, while current cash and cash-equivalents amount to only 2.28 billion USD. Meanwhile, the debt ratio of 76% is on all-time-high. Although analysts estimate dividends to continue to increase, I am not sure if the title of dividend aristocrat can be kept in the coming years.

Alarming debt situation combined with to uncovered dividends
The current dividend yield of 5.4% corresponds to 56 points based on the relative dividend yield:

The relative dividend yield increases but still indicates no under-valuation
I don't consider this stock to be a promising investment. If you oppose or simply want to know more, you may consult the analysis on SA.
Patterson Companies (NASDAQ:PDCO)
PDCO is focused on dental and veterinary segments – two completely different segments. Anyway, for many years the company seemed to be doing fine. In 2010 PDCO started paying dividends, increasing them at fast pace by more than 10% each year.

Long-term earnings, cash-flow and dividends
When margins started to erode as early as in 2005, increasing revenues counter-balanced shrinking profitability and the overall outcome was still positive when measured in earnings per share. Yet, the margins decline continued and even got worse when PDCO acquired Animal Health International in 2015.

Declining operating margins in the last 14 years from 12.5% in 2005 to 4% today
At least dividends are still covered by free-cash-flow, and while the debt ratio of 58% is still close to an historic high of 60.2% in 2017, balance sheet and earnings aren't alarming yet. A bad thing to happen may be a goodwill related write-off in relation to the acquisition of Animal Health International. Low cash reserves combined with a positive free-cash-flow are less dangerous than a high goodwill when the business runs badly.

Amortization power still positive, but goodwill may face a write-off
With 92 out of 100 points the relative dividend yield is close to all-time-high representing the current trouble the company is facing.

With 92 out of 100 points the dividends are close to all-time-high
Only invest in PDCO if you find a valid reason why the margins decline will end. You may find it in the analysis on SA here.
Chevron Corp (NYSE:CVX)
CVX lost 5.6% in the last month. The company is highly cyclical, yet still manages to pay and increase its dividends for as long as 30 years. After some years of negative free-cash-flow, dividends are covered by free-cash-flow once again.

CVX: dividend aristocrat but cyclical
Although dividends are covered, further dividend increase shouldn't be taken for granted. Looking at the balance sheet reveals that cash and cash equivalents of about 7.7 billion USD face yearly dividend payments of 8.3 billion USD. In times of negative free-cash-flow, dividends must be financed from the balance sheet or additional debts, which might be done in face of a moderate debt ratio of 40.5%.

Moderate debt ratio but low cash and cash equivalents compared to dividend payments.
Due to the cyclical nature of CVX, timing matters. With 36 out of 100 points, despite the latest drop in stock price, the relative dividend yield indicates no under-valuation. Investors may wait for the next down-cycle to come.

With only 36 out of 100 points the current dividend yield is no invitation for a buy
Analysis on SA regarding CVX are available here.
Dividend Payments
Finally, the screenshot below shows in which month you need to own which stock to claim dividends based on the ex-date (bell symbol) and when dividends get paid based on the payment date (dollar symbol):

Dividend ex-date and payment months. Source: Dividend Calendar.
Conclusion
I presented a list of US dividend stocks with highest "discounts" in August and tried to introduce you to the "top 5" stocks to give you an idea if they are worth any further analysis. What do you think? Did you find a stock of interest? Did you even take the chance to "buy the dip"?
Disclosure: I/we have no positions in any stocks mentioned, and no plans to initiate any positions within the next 72 hours.
I wrote this article myself, and it expresses my own opinions. I am not receiving compensation for it (other than from Seeking Alpha). I have no business relationship with any company whose stock is mentioned in this article.