Investment Thesis
Netflix (NFLX) is a remarkable service, where users are in direct control of what they consume. However, in spite of offering a fantastic service to consumers, I argue that Netflix makes for a terribly risky investment. Investing at $160 billion market cap leaves investors with no upside potential.
Recent Results
Since Netflix's Q2 2018 results were announced in mid-July, we have seen its share price lose some steam, although investors now appear to be returning to the stock.
Netflix's Q3 guidance points to its top line revenue to hit just shy of $4 billion. This means Netflix's YoY growth rate will go from 40.3% in Q2 2018 to 33.6% in Q3 2018 - an approximate 6.7% sequential slowdown compared with a 2.7% sequential slowdown seen in the same period a year ago.
Additionally, Netflix's EPS in Q2 2018 soared more than 400% to $0.85, as it benefited from both top line growth and an expansion of its operating margins. However, its guidance for Q3 2018 points to its EPS to grow by approximately 135% - which is dramatically different from the growth rate we saw in Q2 2018. Moreover, even if Q2 and Q3 are not directly comparable, the disparity in its bottom line growth rates seen in just two quarters, should give investors pause for thought; what has fundamentally changed for Netflix?
Netflix's Competition
Netflix did a fantastic job in disrupting the video on demand streaming world. So great has Netflix been that in a classic business case, it has attracted competition, who are heavily investing in an attempt to gain market share from Netflix. Let's consider Amazon (AMZN), which is arguably the number one competitor in this field.
The thing with Amazon is that its shareholders are huge fans of the company, and as long as its revenue continues to trend up over time, investors presently seem unconcerned about whether Amazon generates free cash flow or not.
Amazon operates under the banner of 'investing for growth' where a lack of free cash flow is easily ignored by the Street, as long as its revenue continues to trickle up. Amazon argues that by investing in content that it increases its number of subscribers, providing much-needed recurring revenue, while at the same time, by having great content increases the stickiness of its platform, as customers increasingly engage with Prime, which drives retail growth - translation: Amazon will keep doing what it can to continue to invest in increasing the quality of its content.
[...] we'll keep focusing on building out even better selection, because it's clear to us that customers want that option to be able to add that content as part of their Prime memberships.

- Fildes, Investors Relation, Amazon
Next, Apple (AAPL) has been rumored to put down $900 million into original content in 2018. It is no secret that Apple's Services segment has been set up by CEO Cook and his team, to not only increase Apple's next level of revenue growth, but Apple's content has been designed to increase Apple's recurring revenue stream - the holy grail for investors.
While this giant makes tiny steps into subscription video service, Apple's content will be yet another offering for end users to choose from; which subscription service do they actually wish to pay for? Ultimately, there will be a limit to how far consumers' wallet will stretch for digital content.
Netflix certainly was the first meaningful player to recognize the size of the opportunity in subscription-based revenue from content, but the competition is now firmly awake and determined to carve out market share too. Going forward, investors will be questioning whether Netflix is actually undervalued when its financially well-resourced competition is also getting ready to step up their investments in this space?
Valuation

Source: Author's calculations, morningstar.com
Alphabet (GOOGL)(GOOG) is included in the table, which is not a direct competitor to Netflix per se, but CEO Reed has often highlighted how Netflix competes with YouTube for users' viewing time. The same rationale led me to include Amazon in the table. Finally, I have included Discovery (DISCA) given that it recently boasted of having 25 million streams monthly. While this figure from Discovery is not as punchy as that of Netflix, investors are only asked to pay a $14 billion market cap for Discovery compared with $160 billion for Netflix.
Given that Netflix generates no free cash flow and is expected to burn through between $3 to $4 billion of free cash flow in 2018, we are left with pricing Netflix off of a P/Sales ratio. However, even at this level, we can see that investors are paying twice as much for Netflix today than they have been over its last 5 years (on average).
Takeaway
Whichever way I look at Netflix, whether it is quantitatively or qualitatively, I struggle to see how at $160 billion Netflix is in any away undervalued.
Author's note: The only favor I ask is that you click the "Follow" button so I can grow my Seeking Alpha friendships and our Deep Value network.
Disclaimer: Please do your own due diligence to reach your own conclusions.
Find alpha in unloved names with enormous upside potential
At Deep Value Returns, I'm laser-focused on two things: free cash flow and unloved businesses. Companies that are going through troubled times, but that are otherwise stable and cash-flow generative can be bought on the cheap, providing investors with an opportunity for exceptional returns once those names come back in favor - as they often do. If you're looking for a deep value investing approach inspired by Buffett, Icahn, and Greenblatt that can help you generate between 50% and 200% potential upside in just a few years, then sign up for your two-week free trial with Deep Value Returns today!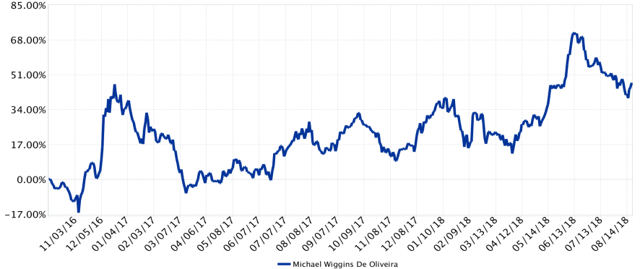 Disclosure: I/we have no positions in any stocks mentioned, and no plans to initiate any positions within the next 72 hours. I wrote this article myself, and it expresses my own opinions. I am not receiving compensation for it (other than from Seeking Alpha). I have no business relationship with any company whose stock is mentioned in this article.