Shares of Belmond (BEL) are trading ~50% higher since the company announced a review of strategic alternatives, including a possible sale of the company, at the beginning of August. BEL has failed to create shareholder value for the better part of the last decade, so the board's claim that it is "committed to a path that is in the best interests of shareholders" was understandably well received. But we've heard similar messages from management in the past, and there are still no signs that BEL intends to return more cash to shareholders. BEL trades at a significant premium to peers that isn't deserved based on fundamentals, and this valuation basically hinges on a buyout. This is a purely speculative investment, and investors should stay away.
History of Underperformance and Poor Capital Allocation
BEL has stagnated in the $10-15 range for the majority of the past decade (Figure 1), while the market values of competitors Marriott (MAR), Choice Hotels International (CHH), Hyatt (H), Hilton (HLT), and Intercontinental (OTC:ICHGF) increased 216%, 104%, 78%, 71%, and 58% respectively over the last 5 years.
Figure 1: 5-Year Stock Performance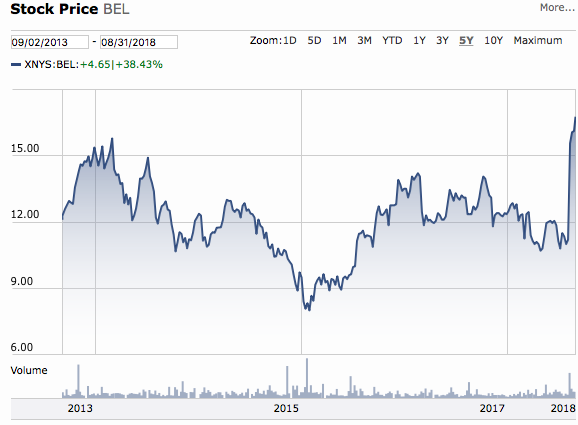 Source: Morningstar
Conditions have been close to ideal for the global travel/lodging sector during this period, which has seen large increases in business and leisure travel thanks to low interest rates, declining unemployment, and rising consumer confidence. And, BEL's inability to grow or create value over this period (TTM revenues are 562M compared to 550M in 2008) is symbolic of its poor business.
Yet management has continued to reinvest all the company's earnings into the operation – an operation that doesn't return the cost of capital or generate free cash flow (average ROIC is ~1% since 2008). Unlike most of BEL's competitors who own/operate hotel chains and are therefore much more scalable (a huge factor in the lodging industry due to the massive fixed costs), BEL operates a comparatively small portfolio of individual luxury hotels in niche markets (Figure 2) that have no relation to one another (BEL's portfolio consisted of 46 properties as of December 31, 2017). This lack of scale and brand leverage severely limits the company's ability to grow earnings: the opportunities to acquire new properties are relatively few due to BEL's niche/exotic focus, and so the bulk of the strategic initiatives involve upgrading existing properties and spending more on marketing.
Figure 2: Property Locations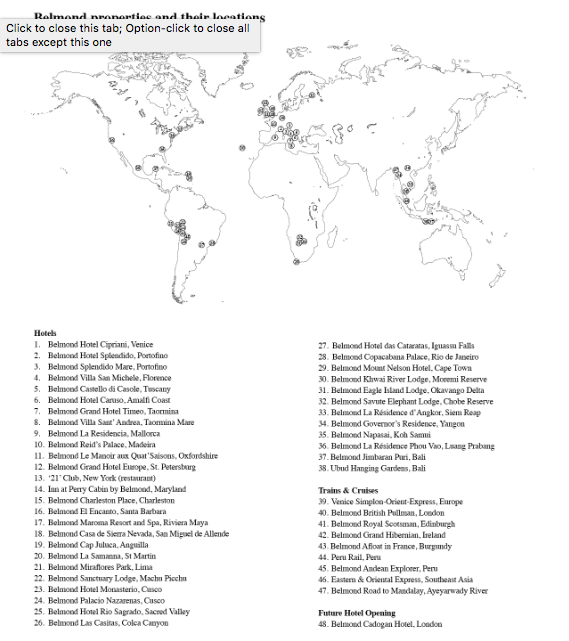 Source: 10-K
It therefore isn't really a surprise that management's initiatives have failed to make a difference, and we suspect that this isn't going to change anytime soon. The only hope for investors is that BEL starts returning cash to shareholders or sells itself to a strategic buyer. BEL's current valuation, a P/CF of 30.4x compared to a median of 18.4x for a group of faster growing and much more profitable peers, implies that one of these things will happen.
But it's hard to trust that the board is seriously considering more shareholder-friendly policies when it has made similar claims in the past. Less than two years ago the company outlined a new growth strategy that involved plans to eliminate the dual-class share structure that would help grease the wheels for a potential takeover. The problem is that this shift in ownership structure likely wouldn't occur if the growth initiatives didn't pay off within a relatively short time frame, which they haven't, and the dual ownership structure still exists today. In retrospect it comes across as nothing more than a cosmetic measure designed to give the appearance of a shareholder-friendly focus, without having to actually return cash to shareholders.
We think BEL's valuation pretty much hinges on a buyout, and this makes it a purely speculative investment. Unfortunately, there probably aren't going to be many suitors. The company's portfolio of isolated properties in exotic markets limits the amount of synergies that a strategic buyer can extract, and BEL's doesn't have the healthiest balance sheet either. Financial leverage as of the most recent quarter was 2.6x, and the company has ~$265M of long-term debt and other contractual obligations that are due within the next three years, compared to ~160M in cash. BEL generates little-to-no free cash flow, so additional borrowings will be required. Throw in the sky-high EV/EBITDA valuation of 33.5x, and its difficult to imagine how anyone could extract much of a return out of BEL at the current valuation.
Conclusion
Belmond is way overpriced based on fundamentals, and the valuation basically assumes that a takeover will occur. But a takeover seems unlikely and it's hard to trust that the company will be run in a more shareholder-friendly manner anytime soon. BEL can't create value internally from its own operations, but management will most likely continue to reinvest everything back into the business. An investment in Belmond is purely speculative, and we see very little upside at the current valuation.
Disclosure: I/we have no positions in any stocks mentioned, and no plans to initiate any positions within the next 72 hours. I wrote this article myself, and it expresses my own opinions. I am not receiving compensation for it (other than from Seeking Alpha). I have no business relationship with any company whose stock is mentioned in this article.