Tinder parent company Match Group Inc (NASDAQ:MTCH) scored a home run on its second quarter earnings show- and has stirred up clear Street-wide intrigue ever since.
Just how good was Match's second quarter print? Consider within 72 hours after the quarterly release, MTCH shares went flying almost 31%.
In fact, even over two weeks following the results, Match stock is still up an impressive almost 31% from August 7.
Notably, the online dating conglomerate rules as king among millennials. After all, Match is the popular name behind a slew of dating sites, including: Tinder, OKCupid, Match.com, and recently acquired Hinge.
Match sure looks to be in amazing shape between a $14 billion market cap and recent bullish post-earnings momentum. Yet, in the world of Wall Street, more information is always key to a savvy investment. What are the best experts on the Street saying about Match?
Here, we turn to TipRanks to find out how top analysts are betting on the hot tech stock. According to our market data, Match is one of this month's Trending Stocks. In the last 30 days, 9 analysts have made recommendations on MTCH stock. Wall Street is paying attention - so we are too. Let's dive right in.
The Bullish Case
Aegis analyst Victor Anthony (Profile & Recommendations) is one of Wall Street's top 100 analysts- and this bull just got even more bullish on Match after 2Q earnings.
Out of over 4,800 analysts we cover on TipRanks, Anthony has an impressive track record: #90. This top analyst also boasts a 100% success rate on betting successfully on Match- success that rounds out to 66.7% in average profits.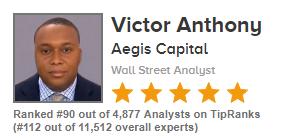 In reaction to the print, the analyst reiterates an Outperform rating on MTCH stock and lifts his price target from $47 to $55 (8% upside potential). As far as Anthony sees it, this was a "thesis reinforcing quarter" for Match; especially "as Tinder continues to outperform."
Match shot up 34% year-over-year in second quarter revenue to a whopping $421.2 million. Compared to the first quarter, Match experienced a rapid-fire 31% surge in growth. Match racked up 290,000 subscribers to close the quarter with a 25% rise in average paying subscribers: a cool 7.723 million. For context, this outclassed Anthony's forecast by a monster 26,000. Another solid positive for Match: it's third quarter guide trounced consensus by $9 million at the midpoint in revenue; and $2 million in adjusted EBITDA.
"Affinity brand subscriber declines continued to moderate and all non-Tinder subscribers declines were better than in previous quarters. Match is investing in the new brands (Hinge, Crown) to capture untapped demos… Longer-term growth (3-5yrs) should be driven by geographic expansion (India), consolidation, product launches, expanding demos (college/Latam), and growing the legacy brands" cheers Anthony.
Plus "We continue to see minimal threat from the impending launch of Facebook Dating."
Tinder: A Killer Growth Driver and Opportunity
Looking ahead, watch out for Tinder's revenue. The Match team is angling for Tinder to yield $800 million in 2018- a 105% year-over-year jump.
Deutsche Bank analyst Kunal Madhukar echoes Anthony's enthusiasm for a second quarter show that beat out "expectations across the board." Between "continued strength at Tinder and stabilization at the other brands," Match kicked up its full-year guide; and Madhukar is certainly taking notice.
On the fresh heels of the stellar print, the analyst reiterates a Buy on MTCH stock while boosting the price target from $50 to $56. In other words, Madhukar bets this tech stock has another 10% upside potential in store.
Moreover, since Match released earnings, the analyst has dialed up his price target not once, but twice. Madhukar notes "increased confidence in Match's ability to continue to drive elevated growth (with attractive cash flow profile) as it builds new products (Chispa, Crown), new features (Picks, Places, Loops, Tinder U), integrates acquisitions (Hinge), and expands deeper into international markets."
The bull bets Match's total addressable market for Tinder ranges between 185 and 190 monthly active users. This points to around 10 million paying subscribers for Tinder, making the popular dating app underpenetrated in the market. Madhukar is more upbeat on Match especially regarding Tinder's power to continue dishing robust growth in the medium-term.
The Sidelined (But Still Optimistic?)
Oppenheimer analyst Jason Helfstein (Profile & Recommendations) is not ready to join the bulls just yet. Helfstein reiterates a Perform rating only "on valuation," though he acknowledges two positive points for Match: 1) "another strong quarter," and 2) "higher guidance."
Worthy of note, Helfstein is another top analyst keeping eyes on Match Group: a #51 ranked analyst on Wall Street.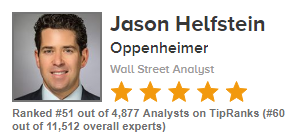 Helfstein writes, "… Tinder Gold conversion continues to improve (with launch of Tinder Picks in 3Q18), and marketing will increase in 2H18 to support 2019 sub growth. At some point, we expect IAC to spin-off MTCH to shareholders, which will correct the float issues and short-interest."
As far as Helfstein sizes up Match's bigger picture, the company's management team's top priority for the back half of 2018 is Picks. Picks is a Tinder Gold feature that offers a daily assortment of four to ten prospective suitors; all based on whatever an algorithm finds worthwhile to the user. Picks was launched in July 2018.
"Tinder remains a growth driver, but net adds are expected to slow," explains the sidelined analyst. Keep in mind, 2016 saw a soaring 200% in year-over-year growth. By last year, this growth scaled back to 90%. This year, growth is estimated to hit 63% year-over-year.
That said, Helfstein spots a silver lining: "New products/features (Tinder U, Loos, Snapchat Integration, and Places) and international markets (Japan, Chispa in Mexico/ Spanish-speaking markets) could drive further upside."
Even the Cautious Admit: Tinder Is "Strong"
Wells Fargo analyst Peter Stabler (Profile & Recommendations) is also a top 100 analyst playing it safe on Match (ranked #83 on TipRanks). Following the print, the analyst reiterates a Market Perform rating on MTCH while boosting the price target from $41 to $47.
However, make no mistake: "Tinder [is] still hot, in our view," says Stabler. Though cautious, the analyst acknowledges "a very strong" quarter. It was momentum carried on the back of Tinder's standout subscriber and average revenue per user growth.
"…non-Tinder assets demonstrated stability, with subscribers down approximately 10K vs. our forecast for a loss of 30K. Mgmt raised annual revenue and EBITDA guidance, though we view the outlook as likely still conservative," adds Stabler.
Even though Stabler is hedging his bets here, he nonetheless sees a "promising" Tinder product pipeline. The analyst contends: "In sum, product execution at Tinder remains strong—in our view—and should help Tinder address steepening y/y comps as the product laps the introduction of Gold."
The Verdict: Healthy Confidence
Overall, Wall Street is positive on this 'Moderate Buy' stock. Five best performing analysts have rated a Buy on Match over the last three months, with four rating the stock a Neutral. We can see that since Match's IPO almost three years ago, the stock has rallied from $14.74 to $50.83. With over 244% growth under wing, Wall Street is optimistic on more gains ahead.

Disclosure: I/we have no positions in any stocks mentioned, and no plans to initiate any positions within the next 72 hours.
I wrote this article myself, and it expresses my own opinions. I am not receiving compensation for it. I have no business relationship with any company whose stock is mentioned in this article.