Welcome to The Best of Cannabis series where we discuss some of the most important trends and topics that every cannabis investor must know.
Introduction
If you have been following the cannabis sector since 2017, the recent rally must have brought back some memory of the spectacular rise and fall of the sector between December 2017 and February 2018. We initiated our comprehensive coverage of the cannabis sector in December 2017, just in time to catch the crazy upswing of the sector. In the last rally, stocks would shoot up 10-30% on a daily basis as long as they are remotely related to cannabis. We all knew how that ended as many investors that rushed into the sector found themselves down 30-50% at the end of February 2018.
When the mania faded, people are usually reluctant to sell and as a result, hold onto their losers longer than they should have. We do not claim to be able to time the market, but the recent market reaction is leading us to believe that much of the recent gains in cannabis stocks are driven by renewed speculative actions and could be reversed in a short amount of time. We aim to examine what happened in the last bubble and how it all came crashing down in the end. We also wanted to provide an informative discussion so investors can assess risk on their own and invest while being fully informed.
On a side note, we published a warning on January 26, 2018, titled "What Could Trigger a Selloff". In hindsight, our article was a prescient warning for investors and our cautious stance proved important especially when the market seems to be getting ahead of itself. We believe the current market euphoria deserves to be examined in the context of the last cycle and investors should be fully aware of the volatility to be expected.
It All Started in 2015
The pot sector only really came into existence after Trudeau was elected in 2015 and marijuana legalization was one of his major campaign promises. Although the medical cannabis system was already in place, the sector never caught much attention among investors as medical use was limited and the market remained tiny and stagnant. However, the election of Trudeau marked a historic event for the cannabis sector and many entrepreneurs saw the upcoming opportunities. Companies started to emerge and investors backed dozens of companies that were still trying to build small-scale facilities that could only produce from hundreds to a few thousand kgs per year.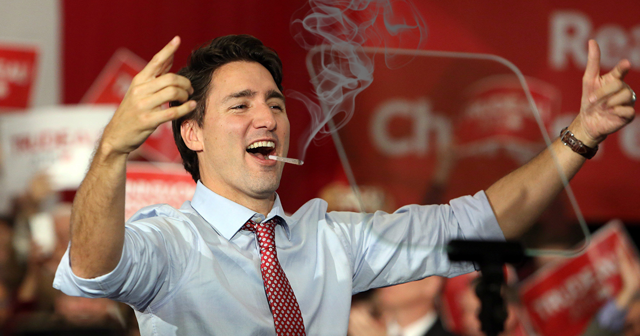 (MTL Blog)
In December 2016, Canopy (CGC) shocked the investing community by acquiring rival Mettrum for C$430 million, the largest cannabis deal announced by then and also a sizeable deal by conventional standards. The acquisition of Mettrum solidified Canopy's leadership position in Canada by consolidating almost half of the medical cannabis patient base under one roof. The acquisition of Mettrum pushed Canopy into the investing community and many people started looking into weed stocks as a potential investment. Canopy stocks started to slowly rise in late 2016 and broke $10 by early 2017. We will use Canopy's stock price as a proxy throughout this article because of its bellwether status for the cannabis sector and long history as a public co.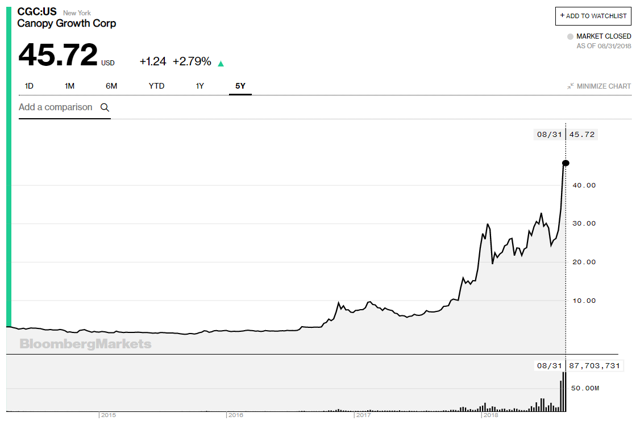 The First Pot Mania in 2017
After the initial rally faded throughout 2017, investors found themselves looking at the first major rally in cannabis stocks since the Canadian election in 2015. In the chart below, we can see that Horizons Marijuana Life Sciences Index ETF (OTC:HMLSF), the first-ever and most popular cannabis ETF, started to take off in November 2017 and gained almost 120% by the end of the year. Many investors would have remembered that Bitcoin (BTC-USD) also entered mainstream media as the digital currency went on a meteoric rise before falling back to reality. Some media even lumped cannabis together with Bitcoin due to the similar pattern of massive gains in a short amount of time.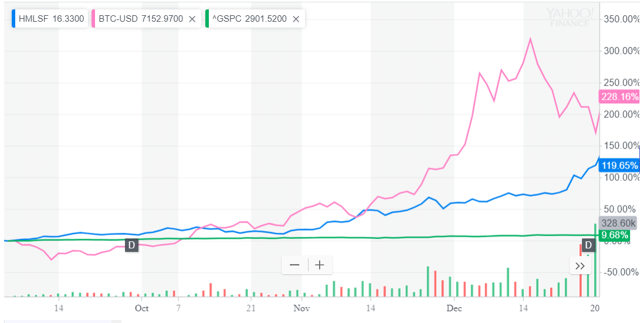 (Yahoo Finance)
The defining moment that kicked off the rally in 2017 was the initial investment Constellation (STZ) made into Canopy which was announced on October 30, 2017. At the time, investors were still debating whether cannabis could become mainstream and most cannabis companies still lacked credibility and recognition in the business community. However, the deal with Constellation changed the game and instilled a sense of legitimacy into the then-nascent cannabis sector. Constellation is one of the most recognized brands in the beverage world and consumers are more than familiar with their products including Corona. So, when an industry giant such as Constellation made a sizable investment into Canopy, an obscure cannabis company that most investors had never heard of, people took notice. Canopy's share price took off and reached an all-time high at over $30 by January 2018.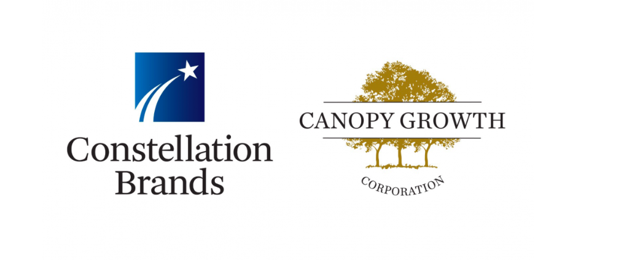 Another defining moment in the 2017 cannabis chronicle was the hostile-turned-friendly deal between Aurora (ACBFF) and CanniMed (OTC:CMMDF). For details of the deal, please refer to our previous article "True Reasons Behind The CanniMed Acquisition". Aurora began to emerge as a potent contender for investor attention and the much-debated hostile attempt significantly raised its profile among investors. Aurora began to surpass Canopy in terms of share price appreciation as new investors chase the "hottest stock" at the time.
In the meantime, the entire cannabis sector received unprecedented interests from investors all over the world. Companies small and large all experienced one of the largest bull markets that some even compared to the famous tulip bubble. The small-cap names saw even larger swings as speculators drove up share prices given the small float of many cannabis stocks. Companies rushed to issue equity in order to take advantage of the attractive market conditions. Companies were flush with cash and investment bankers made millions by helping companies issue equity and warrants. The whole market reached an unprecedented level of optimism as executives start touting the massive market potential for their yet-to-be-produced products and bankers were busy connecting private investors and cannabis companies.
The party lasted until it ended abruptly in February 2018.
What Happened in February 2018
Our second issue of the Weekly Cannabis Report titled "Don't Say We Didn't Warn You" was published on February 5, 2018, and we said the following:
This past week has been brutal for cannabis investors, with most stocks we cover losing around one third of their equity value in a matter of days. If you follow our articles and read comments you would have known that we have repeatedly told readers that we prefer to remain on the sidelines due to elevated valuation... We do not claim to have the ability to time the market, but we continue to share our view that the cannabis sector is one with high volatility and high risk reward given lack of fundamental drivers and dominance by retail investors.
Clearly, investors were not ready for the sudden turn of sentiment in the sector as major players lost around one-third of their market value in a matter of weeks. Take a look at the loss among major players for that week. This serves as a reminder for investors on how fast things could change in a matter of days and the loss could indeed be staggering.
What triggered the sudden selloff? The overall context back in February 2018 was a risk-off mode in the global markets as trade war and inversion concerns resulted in an equity market that was jittery and highly volatile. Despite a short-lived rebound, cannabis stocks continue to drift sideways after making all-time highs in 2017. On January 26, 2018, we published an article titled "What Could Trigger A Sell-Off?" and voiced our concern for the market. In the article, we detailed the miraculous rise of the cannabis stocks and potential negative catalysts that could trigger a selloff. We talked about a potential delay in the Senate which became reality when the date was moved from July 1 to October 17, 2018. The selloff indeed came shortly after we published our article which resulted in a loss of more than 50% for the Horizons Marijuana ETF and much more for many cannabis companies that never recovered for months that followed. To be clear, we are not claiming credit for timing the market right, but our correct call gave us confidence that investors should exercise caution when things appear too good to be true and when share prices rose too fast without justification from fundamentals.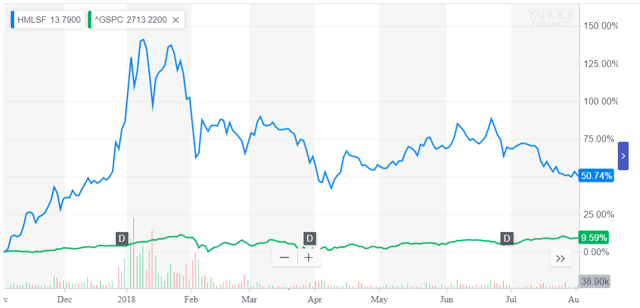 (Yahoo Finance)
Will History Repeat Itself?
Fast forward to August 2018, investors once again found themselves in a bull market for cannabis stocks. Prompted by Constellation's $4 billion additional investment into Canopy, the sector was seized by another wave of speculation that drove some stocks up multiple folds. In the chart below, we can see that in the last month alone, the ETF went up 35%! We think there are two key messages for investors to learn from the recent market euphoria.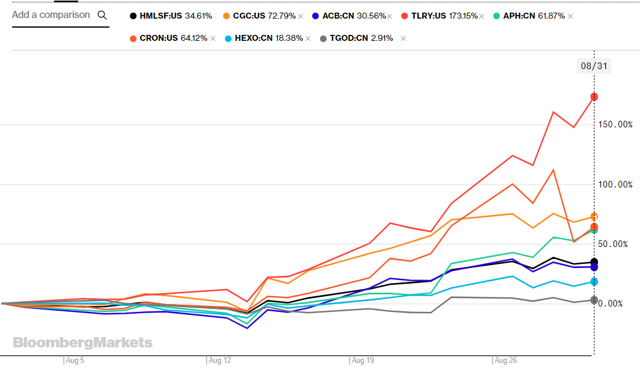 The first takeaway is that despite the recent market rally, many cannabis stocks remain underwater for 2018 YTD. The Horizons Marijuana ETF's 2018 YTD performance is a 4% loss, which might be surprising to some investors that haven't been here since the beginning. The best performer is Tilray (TLRY) which gained a total of 283% while the worst performer is Aurora which lost 26% so far this year. Canopy is only up 77% despite the massive run post Constellation deal. It helps to make sure that we all understand where we are in the cannabis cycle.

The second takeaway is that the rally this time is not broad-based and only select companies benefited. Large-cap stocks benefited disproportionately compared to small-cap stocks which were notably excluded from the rally. The reason is that the current rally was fueled by speculation of further investments/partnership from beverage and alcohol industries. Diageo (NYSE:DEO) was reported to be looking into a potential foray into cannabis and many had expected Aurora, Aphria, and Cronos to be the most promising candidates. We have expressed our view that Cronos is at a disadvantageous position compared to Aurora to Aphria due to its limited scale and poor track record. Many small cannabis firms did not benefit from the current rally because they lack any prospect of receiving such investments.
Looking Ahead into the Rest of 2018
The purpose of this article is to remind investors that the cannabis sector has historically been volatile and subject to ebbs and flows based on news flow and investor sentiment. We do not claim to be able to time market nor do we suggest investors short the sector. However, investors could utilize tools such as stop-loss orders to manage risks. We have heard from readers that they should have sold earlier during the last selloff but instead chose to hold onto their losers due to psychological reasons. The current rally has not ended and it might very well continue for days, weeks, or even months. If history is any guide, only continued volatility is guaranteed. We would urge investors to remain laser-focused on the highest quality names in the sector and effectively use tools to manage risk. Do not get greedy as the market could change on a whim. Buffet once said, "Be Fearful when Others are Greedy!".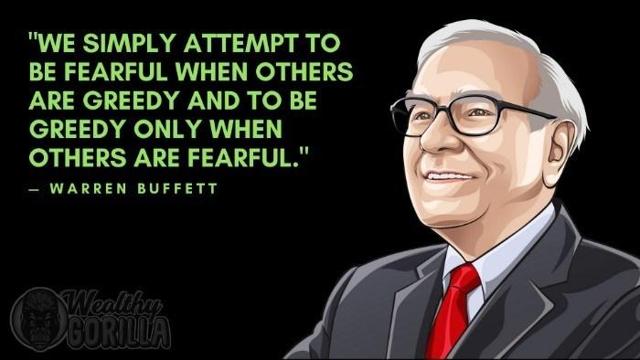 `
Author's Note: Follow us to receive our latest publications on the sector. We also publish a widely read Weekly Cannabis Report, which is your best way to stay informed on the cannabis sector.
Disclosure: I/we have no positions in any stocks mentioned, and no plans to initiate any positions within the next 72 hours.
I wrote this article myself, and it expresses my own opinions. I am not receiving compensation for it (other than from Seeking Alpha). I have no business relationship with any company whose stock is mentioned in this article.
Editor's Note: This article discusses one or more securities that do not trade on a major U.S. exchange. Please be aware of the risks associated with these stocks.