A nice chart is better than a hundred words in my opinion and I listed here only my worthy ones. Feel comfortable to contradict with my takeaways from them.
1) Demand/Supply cycles
Oil world supply has been above demand for 3-4 months before the end-June OPEC+ meeting and their following decision to reverse oil output cuts, according to Energy Intelligence data.
It looks more like the beginning of the downside cycle for me. Sanctions against Iran could bring the balance back to some deficit in the nearest future, but Saudi's change in strategy lowered the uncertainty about the length of such period.
Meanwhile, demand growth may cool down later in the year due to trade war between the USA and China. At least International Energy Agency expressed these concerns without lowering demand growth forecasts much.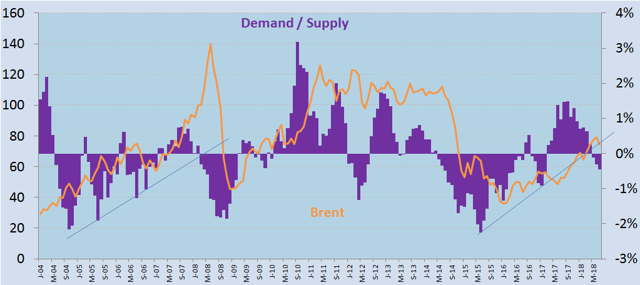 Source: Energy Intelligence, Bloomberg
2) Taking U.S. oil exports into account
U.S. storage levels are a good indicator of current market's balance, but increased export volumes should be added to the equation. I named this chart Total Stocks to Net Import. In other words, how long in days will current volumes of crude oil, gasoline and distillates in commercial storage last if net supplies from abroad stop suddenly.
There are two charts here because U.S. oil export is largely criticized due to its very light quality, while refined U.S. shale oil produces more gasoline and other light products. Refineries seem unprepared for large volumes of light oil and should invest in upgrades at some point in the future. "Light crude oil refining wall" is believed to be ahead of us before the investments happen.
Should U.S. exports be ignored due to its extreme lightness, is a hard question to answer and very important one. If U.S. oil exports are taken into account despite its super light quality, then oversupply in stocks looks even slightly higher than it was last year.

Source: EIA
The second chart on the right ignores U.S. oil export volumes and is really a great support for positive views on high crude oil prices.
3) "Looks like OPEC is at it AGAIN"
President Trump's simple words made Saudi Arabia anxious regarding their strategy, which had been working quite efficiently indeed. Investors are mostly focused on U.S. market's statistics. IEA's stock numbers in developed nations are also strongly influenced by the U.S. market.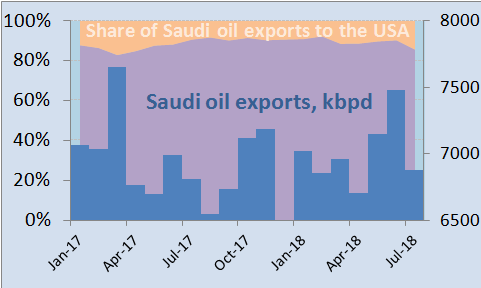 Source: Bloomberg
Saudi oil exports have been visibly increased recently, but more importantly, the share of exports directed to the USA recovered to the pre-deal level.
4) The backwardation is not what it seems
Saudi Arabia has benefited from its strategy to cut their supplies to the U.S. market. Lower imports made storage levels to drawdown enough for the futures market to turn into backwardation. Traders prefer to get long in futures curve during backwardation due to a rolling premium for long positions. Hedging for U.S. shale producers has also become more complicated.
Oil futures curve and storage levels are bounded together. If Cushing storage's utilization rate rises above 50%, then the futures curve of the WTI benchmark will likely turn to contango again. Current utilization rate is just about 30%. The last time the utilization was so low, the barrel of WTI was worth more than $100 per barrel.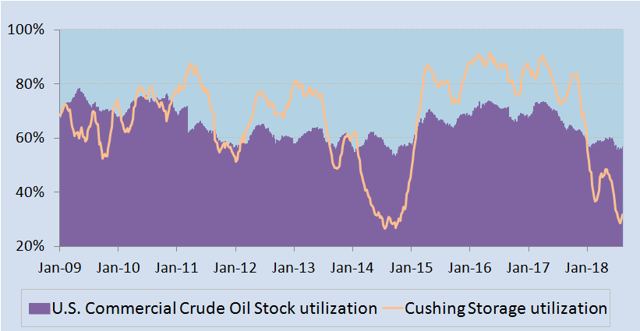 Source: EIA, Bloomberg
The premium of spot price to 12m futures is almost at the same level as 4 years ago. Current oil price even looks relatively low. Such significant backwardation is a strong sign for market participants that there is no oversupply any more.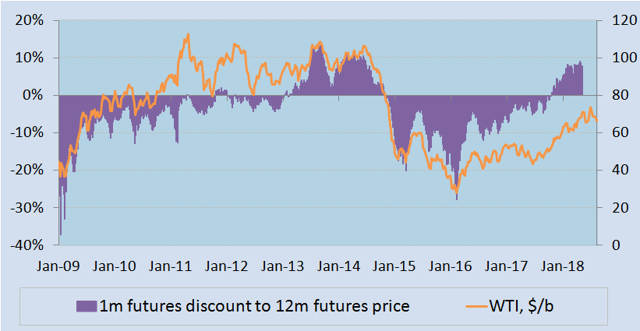 Source: Bloomberg
5) Speculative long believers
There was some fixation of speculative long positions in crude oil and oil products futures in the 1H of the year after a prolong rally in prices. However, oil prices did not fall and have been trading in the range since. Long positions were rebuilt eventually. Longs to Shorts ratio even surpassed the 6 level.
There are many factors supporting higher oil prices indeed. There are some fundamental factors like mentioned before stock drawdowns in the OECD region and backwardation in futures curve. Additionally, there is this aggressive U.S. government intention to lower Iran oil exports to zero.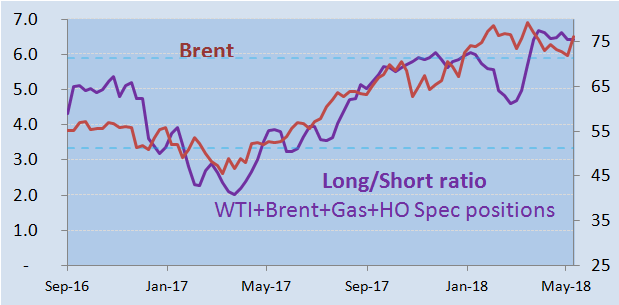 Source: CFTC, Bloomberg
Bottom Line
Crude oil market has become much more complicated. Given fast growing U.S. oil export volumes, the OECD data for storage levels alone looks inadequate to make a decision. The countries like China and India have not provided the market with actual information about their stocks.
Based on available data, a long position in crude oil futures seems reasonable, but there are substantial downside risks for sure:
Brent futures curve has already been playing with short-term contango.
Additionally, Trump's aggressive rhetoric does not usually lead to actual accomplishments. It is still possible that all the escalation around Iran is aimed to have a nuclear deal of his own.
The news about a cancellation of Saudi Aramco's IPO might lead to return for some competition among OPEC+ export countries. Although, the Saudi government hasn't officially declared the process dead.
Finally, concerns about a cool down in world demand growth after several years of above average pace of growth are supported by the same aggressive approach of President Trump in the trade war with China.
As a result, overall risks are more likely skewed to the downside in my opinion.
Disclaimer: This article is for informational purposes only. Please do your own due diligence before making any investment decisions.
Disclosure: I/we have no positions in any stocks mentioned, and no plans to initiate any positions within the next 72 hours. I wrote this article myself, and it expresses my own opinions. I am not receiving compensation for it (other than from Seeking Alpha). I have no business relationship with any company whose stock is mentioned in this article.