Smart speaker maker Sonos Inc (NASDAQ:SONO) has a slew of Wall Street analysts tuning in- especially after the tech stock's NASDAQ debut on August 2. Shares of SONO kicked off at an IPO of $15 and quickly jumped almost 33% by market close.
Therefore, it's no wonder Sonos has landed on TipRanks' Trending Stocks tool. This investor tool shines light on the stocks that have racked up 3 or more recent analyst recommendations. Consider that since Sonos stock has gone public, 6 analysts have been all ears.
Still, after some initial IPO craze, the stock now rests at $19.26- 3% under where shares closed on August 2. Where do Wall Street's experts stand today on this tech player?
Here, we turn to TipRanks' data to comb through the latest insights. Let's explore what analysts recommend on SONO stock fresh on the heels of its market launch.
Listening to the Back Story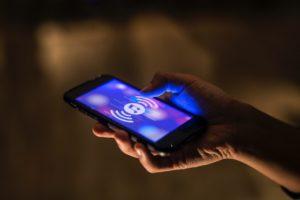 Santa Barbara-based Sonos has been on the consumer electronics scene since its founding 16 years ago. The company's claim to fame: developing and manufacturing smart speakers for a world that's quickly gone digital.
Back in 2002, Sonos was a brainchild called forth from the minds of four founders: John MacFarlane, Tom Cullen, Trung Mai, and Craig Shelbourne. The idea: an innovative approach to bringing music to every home. Multi-room music. An ambitious plan for whatever the song, no matter the room, to boast stellar sound quality. Keep in mind, this era was before the launch of Apple's first iPhone in 2007.
Director of innovation at Sonos Jonathan Lang said that back then, "We had to reinvent how devices communicate with each other. We could not, and did not, limit ourselves to what existed at the time."
By 2016, Sonos picked on a pain point for its consumers to advertise its speakers: a commercial showing a user tangled in speaker cables. After all, Sonos serves up sleek, smart speakers to the tech industry. The ad cheekily said: "You're better than this."
At the time, Sonos chief marketing officer Joy Howard said, "There's a huge gap between how people feel about music and how they experience it at home. We're using the weight of our brand and our unique position in the industry to create a better future for music."
Present-Day: Sonos Turns New Product Releasing Machine
Fast forward to present-day post-IPO, where Sonos chief product officer Nick Millington offered some insights to Engadget. Today, new product releases have become a priority for a company that once waited years before unleashing new hardware to the market. Now, it's a new chapter in Sonos' evolution. The tech player is unveiling new products left and right- from the Sonos One to the Beam to the Playbase.
Millington explained, "In the last year, we have definitely focused on increasing our velocity of product development and product releases… I'm really proud of having launched the Playbase, the Sonos One and now the Beam in a relatively short period of time."
The Bulls Sing: Growth Opportunity
Amit Daryanani (Profile & Recommendations) of RBC Capital is one of Sonos' first bulls. The top analyst – ranked #27 out of over 4,800 analysts we cover on TipRanks – just initiated coverage on SONO stock with an Outperform rating and a $25 price target. In other words, Daryanani spotlights nearly 30% upside potential for shares of Sonos.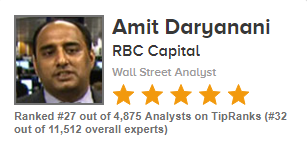 Specifically, the analyst puts Sonos' "open platform, exposure to music streaming and strong customer engagement" in the bullish spotlight. These growth drivers could hit gains to the tune of double-digits down the line- and even possibly boost the company's margins.
Thanks to Sonos' "land & expand model," the tech player now exhibits improved future growth visibility. Daryanani likewise highlights upside optionality between innovative new products on slate and a transition to adjacent markets.
Goldman Sachs analyst Rod Hall echoes Daryanani's bullish perspective and sees "a differentiated value proposition" posed in Sonos. The smart home speaker maker's connected technology allows multiple voice assistants to be possible; and Sonos' new rapid-fire product release trajectory stands to boost customer engagement.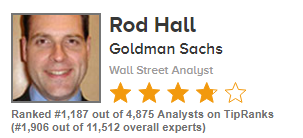 While Sonos already has hooked a devoted customer base, new products will help the tech player reach for new consumers. Sonos' new focus on a stream of product launches is primed to generate more consistent revenue gains.
Accordingly, the analyst initiates from the bullish camp. Hall initiates coverage on Sonos with a Buy rating and likewise predicts shares are bound to hit $25.
Sidelined Analysts Take Note of Upside Potential
Jefferies' Brent Thill (Profile & Recommendations) recognizes that Sonos' products unleash a "phenomenal" experience- even as he initiates coverage from the sidelines. Notably, Thill is one of Wall Street's top analysts (ranked #31 out of over 4,800 analysts we cover on TipRanks).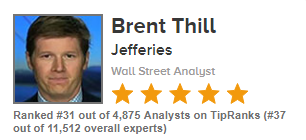 Right now, the company's "premium priced hardware" has pointed to subdued recurring revenue. The analyst initiates with a Hold rating on SONO stock, mainly because it's not easy to envision "breakout growth" for this tech player.
Sonos faces a fierce competitive backdrop that only stands to get thicker with rivals over time. Thill expects SONO bears to underscore competitors GoPro and Fitbit. Yet, consider that on TipRanks, both GoPro and Fitbit have received a 'Hold' analyst consensus rating.
Sonos is "The Lego of speakers," explains Thill- "but with low growth." That said, the analyst still spotlights 19% upside potential for Sonos stock to reach $23.
The smart speaker maker ultimately has only penetrated 7 million homes, which Thill says is quite low. In other words, even from a neutral stance, Thill recognizes room to be optimistic here.
First Thing's First: Need to See the Proof in the Pudding
Morgan Stanley analyst Kathryn Huberty is less confident in her initial target expectations. The analyst initiates an Equal Weight rating on Sonos with a $20 price target, which suggests roughly 4% upside potential ahead.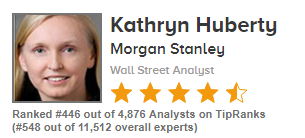 Why is Huberty playing it cautious on Sonos? The analyst says she needs to see proof of new products beating estimates first.
"To maintain differentiation in a crowded $18-billion home audio market, Sonos must leverage its technology stack to expand into new use cases for new and existing households (we collectively call new 'rooms') and deepen its integration with streaming, voice and home automation platforms ('smart' capabilities)," Huberty writes.
How Does the Competitive Edge Play Out?
Stifel's Matthew Sheerin (Profile & Recommendations) also opts for a neutral stance in his initial coverage of this tech stock.
On the one hand, Sheerin commends Sonos' "enviable position" in the high-end speaker market. On the other hand: Sheerin keeps his eyes on an "increasingly competitive landscape." The analyst initiates with a Hold rating on Sonos and a $20 price target.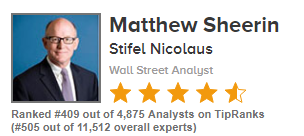 Even with a hint of caution, Sheerin appreciates Sonos' market position as well as its brand awareness. New data reveals 84% of audio professionals recommend the smart speaker, and 57% recommend the brand in particular for Wi-Fi speakers.
"Despite that competition, we still see Sonos with a competitive edge due to its 'sticky' relationship with its large and loyal installed base, which should drive refreshes and add-on products; and Sonos' 'platform agnostic' position with regard to third-party streaming services (it supports 100) as well as the three major voice-recognition platforms (Amazon-Alexa, Apple-Siri and OK-Google, which should be available by year's end)," Sheerin contends.
Top Analysts Say…
Bottom line: since its IPO, this 'Moderate Buy' stock has won two top bulls to its corner. Three analysts are choosing to hedge bets on SONO… for now. However, these best-performing analysts are quite upbeat in their initial coverage on the smart speaker maker. Consensus expectations currently round out to a confident $22.60, marking 17% in upside potential on tap.

See SONO Price Target and Analyst Rating Details
Disclosure: I/we have no positions in any stocks mentioned, and no plans to initiate any positions within the next 72 hours.
I wrote this article myself, and it expresses my own opinions. I am not receiving compensation for it. I have no business relationship with any company whose stock is mentioned in this article.