Note: This article was originally published June 30th on Value Investor's Edge, a Seeking Alpha subscription service.
LNG Shipping
Maritime trade LNG (liquid natural gas) is a crucial link in the natural gas supply chain for many nations where domestic demand outstrips available supply. These vessels transport natural gas, which has been reduced to a liquid state by cooling it to minus 162°C, achieving a volume reduction of approximately 600 to one. Upon delivery, this LNG can be stored in a liquid state until the market demands, whereupon it enters a re-gasification process.
Companies that engage in LNG transport include, but are not limited to, Dynagas LNG Partners LP (NYSE:DLNG), Golar LNG Limited USA (NASDAQ:GLNG), Golar LNG Partners LP (NASDAQ:GMLP), GasLog Ltd (NYSE:GLOG), GasLog Partners LP (NYSE:GLOP), Tsakos Energy Navigation Ltd. (NYSE:TNP), and Teekay LNG Partners L.P. (NYSE:TGP).
What Is The Supply Side? Why Is It Important?
The supply side is composed of vessels that are on the water, and when speaking about the future, can include vessel contracts on order. Those contracts, or "newbuilds," are collectively referred to as the "orderbook."
As with any market, "price" is determined by a combination of supply and demand. In this case, charter rates for these vessels are the "prices" we concern ourselves with when talking about shipping markets.
Charter rates are negotiated through brokers attempting to balance the available supply of vessels with current demand. If demand outpaces supply, charter rates increase. If demand falls short of vessel availability, rates decline. Charter rates are important for companies, as they compose the operating revenue stream.
In a perfect world, supply growth would keep pace with demand increases for each respective segment, thus ensuring market equilibrium. However, the shipping market is anything but perfect. Much of the volatility in the shipping market, historically and currently, can be traced to the supply side.
For this reason, it is important to keep track of vessel supply which will be a determining factor in how future markets shape up. If you would like a more detailed analysis on the inner workings of the supply side, please click the link for my Supply Side 101, which covers all the basics.
Or better yet, take a look at last year's LNG Supply Outlook, which detailed how vessel supply inspired a full boom and bust cycle. Here is a brief excerpt from that article.
The following chart shows the correlation between vessels hitting the water and declining rates.

Source: LC News with data from IHS

As more vessels hit the water without demand keeping pace there will be an increasing availability of vessels. As with anything greater supply (without a corresponding increase in demand) results in lower prices, which in this case is charter rates.

The next chart shows the inverse relationship between rates (lines) and vessel availability (shaded). This is an important concept that applies across all shipping markets.

Source: Awilco

The result is an approximate 80% drop in charter rates from peak to trough over the course of just a few years which turned healthy profits into sickening losses for several LNG shipping companies with market exposure over that period.
Just for kicks, and because I like pictures, here is another chart showing the relationship between vessel availability and spot rates.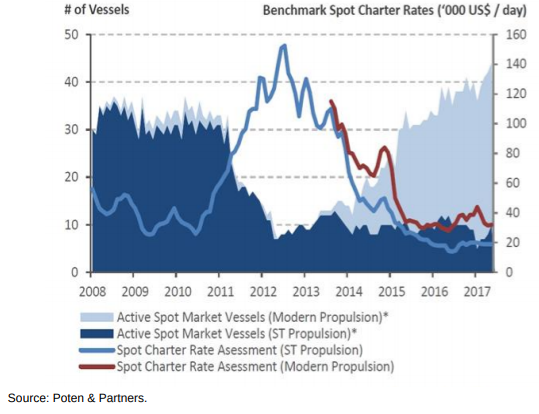 Source: Oxford Institute For Energy Studies
One final note, unlike segments such as dry bulk and crude tankers, which have fairly predictable demand growth with relatively minor fluctuations from year to year, LNG has been witnessing significant demand growth over 2017 and into 2018. So while this article examines the supply side part of the equation, demand side shifts are also playing an important role. This article should be taken in conjunction with past and future demand side articles for the full picture.
Focus
For this particular report, we will be focusing on the Large LNG class with sizes between 100,000 cbm to 199,999 cbm.
The reason is simple. Other large classes (such as the Q-Flex and Q-Max) do not have any viable demolition prospects or any vessel deliveries expected and will, therefore, be a non-factor when it comes to influencing the market. Smaller classes are a tiny fraction of the overall market and represent very niche trades.
Background
In last year's LNG Supply Outlook, I projected that 2017 was the year that we would see rates stabilize and noted that the "second half of 2018 holds what I would consider the first real potential for what could be a meaningful upswing in the market...that could last several years."
That forecast was based on LNG demand at a 9% CAGR. Well, the back half of 2017 saw demand stronger than expected and in September, I revised 2017 demand growth to 11%, but the truth was in between at 9.9%.
Late 2017 saw an exceptional rise in spot charter rates based seasonal strength, new policies out of China promoting the use of LNG over coal for heating, which further increased demand, all while we experienced significantly higher than anticipated levels of slippage. Slippage refers to a delay for vessels forecast to hit the water.
After seasonal strength passed rates again came back down, but to levels slightly higher than we experienced in 2017 over the same period, indicating that the market has tightened.
Rates
Even though we know the market is tightening, over the past few weeks, something caught me a tad off guard. While the back half of the year typically sees improving spot rates as preparations for winter begin, this year has started off a bit early and quite robustly.
Fearnley's June 6th report published this summary of rates.

But just a couple weeks later, when they published their June 20th report, the picture was dramatically different.

In just two weeks, spot rates jumped almost 40% for the East of Suez and just over 30% for West of Suez.
That is a good short-term indicator for sure. But the best news for long-term prospects comes with the rise of the 1-year time charters, which increased by nearly 30% in just two weeks' time.
Let's look back at Fearnley's December 20th, 2017 report, which saw seasonally strong rates peaking for the annual cycle.

Notice that while the spot market reflected the short-term strength that failed to carry over to the time charter market.
Why is this time different?
Time charters typically reflect forward market expectations.
When spot rates increase, charterers evaluate if the move is something larger in the making or perhaps a short-term move brought on by seasonality, for example, in the case of LNG.
If charterers feel that it is short term in nature, they will continue to play the spot market and hope that prices will return to lower levels. Meaning that widely perceived short-term strength won't carry over to the long-term charter market.
However, when charters feel that the market is tightening and forward spot rate expectations are rising, they are more likely try and secure a longer-term time charter to lock in rates in order to avoid potentially higher costs from a strengthening spot market. When enough charterers make this collective move, time charter rates begin to rise.
These time charter rates are a reliable indicator when trying to determine how charterers feel about forward market expectations. Personally, I think this is a better indicator for bull market expectations rather than bear market expectations.
Naturally, the next question should be how will rising charter rates impact trade flows? While this isn't necessarily a supply side question, it seems like an opportune time to discuss. So forgive the brief tangent and I hope you find it interesting.
Impact Of Rising Rates
Much of the strength lately in the LNG shipping market can be attributed to increasing long-haul voyages out of places like the USA to Asia, for example. While there is the basic supply/demand picture to consider (USA has it and Asia needs it), the number of these long-haul voyages are helped along by attractive spreads which become most pronounced during winter.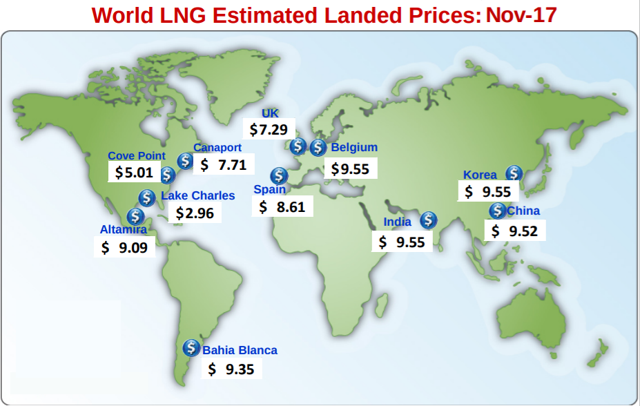 Source: FERC
During the rest of the year, there is still a significant difference.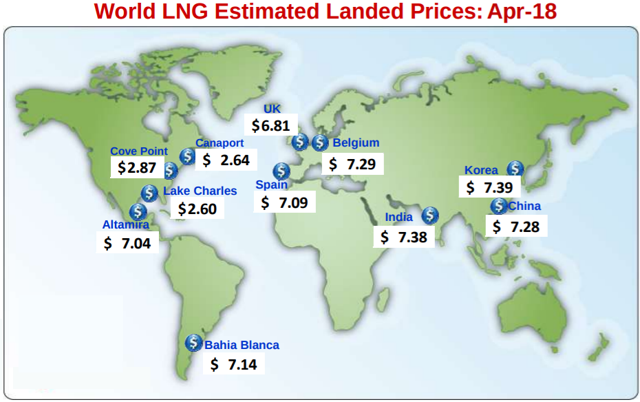 Source: FERC
But the question now becomes will rising charter rates impact overall LNG shipping costs to the point that long-haul voyages out of the USA could be threatened?
Fortunately, the Oxford Institute For Energy Studies published a very interesting report in March of 2018 which calculated these charter rate increases for various routes using two different vessel types - Steam Turbine (ST) and Dual Fuel Diesel Electric (DFDE).
The study examined two different charter rate scenarios and looked at a full round-trip voyage which includes loading time, voyage duration, unloading, and the return trip and arrived at a $/mmbtu cost.
The first scenario presented low charter rates.

Using these assumptions in the LNG shipping cost model yields the cost structure below.

In this low charter rated environment, transportation costs are quite reasonable. But what happens when they double, or more?

Using these new assumptions in the revised LNG shipping cost model is below.

While there is a significant price increase on certain routes these additional costs would be fairly small compared to the price of feedgas and liquification.
Let's not forget that regassing must be carried out no matter where the LNG comes from. So, the question then would be if LNG delivered to Asia from the USA would still be less than the landed price cited by FERC. Some rough math taking into account feedgas ($2.80) and liquefaction costs ($2.15) suggests higher charter rates resulting in $1.93/mmbtu (from the US Gulf to China) would still be acceptable given landed prices in Asia during the low season. During seasonally strong times where prices approach or break double digits transport costs could actually be several dollars before any disruptions might be witnessed.
But on the other hand, prices that look to be trending higher which could support even greater charter costs. The number one importing country, Japan, is a prime example.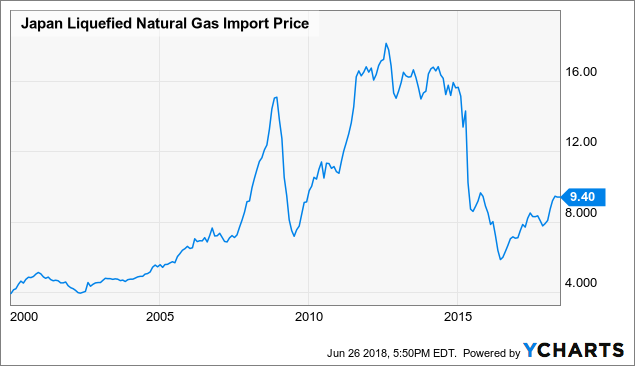 Expectations of depressed prices, courtesy of a global LNG surplus, have not materialized, as rising imports into China contributed substantially to balancing the market. Additionally, 2017 saw nameplate liquefaction capacity growth trail demand growth. Finally, expectations of a global LNG supply deficit are building as we enter 2020. With a forward-looking market, this could be very bullish for both LNG prices and tanker rates which face a similar shortage.
LNG Vessels
As noted in the beginning, there was a significant amount of slippage in 2017, which altered the market quite substantially. This left quite a bit of tonnage set for delivery in 2018 which again, altered the supply outlook from last year quite a bit.
The chart below was presented in my 2017 summer outlook and shows that we were expecting a total of 43 deliveries over the course of 2017.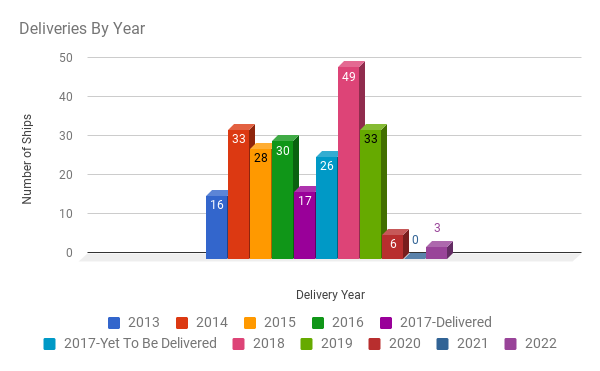 But a semi-coordinated effort to control deliveries, which appeared to take hold in the back half of 2017, led to far fewer vessels being delivered with many being pushed into 2018.
In fact, with only 24 vessels actually being delivered in 2017, slippage came out to be an astonishing 44%.
This was great news for 2017 but now 2018 must deal with what could be the busiest year for deliveries in history.
The chart below reflects these changes and shows vessels on the water as well as expected deliveries for 100k cbm to 199k cbm vessels.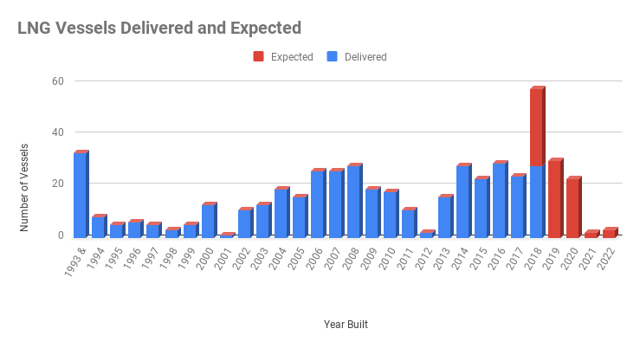 Source: Data Courtesy of VesselsValue - Chart by Value Investor's Edge
Currently, we are tied for the second busiest year ever for deliveries and with just two more vessels hitting the water, 2018 will take the top spot.
But is this really as bad as it sounds? Already in the first half of the year, we have seen 28 deliveries and rates have actually held ground before surging higher.
Could another 30 deliveries ruin the market? Possibly, but it seems unlikely that we will get all 30. The busiest time for deliveries in 2017 was the first half as well with just seven vessels delivered from August through the end of the year. 19 vessels saw postponed deliveries and many of those were the ones to arrive in the first half of 2018. Put in this context, 2018 is already experiencing a pretty high amount of slippage for vessels originally intended to hit the market.
Furthermore, let's not forget the "semi-coordinated" effort from last year to alter the delivery schedule, which seemed to influence the market in a very positive manner.
The concentration of ownership in the LNG vessel market makes collective action like this a very real possibility.
There are approximately 99 companies that operate in the LNG shipping market making for a high concentration of ownership. Over half of the expected deliveries, 47 to be exact, belong to just 5 companies. 74 of those newbuilds, representing 84% of the total orderbook, belong to just 12 companies.
These companies all have significant tonnage on the water already. So would an owner be willing to suspend delivery for 6 months or so to capture higher rates for vessels on the water? When the option is having slightly more tonnage on the water at what could far less attractive rates, the answer is simple.
But will shipyards oblige? Since these vessels are both challenging from an engineering and technological standpoint while taking years to construct shipyards may actually welcome the chance to postpone delivery.
Slippage estimates are always a best guess, but 2018 might be another year where we see high levels of deferred deliveries.
Right now, slippage looks to be the best way to control the incoming tonnage as high charter rates and an unwillingness on the part of owners to part with vintage tonnage have made for a very quiet demolition market.
The small amount of scrapping candidates has a lot to do with that. Over the past five years, we have only seen eight vessels sold for demolition. They typically range in age from 38 to 41 years old with one outlier at 31 years of age.
LNG vessels typically have a life of between 35 to 40 years. This means near-term demo candidates are vessels built before 1985 with more likely candidates being built 1980 or earlier.
But there aren't a whole lot of them on the water.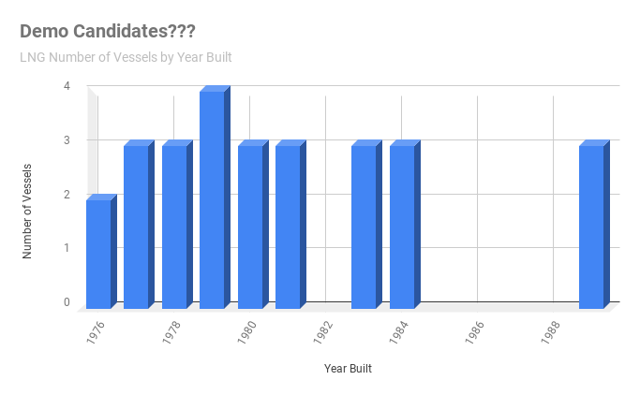 Source: Data Courtesy of VesselsValue - Chart by Value Investor's Edge
Shortage???
These vessels take at least a couple of years to build. Meaning orders must be placed well in advance of when they are really needed. Additionally, approximately 90% of vessels on order already have contracts attached to them leaving very little room for increased spot market participation or new contracts. It is noteworthy that spot market cargoes have increased significantly over the past couple years and this combination of low availability and increasing demand makes it likely that spot rates will likely see more upside.
Right now, with the tonnage currently on order, fleet growth looks to be aligned with demand growth until 2020. But after that, there are very few vessels hitting the water.
Below is an approximation of what the delivery schedule should look like accounting for realistic slippage and adding in what looks to be needed to account for ongoing LNG demand growth.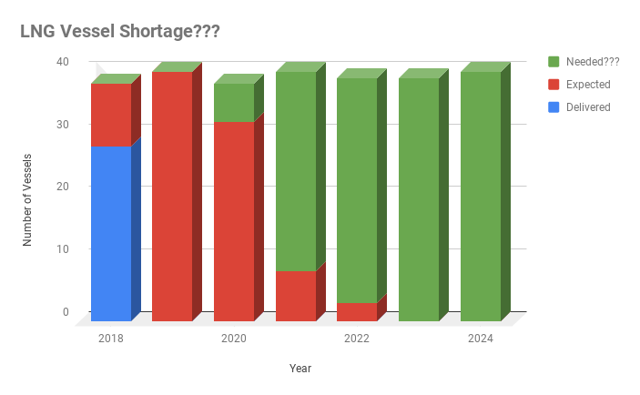 Source: Author
A recent order for an LNG vessel saw the order placed June 26th with expected delivery for September 2020. This means the window for 2020 is closing. The numbers above are simply gross fleet growth, but remember, 2020 is also when we see the 2020 Sulfur Cap kick in which could lead to a few more demolitions than we would typically see lowering net fleet growth.
This has been a fairly busy year on the LNG vessel ordering front with 21 orders placed so far but could use a bit more activity geared toward 2021. The fact is this current round of orders set to hit the water will be absorbed quite quickly and if new orders aren't placed over the coming year to account for robust demand, we will see a shortage. Robust demand requires a robust orderbook. However, it's going to be rough if/when that robust demand trend stops for shipowners who still have a couple years of heavy deliveries set for a moderating market.
Conclusion
2018 will likely be the busiest year for deliveries in history. With 28 vessels on the water already, four more than last year's total, the market seems to be absorbing the tonnage well.
The recent spot rate rise amid this tonnage influx is quite reassuring that the market is heading in the right direction. Evidence of that potential long-term direction is found in increasing time charter rates which have accompanied the spot rate rise.
Charter rates would have to rise significantly to impact the attractiveness of shipping LNG on long-haul routes such as the USA to Asia. Higher LNG prices appear to be likely as demand exceeded nameplate liquefaction capacity growth in 2017.
A high level of slippage in late 2017 drastically altered the orderbook for LNG deliveries. Could that happen again in 2018? With high levels of concentrated ownership among those expecting newbuilds, it remains a possibility.
Slippage will remain the key method to control global fleet numbers as there is a scarce amount of demo candidates.
While it's good to hold off on unnecessary deliveries, the current tonnage will eventually be absorbed and the LNG segment is already being tasked with the chore of ordering more vessels for 2021 and beyond. Companies with low leverage may find themselves in an enviable position to take advantage of relatively low newbuild prices and the potential for a welcoming market in a few years.
Overall, the LNG market appears to be on the right track. The most concerning issue remains a sudden influx of tonnage in the near term which could cause a short-term disruption. However, that tonnage will be absorbed and then comes the long-term issue of addressing a potential vessel shortage.
Thank You
If you found this article helpful and/or would like to easily refer back to it in the future, please click the "Like" button and it will be saved to your favorites.
If you would like to stay up to date on my latest analysis, I invite you to follow me on Seeking Alpha (click the "Follow" button next to my profile picture at the top) as I continue to cover all aspects of maritime trade.
Finally, if you are wondering what is the best way to invest in maritime trade please visit Value Investor's Edge.
Value Investor's Edge
Value Investor's Edge is a top-rated research service dedicated to offering actionable trades and strategic income opportunities. We now cover a variety of deep value and income-driven sectors, while maintaining our focus and very profitable record of shipping industry coverage. Members receive exclusive access to over a dozen reports per month, including regular shipping and commodity macro analysis from James Catlin, exclusive content by top-tier deep value analyst J Mintzmyer, industrial and MLP ideas from Michael Boyd and international insights from Ian Bezek. This winning team has developed a dedicated following of highly knowledgeable investors and industry professionals who also share their own thoughts and ideas.
Disclosure: I am/we are long GLNG, DLNG, TGP, GLOP. I wrote this article myself, and it expresses my own opinions. I am not receiving compensation for it (other than from Seeking Alpha). I have no business relationship with any company whose stock is mentioned in this article.