It's getting more and more difficult to call the top for Coupa Software (COUP), as the B2B procurement software company continually reaches new heights. I've warned about the stock's valuation multiple times this year, yet after each quarter, Coupa continues to defy the ceilings of traditional valuations by rising to new all-time highs.
It's not difficult to understand why investors are gung-ho on Coupa. The company continues to grow at a massive pace in the high 30s, even accelerating slightly from last quarter's growth in the recently-announced Q2 earnings release. At the same time, Coupa is tackling an immense TAM: it wants to own the B2B spending market (wherein, for example, an auto parts manufacturer can purchase raw material from a metals company via the Coupa platform) and create an "Amazon-like" (AMZN) experience for the corporate procurer.
It's an ambitious task, but since the company went public, Coupa has shown nothing but solid execution. The company continues to add Global 2000 players to its client base every quarter - notable logo wins this quarter include the Chinese gaming giant Tencent (OTCPK:TCEHY) as well as the NPD Group.
Don't get me wrong - I'm a huge admirer of Coupa's business and its product. The company won a distinction from the Gartner Magic Quadrant as a Leader for the third year running - for those unfamiliar with the software sector, the Gartner rankings can be likened to the Grammys of the industry, and winning recognition as a Leader in its annual rankings can carry a lot of weight with IT buyers. These aren't small feats.
However, investors have to be careful to separate their enthusiasm for a company from its appeal as a stock. Coupa shares rocketed up another 16% after posting Q2 results this quarter (despite this being a quarter where most technology companies, even despite beating estimates, still fell sharply); year to date, the stock has risen 125% - one of the best performances in the TMT sector in 2018 so far. In my view, Coupa doesn't have much higher to go - but it sure has a long way to fall.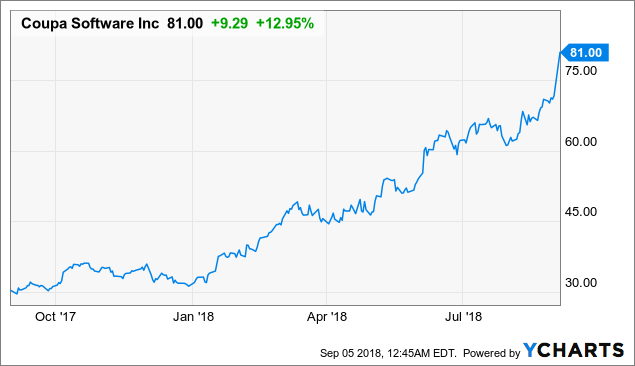 Extreme valuation makes a great company a poor investment
My argument against Coupa, as always, is its valuation. A quick check on where it currently trades - at Coupa's post-Q2 share price, the stock carries a market cap of $4.62 billion (just within spitting distance of the psychologically significant $5 billion mark, despite having hovered barely over $1 billion two years ago when it went public). After netting out Coupa's $443 million of cash and marketable securities on its balance sheet, as well as $169 million of convertible debt, Coupa carries an enterprise value of $4.35 billion.
Here's Coupa's latest guidance ranges for the fiscal year: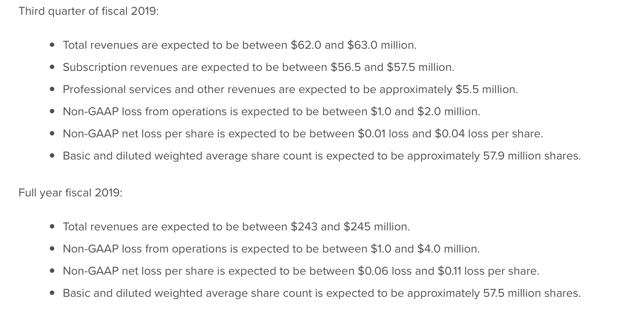 Source: Coupa investor relations
Against the $244 million midpoint of this guidance range (+31% y/y), Coupa trades at a 17.5x EV/FY19 revenue multiple. Such an elevated multiple for a company growing at just over 30% y/y is almost unheard of. These are the kinds of valuation multiples that presage a period of underperformance, simply because these stocks have no higher to go.
This is especially true because, even though Coupa has earned massive accolades from the IT and supply chain communities, it also has a formidable competitor in Ariba, which is owned by the German software giant SAP (SAP). SAP's Business Networks segment, which comprises largely of Ariba, continues to show a rapid pace of growth as well - and though the procurement space is certainly large enough for two players, Ariba is much larger than Coupa and benefits greatly from its scale. An ~18x revenue multiple might, in limited circumstances, be appropriate for a company with virtually no competitors, but for Coupa this is hardly the case.
I realize this is an unpopular position to take - when stocks like Coupa rally this high, they attract a cult-like following of ardent supporters. But if history is a reliable guide, frothy companies eventually fall back down to earth and in line with the realities of their valuation - so at this point, holding on to Coupa or adding more shares is like trying to stay on the mechanical bull for as long as possible. Investors would be wise to lock in gains.
Q2 download: strength on all fronts, but nothing that merits a 16% stock gain
Coupa had a great second quarter. It beat Wall Street's estimates on both the top and bottom lines, accelerated somewhat from last quarter's growth rate, and showed decent margin expansion. But when we take a step back and recognize that many other SaaS companies have produced similar results, can we truly say that Coupa's Q2 earnings deserved a 16% jump? Here's a look at the quarter below: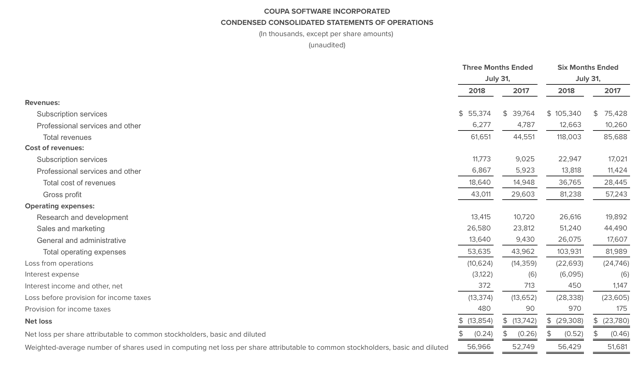 Source: Coupa investor relations
Revenues grew 38% y/y to $61.7 million, obliterating Wall Street's estimates of $56.6 million (+27% y/y) by eleven points. Revenue growth also accelerated one point from 37% y/y growth in Q1, though it's below the 41% growth at which Coupa exited Q4.
Rob Bernshteyn, Coupa's founder and CEO, also noted on the earnings call that the platform surpassed $860 billion in cumulative spend under management - that is, the aggregate value of goods transacted on Coupa's platform since inception. That is truly a remarkable number - but we do have to acknowledge that SAP's Ariba and Concur applications manage north of $600 billion per year. Against this benchmark, Coupa is relatively tiny. At the moment, investors don't seem to be too concerned about the size disparity between Coupa and SAP, but since this is a network-based business that favors scale, this disparity will come into play eventually.
Here's some further useful snippets from Bernshteyn's prepared remarks on go-to-market progress during the quarter (emphasis added for key points):
From a go-to-market perspective, we saw significant uptake of some of our latest offerings in this area. For example, in Q2 alone 17 new customers subscribed to our community intelligence powered risk aware solution, far exceeding our expectations for this new innovative offering. I'm excited to share that we are really just beginning to scratch the surface of what's possible with this prescriptive part of our business, also known as the letter P in Coupa. At the end of last year, greater than 50% of new subscription revenue has come from solutions beyond our core procure module and that figure has continued to increase in the first half of this year, along with a continued increase in average deal sizes."
On the profitability front, Coupa showed decent progress. Gross margins ticked up to 69.8% on a GAAP basis (though, at a sub-70% gross margin, Coupa lags behind a lot of its high-growth SaaS peers in the mid-70s or even low 80s), up 340 bps from 66.4% in the year-ago quarter.
Coupa was also able to slow down its acceleration in sales and marketing spend (its largest component of operating expenses), seeing only 12% y/y growth in sales spending to support 38% revenue growth. As a result, Coupa's GAAP operating losses slimmed down to -$10.6 million, presenting a -17.2% operating margin, fifteen points better than -35.2% in 2Q18.
Pro forma EPS of $0.05 also showed plenty of upside to Wall Street's expectations of -$0.19. What was disappointing on the bottom-line front this quarter, however, was the fact that free cash flow grew just 12% y/y to $9.0 million, representing a slight compression in FCF margins. Last quarter, FCF had grown at nearly a 2x rate. It's possible that the lag in FCF this quarter was due to timing of billings, but it's still disappointing to see FCF failing to continue the stellar trend from last quarter.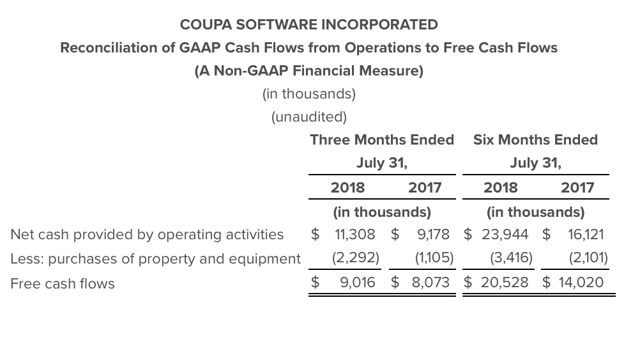 Source: Coupa investor relations
Key takeaways
All in all, Coupa had another great quarter in Q2 - something that would have merited, in my eyes, a 3-5% bump in the stock. But instead, the stock surged by 16% to new all-time highs and pushed Coupa to a 17.5x forward revenue valuation, which makes the stock unbearably expensive in my eyes.
Though it's difficult to argue that Coupa isn't fundamentally performing well, the risk-reward profile at such a sky-high valuation is heavily tilted against the long investor. I would remain on the sidelines and invest in other high-quality, but lower-priced names.
Disclosure: I/we have no positions in any stocks mentioned, and no plans to initiate any positions within the next 72 hours. I wrote this article myself, and it expresses my own opinions. I am not receiving compensation for it (other than from Seeking Alpha). I have no business relationship with any company whose stock is mentioned in this article.